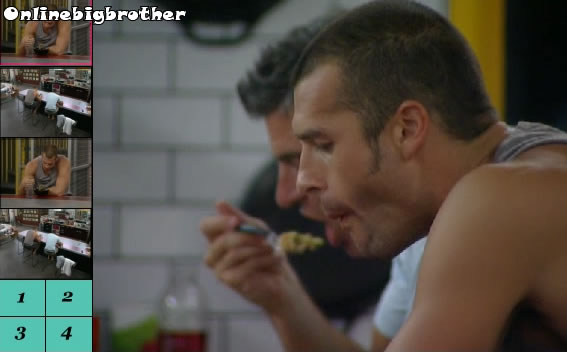 Follow @BigBspoilers and @Dawgsbigbrother on Twitter for recent crazed out spoilers. There is also a Facebook page.
8:30pm Jeff and Brendon Kitchen Brendon is wondering how dani is able to convince the other players to go with her. They thank Shell for cleaning up, she joins them, Brendon: "Thank you Shelly… I really am Thankful I don't want to get athletes foot". Shelly comments on all the carbs they are eating. They say it's for the comp tomorrow. Jeff says it's like a ghost town in the house. Shelly: "They'll be out tonight" Brendon: "Perfect stay up all BLANK night tired tomorrow".
Production calls Adam to go into the DR. Shelly says Adam has been sleeping for 7 hours. Brendon: "Maybe he'll out with wings… like a butterfly.. " Jeff says Adam and Porsche were hiding in the purple room when it all went down he went in there told them to get out and be part of if, "Get out stick up for somebody your getting BLANKsaved this week" Brendon: "No doubt". Brendon wonders when they (lawon, Dani, Kalia) will try to get Adam. Jeff thinks it will be the second Adam walk out.
Jeff: "I'm going up to Kalia say.. So whats up.. so you with us now.. wheres your vote.. the line is already drawn in the sand…"
9:00pm Kalia, Lawon, Dani and Dom Kalia is talking about her conversation with Porsche earlier on. She says that she told Porsche why she should vote to keep. Kalia: "I said Honey bear you're not on their side even if you think you are" Kalia says that they've been talking about that ever night this week. She's trying to make it clear with Porsche that BRJJ will take her out. (I think Porsche has a final 3 with BR , Shelly has the final 3 with JJ , Dani has a final 3 with Lawon and Kalia, and Adam has a final 3 with bacon)
Dani isn't sure about Shelly Dani: "If she says anything i'm going to punch her in the back of the neck and throw her off the porch". kalia: "Donkey punch"
Kalia says she's thinking about telling Porsche that this is her time to make this Thrusday her episode because all this will depend on her.
9:17pm Purple Room Adam, Shelly, Brendon, Jeff, Porsche, Jordan all hanging out having fun
9:45pm Kitchen A bunch of side comments going on. Shelly is talking about China..
Shelly is really going to town talking about everything from impersonating a Chinese guy to Loving maple yrup and cooking rice each and every day. Lawon is staring at her as she talks, not really saying much.
9:54pm all the houseguests are out intermingling, Dom is with the guys int he Purple room,
9:56pm Bathroom Jordan and Dani dani is saying that she really likes Jordan as a person and she wants Jordan to be upset and think she was trying to hurt Jordan. JOrdan: "Ohh thats OK I Understand you were just playing the game.. no problem" Dani: "Ok"
10:20pm Dani and Shelly (dani's actually trusting Shelly) dani is saying they need to ram it down Porsche's throat that she's screwed if she doesn't make a move now. Dani says that you always remember the last thing you were told when you to into a vote. Shelly says that Kalia is going to double cross her and she thinks they can trust Porsche to save but cannot trust Kalia. Dani doesn't think so.
Big Brother 13 Live Feeds Can be watched on your iPhone and Android Mobile devices sign up -> Watch Big Brother 13 on Your iPhone or Android Phone
Share it YO!!
Tweet