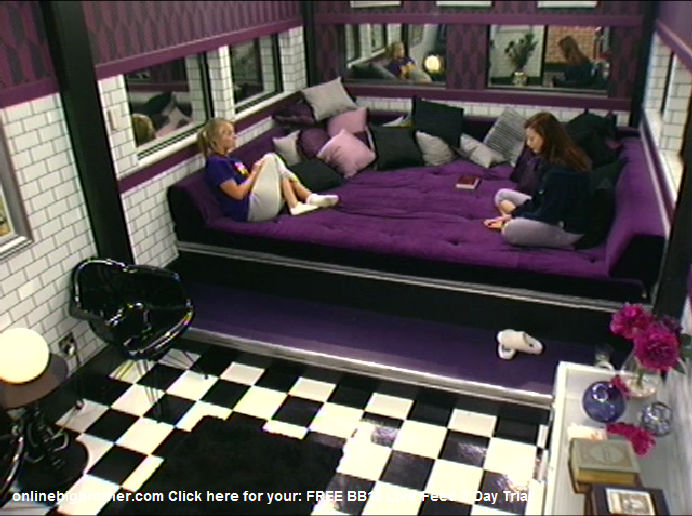 10am – 11:10am Big Brother switches the live feeds to the TRIVIA screen. At 10:15am The live feeds come back, Rachel is getting ready in the kitchen and Shelly is packing. Porsche is having a shower in the HOH bathroom. Rachel sits down at the kitchen table to eat her breakfast as she studies the memory wall. Jordan and Rachel go into the purple room to start studying the events or the house / competitions and dates. Jordan heads to the kitchen to make breakfast. Jordan then goes back to the purple room to eat her breakfast. Rachel says we have to win HOH this week and the veto. Rachel says that this HOH is more important. Jordan agrees. Jordan tells Rachel how Porsche overheard that there were 14 days left and was had no idea they were so close. Rachel says that I bet Jeff and Brendon are going to be freaking out for the rest of the day. Jordan says yup.. thinking who are we going to see walking through that door. Rachel says if we can do this Jeff and Brendon will be so proud of us. Jordan asks Rachel if she thought she was going to get this far. They talk about Rachel's season the final four got the competition where they had to hide things for $10 grand. Jordan says that if we don't win tonight I am not going to get as upset as last time. Rachel tells Jordan not tell Kalia how we are voting ..she is going to be asking all day. Rachel laughs about how Kalia go excited when she had told her that they may not vote the same and so she thought that her vote might count. Jordan and Rachel head into the candy room. Porsche brings her stuff down from the HOH room to the candy room.
WATCH all DRAMA unfold LIVE on SuperPass! FREE 3 Day TRIAL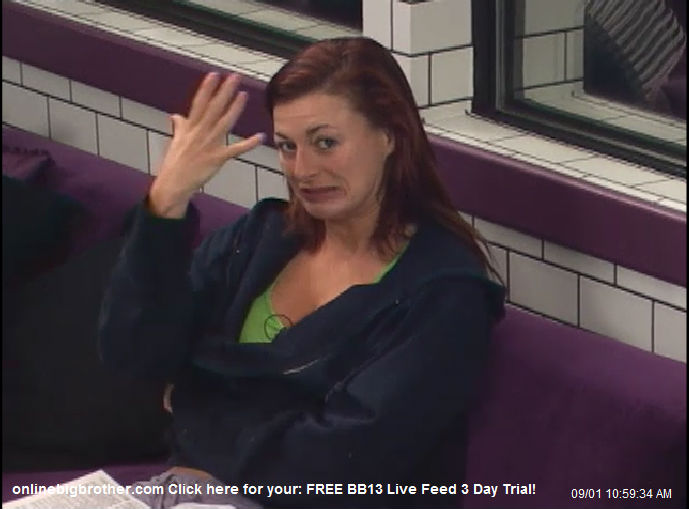 11:10am – 11:30am When Porsche came down to bring her stuff to the candy room Rachel went up and used Porsche's HOH bathroom. As Porsche is heading back up she sees Rachel come out and down the stairs. Rachel tells her that she used her bathroom and asks if she minds. Rachel says did you not hear me ask if I could use your bathroom? Porsche pauses and says no. Rachel says well I did it doesn't bother you did it. Porsche goes up to the HOH room and asks Kalia if she knew Rachel just came up here to use the washroom. Porsche says that its really awkward and weird that Rachel did that. Porsche asks if she heard any snooping or anything. Kalia says no. Porsche tells Kalia that people will be invading the HOH room in 20 minutes. Kalia and Porsche talk about how if she votes out Shelly and she stays there will be repercussions. They talk about bringing Shelly up here to ask her why she hasn't been talking to them and what is going on. Porsche says that she is going to go down and tell Shelly to come up if she wants.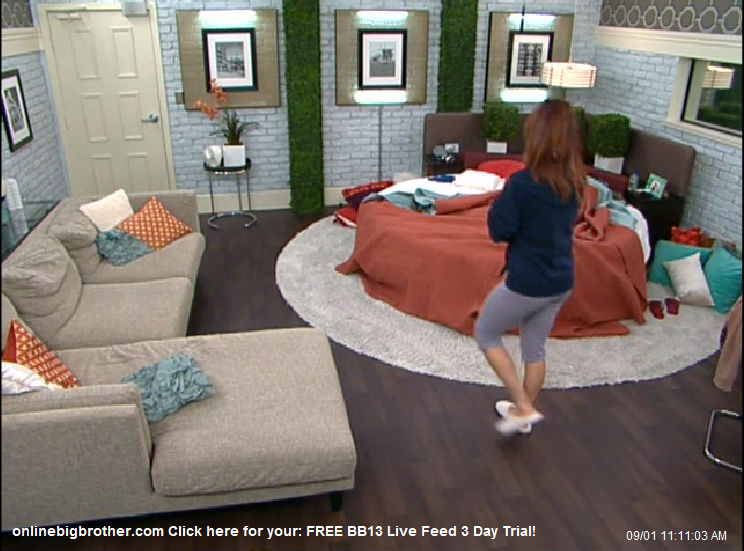 11:35am – 11:40am Shelly comes up to the HOH room and they talk about how poorly Kalia slept. Shelly comes in acting all gangsta. Kalia says can I ask you something? Shelly says ask away. Kalia says if you stay ..I mean you are my friend and you are in my alliance …are you going to play with them if you stay. Shelly says that she is just saying whatever she has to them to stay. Right then Jordan and Rachel walk into the HOH room to claim the couch. Porsche comes up right after. They all lay down and try and go back to sleep. The live feeds switch to TRIVIA…
11:50am When the live feeds come back, all the houseguests are on an HOH lock down. Porsche is in the bathroom collecting her things. Everyone else is silent, trying to fall back asleep. Porsche leaves the bathroom and sits at the HOH table staring at her HOH photos. Kalia got mad that people were talking and asked if they were going to talk the whole HOH lock down. Silence again… Kalia rolls over and goes back to sleep..
1pm – 1:15pm Big Brother switches the live feeds back to TRIVIA… The HOH lock down is over, all of the houseguests leave the HOH room. Shelly, Kalia and Rachel head to the washroom to get ready for the day. Rachel and Porsche head to the kitchen. Rachel says I will barter with you ..if you give me your coconut water …I will give you something from my HOH room when I win it tonight. Rachel says you can pick whatever you want ..even alcohol. Porsche says deal. Jordan is vacuuming.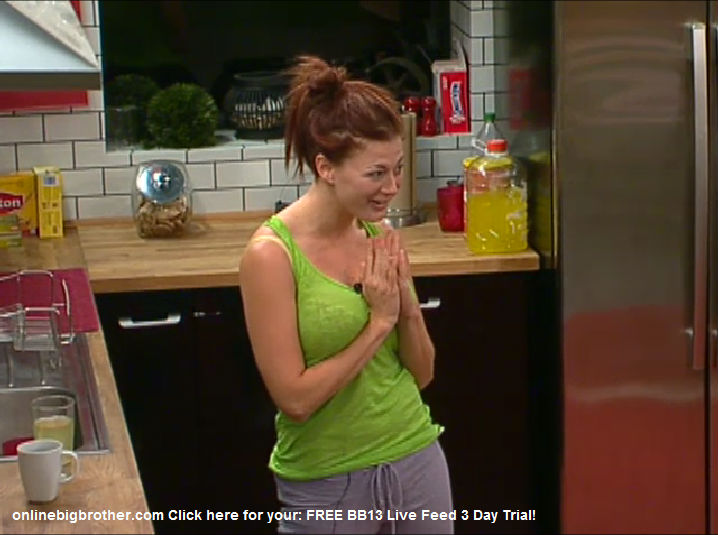 1:25pm – 1:50pm Adam, Kalia, Porsche and Shelly are in the kitchen. Kalia is telling Adam about how she had a horrible sleep. Kalia says that she came down after 2am and the backyard was still open. Shelly says that she got up around 6am and it was closed. Adam and Shelly leave the kitchen. Kalia tells Porsche that she feels sick and that she feels like she is seriously going to throw up. Porsche tells her to just eat and relax. Jordan, Rachel and Shelly are getting ready in the bathroom. Jordan has a shower and then asks Rachel if there will be any more havenots this week. Rachel says no I think they're done.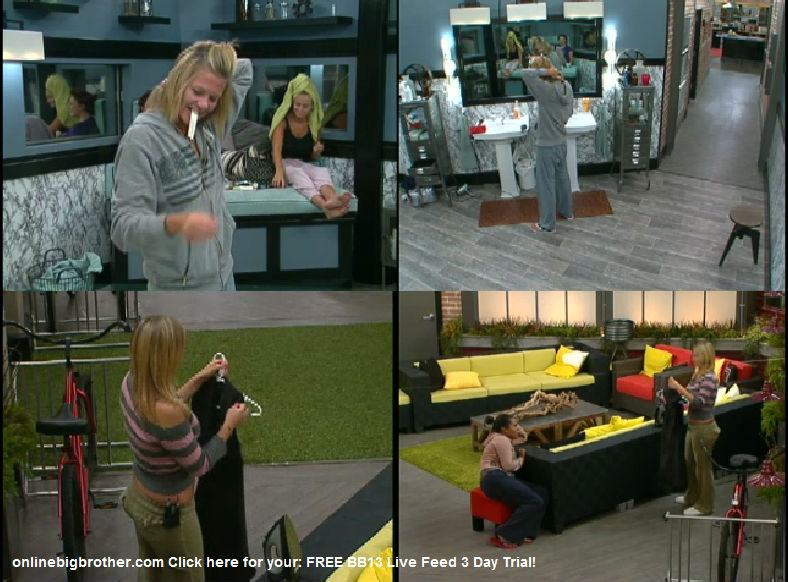 2pm – 2:10pm Jordan, Rachel and Shelly are in the bathroom getting ready for the live show tonight. Rachel and Shelly talk about how loud the noises are coming from the backyard. Porsche and Kalia are in the living room. Porsche is ironing her outfit on the couch. Porsche and Kalia wonder if they are scheming in the bathroom. Kalia says that they are talking way too loud to be scheming. Kalia sasy that she really wants to talk to Jordan to find out how she's voting. Meanwhile in the bathroom, Shelly tells Rachel and Jordan that Kalia is stressing out more than I am. Shelly says that Kalia is following her around an won't leave her alone. Jordan says that she is stressing out because she wants to still be good with whoever stays tonight. Kalia joins them in the bathroom to shower. The conversation changes to talking about sports.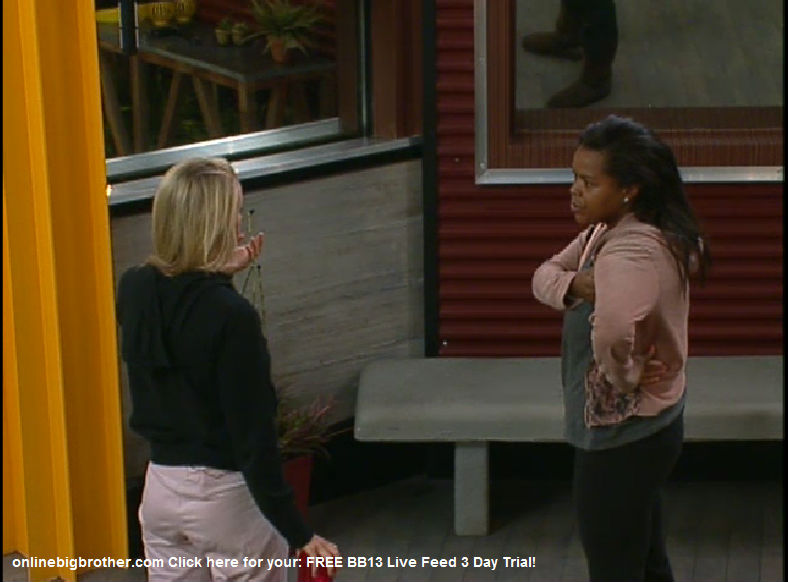 2:25pm – 2:45pm Kalia is talking to Porsche in the candy room. Kalia says that they are digging for Jesus in the backyard. Kalia says that she is praying for questions tonight for the HOH competition. Porsche says either way you got this. Kalia leaves the bedroom and runs into Jordan. Kalia asks Jordan if she has decided yet. Jordan says no …and that she isn't allowed to say anyways. Jordan says that it doesn't matter anyways. Kalia says she knows …she just doesn't want to vote one way and piss the person off that stays. Jordan says that she is leaning towards keeping Shelly. They break up their conversation and head to different rooms. Rachel and Jordan whisper at the kitchen table about how Kalia asked her about who she was voting for and Jordan says tat she was leaning towards Shelly. Rachel and Jordan are trying to trick Kalia into thinking that they are keeping Shelly so that Kalia will vote to evict Adam. hat way Adam will be pissed that Kalia voted to evict him. Rachel and Jordan are voting to evict Shelly and keep Adam to work with them. Porsche and Adam are still sleeping / laying down. The other houseguests are waiting for the live show to start…
3:30pm TRIVIA YO
If you like this site and want to help us keep it running please consider donating, Your donations go directly to paying the server and bandwidth fees. Donate Link

Big Brother 13 Live Feed Image Gallery
Follow: @BigBspoilers and @Dawgsbigbrother on Twitter for recent crazed out spoilers. Theres also our Facebook page.
Big Brother 13 Spoilers POLL CAST your VOTE!