| | | | |
| --- | --- | --- | --- |
| POV: | Angela | Next POV: | Aug 4th |
| POV Used | YES | POV Ceremony | Aug 6th |
| HOH: | Angela | Next HOH: | Aug 9nd |
| Noms: | ROCKS and Scottie Tyler Bayleigh | Have Nots | |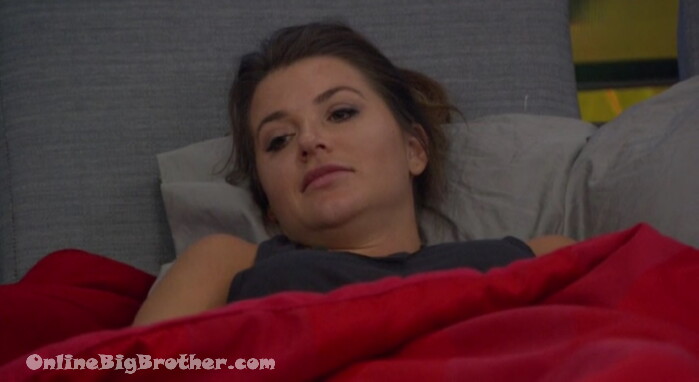 1:57pm Angela and Kaycee
Talking about Fes thinking he was going to be the renomination's
Angela says she's not going to talk to Bayleigh until tomorrow. what more does she have to say?> Angela says she's said it all in her speech, "what is she going to lie to me some more"
She wants to make sure there is always a third person in the conversations with Bayleigb so she can't make anything up.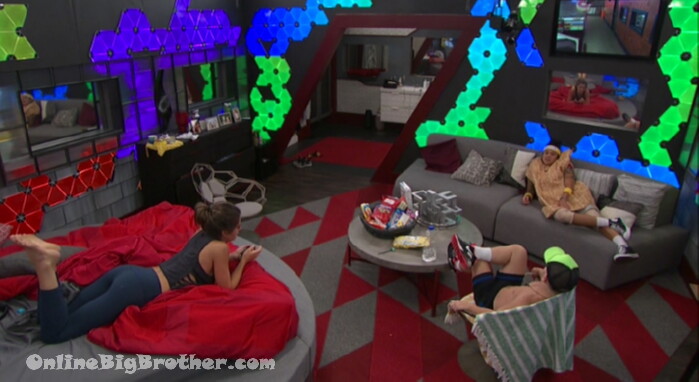 2:03pm – 2:23pm HOH room. Angela, Kaycee and JC. JC – how are you doing little girl? You did an amazing job. So update.. Rockstars game is so f**king weak. She said I really don't think Bayleigh is the hacker. Like you're on the block? If it was me I would be like she's the F**KING HACKER!! Kaycee – she is defending her? JC – I can't even deal with her right now. It does make sense that she would be the hacker. That or Scottie. Angela – if he was the hacker, he wouldn't be f**king with me. If Bay really wasn't the hacker her and Fes would be running around trying to figure out who is the hacker but they're not they're just sitting around. JC – today is going to be intense. Right now she is just thinking about what she is going to do. Angela – like I told Kaycee, I am not going to have any conversations with her (Bay) in private. It's going to be in front of everyone so that she can't lie. JC – you didn't mention the bible thing. Angela – I forgot but if she does talk to me I will make sure to bring it up. Kaycee – now that her power is out there it really f**ks her. JC – having an app doesn't really make you a target. If I had a power I would never use it to f**k you up. If you don't have a game and then have an attitude with everyone and you think you're the queen and all this stuff.. that's what f**ked her up.
Angela – their pitch to me was that I would be a BB legend if I left Tyler up or put Scottie back up. JC – yeah a BB legend that would go home next week .. because she has a team and if she does something like that. Angela – yeah a BB legend that's a backstabbing b***h that makes promises and goes back on them two seconds later. JC – she is an idiot. She follows her bible and her game was getting revenge for Swagg. Who do you think you are wonder woman!? I told her after Swagg left that if anyone bullied her we would not have that in this house. Angela – and she is the biggest bully in this house. Kaycee – your HOH was a success even with a hacker. Now you can just sit back and relax the next few days. JC – we've got the votes. Kaycee – you're still going to keep Fes and Haleigh out of the loop right. JC – yes. Angela – I don't want anyone to know who we're voting for. It will be like another blindside. Angela – it would make me feel good if it was a unanimous vote. It wouldn't be good for our game but it would make me feel good. Kaycee – let Fes and Haleigh figure it out for themselves. Angela – this will be the first week they will need to think for themselves. JC – Rockstar's game is so weak. Angela – speaking of Rockstar .. where's our lunch!?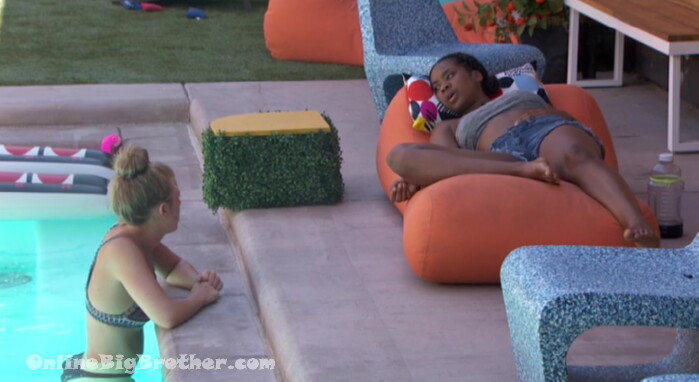 2:28pm Haleigh and Bayleigh (hard to hear due to planes flying ahead)
Bay – I can't believe Tyler yelled at me like that .. he laughed at mty face.. that's why I'm so confused about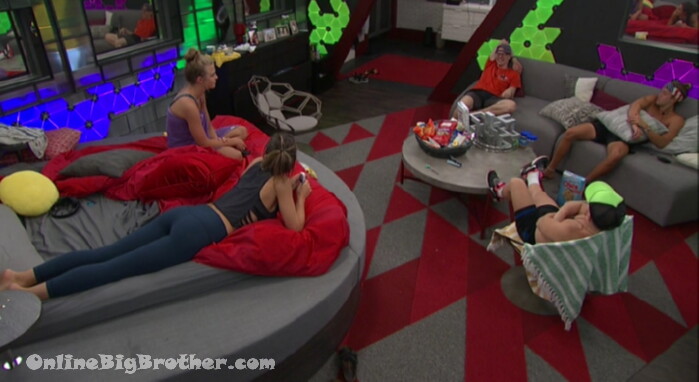 2:57pm HOH Tyler, Scottie, JC, Haleigh and Angela..
Haleigh tells them Rocks did 732 jumping jacks..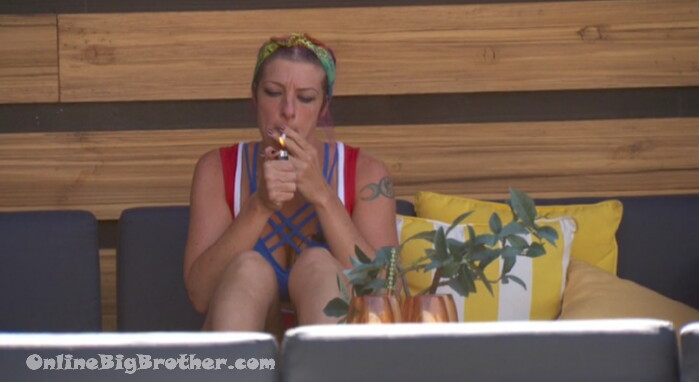 3:00pm Rocks and Sam
Rocks is sad "it's easy to put me right back up.. there's not a lot of people on my side.. on mu side with me.. "
Rocks – I've been trying to pitch why not all these girls work together ..
Sam says there's no large groups left, "I'm not concerned about the all girls thing or the all guys thing because that sh1t is going to fall apart any day now"
Rocks thinks they could have made an all girls alliance work.
Rocks has always felt a strong sister hood.. goes on about a goddess women empowerment thing and this is what she wanted to to send a message on a big platform..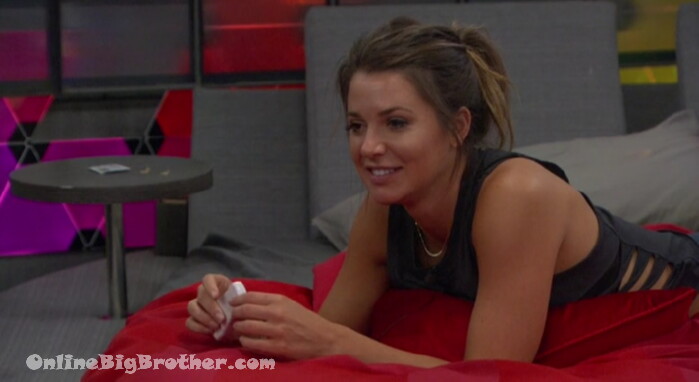 3:33pm HOH Brett and Angela
Angela says how
Brett says Fes is freaking the f* out
Angela – of course he's got no one left.. he's got Haleigh and Rockstar
Angela says Scottie is with them 100% now.. adds that Scottie has a crush on Haleigh
brett – you killed it in your speech.. I wanted to hug you after
Angela says that she added the HOney at the end of her speech as a jab on his behalf.
Brett didn't thin Bayleigh was going to explode because she's too smart for that if she flips out she seals her fate..
Brett is certain Bayleigh is the hacker. Angela says bayeligh would sit up in the HOH all week and blatantly lie to Angela.
Angela – worst case scenario this week it's unanimous
BRett – do you want me to not be unanimous
Angela – yes. And pin it on someone
Angela says both Fes and Haleigh were trying to get Scottie put up.
Brett – they are f*ing snakes dude..
Angela – they are so fake..
Angela – Rockstar brought me breakfast Hahleigh made me a sandwich and fed it to me..
Angela – she was up here before I went to bed and called it the amazon alliance..
Brett – that's not real ..
A – she would ensure my safety
Angela – bayleigh was always our target it gave me a great excuse to send her a$$ home.
They bring up how horrible Rocks speech was "Expect the unexpected use it on me"
THey laugh at the poor game play from other side.
Brett – they've had no f*ing clue..
Angela says bayleigh was on a unreal power trip
brett – and we're -knocking a power app out
Angela – she's been gunning for Tyler.. that was her plan last week.. i think Fes told someone that
BRett says he's had a conversation with Scottie where Scottie gave him everything on what the other side has been up to.
Angela says Fes goes next than haleigh followed than Rockstar
A – I like seeing her Squirm.. (Rockstar)
Brett – let her ride the block for three week,,
Brett – her only pitch is I'm a really big fan of the show… expect the unexpected.. Cool go home and watch the f*ing show.. how about what are you going to do for me.. give me something..
A – make yourself useful
Brett – I really want to be here but I never cook and Clean.. never.. she said I'm not cooking when I"m here I do enough when I'm home
Brett – do you understand this is a social game.. what a f*ing loser dude..
A – and Bayleigh thing this whole time was to avenge Swaggy
Brett – she had no game her game is Swaggys game
A – they both were backdoored
B – she had to with the power app..
Angela – Rockstar and Haleigh tried to start an all girls alliance again and leave Sam out.. (LOL I love it freaking love it)
Brett- 1/2 of me hopes Scottie grows a gut (?) and get haleigh out.. he likes her but he see right through he's not stupid..
Angela about Bayleigh – she felt so safe.. like so safe..
Brett – she looks defeated out there
Angela – too much power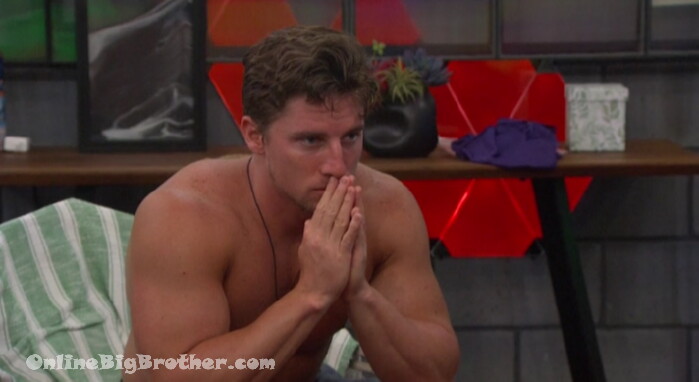 Angela – Bayleigh you were safe there was no need for you to like come in here and try take over and control my HOH but you had you week this is mine and now your power trip is over..
Brett – the best part is even with the amount of power she had she still got backdoored.
Angela says the vote will either be 2-5 or unanimous.
Amgela asks him who he thinks the ptehr side puts up |
Brett – – totally depends on who wins.. if JC wins who does he put up
Angela – one of each of us.. tells each side their a pawn..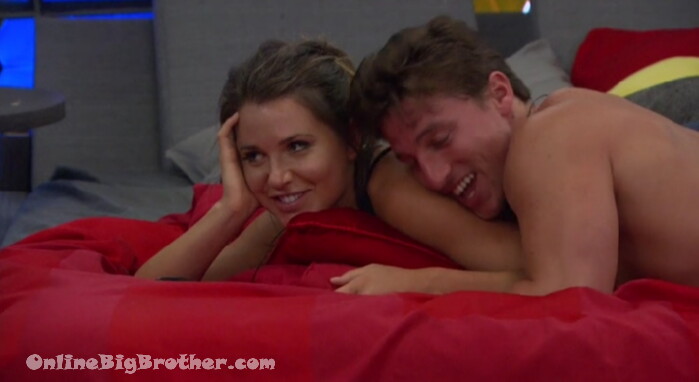 Brett and Angela…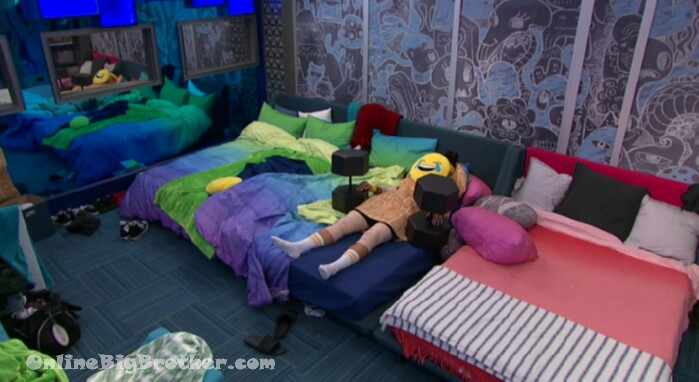 Kaycee.. lol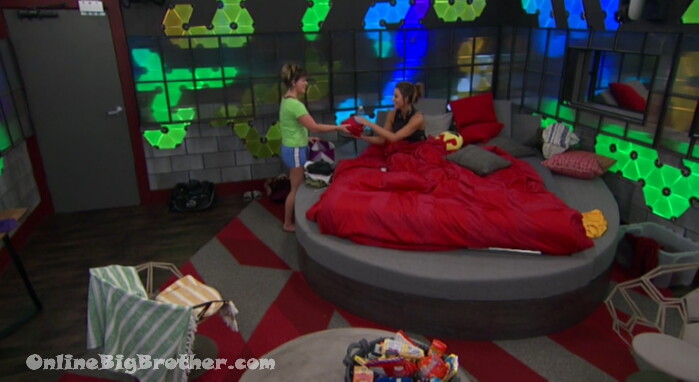 4:14pm Sam delivers the laundry to Angela.
Sam – I hand washed it and dried it flat…
SAm – I didn't fold your panties though .
4:41pm Rocks gets to cooking.. .
An easy way to support the site if you are an Amazon shopper is to make your purchases through our link. You pay the exact same thing but we get a small % commission. It doesn't cost you anything and helps us out.
5:11pm Everyone look Sam is working out..
5:28pm Rocks jumps in to do 5 squats "that's enough of that"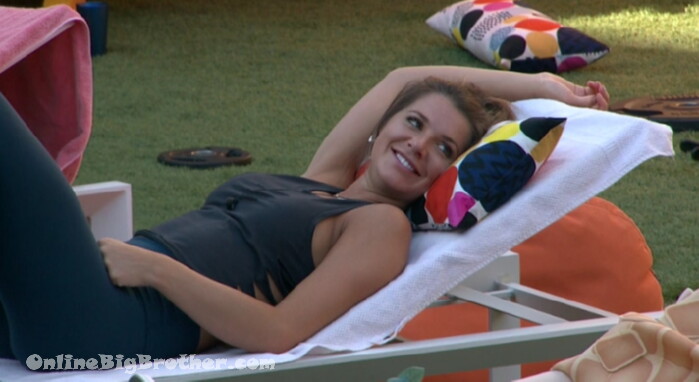 5:31pm Kaycee tells Angela tomorrow is her last day in the peanut she's going to jump in the pool..
Every time Kycee says she's not working out she gets buzzed by production to work out.. lol
Make your body Hard from your pecs to your butts.. when it comes to working out i'm totally nuts… "
"Make your body hard from your pecs to your butt.. when it comes to working out I'm totally nuts… " #BB20 pic.twitter.com/725WM2hMpp

— OnlineBigBrother.com (@bigbspoilers) August 7, 2018
5:55pm Rockstar and Scottie agree that Bayleigh isn't the hacker otherwise she would have picked Fes as the POV player not Kaycee..
Fes joins them jumps in the shower.. Haleigh joins them starts rubbing Scottie back.. Rocks goes on about how if she is the one that is going this week she wants to make sure they are set up for next week.
Current Status: Single but looking #BB20 pic.twitter.com/83UMKADAz8

— OnlineBigBrother.com (@bigbspoilers) August 7, 2018
Fes – that doesn't do it for you.. .
Rocks – big stupid Geanie..
Fes asks Haleigh "that doesn't do it for you.." #BB20 pic.twitter.com/rOgkXIyiZN

— OnlineBigBrother.com (@bigbspoilers) August 7, 2018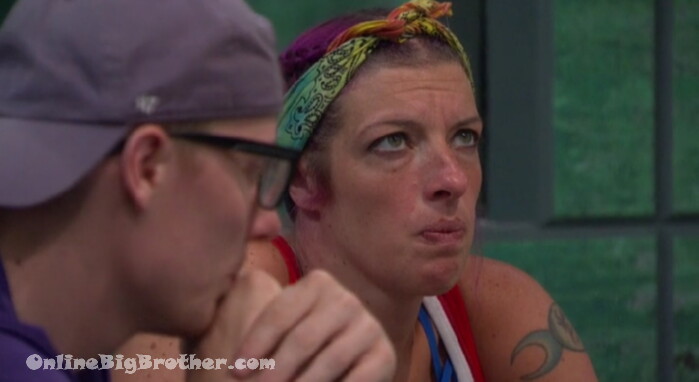 6:19pm Rocks is telling Scottie that BRett is the head of the operation on the other side..
ROCKS – I love Sam but there something about her that makes me feel like you know… she could easily be a mastermind of everything…
(F**** poor thing is still clueless… wounded lamb bird)
6:35pm Rocks going on about Brett and Sam having to go up next week. Says Brett is the brains the nucleus of the other group.
Rocks thinks the hacker is Brett…. (She thinks everything is Brett or Sam)
6:46pm Rocks and Bayleigh
Rocks wants to establish a plan to take the other side down..
Bay – the lines are already blurred.. I don't think that is going to happen.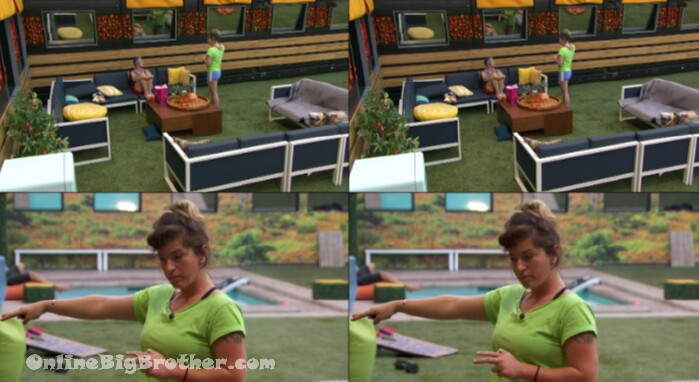 7:16pm Sam is talking about missing some baptism…
7:30pm
Scottie joins in with Nut fitness #BB20 pic.twitter.com/L57UxMQ8E3

— OnlineBigBrother.com (@bigbspoilers) August 7, 2018
7:53pm The rocks and Sam are best friends now..
Amazon Canada
Amazon USA
Rank the houseguests!
Easiest way to Rank the house guests use link below