| | | | |
| --- | --- | --- | --- |
| POV: | Angela | Next POV: | Aug 4th |
| POV Used | ? | POV Ceremony | Aug 6th |
| HOH: | Angela | Next HOH: | Aug 9nd |
| Noms: | ROCKS and Tyler | Have Nots | |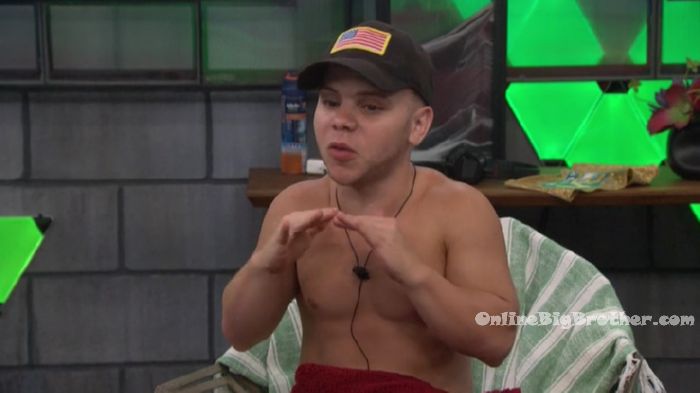 10:56pm HOH room. JC, Kaycee and Angela. JC – their kissing a$$ is so strong. Angela – its so strong. She's brought me three meals up here today. Haleigh brought me one, Rockstar brought me carrot cake last night and pancakes this morning. Kaycee – its so f**king obvious. Angela – Haleigh came and feed me salad. Haleigh came and kissed me goodnight. Until they felt like their backs were against the wall, no one talked to me. They ignored me and now that they don't feel safe they have been so nice to me. Promising me deals, trying to make alliances with me. JC – to be honest I feel bad for Fes. He keeps going with the girls and then the girls literally don't give a f**k about him. Kaycee – are you going to tell him which way you're voting? JC shakes his head no. We already have a big group right now. We can't be a big huge happy family. Kaycee – I mean vote wise. Fes doesn't need to know. Haleigh doesn't need to know. Kaycee – they're oblivious to the way they're acting. JC – I gave them SO MUCH information but none of it is useful! Kaycee – dude you are f**king with their heads so bad. JC – anytime I give them any type of information they go crazy. Like when Fes goes into the storage room and start banging sh*t.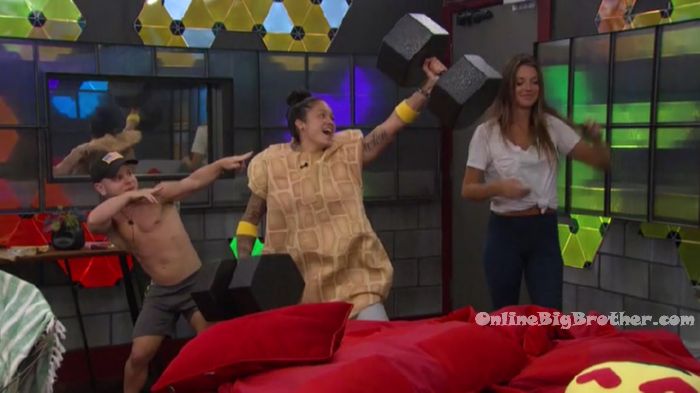 Kaycee – she is trying to figure out her speech tomorrow. JC – I am going to act very surprised. Let them do the whole little thing. Angela – I think with my speech I will keep it really simple. Like I promised Tyler I would use this veto on him and I've played nothing but an honest and loyal game and I want to continue to do so. With that said I've know who the hacker is since day 1 and I've always been one step ahead. Every conversation that I've had with the hacker has been a string of lies for the hacker to continue to manipulate my HOH but I've been planting seeds all along so that I could ensure that I kept the veto.. Then I'll be like to reveal the true identity of the hacker .. then I will look at Scottie and go SCO.. Bayleigh! JC – this is so good for ratings! Angela – then I will be like you had a power trip, you had your time last week with your HOH. You have the power app and now you're changing my nominations. You didn't need to do this. JC – she was trying to backdoor Tyler. Angela – for my game to have someone with this much power in the house is not good. JC – I'm going to have to go to bed early because if I am tired I get the jiggles. Kaycee – you get the jiggles?!? Oh the giggles! We just all need to act so shocked. JC – I don't want her to cancel my vote. Kaycee – she will probably cancel Tylers.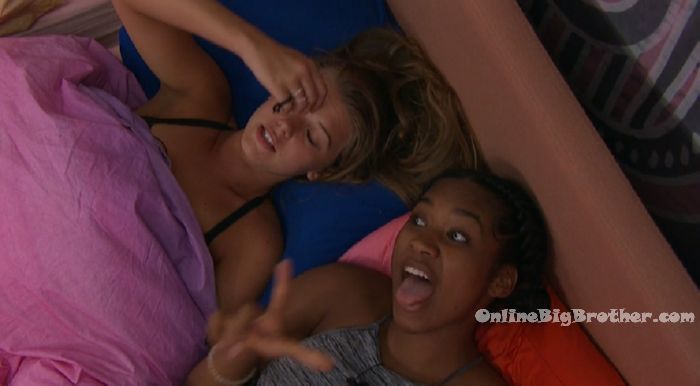 11:50pm Bedroom. Rockstar, Bayleigh and Haleigh. Bayleigh – We need to give the outside world a mission. Outside world go to SwaggyCtv and write him a DM. tell him that he needs to find this part of the live feeds so he can see what we just said about him number 1. Number 2 – Bayleigh loves you. Make sure you write that in capital letters L-O-V-E! Bay – I am waiting to see what happens tomorrow. Like Socttie is so happy right now. Like he was like goodnight daddy, love you! Like he is so happy so I am like what is actually going on. Haleigh – unless this is some secret back door plan. Bay – but why? What would be the point?! Bay – we haven't done anything wrong to her. Haleigh – thats a good point. Bay – And I was just HOH and I didn't even touch her. Haleigh – I just don't want to keep pushing her and talking to her about it. Bay – if this is a backdoor plan for me, I am going to be pissed. She asked me if we all trust each other. I don't want us three to be grouped together because then that makes us a target. Rockstar – is that why you were mad at Sam? Bay – I wasn't mad at Sam, stop f**king saying that. Don't f**king talk about me. Rockstar – I didn't. Bay – I am talking about her Rockstar! She is going to f**k around and actually make me mad. She needs to chill out. Don't talk about me. You say offensive things and you're snappy to everybody. And when people call you out about it, I think they're mad at me? No.

Rockstar – The house has been really weird this week but it has also been really cool. We've all be really hanging out more. Bay – but the last two days people have been really snappy. Including Sam. Rockstar – I'm just saying for me, I've been talking.. Bayleigh – yeah but that's you! You've had a great week. Being on the block everyone has been working out and accepting you. As apposed to last week when you were on the block, nobody talked to you. SO now they're showing you all this attention. But for us we've been completely blacklisted. Nobody wants to talk and they're snappy. We've had a terrible week. Rockstar – I'm sorry. Bayleigh – no you're not, you didn't even notice. You don't care about us. You just care about you. Rockstar – that's not true. Bayleigh – last week we were fighting our a$$es off for you. Its not like we're on the block, we're fighting for you while people are snapping at us. Haleigh – I just hope tomorrow goes well. Bay – it has to.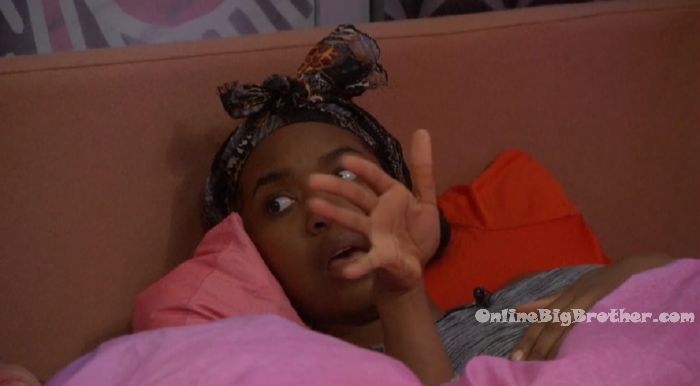 12:22pm Hammock. Brett and Scottie. Brett – Rockstar has been really calm.. so that makes me wonder what the heck is going on. Rockstar is very calm and she was hysterical before. Scottie – I think she might know something. Brett – that's what I'm saying.. she feels safe for some reason. Imagine she gets taken off and you get put up! Scottie – f**king piece of sh*t! I don't think that would happen. I think of all the people in here Angela is a really stand up person.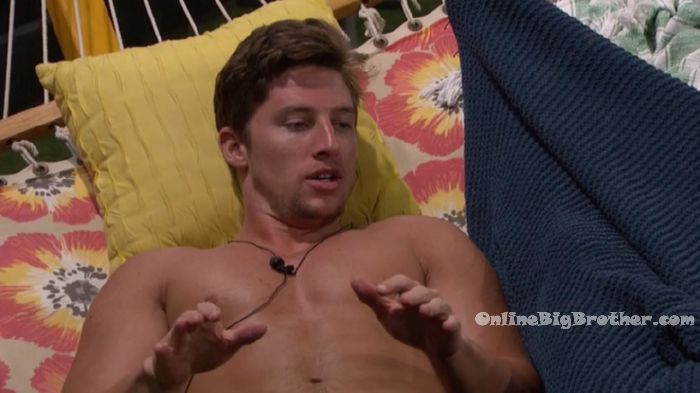 The LIVE FEEDS are going to blow up tomorrow after the veto ceremony! Get your 1 week FREE Trial NOW!

12:36pm – 12:53pm Backyard. Sam and Tyler. Tyler – how close you and I were. I told her Scottie was my best friend, just to see what she would say and do. Then when Scottie was on the block this week she took him off the block and put me on the block to frame him to make it look like he was the hacker. Sam – what if its Haleigh. Tyler – its not, she's not that good. And if it is then who cares. Bayleigh has a power, she has to go. Sam – who has the other power? Tyler – I don't know, I guess we will find out eventually. Sam – so what happens now? Tyler – Bayleigh goes on the block and she goes home. But she is probably going to cancel my vote. So its going to have to be four other people other than me to vote her out. And if not then she has her power and she can change the nominees next week if she doesn't win HOH. Which means she would probably put up me and someone else that I am close to. Sam – I feel like something else is happening. Tyler – like what? Sam – I don't know. I don't think Bayleigh is the hacker. I think its either Brett or Haleigh. Tyler – Haleigh isn't smart enough. If its Haleigh, she is weak. There is no need to get her out now. Sam – I think Haleigh is the hacker and she specifically chose things to happen. I think my vote will be cancelled. Tyler – no it won't. It will be mine. I am going to celebrate after the veto ceremony. And laugh. Sam – why? Tyler – because Angela is going to call out Bay for being the hacker and the hacker put me on the block. So the hacker is going to cancel my vote. Sam – I don't think so. I think that you're the mark. I think that its intended for you to go home no matter what. I think I will be sitting on the block next to you and the other vote that is cancelled out will be… Tyler – tomorrow you think that will happen? Sam – Angela will take you down. Then Bay will use her power and remove herself from the block. Then the nominations will go back to Angela and then she will have to choose someone new. Tyler – Bayleigh's power is not a veto for her to come down once the nominations are.. Bayleigh's power is she can choose before a nomination ceremony from what she said to hijack the nominations. Instead of Angela's nominations popping up on the screen, whoever Bayleigh picked would come up. We're just worried if Bayleigh is worried she will go up tomorrow .. maybe her power is that she can change the nominations before the veto ..or pick the replacement nominee. And in no planet anywhere would Angela put you up. She would put up Haleigh or Fes.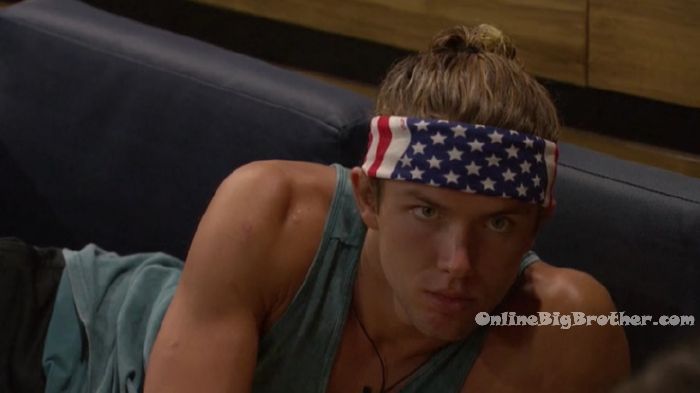 2:20am Kitchen. Brett and Tyler. Tyler – they made Scottie swear on the bible that if he won HOH he would put up Rachel, Angela or Kaycee. Brett – that is f**ked up! Tyler – And they made him swear on the bible that he wasn't the rogue vote for Kaitlyn. Brett – dude tomorrow .. I have a feeling tomorrow is going to rumble!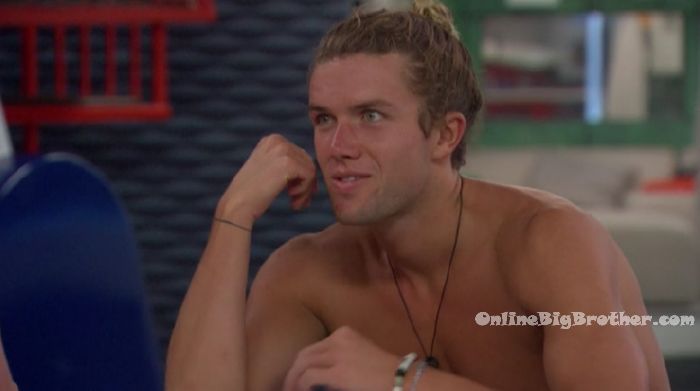 2:40am 3:30am Backyard. Fes and Sam chatting about random things..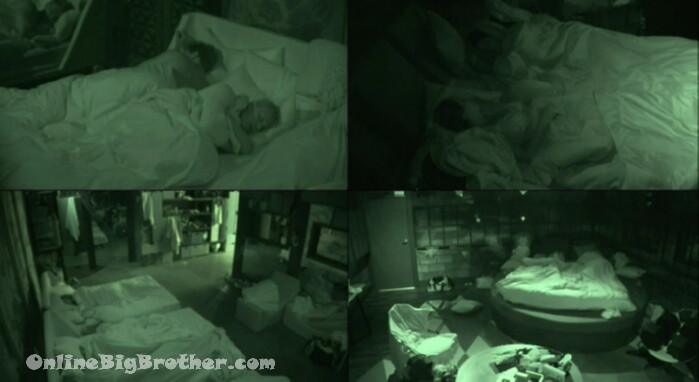 8am zzzzz
If you've enjoyed our live feed updates so far this season, please consider donating.
Any amount is greatly appreciated! Your donations go directly to paying the fees required to run this site.
Rank the houseguests!
Easiest way to Rank the house guests use link below