POV Holder:
?
Next POV
July 20th
POV Used
?
POV Ceremony
July 22
HOH Winner:
JUDD
Next HOH:
July 25
MVP:
?
Original Nominations:
Current Nominations:
Last Evicted Houseguest
David, Nick, Jeremy
Have Nots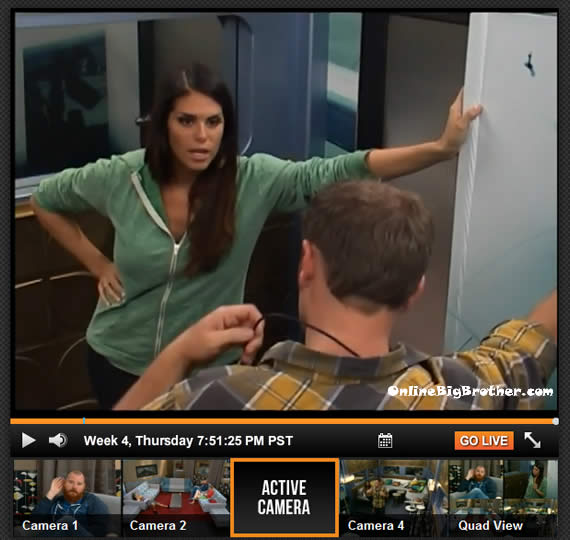 7:42pm JUDD, Jessie and Amanda cockpit
Amanda back on trying to get JUDD to put up Aaryn and Kaitlin to force Elissa to use the MVP on Spencer/Howard. Amanda: "You know she's wishy washy.. she'll put up Aaryn instead of Howard"
JUDD: 'If she does that we'll get rid of her a$$"
Amanda tells him he has to go to Kaitlin and Aaryn and tell them he's putting them up because if he doesn't Elissa will use the MVP on them and they want the MVP to be used on Howard and Spencer. (she's overplaying this angle IMO)
Amanda: "say you are doing a favor to them.. what do you think"
JUDD: "Ya maybe.. I don't know"
Amanda runs through a scenario that Elissa puts up Spencer and Veto is used so she backd**rs Aaryn.
Amanda: 'she thinks that Aaryn is targeting her personally more than Howard is.. But for the sake of the group Howard is more dangerous.. Look what happened last week"
Amanda points out that last week she was supposed to put up Howard and she didn't that could have screwed them big time.
Amanda doesn't want to sound like a dictator
JUDD says if he doesn't go home this week he wants him immediately. He adds that she f***ed them last week but in the end it all worked out. Amanda says She still wouldn't put one of us up or nominated us.
Amanda says they can't put her in a position where she has a choice to backdoor Aaryn or Howard because she'll pick Aaryn. Amanda and JUDD think that one of the nominees may get a special power. Amanda says if he doesn't put GM up she will trust him again. Amanda leaves because she doesn't want to be seen as a dictator.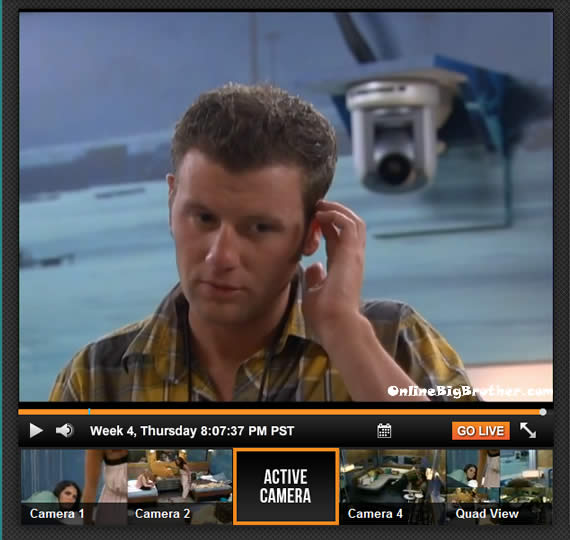 8:07pm Cockpit Elissa, Jessie and JUDD
Judd tells her Amanda just wants to make sure Elissa will work with them for the MVP. Elissa says of course.
Elissa: 'You would consider putting me on the block"
JUDD: 'No no I just want to make sure we have enough time to discuss it.. you don't have to nominate until Sunday right"
They start speculating on what the twist is.. Elissa thinks something will be unleashes on the house. Jessie leaves. JUDD tells her they have to talk about it and agree together 100%, "you have as much power as I do"
Elissa: "I'm so like… nervous"
JUDD: "don't be nervous I won't put you up that will never happen"
Elissa says she just so happy that JUDD is the HOH rolls her eyes "I'm so happy.. I'm so nervous"
JUDD: "I didn't want it so early.. " he adds that he didn't want Kaitlin to get it. He thinks she would put Candace and Howard up but you can never be too sure.
Elissa: "I'm so nervous"
JUDD: "what are you not telling me"
Elissa: "Nothing i'm just " (Feeds cut)
JUDD is trying to figure out what is wrong with Elissa, She keeps saying she so excited and she's having so much fun in the house.
Elisa: " I need to work out.. that is probably why I feel so weird"
Elissa says she feel like she's just started playing the game and now it's going to be shaken up. (She worried she'll lose the MVP power)
JUDD tells her he didn't feel like anybody was targeting him and now he's going to have to draw the line.
JUDD: "I'm not going to do what someone tells me to do.. soo.. if I backdoor Howard.. .umm You like Howard more than Spencer and I like Spencer more than Howard"
JUDD: 'If we don't backdoor Howard we can vote out KAitlin.. or Aaryn"
You can re-watch ever second on the feeds using their flashback feature.. It's super easy to use click this link for a free trial —> Subscribe to the Big Brother Live Feeds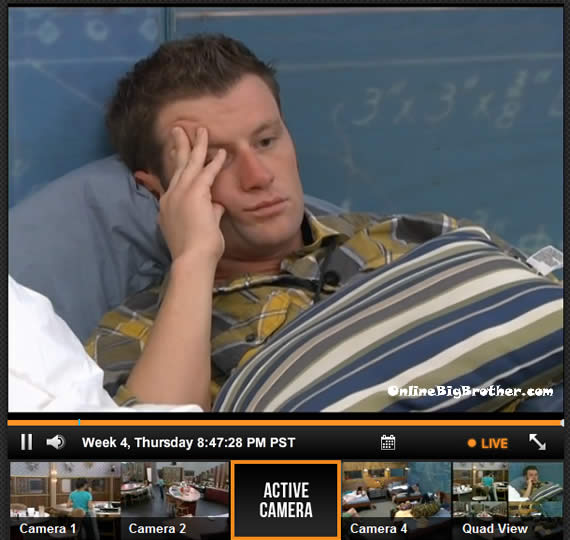 8:48pm Bedroom JUDD, Kaitlin, Andy, Amanda
Kaitlin says that Elissa is going around saying "Look like you picked the right showmance Jessie"
Kaitlin asks them why put salt on the wound I would never do that. Kaitlin says that someone threw out Jeremy's cologne. Andy thinks production would have seen it. Kaitlin doesn't know his cologne is missing, "Someone could have picked it up made it look like it felt empty and tossed it"
They agree that GM is over doing it with Nick and the crying. Kaitlin mentions that her and Jeremy were way closer than GM and Nick. Andy agrees says he's way over Nick. Kaitlin points out that GM wasn't expecting Nick to be leaving so she'll give him that. They mention that GM sleeps with Nick's hat on the pillow.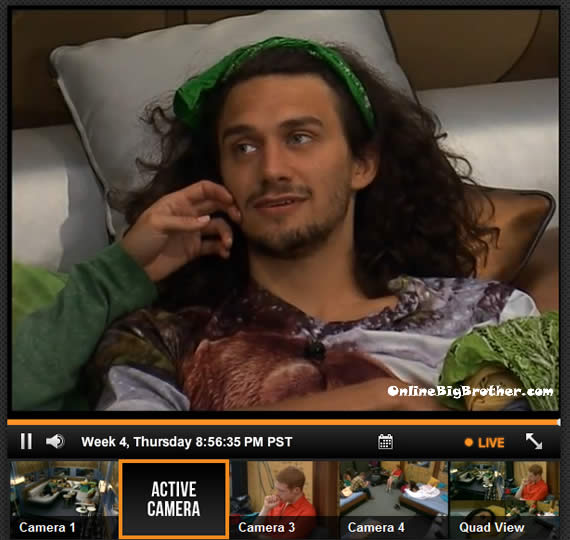 8:56pm Cockpit McCrae and Amanda convincing each other that they are in a good spot. McCrea: "we're in a good spot again.. just as long as the twist doesn't f*** us"
Amanda: "What are you looking at"
MC: "Looking at your body how good it looks"
A: 'thank you"
A: "I would be really stupid for someone to come after us right now we have everyone on our side"
MC mentions if Howard catches word that they are gunning for him they are "Super F****ed"
They agree they will get JUDD to do their dirty work this week. McCrea: "I wonder if he'll backdoor Howard"
Amanda: 'He is"
MC: "COOL"
MC wishes both him and JUDD hadn't won the HOH he feels they didn't need it this week.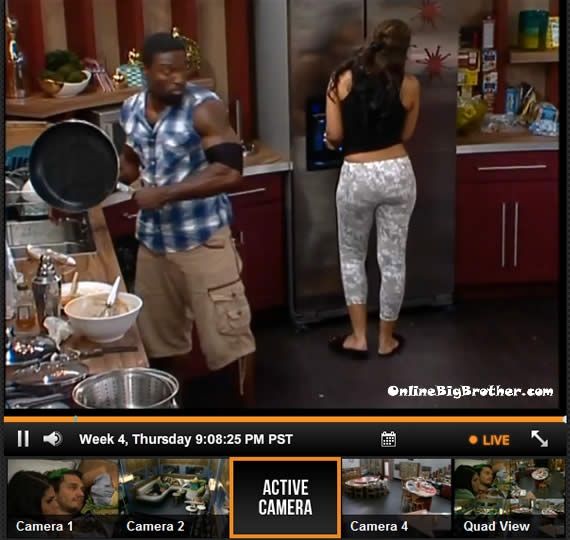 9:09pm Doing dishes yo
[polldaddy poll=7260936]