| | | | |
| --- | --- | --- | --- |
| POV: | Scottie | Next POV: | July 21st |
| POV Used | NO | POV Ceremony | July 23rd |
| HOH: | Scottie | Next HOH: | July 19th |
| Noms: | Brett & Winston | Have Nots | Angela, Sam, Tyler, Brett |
Big Brother Spoilers It'll be close.. Scottie should know by know something is up with Tyler..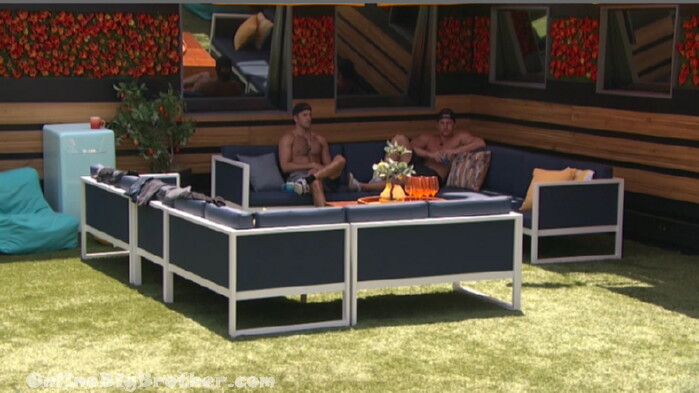 1:02pm Brett and Winston
They are going to keep their attempts at staying in the house clean.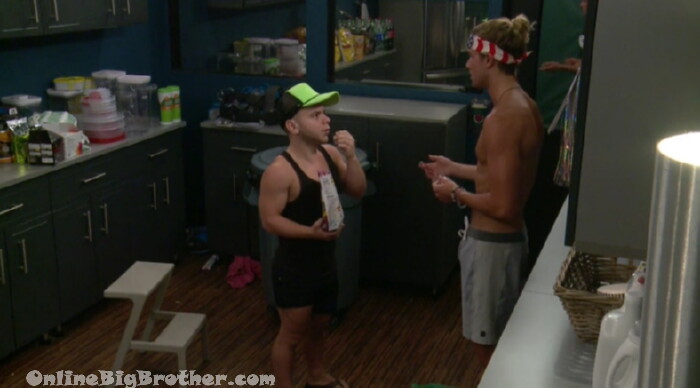 1:02pm Tyler and JC
JC says to separate Fes and Kailtyn he'll tell Fes that Kaitlyn flipped the vote week 1
Tyler says Kaitlyn has told Fes she was the flip and now she just told Scottie.
JC – what can I tell him.. I need Fess to not be close to her
T – I think he knows, make sure he's closer to you. You don't want to force it
JC – I'm going.. Rachel told me she getting close to Fessy and Stuff.. I want that to separate
JC – because if she gets HOH I want her to go for them.. you know.
T – she already said that she doesn't think she would that's not her top Priority .. which is dumb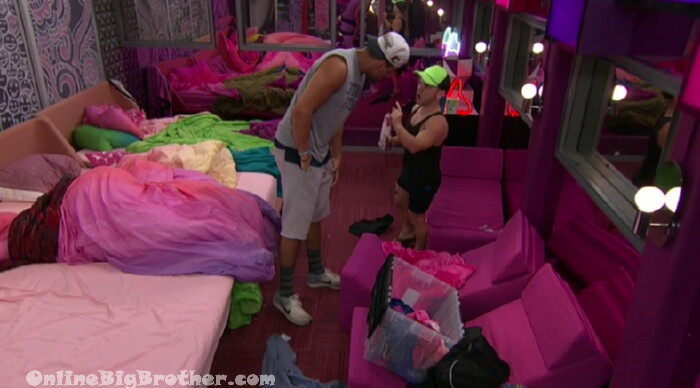 1:05pm JC and Fes
JC – this is the perfect scenario .. kailtyn and RS are making themselves BIG BIG BIG targets..
JC adds if any of "those four win HOH they won't even think coming for you". all they have to do this week is sit back and eat popcorn
JC don't share anything with Kailtyn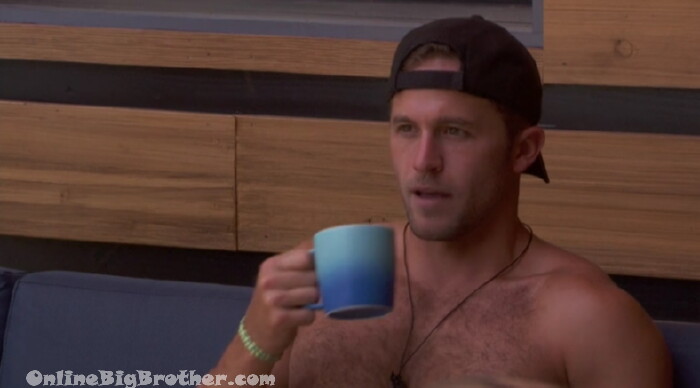 1:19pm JC, Brett, RAchel, Winston
JC to Tyler – this is the most masculine I've seen you look.. did you put makeup on
Tyler- Shut up…
JC – good thing you didn't put makeup on this morning
JC – did you have Makeup on
T – no idiot..
JC – That's why you look masculine
T – f** you
Winston – JC is the meanest person in this whole house
W – last night he called me .. he said literally you're so white trash I don't even understand what you are saying
BRett – he did say that.. then he didn't know that was a bad thing
W – he was like WOW what's wrong with saying that .. white trash
W – I was like that's really mean .
W – Don't go around calling.. it's fine with me if that's your thing JC
JC – I thought it was a accent thingy
W – for warning I don't want yo to get punched ion the mouth in Kentucky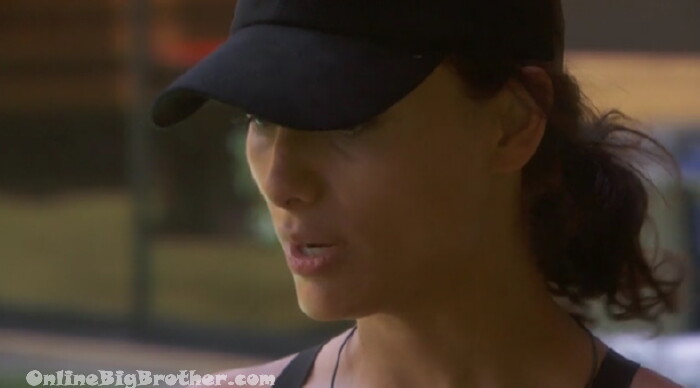 1:55pm Rachel and Brett
Rachel says as a way to try and get Fes' trust is terll him right before the vote that they are all voting to keep him
BRett – that's a terrible idea.. he's GUNG HO with me leaving..
Brett – he's one of the number 1 gung ho people
Winston joins them.. Brett mentions how he's being ignored.
Winston – I warned ya
Winston leaves..
Brett tells Rachel his only goal in the Veto Speech was to have Scottie laugh and that happened..
Rachel – who are you going for next week.. Scottie
Brett – no..
Rachel Rockstar and Fes
Brett – no.. Rockstar and a pawn.. then if I get a chance Backdoor Fes..
Brett says once Rockstar or Fes is gone that side collapses.
Rachel asks him about Scottie because Scottie does want him out of the house.
BRett -t hat would be next
Rachel – we all need to talk who's left.. you me and Tyler.. .not throwing the HOH..
Rachel says getting so close to win teh HOH wasn't the best thing for her personal game but she did it for the alliance. They need to talk about moving forward nobody should be throwing HOH's anymore.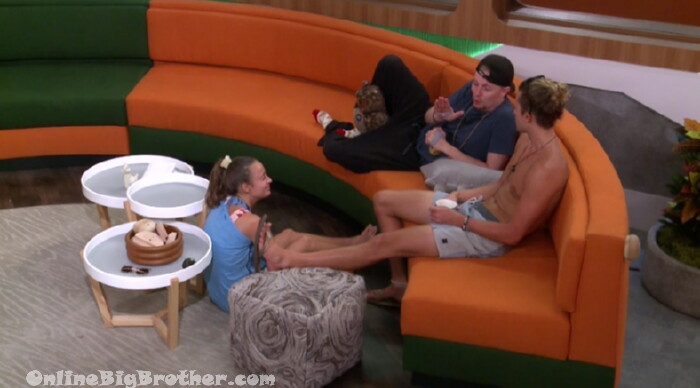 2:10pm Tyler, Kailtyn and Scottie
Kaitlyn – you're really inspiring me to get more into ankle bracelets..
Tyler- really
Kaitlyn – yeah, like for real
Kaitlyn – that's what my mom's into Ankle bracelets..
2:23pm.. Dunno what sam's doing..
GIRLS
Kaitlyn searching for a power #BB20 @DawgsBigBrother pic.twitter.com/S0euIzauFi

— OnlineBigBrother.com (@bigbspoilers) July 16, 2018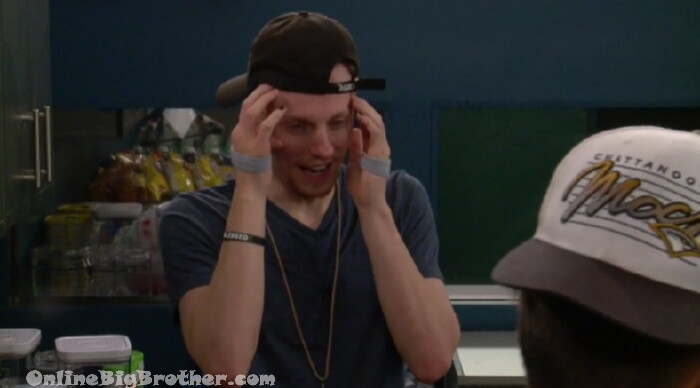 2:28pm Fes and Scottie
Fes says he doesn't care which one goes based on competitions but the girls like Brett more so down the road that will be a problem.
Scottie says the girls want Brett gone
Fes says the girls are now starting to talk about keeping him after that blow up last night, "it changes every day"
Scottie says he's worried that rumour has it Sam has a power and she did have a one on one with Brett, "I'm going to have to talk to sam.. i don't want her to know she has it but I might have to"
Fez – damn .. .if it expires why not break a deal and get it.
Scottie says out of everyone in the house Sam is the one that can get "Shook by the Doctor to use it" (the Doctor is production)
Fes – Winston might go home this week based on Speculation that Sam will use the app
Scottie says shut that idea down whenever someone mentions it.
Scottie says he's probably closest to Sam.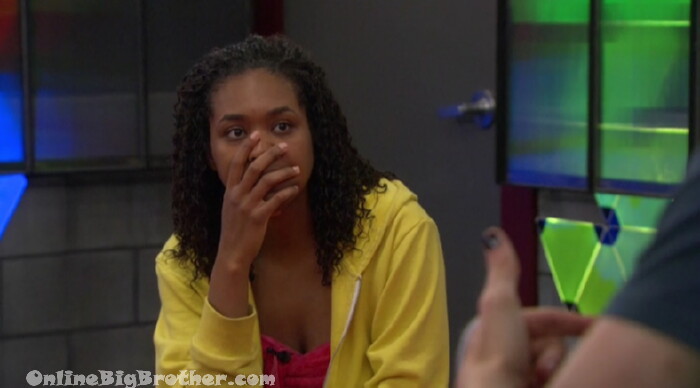 2:47pm HOH Scottie and Bay
SCottie – Rumour is Sam got the week 1 power
S – after I talked to Sam yesterday she wanted to have a one on one with BRett .. I said Ok I got Brett..
S – he has to know abotu this power
B – I ebleive he does
S – I wonder if he tried to stike a deal
B – what kind deal
S – that's the thing after yesterday being called out I can't see any world where anybody would listen to any deals he would make..
S – between the Doctor and whatever random things in her ear … she was shook that I was going to put her up and there should be no reason for her to think that
Bay – from what I've heard this power expires this week
Bay doesn't think Sam would make a deal with BRett.
Scottie – does she know we all know
Bay – I wold assume so.. I could ask.
Scottie – has she told you about it
Bay – no
Scottie – I don't even know where this started.. obviously it started with her
Bay – Honestly lets just be real, I heard it from Kaitlyn
Scottie – OK..
Bay – I just found out yesterday.. She said Sam told her and Tyler about the power and the details of it.
Bay – what I am under the impression of it was the people that vote against he person that has the power are the pool of people that can be Chosen from to replace that person on the block .
Scottie – You said Sam told Kaitlyn and Tyler
Bay – yeah
Scottie- I heard it from Kaitlyn she did not tell me Tyler knew I brought it up to Tyler and he acted surprised
Bay – I'll let you deal with that what you choose.. (HAHAHAH love it)
Bay – from what Kaitlyn told me Tyler was the only other one that knew about it the whole time
Scottie – interesting..
Bay – I think Tyler just didn't think it was his place to tell
Bay says that is why Kaitlyn was saying her and Tyler got so close so fast because they were the only two that knew
Scottie – the legit concern I have is Brett could easily spread that one meeting was about this deal.. and if people vote him out she'll use it.
BAy doesn't think that would happen she thinks Sam would clear the air before letting a rumour like that spread.
Scottie reminds her that Sam does not talk much game to people as all.
Bay – I don't think Sam will use her power on Brett.. she doesn't like him.. She'l use it on Winston before Brett..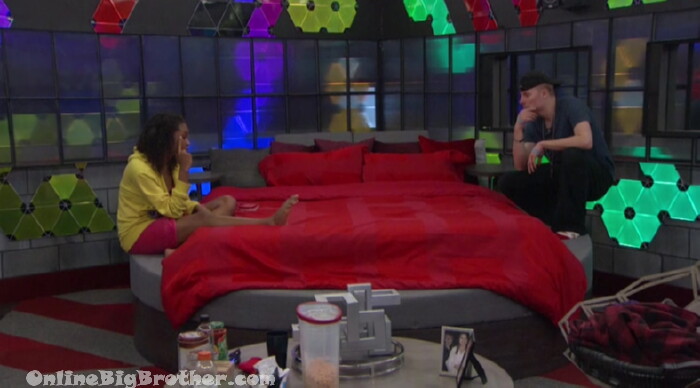 Bay – this might be our first Sweep.. at this point Winston is not a threat to anybody but himself.
Scottie agrees.. "no more f***ing powers"
3:30pm Hamlet in the bathroom stall
For all you folks that need a VPN I use this one
Rank the houseguests!
Easiest way to Rank the house guests use link below