POV Holder:
Donny
Next POV
July 19th
POV Used
?
POV Ceremony
July 14th
HOH Winner 1:
 Nicole
HOH Winner 2:
 Derrick
Battle of the Block Winner
Donny/Amber
Next HOH/ Next BOB
July 17/July 18
Original Nominations:
Derrick's Noms (Caleb & Jocasta) Nicole's Noms (Donny & Amber)
Final Nominations:
Have Nots
Caleb, Amber, Devin, Hayden
POV Players
Derrick, Jocasta, Caleb, Christine, Devin, Donny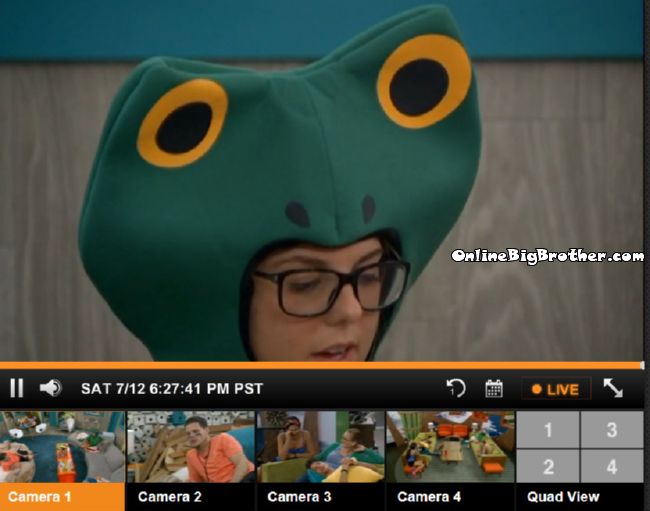 6:13pm Have nots Amber tells Caleb she's excited about being a have nots
6:13pm HOH Frog and Derrick
Derrick tells her she's not going up on the block he just wants her to know that.
She thanks him for not putting her on Slop because she's not sure her body can handle it.
Derrick – "You are in a frog costume for a week it's not bad but it's not fun either"
Derick is confident they have the votes to get Deevin out. Derrick thinks Devin is a stronger competitor than Caleb he's more mental and physical. .
Nicole agrees calls getting Devin out a HUGE game move. Derrick points out that Caleb hasn't won a competition since the first HOH and all he did was hang on a log. Nicole warns that Donny is really intelligent and he's winning a lot of Competitions.
Derrick agrees. Says he knew if Donny wasn't going to win the POV Devin would have won it today.
Frankie comes in they agree everyone in the house wants Devin gone. They tell Frankie Donny will use the POV on Jocasta. Frankie says all the lies, craziness and paranoia came from Devin, "I honest to god think if he goes home it's a clean slate"
Frankie mentions how he hasn't heard anyone mention voting Caleb out.
Frankie leaves.
Derrick – "We're good to go we have very little blood on our hands because everyone wants him gone"
Nicole saying the more she thinks about it the more she can trust Derrick, she trusts Derrick until he gives her a reason to not trust him. Nicole tells him if he gets nominated next week she'll try to help him but she's feeling like nobody is going to go after Derrick.
They agree the house is looking at Donny as a competition threat. Nicole says she's heard from multiple people that Devin stirs up the most sh!t second is Donny.
They keep talking about Donny causing trouble in the house, being a competition beast etc etc.
They talk about working together and how nobody in the house will suspect it.
Nicole thinks Caleb is going to start looking like a fool because of his love for Amber.
Derick "watch.. his demise in this game is going to be her. she's playing him"
Nicole – "He went on the block for her. "
Derrick – "He won't do that again I can tell you that much"
Derrick thinks that Jocasta lost the Battle on the Block on Caleb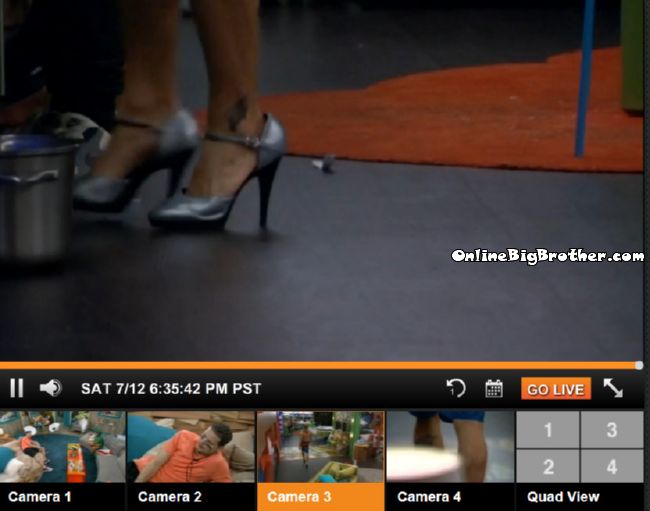 6:35pm
Hayden wearing Heels. Frankie gives him pointers in how to walk with heels.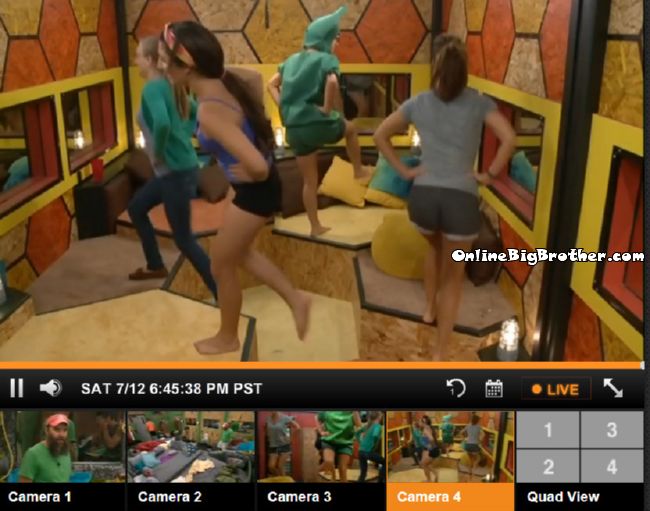 6:44pm
BEEHIVE step up work out
Frog Victoria, Brittany and Christine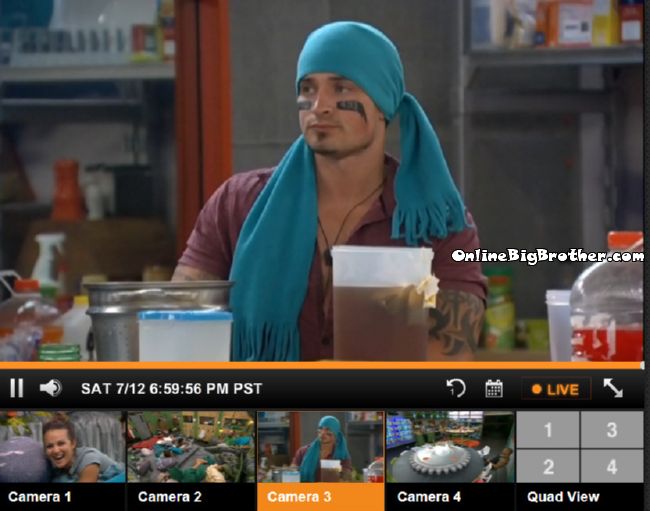 7:00pm Kitchen, Caleb, Christine Hayden, and Amber
Frankie is scrubbing the dishes.
Caleb talking about ways they could eat the tripe. Devin whose off on the dining room table is giving Caleb strange looks (See images)
Hayden tells them his plan is going to be to eat a lot of Slop and have protein shakes. Caleb plans on making protein pancakes. DEvin says he just wants to get this all done so he can see his Daughter. He understands he's got "Obligations" when you are evicted but Devin wants his Daughter with him in the least. Devin says the amount of "Obligations" you have after the show it depends on how popular you are. Caleb and Devin alone.. Caleb saying he slept in the dirt half his life so spending a week in the havenots room isn't going to be that bad.
Rock Room houseguest coming in and out sharing stories ..
The Feeds are awesome this year No Joke!
Try It Free! Get 24/7 access to the house PLUS more for 48hrs before you decide!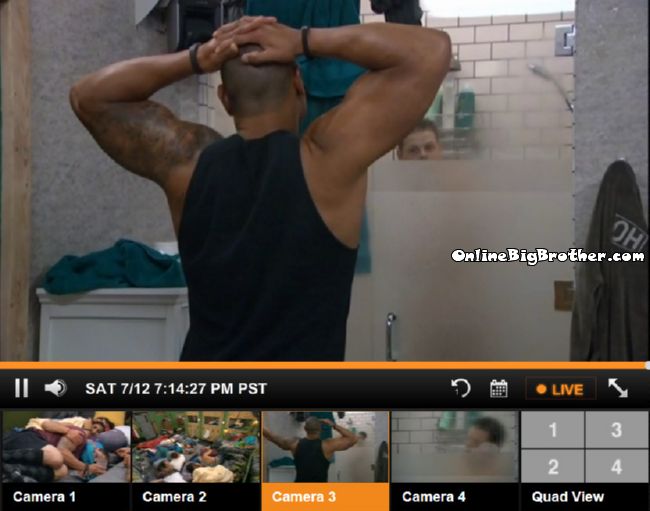 7:10pm HOH Derrick and Devin
Derick is going on and on about how good Devin did in the POV competitions. Devin thinks it's all luck. They talk about how Donny is something more than he says. Derrick thinks he's former military. Devin says if any of them were going to beat him he wanted it to be Donny, "The paranoia is so intense in here dude.. I'm so excited to get out of here i'm on the same side I'm grateful I came.. Dude I miss my daughter man"
Devin wonders if he's going to have any fans. Derrick thinks they all will but they all will have haters because they played the game and didn't float through the game.
Derrick tells him he's going up on the block on monday and when he does that all the Devin fans are going to hate him.
Derrick is certain that Donny will use the POV on Jocasta but a bit of him thinks he won't. His reasoning is after what she went through this week nobody will vote her out against Caleb. Derrick tells him after winning the POV Donny came into the house and handed the POV to Jocasta, "It's TV Gold"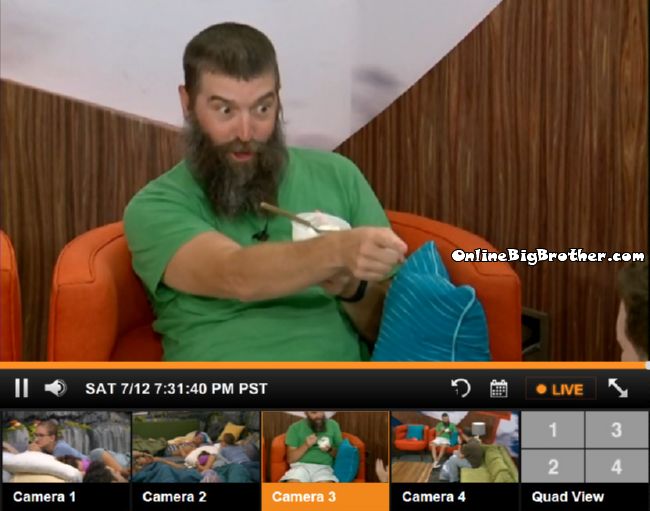 7:30pm Derrick and Donny
Derrick says Devin was up in the HOH telling him he doesn't know what Donny will do for sure. Devin was suggesting that Donny will not use the Veto because he thinks nobody will vote Jocasta out after all she's been through.
Derrick – "He's saying that to make me paranoid but I'm not buying it.."
Donny says all he's doing is being nice and saving his friend Jocasta Derrick is the one sending him home. Derrick points out that Devin is telling everyone he's done with the game but he really isn't. Derrick promise he would Tell Donny if his name was ever coming up.


[polldaddy poll=8179403]