POV Holder:
?
Next POV
Aug 3rd
POV Used
?
POV Ceremony
Aug 5th
HOH Winner:
GM
Next HOH:
Aug 8th
MVP:
AMERICA
Original Nominations:
Candice and Jessie
Current Nominations:
Last Evicted Houseguest
David, Nick, Jeremy, Kaitlin, Howard
Have Nots
no have nots this week
9:40pm Living room
The competition begins where the players have to impersonate Ginamarie. The best impersonation gets to have a BBQ with Helen, Aaryn and Elissa.
In the centre of the living there is a collection of GM's stuff, the meow meow hat, hair extensions etc etc.
Participants are Amanda, McCrae, Jessie, and Spencer. Helen and Elissa are also in the contest but just for fun. On the count of three they have to race to the centre and grab a prop to prepare.
Each contestant stand in front of the group and does their impersonation. (In my opinion McCrae and Jessie and Amanda are the best flashback to see it all)
Everyone has a great time after they are done with the impersonations the judges head to the have nots to decide the winner
10:00pm havenots the judges Aaryn, Candice, Andy and Ginamarie
Aryn think spencer is the funniest
Andy, Candice and GM like McCrea
GM likes Jessie because she told the story to a "T"
GM says she would like to give it to McCrae or Jessie
Andy agrees: "McCrae surprised me the most"
GM I'm going to pick McCrea and Jessie and they can rock paper scissors for the win. This evolves into giving out two prizes the winner get to choose the HOH room for a night or the BBQ.
Most creative is awarded to Spencer
Best accent Amanda
The 2 finalists are Jessie and McCrae
McCrae wins the Rock paper scissors and gets to decide either the HOH room for a night or the BBQ. McCrae chooses the HOH room giving the BBQ pass to Jessie.
Jessie does a second impersonation..
You can re-watch ever second on the feeds using their flashback feature.. It's just like a DVR and is super easy to use. click this link for a Free Trial —> Subscribe to the Big Brother Live Feeds
10:18pm Bathroom Helen and Jessie
Helen: "I'm so glad you won it .. I so wanted you in the BBQ. the rules of the BBQ are no game talk .. If you talk game you take a shot"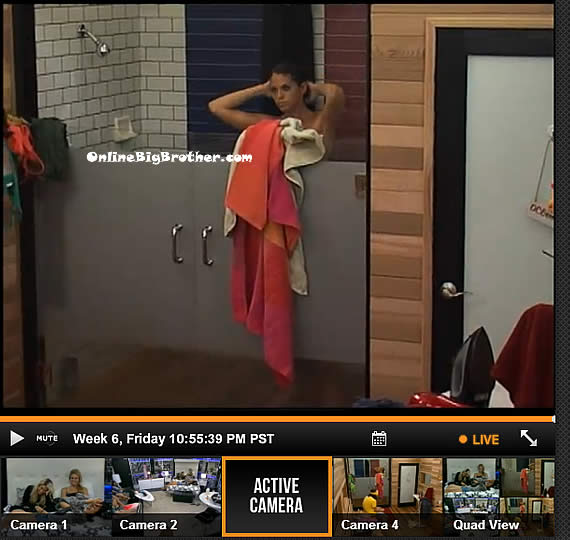 10:39pm Amanda and McCrae shower
Amanda: "I love you "
Amanda is talking about Howard saying to him that Amanda is using him. She's pissed off by this.
Amanda asks him if he feels he's in a bad situation. "Will you talk to me you're driving me crazy"
MC: "I'm just trying to think about what is going on"
Amanda says he's just like her "three year relationship" where guys would threaten her and he didn't do anything.
A: "Can you speak do you want to end this.. what are you thinking"
MC: "No.. I'm just trying to think.. what we are going to do.. about the game"
The rest of the houseguests start leaving the HOH room some of them pile into the bathroom and start chit chatting
Essentially there are 1 zillion n!p sl!ps during this conversation I've put some the time stamps here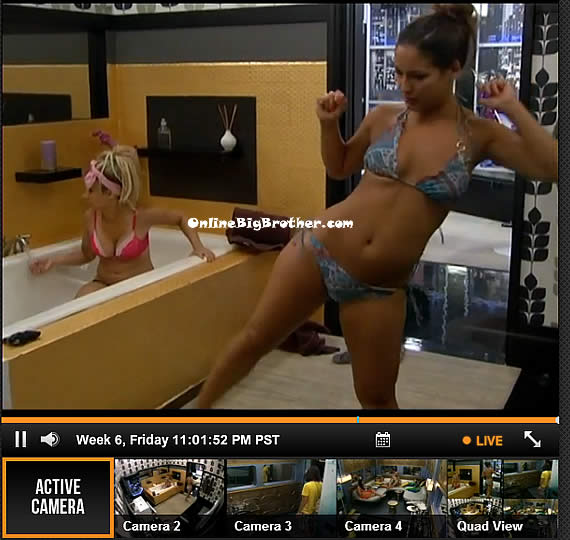 11:00pm HOH GM, Jessie and Spencer Spencer tells them everyone is going to bed early tonight because they have "that Meeting at 7am" Before Spencer leaves GM asks him if she was too harsh on Candice during the nominations. Spencer doesn't think she was. Jessie and GM jump into the tub for a bubble bath. Aaryn joins them . Gm start to go over what she told Candice today after the nominations.
Aaryn saying the person that bothers her the most right now is cockness..
GM asks who is being cocky. She mentions the people that walk around thinking they run the house.
Aaryn is really worried Candice will try hard for the veto because she's already won the 5 thousands during the HOH last night. GM says she plans on working her ass off to win it.
They start trying to figure out who the MVP is GM mentions that McCrae won MVP. Jessie points out if McCrae wins MVP he'll put up Spencer.
Jessie tells them that Helen does not want to talk game at all at the BBQ.
GM says she's made deals some simple deals with people. She's told 4 people she won't put them up if they don't put her up.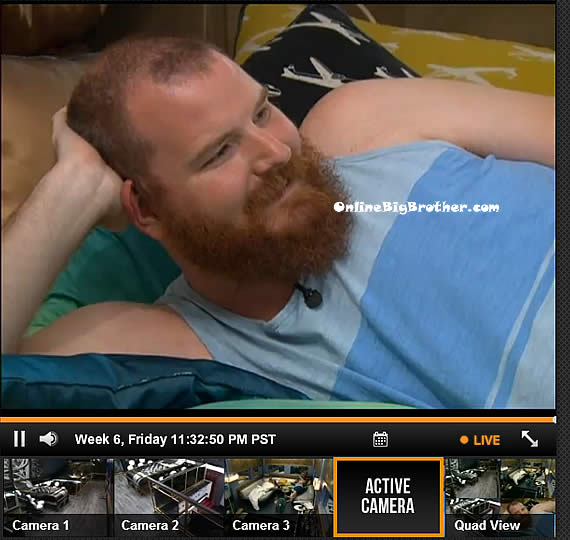 11:25pm Cockpit Spencer and McCrae
Spencer says he wants to keep Jessie for this week and get out Candice.
MC: "To me it really doesn't matter strategically there is no difference.. GM really wants Candice gone but Elissa really wants Candice to stay"
MC says Elissa is really dumb it annoys him because Candice was trying to flip the house against her he cannot understand these people sometimes.
Spencer: "My vote right now is Candice" Spencer tells him that Candice will come after him next week she a much bigger threat to him that Jessie.
MC: "Jessie is a easily dealt with problem.. Candice isn't easily dealt with"
Spencer agrees says Candice will explode on anyone at any moment but Jessie is predictable.
MC agrees.
MC: "I'm going to have to see what happens with the MVP i'll probably just go with the house"
Spencer: "To be honest Candice is ready to go"
MC: "I hate candice on more of a personal leave haven't really thought about it strategically.. to me right now they are equal"
Spencer: "Would you put me up if you won HOH"
MC: "no I would put the same people up"
Aaryn comes in asks where Amanda is she wants to talk to her becuase she seems bummed. MC doesn't know where she is says they are fighting.
MC says Jessie is jealous because aaryn is higher on the pecking order than Jessie
S: "It's a hot girl thing"
MC tells him once they hit Jury Helen and Elissa are going to make a strike on him and Amanda.
S: "I'll tell you this dude .. this is what scares me in the opposite way it should scare you.. once one couple get broken up the other couple will fall.. it's symbiotic in nature"
MC agrees, says it really depends on how wins the HOH at that poitnt.
MC gets called into the Diary room
11:46pm Cockpit Amanda and Spencer Amanda telling Spencer about when Howard came up to her and told her he wanted to f*** the s!t out of her. Spencer doesn't believe it says it sounds funny. Amanda says it's not funny she was sacred (Howard says he never said this Amanda brings it up almost every hour essentially it's her word against his.. Only people that know the truth is CBS)
12:01AM McCrae, Spencer and Amanda Spencer saying he misses Howard's friendship in the game but he knows Howard had no game strategy. Spencer adds that once Howard starting getting close to Candice he didn't spend as much time with him.
Amanda explains Howard leaving was not because he was a competition threat it was more of a number thing. Amanda says Howard was close to Candice and Candice was close to Helen and Helen was close to Elissa. 4 People could have been solid there and that would have been dangerous. (Spencer was close to Howard that would have been five..)
Spencer says Howard was a very intelligent person but his communication skill were lacking.
Aaryn joins them
12:14AM talking about the MVP Amanda says putting her up this week would bve a waste of a MVP.
Amanda says if MVP wants Candice to straight they will put Aaryn up.
Spencer: 'Who would fu** flip out if they went up as the 3rd nom"
MC: 'Elissa"
S: "JUDD"
Amanda: 'I flipped out last week"
Spencer tells them he has trouble believing that the MVP is in the house. He points out as a fan of the show he would be pissed if Rachel. Spencer thinks it's America that is deciding the MVP. Amanda totally doesn't thinks so
MC: 'It totally makes sense I could see them says AMERICA YOU GET TO DECIDE"
Amanda: 'No one would want Elissa on the block"
MC: "yeah right"
Amanda thinks if America decided Jessie would have gone up.
Amanda: "Ginamarie nominations speech today was the funniest thing i've every heard in my life… it was phony as f*** you see Candice's face"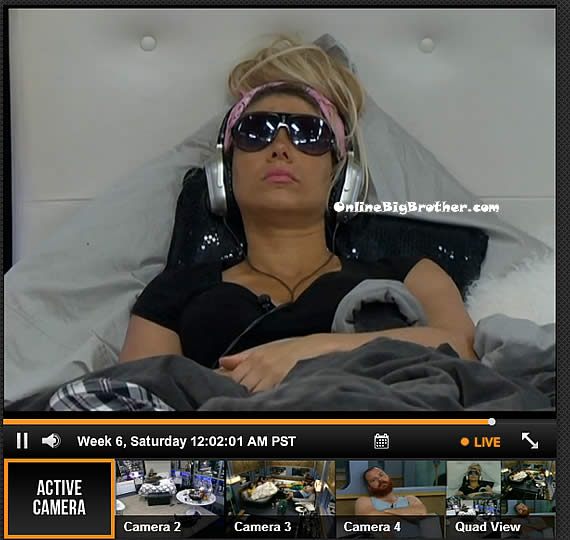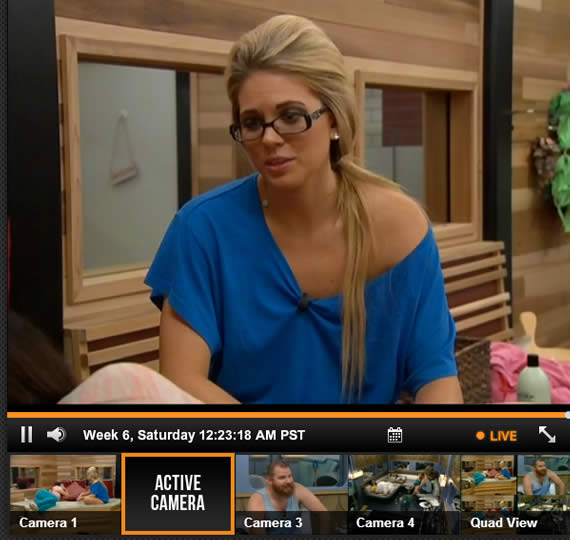 12:21AM Bathroom Aaryn and Amadna
Amanda telling her if Jessie wins HOH she will put them both up. Aaryn says no way she talked to Jessie upstairs and she's not targeting them.Amanda: "But who is more likely to win HOH .. look at Jessie and look at Candice"
Aaryn: 'it won't be endurance again they don't choose the same thing twice"
12:27am Aaryn and Spencer
Aaryn is really nervous about Candice not going home this week. She warns him if Candice wins HOH she will put them both up. Aaryn says Amanda isn't on the same page as they are to get Candice out.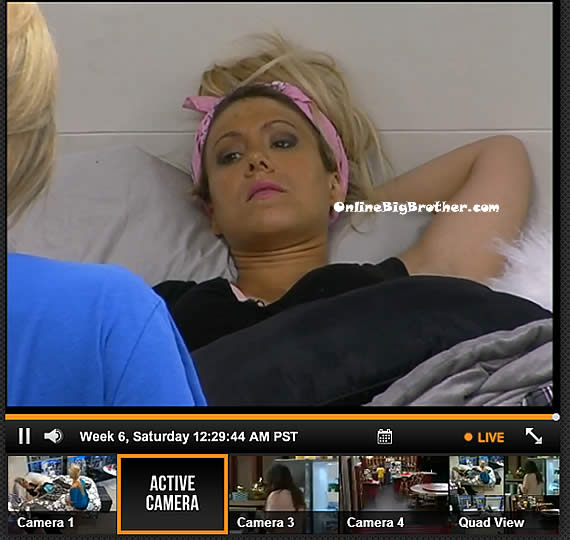 12:28am HOH Aaryn and GM
Aaryn: "Amanda is freaking me out.. she wants Jess. out.. "
Aaryn I should have never told Amanda that Jessie was all over McCrae's nuts
GM: "If that is the case I would have put up Spencer"
Aaryn: "Jess has to win Veto and If I win it i'll take her off"
GM: 'First of all I save f**** amanda twice.. Candice has got to go"
Aaryn: 'If she doesn't go we're f***ed"
GM: 'You shouldn't have said anything:"
GM says Helen will vote her way when it comes down to it.
Aaryn isn't sure
GM says the house won't want her miserable "believe me.. I am the entertainment value in this house… they do not want me upset believe that they are going to do this one thing that I ask"
Aaryn: "you know what she said to me that freaked me out she said if I go up for MVP however is MVP doesn't want a vote against Candice"
GM isn't going to worry about any of this POV is tomorrow.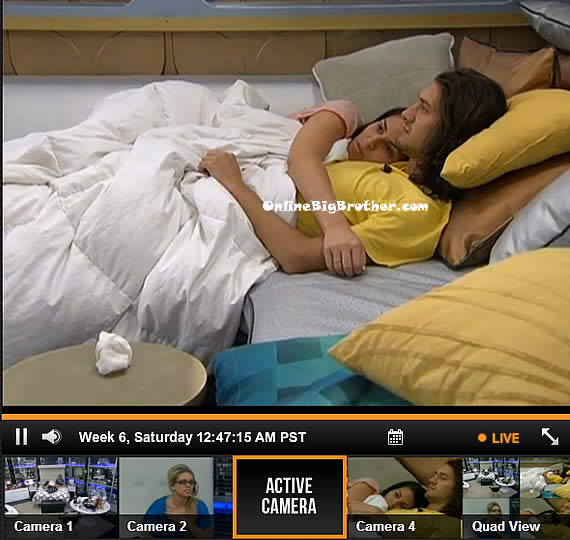 12:35Am MC and Amanda Cockpit
Amanda tells him if they get rid of Candice it isn't going to bother a lot of people if they get rid Jessie it will bother Aaryn and Ginamarie
MC: "We'll be the swing vote'
MC explains that Helen and Elissa want to keep Candice. Amanda: 'WHY?"
MC: "Because they're stupid" He explains that Helen knows they can count on Candice's vote so when they start to come after him and Amanda they have more numbers.
they both agree that Aaryn most likely is going up as MVP. MC: "I just hope it's not you"
Amanda says it's a waste of a MVP to put her up theres no chance she's going home. She thinks if Aaryn goes up she has a chance to go home.
MC wonders if Spencer, Aaryn, JUDD and Jessie have a finaly 4. He concludes it's a shady final 4 and not as solid as their final 4.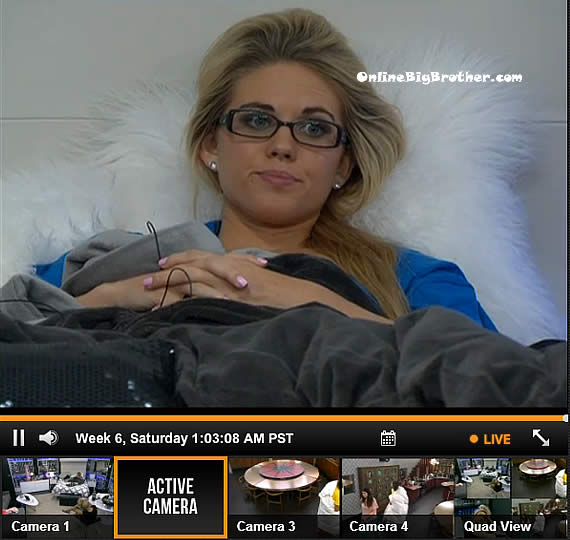 12:58AM HOH GM and Aaryn
GM: "Candice annoys me she's a rat b!tch C**t I can deal with Jess I can't deal with Candice.
Aaryn :"Well Jess needs to go next week.. If you say you don't care then people will vote Jess out"
Gm: "I'm telling you I don't care… Jess is going this week"
Aaryn: 'Everything Amanda does is strategic she told me"
Gm: 'Sure so do I" (LOL)
Aaryn: "everything I do isn't strategic.. I feel with Amanda it's constant.. she uses everything to her advantage and throws people under the bus to get what she wants.. I can't blame her for doing that cause you know its a game"
Aaryn says they have made it so far after everyone else in their original alliance has been wiped out it is amazing.
Aaryn is worried they are going to get blindsided this week. "Every time we're in power we get blindsided"
GM: "I've never been in power"
Aaryn adds as long as they do what the "House" wants they are fine but once they do something against the house they run into trouble.
Gm points out when Amanda went on the block last week she was suspiciously scared.
GM: "I'm f** funny and I'm funny why am I not MVP"
[polldaddy poll=7293412]