POV Holder:
?
Next POV
Aug 3rd
POV Used
?
POV Ceremony
Aug 5th
HOH Winner:
GM
Next HOH:
Aug 8th
MVP:
AMERICA
Original Nominations:
Candice and Jessie
Current Nominations:
Last Evicted Houseguest
David, Nick, Jeremy, Kaitlin, Howard
Have Nots
no have nots this week
N*de flashback times here NEW times just added
7:19pm Kitchen Amanda and Elissa
Elissa: "hey Amanda.. do you think we have the votes to keep her" (Candice)
Amanda: "I hope so.. I'll make .. um I'm going to try an make sure of it"
A: "If I do that do you think she will put me up still"
E: "HUH"
A: "IF I DO THAT do you think she will put me up still"
Elissa shakes her head says "no way only GM and Spencer would"
A: "Yeah that was what I was thinking"
7:33pm HOH Aaryn, Spencer, Andy GM and Helen
(Remember what Amanda and Helen did to Howard, Jeremy, Kaitlin, Nick .. they're doing the same thing with Jessie now. Expect a lot of made up sh!t to be said about her this week)
Helen mentions how Jessie was bringing up that her and Elissa do not need the money. Helen tells them she needs the Big Brother money, 'it will help everybody.. you know.. we're not here for fun. you know.. I'm here working my butt off so I can win this for my family.. you know.."
Helen adds that Jessie going around making comments like that didn't do her or her family a service. helen points out all the flip flopping Jessie did last week.. 'I could've called her out and embarrassed her" .
Helen says the private deal her an Aaryn made was leaked by Jessie. Helen adds she could have made a big deal about it but she didn't.
Helen: 'I could have embarrassed her HUGELY in this house for doing that.. you know.. I didn't I didn't .. you know "
Helen starts to say that she's been protecting Jessie's game "you know" she could have made it a lot worse for her but she didn't "you know"
Helen: "All Jessie has done is hurt my game.. you know.. I've never donm anything to her"
Spencer is quick to jump in saying they all need the money, 'Who can't use half a million dollars"
GM says doesn't matter how much money they have going into the house they all have bills to pay.
Andy: 'i think she was snapping on everybody yeastreda
Aaryn is saying she's totally fine with Jess leaving whenever it's her time to leave.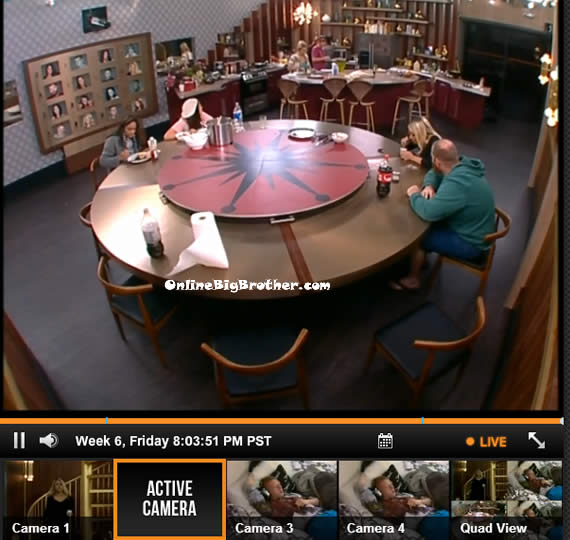 8:04pm Kitchen Players are either eating or sleeping
8:29pm HOH Andy listening to music while GM admires her picture of Nick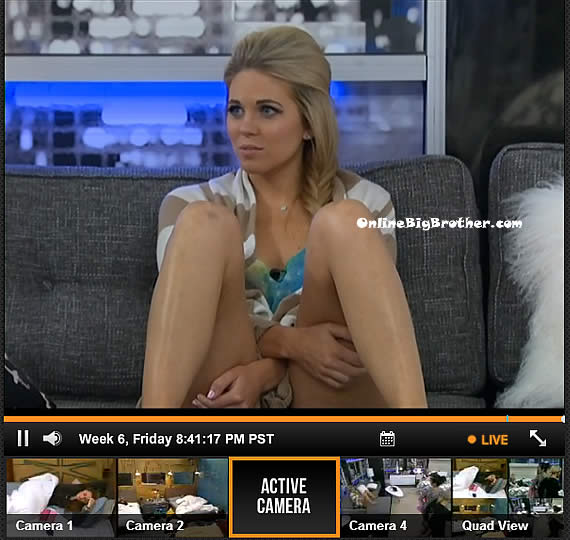 8:34pm HOH Aaryn and Andy
Aaryn telling him that during the mattress flipping event Amanda convinced 6 people in the rainbow room she was responsible for David and Nick's eviction, "She convinced everyone in the room it was my fault.. "
Aaryn adds that after Amanda told her in private that Aaryn was not responsible for those two evictions.
Aaryn says you can manipulated David's mind so easily she's worried that David's at home right now thinking she is why he went home.
Andy: "If i Know two things about Amanda is she likes to be in the centre of trouble and two she is very loyal and I want her on my side and not against me"
Aaryn Hopes that they are loyal to her. Andy says he's trusting his gut on this one and he feels they can trust Amand and McCrae.
Aaryn says they all have bonds with people in this house and if they want to win this game they have to have loyalty. Andy thinks the first couple weeks of this game is all about making those bonds.
Aaryn points out it's going to get hard once Spencer, Candice and Jessie leave and people start to smell the money, "everyone will want to win HOH and be safe"
Aaryn asks him why does Amanda and McCrae want her in their group
Andy says it's all Amanda she trusts Aaryn.
Aaryn says they can fully get to final 4 with their group they have, points out that no one will expect it. Andy agrees says that he's got Helen covered and she has JUDD covered as long as they win a couple competitions along the way they are golden.
Aaryn is a bit worried if Candice wins POV tomorrow.
Andy: "It's Candice and Candace SUCKS at competitions"
Aaryn is worried because if Candice wins POV and then wins HOH she will put up her and Gm.
Andy : "I love GM but she'll go home:"
Aaryn loves GM to but she did turn on her a couple weeks ago when they were on the block with Kaitlin.
Andy: "She really turned on you"
Aaryn confirms that she did.
Andy thinks he was overthinking last week.. he's not as "Super nervous " about JUDD anymore.
Andy: "I trust you way more than I trust JUDD"
Aaryn: "I know Amanda and McCrae have made a lot of deals with a lot of people.." Aaryn is worried that Amand and MC have a final 4 with Helen and Elissa that trumps their final 4.
Andy doesn't think so. "At some point I'll have to betray Helen and Elissa"
Aaryn wonders about the MVP nominee this week. Andy isn't phased by it because regardless of who goes up they have the votes to take out Candice.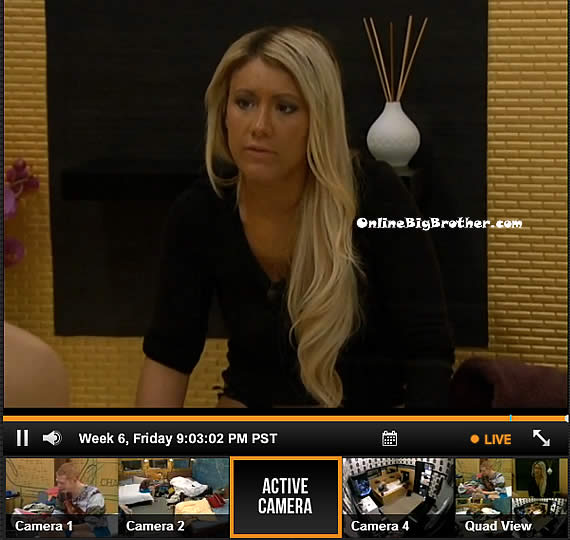 8:49pm GM and Aaryn HOH
Aaryn says Helen makes her nervous she feels like she won't vote out Candice.
Gm isn't worried she points out that JUDD isn't going to vote out Jessie nor is Aaryn.
They start planning out the contest for tonight to decide who wins the 3rd spot for Helen's BBQ. (Right now it's Elissa, Aaryn and Helen who are going to be in the BBQ. GM has declined to participate. I say throw the comp)
GM starts to go over her conversations with Jessie and Candice.
Aaryn says if Candice comes off the block she is going to cry. Aaryn is also worried that she will go up as the MVP nominee or the replacement MVP nominee.
GM: "In anyone f***s me i'm going to f** them in their a$$"
Aaryn and GM both agree that her Nomination speech today was a big deal and everyone is talking about it.
GM: "No one has b@lls to say something" (Saying gunk about Candice and Jessie does not take balls.. saying it to Amanda now that requires balls)
Aaryn: "You are losing a lot of weight"
GM: 'I feel like i'm fat.. look at my thighs they are HUGE"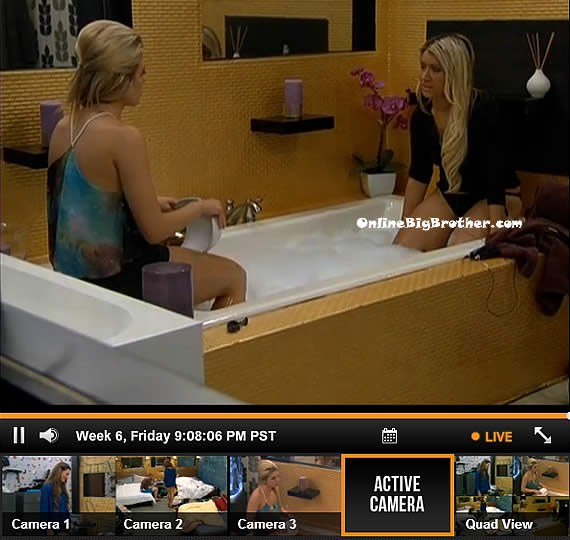 [polldaddy poll=7293412]