POV Holder:
?
Next POV
Aug 3rd
POV Used
?
POV Ceremony
Aug 5th
HOH Winner:
GM
Next HOH:
Aug 8th
MVP:
AMERICA
Original Nominations:
Candice and Jessie
Current Nominations:
Last Evicted Houseguest
David, Nick, Jeremy, Kaitlin, Howard
Have Nots
no have nots this week
1:05am Ginamarie talks to Aaryn about how she hasn't been a havenot and people want her to throw it. Ginamarie says I am here to compete, this is a competition, get off you're fat a$$es and do something about it. Can you play like everyone else, I don't understand it. Aaryn says MVP was already passed out. Gina asks how do you know that? Aaryn says because it's the night before. When Elissa got it it was the night before. Gina asks how do you know that did she tell you? Aaryn says Helen told me. Gina says don't believe everything you hear. You can listen but don't believe it. Gina says it could be tomorrow morning. Gina comments that I haven't heard anyone called into the diary except for me because I am HOH. Aaryn says because you know how he came over the speaker and called me? Gina says yeah. Aaryn says he did that to Amanda too in the cockpit. Gina asks he did what to Amanda? Aaryn says called.. Big Brother cuts the feeds. When they come back, Gina says that sucks, whatever!? America thanks for voting for the cool fu*king people!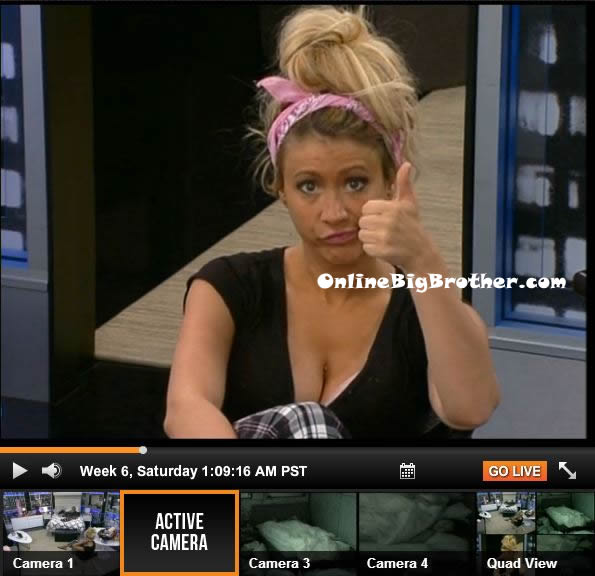 Gina says that's why I wanted her out because it's always going to go to her. Money goes to money! That's what Jess has been saying. Aaryn says there might be a limited amount of times someone can get it and that's why Elissa when up that time. Gina says they should give us the rules. Aaryn says we could ask. Gina and Aaryn get ready for bed.
Big Brother 15 Live Feeds: FREE 2 DAY TRIAL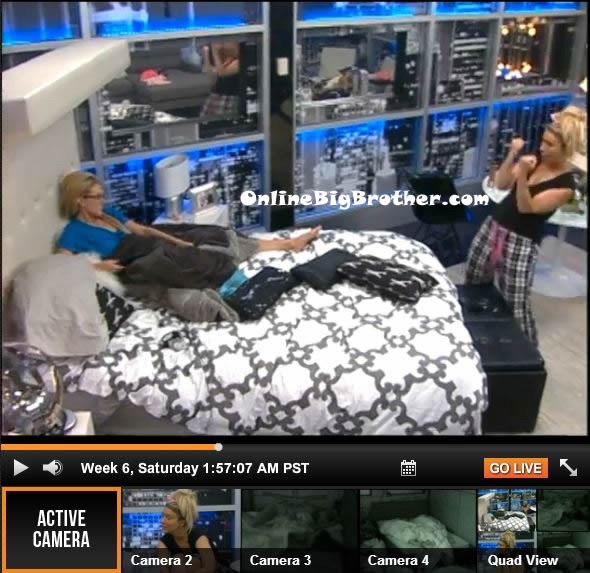 1:40am Aaryn says that she is glad that Jessie got it (The other BBQ spot) because now she will be sweeter and bond with Helen and Elissa and she will stay. Gina says she probably feels like a dumba$$ too because she over reacted when she should have just stayed cool. Gina says how awesome are we, getting HOH dude! I bet Jeremy would be happy! Aaryn says she doesn't think so. Hey a$$hole we're okay and you're not! Gina throws up the sign to Jeremy and yells Jeremy with farting noises. Aaryn says that Jeremy threw us under the bus all the time. You were up here, Jeremy said the only reason he gave me HOH was because he wanted to play next week. Aaryn says Jeremy was BFF with David and voted him out. We would be running the house if David had stayed. Aaryn says I still haven't been a havenot, and you can suck my have a$$! Gina asks YO! You think people know I have some balls now or what?! Because of what I said! Aaryn says you are definitely going to get it (MVP). Gina says that Judd came up and told me dude that was the best speech in big brother history!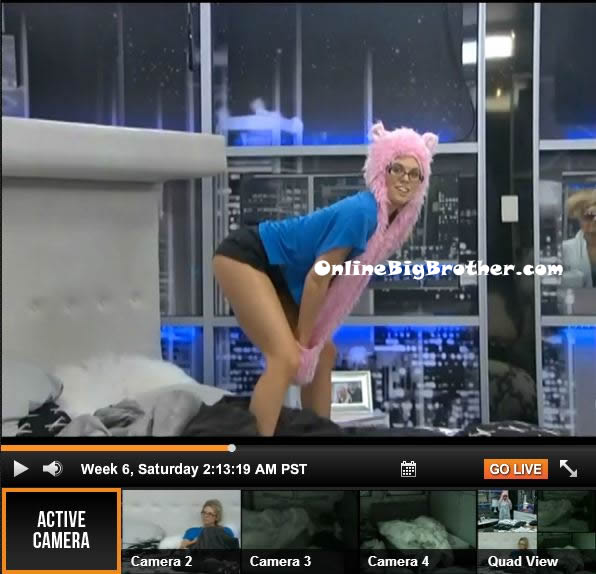 1:50am – 3am Aaryn says that's what everyone said, you are definitely getting MVP next week because of that! Now everyone else is going to have balls and do it. Gina says we should tell Judd to come up here and sleep with us one night. Aaryn says no there's no room. Gina asks what should I hash tag. Aaryn and Gina come up with the following hashtags for Gina to do in her HOH tweets. #BBBunnies, #JUDDsbearshirt, #Teamgemzy, #underestimatedblondes, #saddleup, #candiceisarat, #shaddylane, #BBXV, #boom, #blackpearl, etc. What should I do with Nick? How do you spell his name? Aaryn tells her Uhas. Gina says oh okay that's easy U – has. Aaryn asks Gina to tweet Vinny for Jersey Shore because I really want to meet him when I get out. Gina says I need to stay here for three more weeks for my birthday. Aaryn says that is totally doable we just need to work hard and I have to win HOH next week. Aaryn says the first think I am doing when I get out of here is getting boobs! Gina puts her crown on and the walks around saying king of the castle. She then put her furry hat / paws on and says Candi-land is going home (While making farting noises). Aaryn asks do you realize how if Howard & Candice go home because of us, do you realize how that's going to look? Gina says what like black on black crime? Aaryn and Gina laugh. Aaryn says you might as well get a wasp tattoo. Gina continues to fool around. Aaryn and Gina discuss the veto competition tomorrow. Aaryn and Gina go to sleep in the HOH bed. Aaryn says what if you get Pandora's box and Nick is in it? Gina says oh my god that would be amazing! I just want to hold him again! Gina asks do you realize I called Candice a rat and she didn't even go off on me. Aaryn talks about Candice's nasty a$$ weave. Gina says she looks attractive with makeup. Aaryn says I don't think she looks attractive at all even with makeup.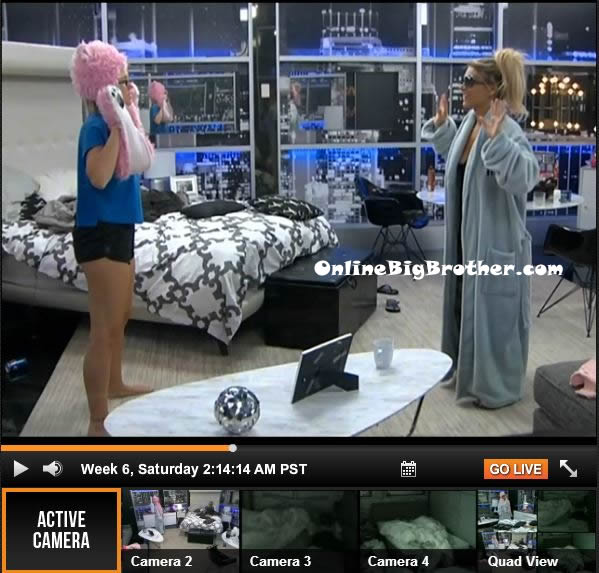 6:05am All the house guests are still sleeping..
Use the Big Brother Live Feeds to FLASHBACK to SEE what they can't show you on TV:
[polldaddy poll=7293412]