POV Holder:
Donny
Next POV
July 19th
POV Used
YES
POV Ceremony
July 14th
HOH Winner 1:
 Nicole
HOH Winner 2:
 Derrick
Battle of the Block Winner
Donny/Amber
Next HOH/ Next BOB
July 17/July 18
Original Nominations:
Derrick's Noms (Caleb & Jocasta) Nicole's Noms (Donny & Amber)
Final Nominations:
Caleb & Devin
Have Nots
Caleb, Amber, Devin, Hayden
POV Players
Derrick, Jocasta, Caleb, Christine, Devin, Donny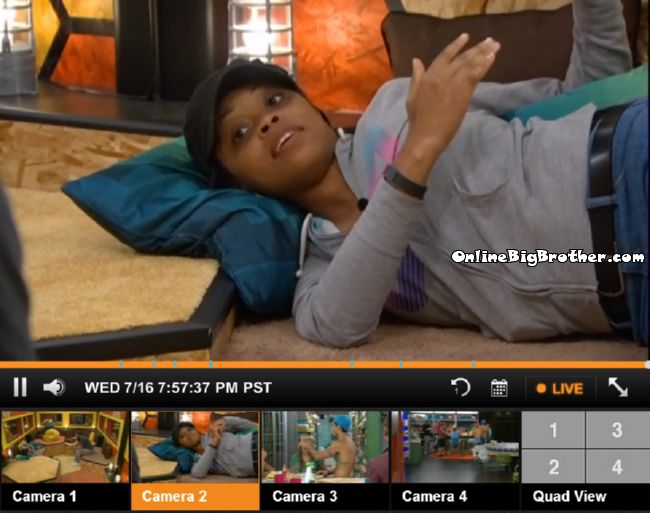 7:58pm BEEHIVE Jocasta and Donny
jocasta says he's caught Devin in a Gazillion lies
Donny – "You can't remember a lie you can remember the truth"
Caleb joins them they Test Big Brother , Caleb sings "the lords" prayer while banging a beat with his hands and get called to stop. Jocasta said Frankie spoke the Lords Prayer and was allowed to.
Caleb says the only things he ate today was 10 tortilla chips and 2 cinnamon roll ups. Caleb hopes that people leave at least one pizza for him when he gets off the Have nots.
Jocasta – You look smaller"
Caleb – "Like bodywise.. I've gotten smaller"
Zach and Frankie hug and run off to the storage room. The camera Zooms in on Nicole is appears that she was watching them.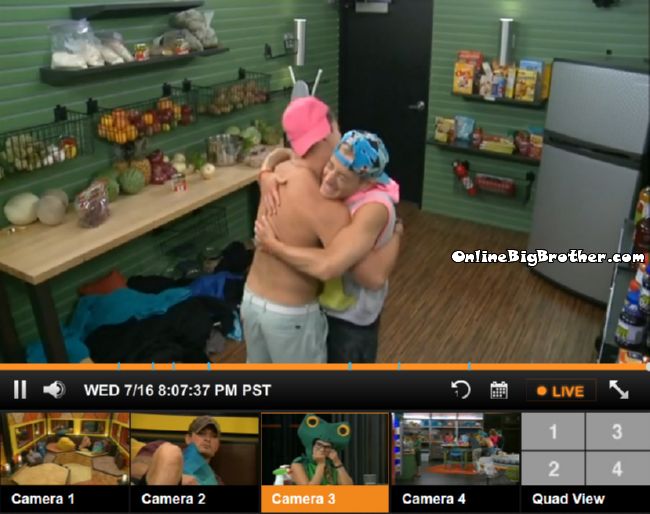 8:07pm Storage room Zach and Frankie
Zach tells him about the detonators, says he has Cody and Derrick close it's an alliance of 5, (Christine, Derrick, Zach, Amber, Cody) The alliance of three Zach, Cody and Derrick is "Los tres Amigos"
Zach tells him to not let this information out because if "they" find out Frankie knows they will both be targets.
Zach – "We're golden dude.. tomorrow is big"
Frankie – you have to win.."
Frankie explains they have Victoria and Jocasta to get out which will be easy they won't make any enemies. After that things are going to start getting dirty.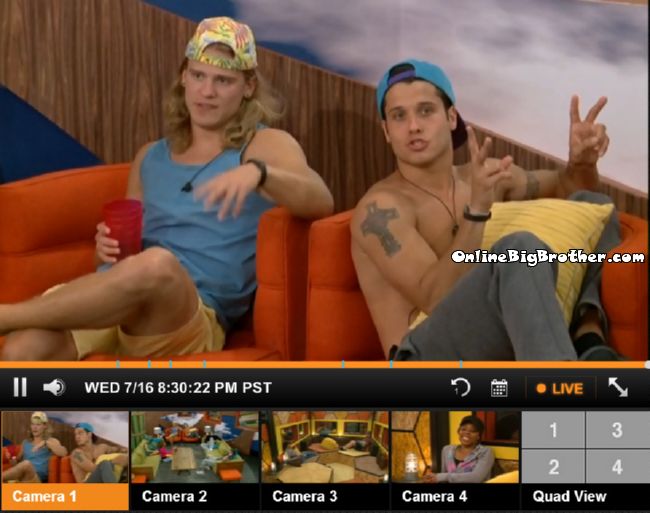 8:24pm CAM 1-2
Hayden, Zach, Frankie and Cody acting like 4 "Guidos"
"the boom bots" This one is worth flashback totally funny..
Try It Free! Get 24/7 access to the house PLUS more for 48hrs before you decide!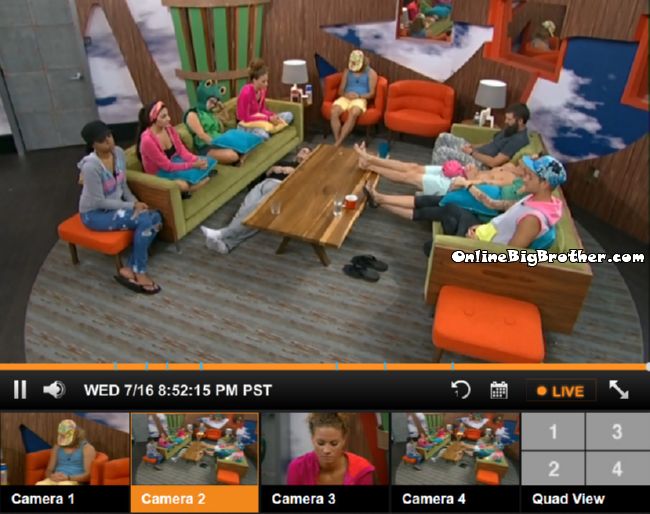 8:36ppm Living room
Victoria says her dad bought 20- bags of turkish coffee for her to bring into the house but they wouldn't let it in. So she left it at home.
8:52pm Frankie leads them in meditation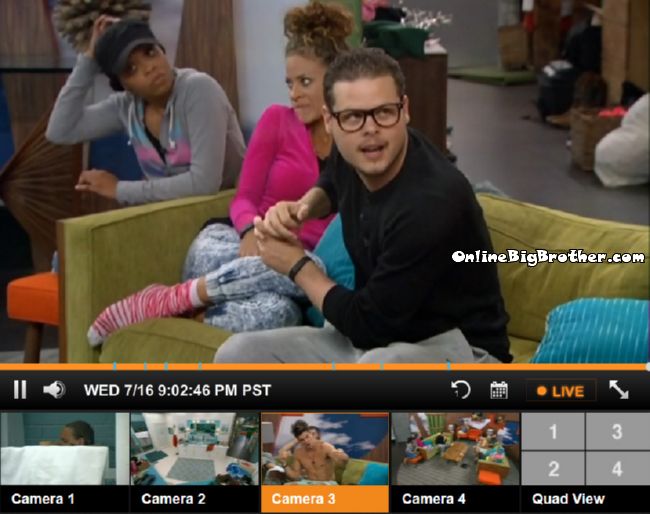 9:01pm
Derrick has lately become a baseball expert he's always talking about his days being a pitcher. He goes on about curve balls, knuckle balls..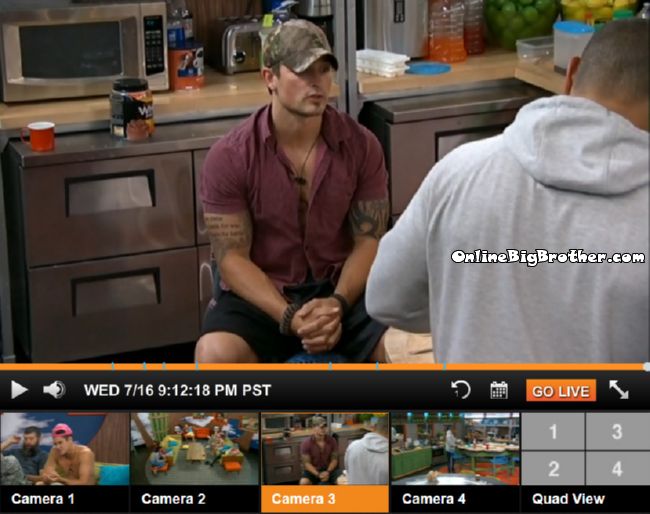 9:12pm Caleb and Devin
Caleb is talking about his one gland that is getting swollen. Caleb says it's because he's eating a lot of bread "The gluten in the bread transfers to estrogen Raises my levels up"
Caleb "The Doctor will have to prescribe me literally breast cancer medicine.. thats what happens some type of estrogen blocker.. like 10 .. 10 of those 50mg that will do it"
DEvin – Ya dude that's crazy man I've never heard of that dude"
Caleb "We'll you've heard of gynecomastia.. It's basically.. it's not that it's the same symptom .. like when you get man b**bs.. it has to be surgically removed"
Devin -"No way"
Caleb says for him the gland gets plugged it's from what he eats and it goes away.
Devin – "How long do you have before you turn into a girl"
Caleb says his left breast soon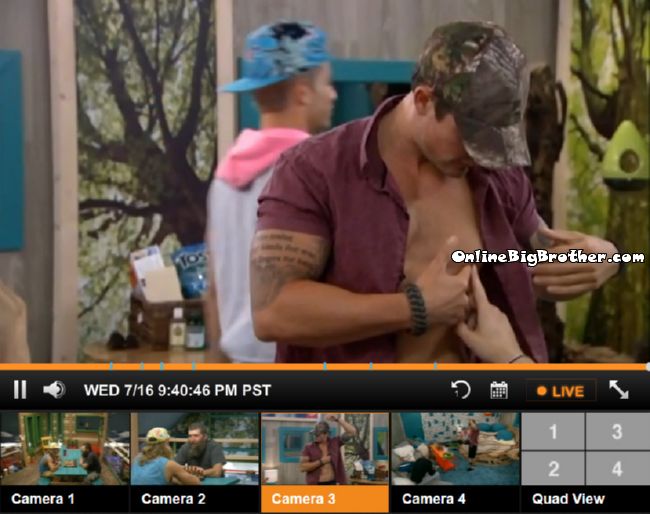 9:24pm HOH Caleb and Derrick
Caleb says he's going to put up Victoria and Jocasta. Devin brings up the scenario where they get second pick for HOH. Caleb says they will put up Brittany, Jocasta, Victoria and "Someone else"
Derrick thinks is the only person that will put him up is Jocasta. Caleb says they are going to really look like "Studs" after getting DEvin out. Derrick says his plan is to go to the end with Caleb, Derrick – 'We give our speeches don't dog each other.. give them our reasons… thats the plan" Caleb goes on about the girls in the house and there's no way Jocasta will beat Amber in a Endurance competition. Caleb says Amber has so much heart and i light she'll win it for sure.
Caleb asks him if he really needs to give a lengthy speech Tomorrow Derrick tells him it's not needed. Caleb is glad because he's going to give his family a shoutout and say "Beast mode cowboy out"
Caleb talking about them getting tuxedos and walking the red carpet after the finale. Derrick explains they have backyard interviews with different media outlets after that they are free to go to after parties.
Caleb – "I'm not drinking beer with Rachel.. you should see her in that room" Rachel asked him to see his stomach.
Frankie comes in.. says Brittany is legitimately uncomfortable with his alter ego "Frank"
Frankie – "Make sure you slop it up like a lunatic tomorrow because if it's endurance you're not coming off that wall"
Caleb says his gland is getting swollen from all the estrogen. "I had to request to see a physician to get something to lower my estrogen level"
Caleb show them all his swollen gland