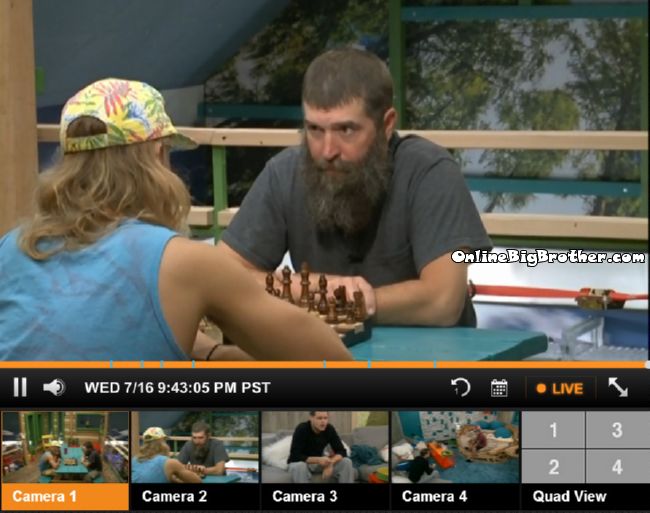 9:38pm -10:17pm PIcnic table Donny and Hayden
Hayden says the general consensus of the house is Caleb won't protect Amber anymore he's done with her. The house is targeting Brittany, Jocasta, Victoria and Amber.
Hayden – "Honestly it's fine with me"
Donny doesn't want to nominate Jocasta
Hayden doesn't want to nominate Victoria. Hopefully Amber or Brittnay are sent home. His reason is they are playing the entire house. Hayden trust Christine. Donny says she's tight with Frankie and Derrick. Hayden thinks she's just with them right now but it's not a long term thing.
Hayden says Caleb is good with both of them and the other guys have no issues with Donny.
Donny – Cody spends a lot of time around Derrick he's brainwashed yet
Hayden – I don't know
Hayden says Victoria can go at any point she's like POWPOW.
Donny warns him that Caleb will vote for Amber if Hayden is up with Amber.
Donny – "Don't you think Derrick is the ring leader he's pretty smart"
Brittany joins them for a bit after she leaves they go back to game talk. Donny says Caleb is down for taking out some of the floaters.
Hayden gets down to just a King piece. Donny has a King and a pawn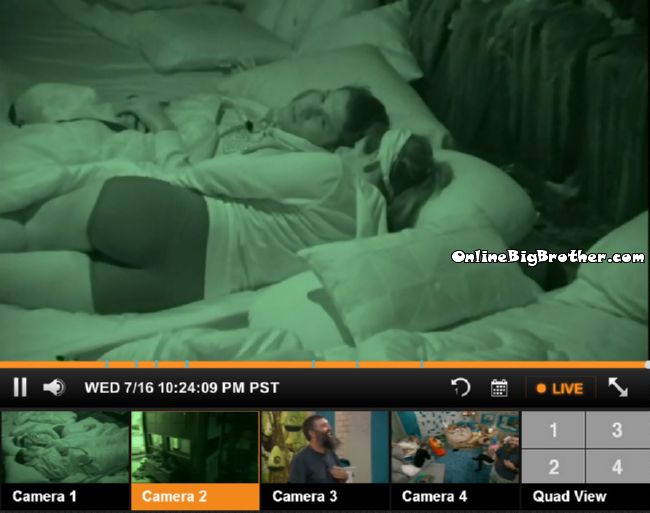 10:25pm Victoria and Cody
Cody asks her what she's doing when she get ome. Victoria has contracts signed for later in the year for weddings so she's going to be working on that. She's worked so hard to build her business she loves her job.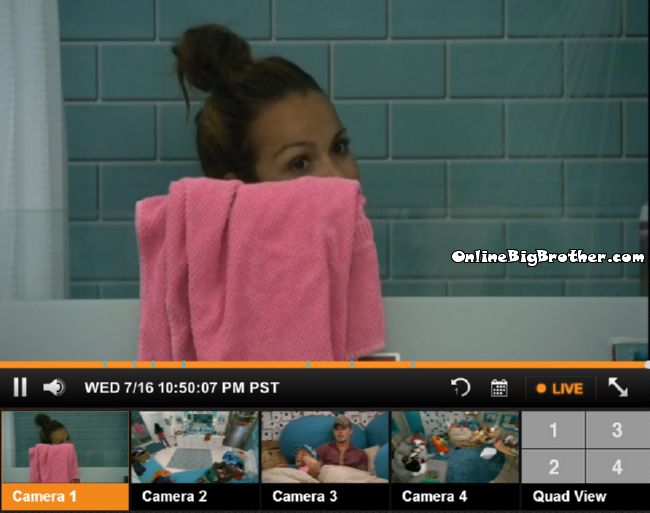 10:50pm Bathroom Jocasta and Brittany. Brittany says she's wishes Jocasta good luck tomorrow she wants to see someones babies if she can't see her own.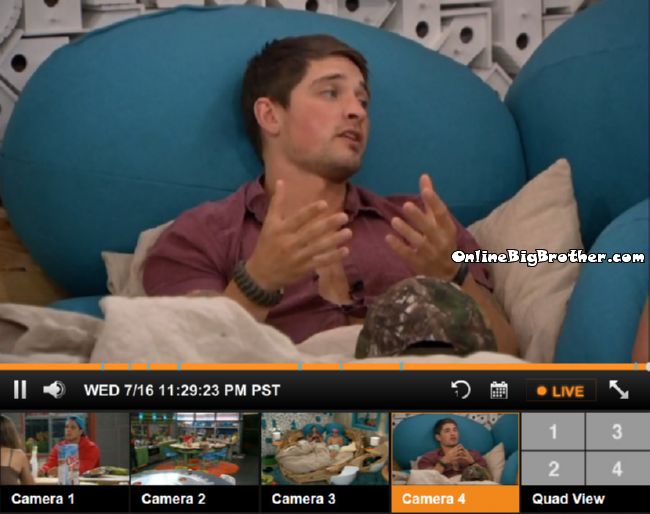 11:14pm Caleb and Zach HOH
Caleb talking about cruising all over the place in a limo. Go to his church in a limo, go to nashville.
Caleb says they can't profit doing Big Brother promotions events. "How do they find out I got paid for it"
Zach – If they find out they sue the sh1t out of you it's not worth it
Caleb goes on and on about how popular he's going to be back home. His hometown is super small. Zach says there's a million people in his town so him being on the show isn't as big of a deal. Caleb thinks his DIary room session are pretty good.
Zach says the only people that have a chance of winning America's favorite are "You, me Frankie, Donny, Cody and Hayden. .
Caleb says Cody hasn't really done anything he's an attractive guy thats really it. Zach thinks Cody can be funny.
Caleb says him and Amber are s over .. "I'm not worried about that girl no more.. she's gotta go too.. I'm over her"
Caleb "I'm switching my game over to Beast mode"
Caleb doesn't want to see victoria and Jocasta in the end. Xach thinks those two will be the next ones gone. Caleb also wouldn't mind Brittany gone to. He's just happy to to get to Jury.
Who wants to go on a wild hunt with beast mode cowboy BB16 "I'll pack the roof"
Caleb goes on and on about walking the red carpet after the show is over..
11:37PM Caleb says if Cody is going for a showmance with Amber he should expect, no kissing, no cuddling, nothing under the covers. These are traits about Amber he likes because they are the same traits Caleb has he's not going to do any cuddling in the house and look like a whore in front of his state and home town.

1:44pm Caleb
Caleb says he'll never go on the block for Amber again he barely got got a "hey thanks", He never gets a hey you want to lay out with me, Hey Caleb you want to play pool, hey you want to hang out.. Caleb wonders how come everyone else is looked at differently than him. He thinks she sees the other guys as brothers and she sees me differently. Caleb explain if everyone saw him giving her a massage the entire house would erupts "ohh a showmance" and Amber doesn't want that. Caleb says Amber has made it clear to him she doesn't want a showmance.
Caleb says he'll probably get into the studio before he gets home.. he was supposed to go in before he came on the show but never had time. Caleb says the first two people he'll put up when he get jury is Frankie and Amber. Frankie talks to everyone in the house
Caleb brings up putting his only two blankets on Amber while she was shivering cold in the Have nots. She never thanked him barely acknowledged it. Hayden told Amber what Caleb did for her so she knows.
They start talking about how how much of a beast they are in competitions. Zach says he's an expert estimator ever since he was a young kid he's been good at it. Caleb goes on about how he's good at estimating.. caleb says if amber ends up on the block and he wins the Power of Veto he might not use it.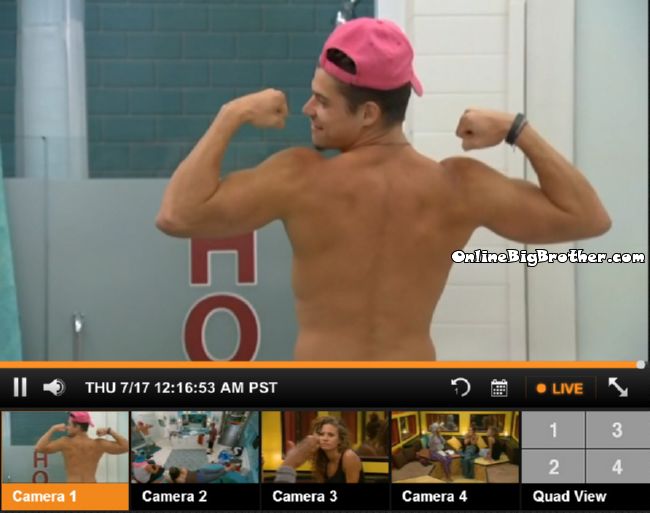 12:13AM Frankie, Cody, Zach, Caleb and Christine
they are talking about their numbers
Cody is at 20's
Caleb is at 7
(heres a bunch of stuff Zach said when asked about his number)
"Zach count my abs multiple it by 30 minus 50 and double it. all the seemane in my balls isn't enough for all the girl in my life
"All the grams of protein I take doesn't equal the number of girls i've f**ed since last tuesday"
"Look at my back.. you see all those muscles.. Multiple all those muscles by 15 thats how many pu$$ies i've sliced"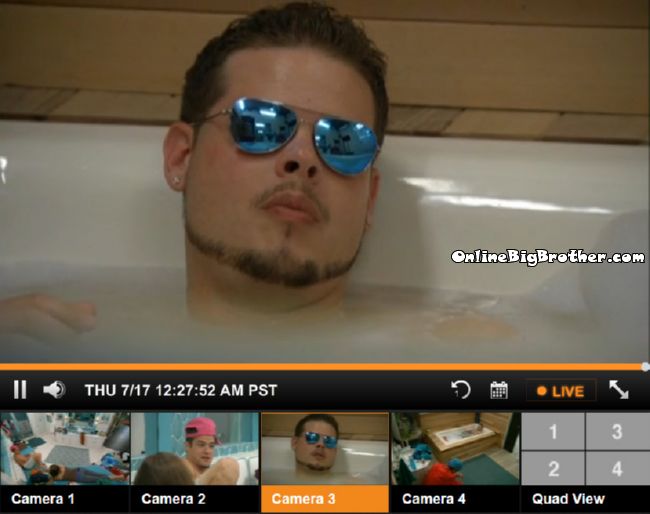 12:28AM Derrick and Cody
They agree getting rid of Brittany soon will bring Amber closer to Cody. Derrick goes on and on about how Amber is into Cody. Cody brings up how hard it is to talk to Amber with Caleb in the house. Derrick thinks Caleb is getting over Amber.
Cody calls Brittany fake. Derick regrets not getting Brittany out when they had the chance. Both the guys are pissed because Brittany doesn't trust them. Brittany went to Derrick and told him she wants to trust him but she thinks theres a secret alliance. Cody mentions that Hyden wants Brittany out along with most of the house.
Cody says he went to Victoria asked her "You excited for the HOH " her reply "No just the live show"
Codd – what are you here for
Derrick – we can get her out at any point her chance of HOH is slim to none
Cody wants to send Brittnay home this week but it can't be one of them.
Derrick thinks they need to get Donny, Jocasta, Victoria and Brittany up. Brittany or Donny will go home. With Donny gone Jocasta and Brittany will be severely weakened.
They wonder who Christine would put up
Derrick is nervous talking too much in front of frankie.
Cody thinks some of the things he tells Christine gets around. Derrick agrees says Christine gets nervous and says too much.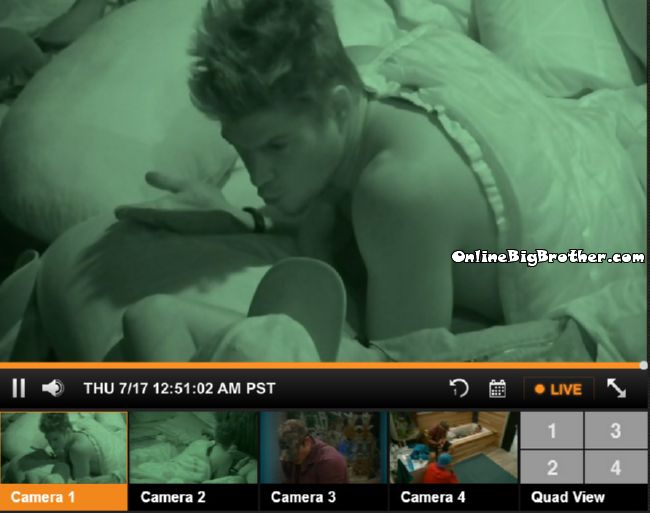 Zach – "This is the longest I've gone without smoking weed.. "
Frankie – "You are probably feeling withdrawal but you're almost out of it"
Zach says he's having crazy dreams"
Zach – "I've been smoking weed for 7 years"
Frankie says he started alcohol detox 2 weeks before the show process began. He didnt't want to have to deal with the withdrawals when in the house.
Frankie- "That is why Joey was having so much trouble"
Zach – I love you Frankie
Frankie – I love you so much
Zach says Frankie is the funniest person he's every met in his life Frankie is funnier than professional comedians.
Frankie – I can't wait until we're the only people in this house.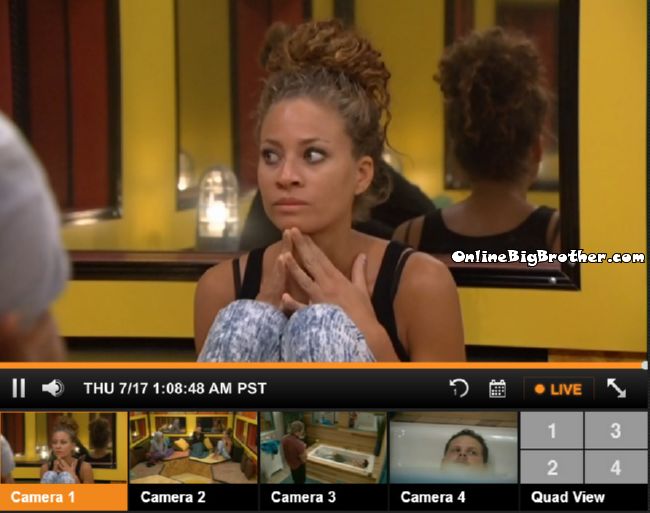 1:05am Brittany, JOcasta and Amber
Brittany says sometimes Devin pulls the child card, when he's back against the wall he'll use it. Brittany – "Maybe he doesn't have a kid" JOcasta says Devin isn't doing shoutouts because he doesn't want her name to be known.
Brittany asks them if there's anyone they can't trust in the house.
Amber says there's two guys she doesn't trust. They have to figure out who they can trust. Jocasta suggest they send out some information that is important but not crucial. They can sit back and listen to when and by whom the story comes back. Brittany is going to think of something to spread. They agree the guys are a dramatic mess.
Amber says she's been trying to be distant to Caleb but she didn't know being distant meant being this distant.
Jocasta and Brittany say they will not nominate someone unless it's who they want nominated.
1:22AM
Listing off the players that surprise them after their first impressions.
Brittany wasn't expecting Amber to be as sweet and nice.. she had Caleb totally different, Amber and Brittany say they Thought Jocasta was going to be mean. They all hug "Love you Jocasta"
Alliances (Some Of these are dead)
Zankie = Frankie/Zach
Bomb squad = Caleb, Amber, Frankie, Derrick, Cody, Christine, Zach, Hayden
Team America = Donny, Derrick, Frankie
Nicotine = Christine/Nicole
Not a showmance= Hayden/Nicole
Los Tres Amigos = Derrick, Cody, Zach
Feed watchers = Derrick/Nicole
We hate Devin = Christine and Zach
Outsiders = Brittany, Victoria, Jocasta, Donny
Old timers = Jocasta/Donny
Stalker = Caleb/Amber
Quad Kings = Derrick, Zach, Cody and hayden (still being built)
Trilogy = Nicole, Christine & Hayden
The Detonators = Derrick, Frankie, Zach, Christine, Cody
Final 2 Deal "The HITMEN" – Cody & Derrick
[polldaddy poll=8185492]
[polldaddy poll=8179403]