POV Holder:
Donny
Next POV
July 19th
POV Used
YES
POV Ceremony
July 14th
HOH Winner 1:
 Nicole
HOH Winner 2:
 Derrick
Battle of the Block Winner
Donny/Amber
Next HOH/ Next BOB
July 17/July 18
Original Nominations:
Derrick's Noms (Caleb & Jocasta) Nicole's Noms (Donny & Amber)
Final Nominations:
Caleb & Devin
Have Nots
Caleb, Amber, Devin, Hayden
POV Players
Derrick, Jocasta, Caleb, Christine, Devin, Donny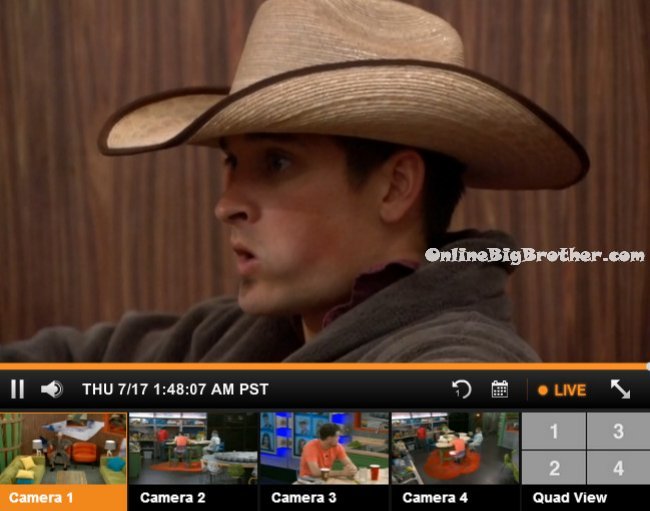 Watch the ENTIRE SEASON of Big Brother 16 for ONLY $26.99 – TRY it For FREE!
1:45am Derrick, Hayden, Brittany, Cody and Caleb are in the kitchen talking about the havenots. They talk about how Christine can't eat gluten. Derrick says we can't feel too bad for her because she signed up knowing that she would have to do it at some point and she'll have another option. Brittany says that there's another option just like there's a diabetic slop option. Derrick says in all fairness we have to be havenot's and then compete in HOH competitions. Even though Frankie has a circulatory condition he could still have a sleeping bag to use in the havennot room. I don't care as long as he does it. Caleb says that its not fair Frankie could use a sleeping bag. I would stay in there without a problem if I had a sleeping bag. Derrick says Frankie already said he would do it and its one less other person that has to do it. They comment on how Donny has the same circulatory condition. Derrick says let them both have a sleeping bag in there. Caleb says talks about tomorrows eviction and says that he hope Devin goes first with his speech tomorrow. I just want to be able to respond if he says something to bash me. Derrick comments on how you can't choose where you sit. They (production) chooses that and who goes first. Caleb says I'm not going to bash Devin in my speech, he's already done that enough to himself.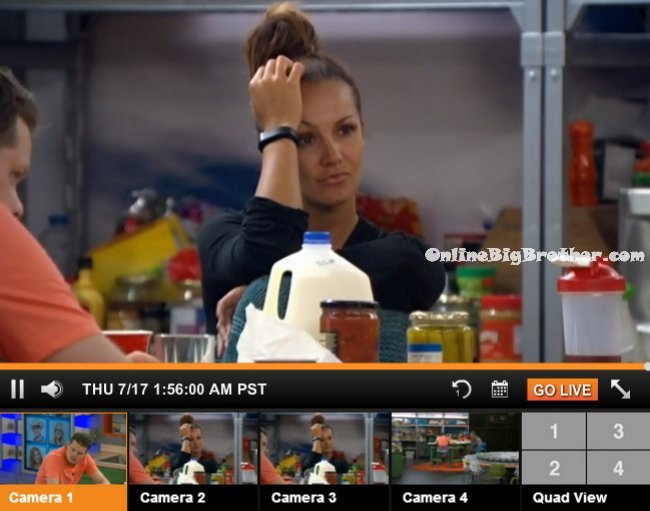 2:10am Caleb heads to bed in the havenot room. Amber is up in the kitchen now. Brittany says was going to give Devin a pickle on his way out so that he is sitting talking to Julie Chen with a pickle. Derrick laughs that as Devin walks out says Victoria beat you .. then wait for him to snap. Amber says oh my god. Derrick says I have a weird feeling we'll have a twist tomorrow. We're a third of the way through so they could be like guess what house guests, double eviction. Amber says I am starting to trust more people than I thought I could. She says he has been so rude to me today. I don't like the way he makes me feel about.. Brittany says that he wants to get a reaction. Frankie wakes up comments on how he can't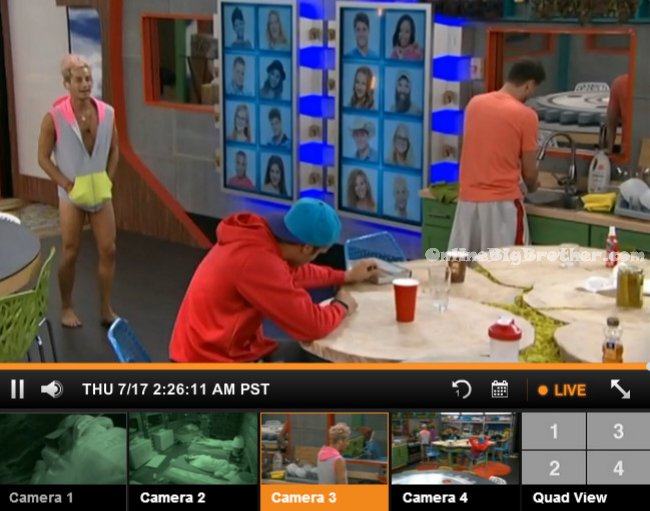 2:30am – 3:15am Derrick tells Cody he needs to get sleep so that he can go beast mode in the HOH competition tomorrow. Cody says DON'T put beast mode on me! Derrick says okay calzone mode. Cody says I'm not worried about it. Derrick says you don't want to be up there for 4, 5, 6, 7 hours and be wishing you had gotten more sleep. Cody doesn't think an endurance would last that long. Derrick says there have been ones that lasted like 7 hours I've watched them. I don't think tomorrow it will be like that but you never know. Derrick says no matter what I wouldn't shit myself up there I would rather take the chance of going up on the block. Derrick heads to bed. Hayden wakes up and says he can't sleep. Brittany asks strange fact about Hayden? Hayden says I have two penises. Cody says on that note, I'm going to go brush my teeth. Hayden asks what's a strange fact about Brittany? Brittany says I burp really loud. I put ice in my cereal because I like things really cold and I drive with both feet. Hayden says I eat my pizza backwards. Brittany says that's cool. Amber puts on the onzie and zips it all the way up to the top. Cody asks her if she can see. She says no. He goes to tickle her and she falls to the ground. He helps her up and she says you know I'm ticklish. Hayden tells Cody he is one of the top 14 favorite people he wished was in the house. Cody laughs and says wow. I thought you were actually going to give me a compliment.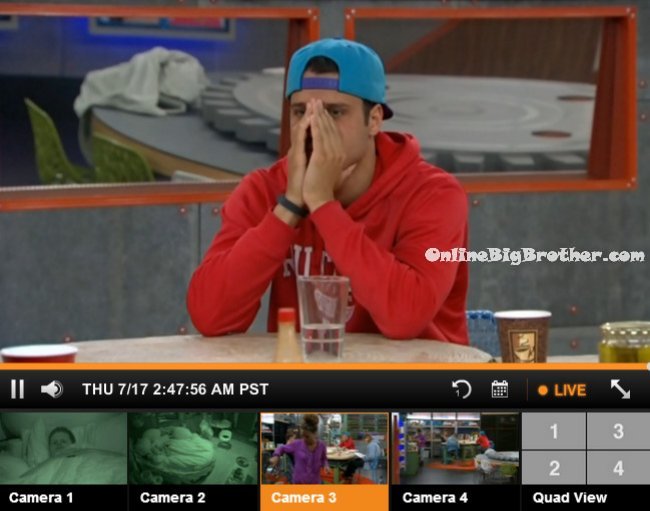 3:15am – 3:30am Big Brother blocks the feeds and when they come back – Amber says I don't want a showmance or a relationship! This is the first time I've been single and I want to enjoy it for once in my life. Hayden says yeah I've been enjoying single life for 22 years now. Amber says I don't want to live in someone else's shadow. Cody says you should never live in someone else's shadow. Amber says I am just in a totally different point in my life than I thought I would be. I thought I would have like 10 kids by now. Hayden asks so how many kids do you have!? Hayden says that he would like to sign up with a talent agency try and do some acting when he gets out of here. Amber says I am so glad they put funny people like you, Frankie.. and even Cody. Cody jokes that she's so mean and he's done with her. Amber says I'm glad you live here in LA so we can hang out Hayden. Cody jokes I wish you lived near me but I have Frankie so f**k you.
See what they can't show you on TV! -Try the Big Brother 16 live feeds for FREE!
3:30am – 4am They share stories about high school. Hayden talks about getting in trouble for small things all the time. Like for starting food fights and tossing pudding grenades. Hayden says that the last picture he posted on instagram was a photo of his facebook status of being in a relationship with his left hand. Hayden says that he was making a video before coming here that he can't wait to post when he gets out. He says it was he being like survivorman. He say it was shot in the grand cayman island and the first shot is of me saying the first thing I need to do is find the hotel I booked on travelocity. He says then another is of me at the gate saying I don't remember the code to get in so I'm going to have to pee on it.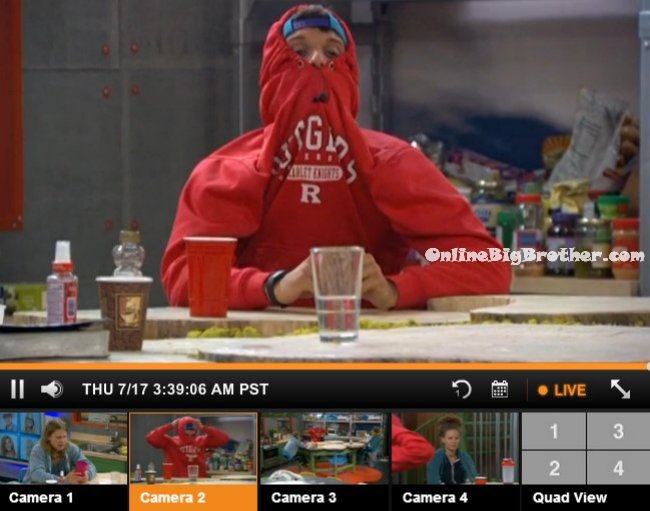 4:15am – 4:30am Amber heads to bed. Hayden says shout out to America and the live feeders. You are the bees knees. Hayden and Cody talk about the high school sports they used to play.
4:40am Big Brother blocks the feeds and when they return all of the house guests are sleeping..
Alliances (Some Of these are dead)
Zankie = Frankie/Zach
Bomb squad = Caleb, Amber, Frankie, Derrick, Cody, Christine, Zach, Hayden
Team America = Donny, Derrick, Frankie
Nicotine = Christine/Nicole
Not a showmance= Hayden/Nicole
Los Tres Amigos = Derrick, Cody, Zach
Feed watchers = Derrick/Nicole
We hate Devin = Christine and Zach
Outsiders = Brittany, Victoria, Jocasta, Donny
Old timers = Jocasta/Donny
Stalker = Caleb/Amber
Quad Kings = Derrick, Zach, Cody and Hayden (still being built)
Trilogy = Nicole, Christine & Hayden
The Detonators = Derrick, Frankie, Zach, Christine, Cody
Final 2 Deal "The HITMEN" – Cody & Derrick
[polldaddy poll=8185492]
[polldaddy poll=8179403]