POV Holder:
Shane
Next POV:
July 21
POV Used
?
POV Ceremony
July 23rd (Monday)
HOH Winner:
Frank
Next HOH:
July 26 (Thurs)
Original Nominations:
Current Nominations:
JOJO and Shane
Have Nots /Slop
Willie, Shane, JOJO, Ian
Coach Competition Winner
Janelle
Next Coaches Competition
July 27 (Friday)
Last Evicted Houseguest
Kara, Willie
8:55pm Cam 3-4 Danielle and Frank Danielle is tells him that he shouldn't base his decisions on the fact that her coach is Dan.
Danielle tells him she's not going to bother frank like crazy but she really wants to know the outcome before going into the live show. Frank explains to her that she's welcome to come up any time and don't feel like if she's not part of the 6 she can't hang out with them.
Danielle says if she goes up as a pawn she won't target Willie the following week. Danielle asks him what her chances are to stay in the house. Frank explains that it's still very much in the air, 50/50 maybe.
Danielle presses the point that she is not after Frank and will not stab him in the back. She would like to work with Frank . They made an agreement to be upfront and honest with each other.
Watch what happens, AS it happens: Big Brother 14 Live Feeds!
Subscribe today for your FREE 3 DAY TRIAL!
9:03pm Joe, Ashley and Janelle
She's asking them if the teams will stick together if they switch up them up. joe isn't sure he says it depends because if he went to Boogie's team Janelle won't want him to win because if he does she won't win. Joe thinks it could get ugly but it something they need to discuss.
Ashley leaves them to stretch .. Joe is saying that he's certain the coaches are not coming into the game he thinks they are going to mix up the teams. Joe: "That will be a nightmare especially with what we have going right now"
Joe brings up the idea that if there was a
Janelle: "You are spot on about Frank he's way too dangerous.. he's goign to be very hard to get rid of him.. it's going to take 6 people working together to take him out.. I think we're going to need to strike first on that one"
Janelle: "If Frank was sitting with anyone on the block they would go" Joe disagrees he thinks if Frank gets up on the block people will get rid of him because they'll only have on more shot to do it.
9:37pm Cam 3-4 Bathroom Danielle, Janelle and Ashley They tells Danielle that everything is going to be alright but they need to not talk so much in the open. Janelle explains that Frank is getting pissed when they are together, Janelle: "Frank is pissed that Shane won the POV because he knows that Shane will be gunning for him". Ashley thinks that there is no point of Danielle stressing about it now before nominations are done. Danielle brings up that she talked to Ian and he said he'll vote to keep her so all she needs is 3 more and she's safe. Janelle just doesn't want Boogie to catch wind of them talking or making deals before the Power of Veto Ceremony.
The girls are all doing their makeup Janelle says she sells Mary Kay makeup she tells the feeds to go to her website and buy her makeup.

10:00pm Cam 3-4 Britney, Ashley, Janelle, Danielle All the girls are doing up their make up like slutty barbie..

10:12 Cam 1-2 The Barbies
10:22pm cams 1-4 Bixie girls and Craig dance Bixie (Britney), Trixie (Ashley), Dixie (Danielle), and Pixie (Janelle)
10:51pm Arcade Room Janelle, Ashley and Wil Janelle is telling them when Frank calls them up to HOH to talk do not tell him who you want to go home Janelle and Ashley want Danielle to stay but Wil is thinking maybe JOJO should stay because he would rather be nominated up against JOJO than Danielle.
Janelle: "JOJO will never work with us we can at least work with Danielle" Janelle also explains that next week could be endurance and JOJO has a HUGE chance to win that and if she does she'll be coming after our team. If they leave Danielle in the game she won't win anything and they can sway her vote.
Janelle is telling them that the "Producer" this year is favoring physical competitions and that hurt them when they are going up against Shane and Frank. Wil says if Shane wins HOH himself and Frank are going up. Janelle explains that they will have the votes to save Wil as long as they get Danielle on their side this week. Janelle reiterates that they cannot let Frank know they want to Keep Danielle because then he'll suspect they have a deal with her. They all agree that Frank needs to go right away and hopefully Shane can do that for them. Wil leaves to shower. Janelle says that for some reason Wil is thinking that Joe and Frank have a final 2 agreement. Janelle says the biggest threat they face is if Frank goes up on the block with one from their side they will not have the votes to get him out. Ashley looks stunned, "ohh I never thought about that". Janelle: "and even if we get rid of Frank we still have the beast of Shane to get rid of"
Get The Live Feeds for your iPhone or Android Phone! Comes with a regular subscription to the Live Feeds Subscription Link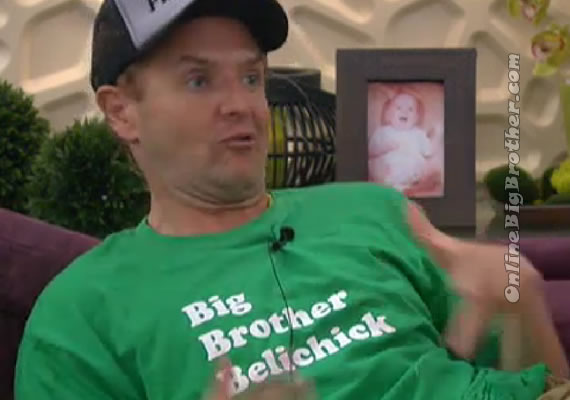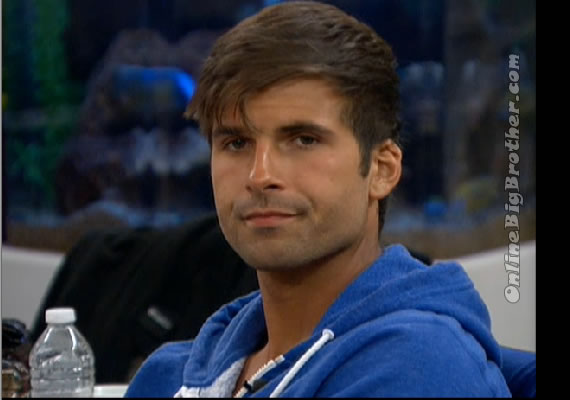 11:25pm HOH Cam 1-2 Shane, Frank and Boogie
Boogie and Frank are pulling Shane into their group. Boogie offers this to Shane but it's only good if he keep quiet. If Shane is with him then he's safe from their side. Shane is saying that he'll vote whichever way Frank and Boogie want. He wants to know if Danielle is going up, Boogie says Yes, She's going up and we're about 50/50 with who is going home but it's starting to look like JoJo.
Frank tells him that the group of 6 will eventually have to fight and Frank doesn't think his team is better than Janelle's and they will most likely get destroyed in competitions. Boogie says that Frank has a better chance of winning competition than Janelle's top player but after Frank there is a big drop off in his team abilities. Shane is really into this deal with boogers. He says if he wins HOH he'll put up Joe and Wil. Boogie: "I'll tell you something if someone sits next to Wil they are going home" Boogie mentions that Joe is a big shit disturber in the house. If you side with us you do not have to deal with Joe but if you side with them theres the Joe factor. Boogie explains that Joe was a major orchestrator in them keeping Frank but he's also capable of doing immense damage to peoples in the social game. Boogie: "Joe plays the game sometimes when he doesn't need to.. I think you have a much better chance with us than with them"
Shane: "So i'm going to have to vote for JOJO right "
Boogie: "of course vote Jojo to stay…. YES" Boogie explains that this must be kept a secret if you voted our way people would start thinking something is up.
boogie brings up how Britney came up earlier and used a similar speech to him that he used on her last week. Boogie agree with what Britney said doesn't want to to play the game 3 vs 3 it'll be boring. Boogie mentions Britney talking to Janelle again and how it might spell trouble. Frank: "Girls will easily band together.. I've seen it before in this game." Boogie is scared that "Girl Power" will take over the house. Boogie: "Britney will have her 2 beers during girl night and start talking to Janelle… that britney and Janelle fracture was perfect for us"
Shane leaves.. They both agree a very Good talk
Boogie says it's best if they don't win HOH this week and hope that Shane gets it. Boogie: "I think we might get Wil to work with us and keep his mouth shut" boogie mentions that when Wil voted for Kara he showed Boogie that he is here to play and will do what it takes to win. Frank says he's going to be spending some time with Him. Frank: "I'm not going to bring it up to him i'm hoping he brings it up organically than we know we can trust him"
Boogie: "just a little warning.. keep things really general when talking to Wil..It's so great to have Shane on the side because he has nowhere to go.. He's kind of like our prisoner"
Boogie points out that Shane is not a strategist in the game. He brings up how Shane doesn't get some basic concepts of the game like when he wasn't sure if he should vote out joJO.
Boogie: "One thing I'm going to say about our two is that they are loyal i'm worried about them going to the other side. " Frank is a bit worried that Ian. Boogie isn't worried they just need to sit him down and explain the situation.
Watch what happens, AS it happens: Big Brother 14 Live Feeds!
Subscribe today for your FREE 3 DAY TRIAL!
11:40pm Cam 3-4 Bathroom JOJO and Britney Britney tells her Danielle has nothing to offer JOJO should Talk to Frank but Britney needs to find out when the time is right first. Jojo has to prepare to go up stairs talk to Frank and prove to Frank that she's the better player to keep. Shane joins them tells them the talk with the HOH room went well. Britney wants to know if they offered him a deal. Shane says no, Shane has nothing to offer them. Britney asks what they talked about. Shane says the guys were running scenarios for next week. Shane head to bed early.
Share it YO!
Tweet