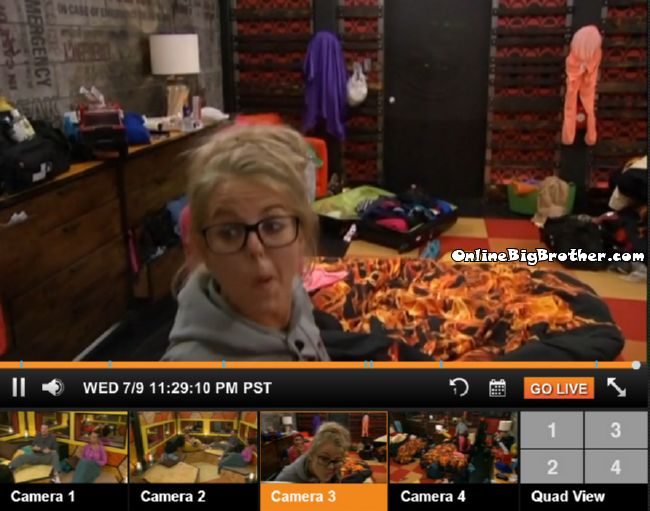 11:30pm FIREROOM Victoria and Nicole
Victoria says she's making oatmeal in the morning and caleb is talking to Donny about the 8 person alliance. He walked up to her in front of Donny and said 'So I heard you made a deal with Devin.. to vote Zach out" Victoria is worried that Donny believes him. Victoria thinks Britney and Devin have a deal. Nicole says Brittany has never done anything for her to question her trust. Victoria mentions when Brittany was up in the HOH for 2 hours and then Devin took her off after hating her all the first week. Nicole says if I was in on the block I would be up there too she was trying to be safe. Victoria thinks that is exactly the reason she went up there and made a deal with Devin. Nicole says she doesn't trust Jocasta at all. Nicole says Brittany has never lied to her or anyone. Nicole has never told Brittany anything 'Crazy bad" she thinks it's obvious something happened in the HOH that night but she's not going to read too much into it.Nicole tells her that Devin isn't really her atget that much.
Amber comes in they ask her what the house vote is. Amber tells them the 'house wants Zach out. they ask Amber is she's been crying. Amber says she's hearing things that people think she's in an alliance with Devin/Frankie/and Caleb. Amber tell them this is a new start for me she adds that Caleb is upset because she hasn't even talked to him all day, "I don't like Caleb the way he likes me but I adore him as a person and a friend" She tired of having her name being thrown around. Amber accuses Devin for playing a dirty game. Amber says Devin is being cruel in a way that she would never be. Hayden rolls in Victoria asks him to pass her the vaseline. Nicole makes a big deal about Hayden having a 'Crush" on Nicole and Hayden likes 'those exoctic women"
About ten minutes of house guests coming in and out chit chatting just HAyden Amber and Christine remain when Amber leaves HAyden looks at the camera says "I hate her"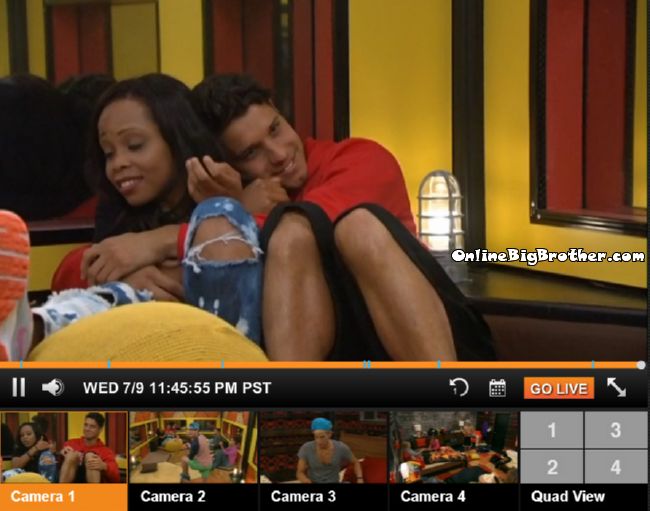 11:41pm BEEHIVE Jocasta, Caleb, Brittany, Derrick and Cody

Caleb is telling them Amber and him are not working together, "I like her i'm going to keep her here as long as I can.. it's not called an alliance" He points at Cody with his arm over Jocasta "I could call that an alliance.. looks that way.. showmance looks that way.. "
Jocasta tells him to pull it down they don't know what he's talking about. Caleb says they don't have a alliance it's the buddy system everyone has a person they don't want to go home. Caleb doesn't want people to blame Amber for Devin running his mouth saying she's allied with caleb. Caleb says he loves them all and he just wants them to know he's not in an alliance with Amber they can call it a showmance they can call it a friendship whatever but not an alliance. Jocasta say to the camera that her and cody Ain't no showmance. Jocasta goes off thinking that Caleb called her and cody a showmance. She storms out. Caleb leaves. Cody looks at Derrick asks if she thought Caleb was calling this a showmance. Derrick says caleb wasn't but she misconstrued it.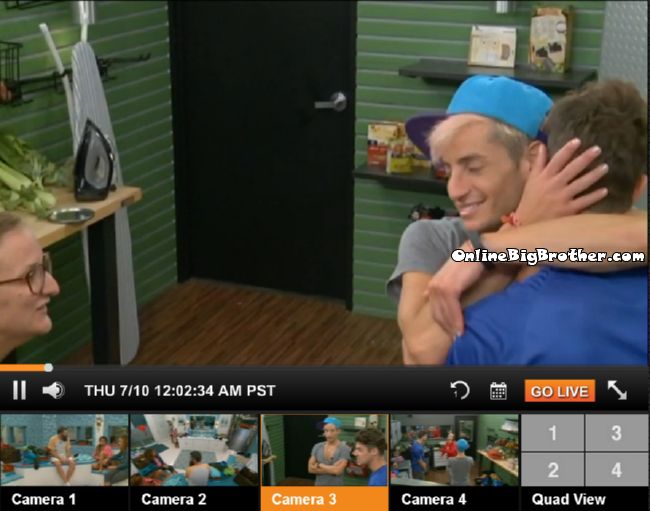 12:00am Storage room
Zach says he was talking to Amber and told her everyone is talking about AMber and Caleb being in an alliance. She immediately started campaigning. He mentions the drama in the BEEHIVE and the "fake" tears in the FIREROOM. Christine call him a genius says that takes all the heat off them. Christine says Amber must think it was Nicole and Hayden. Zack goes on about all the drama in the house caused by this impersonating the people involved (It's really funny) . Frankie says the twist there are 8 people recruited vs 8 fans.
They list the 8 recruited members as Joey, Victoria, Devin, Caleb, Brittany at 6 the feeds cut
12:05am POWPOW, Hayden and Caleb Rock Room
POWPOW tells them 2 of her close friends were in season 15, Ginamarie and ??? , POW won't tell them.
12:12am Storage Frankie, Zach and Christine
Zach says the three of them plus Cody, hayden and Derrick final 6 . They are all down for it. Zach looks at Christine – "don't get too close to Nicole you're going to have to cut her soon"
Christine says she a super fan she's not here to make friends.
Frankie – "Last night when Caleb said Jocasta has to make it to jury I wanted to stab him in the heart"
Zach says Devin came down and found the rule book and brought it up to his HOH room. Frankie tells them they have to win HOH this week. Zach says he's winning HOH without a doubt. Frankie leaves and Devin comes in to get some ice cream. After he leaves Christine goes on about how much she hates Devin's guts.
Zach and Christine look at the camera zach says this is the we hate Devin club Zach and Christine are the cofounders.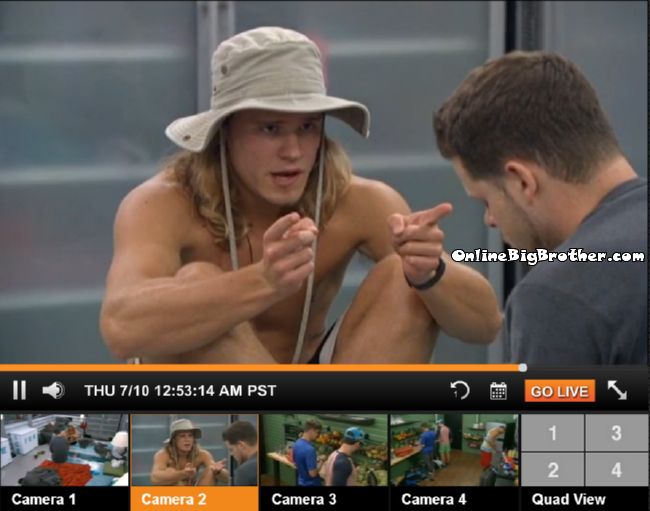 12:50AM Havenots Derrick and Hayden
Derrick say people are talking too much they are trying to cover themselves but they are revealing too much. Hayden Says Caleb is going around saying he's not in an alliance with Amber but he wants to keep her around and protect her.
Derrick "Well that's an alliance"
They agree Brittany is talking way too much. Derrick says if they win POV POssible they could backdoor Devin but they can't put him up right away. Derrick asks HAyden if he won HOH tomorrow who would he put up . Hayden says Brittany Jocasta.
Derrick – 'jocasta?"
Hayden suggest Brittnay one side Jocasta the other side. Derrick adds they can paut Nicole and Victoria up with them.
Derrick says they can't put Amber or Clab up yet he'll lose it and it's too early for that to happen. Zach joins them. They agree the main target is Devin. Derrick doesn't. Derrick says he likes Brittany but she's being shady "She' being different"
After HAyden leaves Zach tells him about telling Amber the house thinks she's allied with Caleb and devin. Derick says he has a family at home the last thing he wants to do is get sent home because of somebody else. Derrick says they are good for 5 to 6 weeks.
Where is the vote
Zach staying POWPOW leaving it's on lock

[polldaddy poll=8164185]
[polldaddy poll=8176232]