POV Holder:
?
Next POV
July 27th
POV Used
?
POV Ceremony
July 29
HOH Winner:
Aaryn
Next HOH:
Aug 1
MVP:
?
Original Nominations:
Spencer and Howard
Current Nominations:
Last Evicted Houseguest
David, Nick, Jeremy, Kaitlin
Have Nots
Judd, Amanda, Candice, GinaMarie
4:34pm HOH Aaryn, Amanda and McCrae
Aaryn is saying that Howard isn't targeting her. Amanda thinks that is a complete lie, She warns her that Howard will lie straight to her face. Amanda: 'He tried to flip the house to get you out yesterday"
Aaryn: "I'm still putting him up but I don't think he's targeting me"
Amanda isn't happy about this says she has to do something that is supportive of the group if she wants the group to vote her way and to protect her.
Aaryn is convinced that Amanda's orders are to be followed she says even though she wants Candice and Elissa out of the house but shes
not going to nominate them. She's going to support her alliance and put up Howard and Spencer.
Aaryn says that by putting up Spencer and Howard she'll have 3 people coming after her. Amanda points out she has the house backing her up on this.
Aaryn: "This is my HOH I don't want to fu** it up"
Amanda: "You are not going to f*** this us we have us to protect you"
Aaryn is worried Elissa will put her up next week or if someone else wins HOH and puts her up with Elissa she will go home.
Amanda: "I swear to you on anything if ELissa goes up against you she's going home she's a crazy b!tch and nobody wants her here".
Amanda: "To be honest with you I want you to go further than any other girl in this house.. you trump everyone else, Jessie, Helen, Elissa."
Aaryn says the two people that have helped her out are Amanda and Helen she's loyal to them.
Aaryn asks about the
Aaryn : "I'm surprised nobody has talked to me yet.. nominations are today"
Aaryn mentions how Helen wanted to have a meeting with everyone but Elissa, "She's so over Elissa"
McCrea: "I want Elissa gone next week"
Aaryn: 'Me two"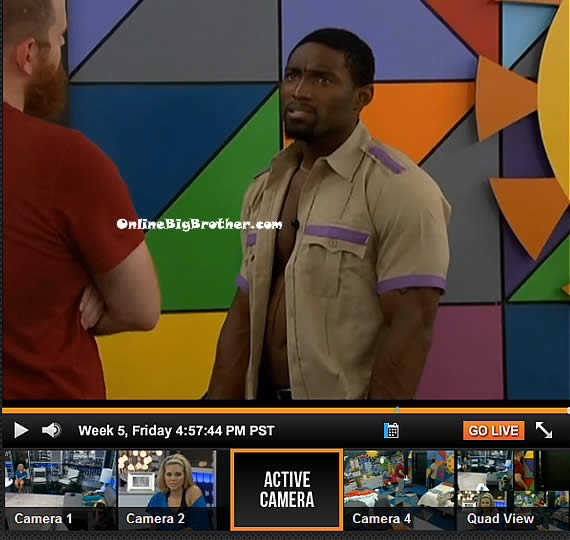 4:40pm Bedroom Howard and Spencer
Howard says Aaryn wants to do it but she's scared to. Howard doesn't understand why she's so scared to make a move that will help her game. He mentions how it's not like you are in a fight.
Spencer: "Why wouldn't you put up somebody that is your main enemy in the house and can't play for VETO"
Howard: 'i think she might do that but it's not what the house wants"
Spencer: 'Dude from what I've heard if Elissa goes up everyone will vote her out"
Howards brings up how he told Aaryn he's not coming after her he's going to target the players in the game that think they are running the show.
Spencer: "damn I bet Candice is the target if they're putting you up.. you going to be OK losing her if that happens.."
Howard: "I have no choice"
Anady barges in.
4:43PM Storage room Amanda, Andy and Helen
Helen hasn't had a chance to talk to Aaryn she wants to know what is going on. Andy: "She's for sure putting Howard and Spencer" Helen: 'I was just worried she was going to back out"
Anady: 'No she's talking to Amanda right now it's locked"
Helen asks him who MVP is this week. Andy: "I thought it was America last week.. I'm sticking to that"
Amanda joins them. says for sure she's putting up Howard and Spencer.
Helen: "We're trying to get howard out right"
Amanda: "yes yes I know Candice is targeting us but Howard is more dangerous"
4:47pm Cam 1-4 Production leak
This came over the speakers ..
"Welcome to the Big Brother Evidence Room where you will be competing in a two part Brain Busting Challenge. In part one your goal is to get all of the evidence off the shelves and balance it carefully onto your disks. "
5:10pm HOH Aaryn and Spencer
Aaryn explaining her deal with Helen and why she made it. Spencer understands she made the deal to stay in the game. He wants her to know he likes her as a person and regardless of what happens in this game he'll still think she's a good person.
Aaryn: "You are not going home.. I don't want you to go home.. even though you screwed me over.. I think Howard is going home.. I don't think he's going to win VETO I'm going to fight my a$$ off to win it and leave the nominations the same"
Aaryn tells him she's on the outs, so is Gm, Spencer and Candice but she really doesn't have a lot of options right now because if she goes back on her word people will be putting her up next week for sure.
Spencer: 'If there are any other options she is considering.. even if it means stepping out of her deal she may gain herself more realiable allies.. Howard and I will be allies to you moving forward.. If you think there are four people in the outs why send one of them home"
Aaryn :"I know.. Helen has a big heart so if I keep my word I might get some protection""
Spencer isn't sure that after this she will really be as protected as she thinks.. "look at the board everyone you were with is gone"
Aaryn mentions how everyone in the house is saying Spencer is calling her a racist.
Spencer: "I never heard him call you racist.. "90% of people saying that is stirring sh!t up.. I talk to Howard all the time he's never called you racist not once"
Aaryn: "America is biting their lip right now that I won't put Elissa up now that she can't play for VETO"
Spencer tells her she can gain more numbers by exploring more options. he thinks she will gain more protection if she does what's best for her.
Aaryn: "I respect Helen and I'm not going to back out of the deal with her" (LAme)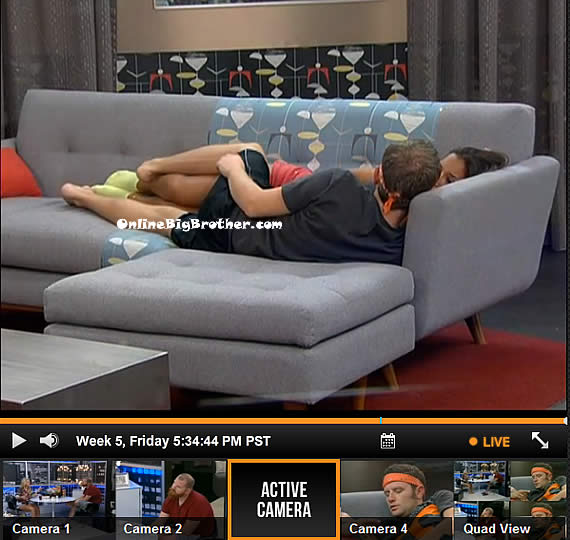 5:24pm JEJU SNuggling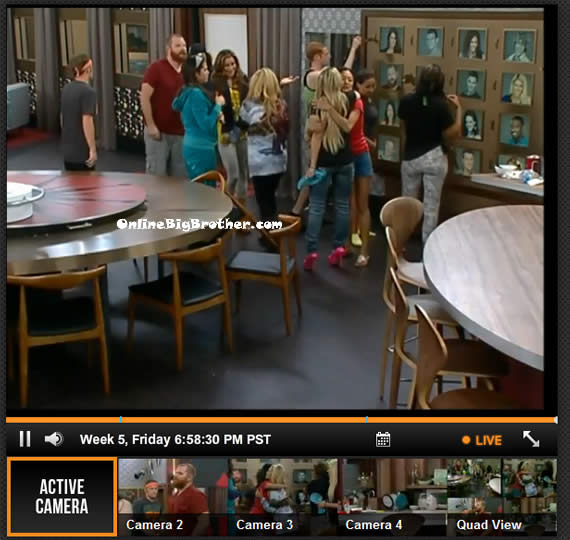 7:00pm Nominations are over Spencer and Howard are up on the block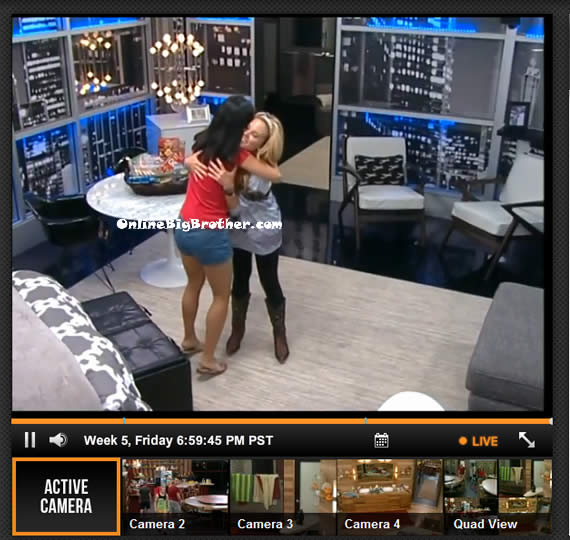 7:01pm Helen is excited doing her dance around the HOH tells Aaryn they will make a good team
| | |
| --- | --- |
| [polldaddy poll=7277508] | [polldaddy poll=7277150] |