POV Holder:
Frank
Next POV:
Aug 11 (Saturday)
POV Used
NO
POV Ceremony
Aug 13 (Monday)
HOH Winner:
Frank
Next HOH:
Aug 16 (Thursday)
Original Nominations:
Wil / Joe
Current Nominations:
Wil / Joe
Have Nots Cod fish/Candy Canes
Joe, Shane, Danielle, Britney
Last Evicted Houseguest
Janelle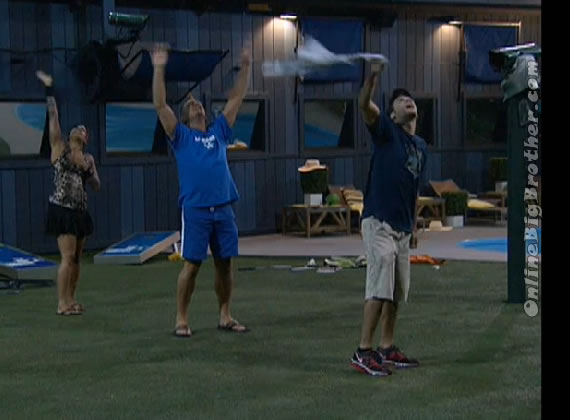 9:40pm Cam 1-2 Danielle and Wil
Danielle acting pissy about JOJO. Say jojo drives her bonkers, shes not going to keep in touch with her outside the house. Danielle says that JOJO asked Shane to kiss her.
Danielle asks him if he went home would he watch the live feeds.
Wil says after he had his anxiety attack he's released he's done with Big BRother he needs a break. Wil :"But If I stay i'm good to go…. lets do this"
Danielle asks about anxiety attacks. Wil had one the other day he explains that it's been a long time since he had one. He usually gets them at night when it hit him here he went into the Diary room, His heart rate was really high. Usually outside of the house he has techniques to combat the anxiety, he goes for a run, or has a cocktail with a friend but while in the Big Brother House he wasn't able to do that. Wil: "just the stresses of everything building up after 6 weeks.. just wanting to talk to someone that knows you.. this house forces you to be someone you are not. "
9:47pm Cam 3-4 A helicopter flies low getting the attention of some of the houseguests.
9:49pm CAm 1-2 Danielle and Ian Hammock
Danielle says that Wil makes her laugh but she knows he's the better of the 2 to evict this week. Ian tells her if Boogie and Jenn win HOH he can talk them into putting up Joe and Ashley. Ian is concerned if Ashley wins HOH. He thinks she has a good chance if it's America's Pick. Ian is worried bow that Ashley is going on the date with Frank Boogie and Frank will get into her ear.
Danielle: "If they ask who looks better in a Bikini Janelle or me.. cause we have the same body type"
Ian: "America's vote.. Janelle"
Danielle: "In a bikini between me and AShley who would they say.. "
Ian: "they'll say ashley"
Danielle: "ohh OK.. if they ask who do you think is smarter me or Britney"
Ian: "i think you're actually more intelligent.. but they will probably say Britney"
(HAHAH that conversation just happened)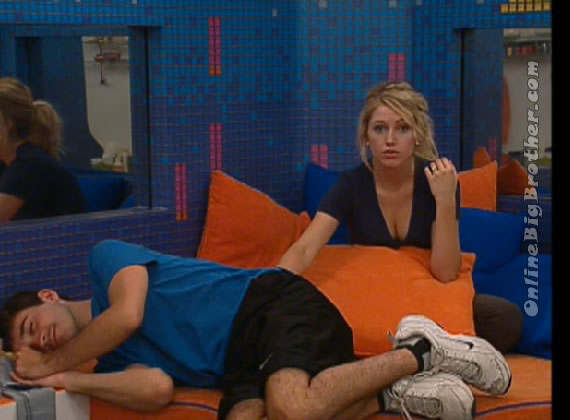 10:13pm Cam 1-2 Bathroom Britney and Ashley
(Ashley getting ready for her date with Frank)
Britney asks her what the chances of your getting lucky tonight are
Ashley: "Zero"
Britney asks what's the chances of her making out.
Ashley: "Zero"
Ian's comes in from the toilet. Britney jokes that the room is really feeling awkward now.. Ian and Ashley. Britney: "here's Ashley crisp panties on about to go on her date.. and here is Ian her ex at the watering hole after taking a gainge deuce." (Ian was washing his hands) Ashley jokes about Ian not calling her back so she had to move on. Ian jokes back says he's really heart broken she's going on a date with someone else.
ian laughs.. curls up on the bathroom couch . Britney tries to get him to leave says she needs to talk to ashley alone.. they are discussing Douching. Ian leaves..
Brintye jokes about AShley and Frank being the new Big Brother 14 Showmance.. AShley shakes her head no.. adds that the Shane and Danielle showmance will be tough to beat. "That kiss after the endurance comp was beautiful"
AShley starts talking about his guy she was with that wanted to have kids without getting married. She's not into that she was to "Do it right" get married then have the kids. Ashley continues to apply her makeup and fix up her hair.. she mentions that Frank doesn't like Perfume. Britney makes some remark about frank being stinky and not using perfume.
Wil joins them to use the shower.. Britney asks her how much alcohol do they have for their date. Ashley says a bottle of beer and beers. Britney: "You are going to get smashed.. Honestly I never saw this date coming"
BRitney asks Wil if he's been m*sterb*ting round the clock.. Wil :"no i've only done it twice.. have you" Britney: "No"
10:40pm Frank and Ashley's Date
Frank asks her if she wants to start with the beer then drink the wine. Ashley says sure.. they compliment each other on how they look. Frank says they can feed the fish later as an activity.
General chit chat.. Frank mentions how instead of a CD player they should give the HOH a Ipod with 10 albums on it. they chat about different kinds of Beer they would drink. Ashley: "I use to drink a lot of Beast.. Milwaukee's best"
This is the the Avocado cheescake they will be eating later in the date..
11:10pm Ashley and Frank Ashley is trying to distance herself from Wil as much as possible. She's brings up some of the annoying things Wil has been doing..
Frank: "I have never told a lie in this game.. Wil is lying to everyone and the lies are malicious"
11:28pm Ashley says that Wil is turning in the mean Gay guy and Joe is just chilling. Frank says that int eh beginning of the season JOJO took a couple sips of his beer and
Ashley: "I'm not trying to be mean but I don't think Wil is going to stay.. I know you don't have a vote I really don't think he's staying" Frank: "Well Wil has been digging himself into a giant Hole.. putting on the pouty and telling that big lie last week"
11:56pm Frank asks her who she will put up if she wins HOH. Ashley is thinking about Ian and Shane because Shane is such a strong target. Frank tells her that he's open to helping her out if she wins HOH. He knows this game well, he thinks it would be best if she put up 2 big targets instead of a pawn and a target. Ashley agrees thinks 2 targets is best. Ashley says he's been meditating hard to win this HOH.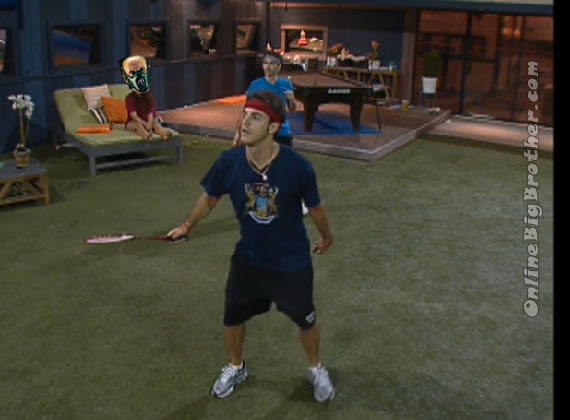 12:18Am The date takes the next step
Frank really pushing for her not to put Ian up he recommends she puts up 2 targets that are close. He's hinting that she should put up Shane and Britney.
12:22Am They kiss
Notice how Franks jeans are unbuttoned. More kissing pics
Share it YO!!
Tweet