POV Holder:
Frank
Next POV:
Aug 18 (Saturday)
POV Used
NO
POV Ceremony
Aug 20 (Monday)
HOH Winner:
Frank
Next HOH:
Aug 16 (Thursday)
Original Nominations:
Wil / Joe
Current Nominations:
Wil / Joe
Have Nots Cod fish/Candy Canes
Joe, Shane, Danielle, Britney
Last Evicted Houseguest
Janelle
12:30am – 12:45am Ashley and Frank are still up in the HOH room. Frank starts talking about how the tickle monster went away after Danielle put him up on the block. He says that he wasn't going to play with her anymore. Frank comments on how the diary room asked about the tickle monster. Ashley says that they didn't ask her. Frank tells Ashley about how mean Janelle was to him. Frank says that he heard her comment that the tickle monster better not come after her because he stinks. Frank explains he was stunk that night because he had just worked out. Frank says that Janelle was nice to Ashley. Ashley says Janelle was always talking about showmanaces. Ashley says that Janelle asked if she was mad about Shane and Danielle were having one. Ashley and Frank start making out. When Frank grabs her a$$ she laughs and they stop making out. Ashley says I just wanted some ice cream, and I got a lot more than I bargained for.. Frank says what you didn't think I would make out with you. The conversation turns to Wil masturbating and how it's not helping his game right now. Frank tells Ashley that he hasn't done it. Frank tells Ashley that she can sneak up to the HOH later tonight and they can hide under the blankets after Showtime. Frank talks about how Danielle has two sides to her personality, one insecure and one fierce. Frank and Ashley decide to head back down stairs so that people don't start wondering what they're up to. Ashley is trying to figure out what to tell them down stairs. Frank asks her to come back up later. Ashley says that she isn't sure. Frank tells her that they can just bring up the fish when people ask up what happened upstairs and everyone will want to see the fish and they will have forgotten what they were asking. Frank tells Ashley to come upstairs later and he will show her the palm technique. Ashley says that she thinks about the palm technique when she is going to sleep at night. Ashley talks about how she feels bad for lying to the others. Frank says that he thinks its okay to tell them they kissed because he will probably tell Mike. Frank says that the only one he is worried about is Ian, he doesn't want to hurt his feelings. Ashley jokes that they can pretend to not like each other tomorrow. Frank and Ashley head downstairs and realize that Showtime has been over for a while.
Big Brother Live Feeds FREE 3 Day TRIAL: Try them and see what's happening right now!
12:45am Ian comes up to Frank and asks him about the date. Frank says that it was good. Ian asks if there was any smoochie. Frank tells Ian that a gentleman never asks and a lady never tells. Ashley heads into the kitchen and starts talking about the fish. Ashley and Frank are out in the backyard sitting around the hot tub talking with the other. Frank tells them that the cameras were zooming in on the fish while he and Ashley were talking up in the HOH room. They think the fish are being starved. They head inside to eat Joe's cheese cake.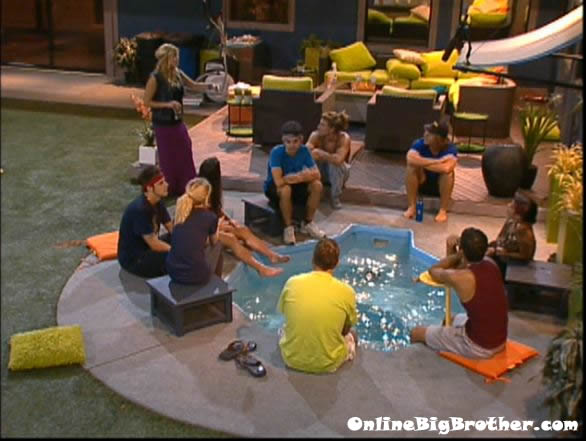 Danielle and Jenn head into the arcade room to talk. Danielle starts talking about Shane. She says that he was asked about a showmance with her and that he shook his head. She says that he did it in a way that it wasn't about the showmance and more in a no not with her way. Danielle says that Britney keeps asking her if Shane is what is bothering her today. Danielle says that Britney is always negative. Jenn tells Danielle that she just needs to do things to distract herself when she doesn't feel too good. Danielle tells Jenn that Shane is really mean to her. She bring up Trey and says that she is worried what he sees on TV and that it isn't like that with her and Shane. Jenn says that she has noticed Shane taking jabs at her. Danielle says that she called him out on it in the HOH room. She says she told him he was mean and that she cried. Jenn says that she thinks the showmance is being blown up in TV because the diary room asks about it all the time. Danielle asks what do you say? Jenn says that she says she hasn't really noticed. Danielle starts talking about the zing bot and the zing he made about the restraining order. She says that it isn't like I go looking for him. Danielle says that Trey thinks something is going on which it isn't. Danielle tells Jenn that she is the only one she can talk to about this. Danielle says that she is lonely and then starts crying. Jenn tells Danielle that lots of guys will be after her when the show is over. Danielle asks really? Danielle says that's another thing, I feel like such a fat cow in all these mirrors. Jenn and Danielle leave the room.
Watch what happens, AS it happens: Big Brother 14 Live Feeds!
FREE for 3 Days, then ONLY $14.99 per month!
2:50am Dan and Britney are talking about if they will have a guest host for any competition this season. Britney says that the Zing Bot was an epic fail. She jokes that someone needs to bring the heat and then says maybe they don't because the Zing Bot had a heat stroke in the backyard. They wonder if there was a guest host, they say that they think it would be someone who lives in LA like Memphis or Rachel. Dan says that he is partial to Memphis. Shane starts talking about how he pranked his mom by filling a tub with fake bloody water and put razor blades around him and exposed his wrists so she thought he slit his wrists. Dan tells him that is going too far. Dan and Danielle are horrified by Shane's story. Shane tells them that he and his dad dress up in fat suits some times and go bowling for fun.

Danielle and Dan are alone talking. Dan asks her what's wrong? Danielle says that this has been a bad week for her; she has been upset about being lonely and the Trey situation. She says that she is upset about being portrayed on the show and the Zing bot comment. Danielle says that she is starving and can't eat because she is a have-not. Danielle says that she is close to a state of depression. Meanwhile, Britney, Shane and Joe are talking. Britney explains that there are usually two luxury competitions during a season and that one is usually a movie screening and the other usually involves clothes or money and prizes. Britney tells them that she won 10 grand in a competition. Britney says that she made out better than Enzo did. Britney comments on how after last week's vote she knows there is no America's Player because she says whoever was America's Player would have voted to keep Janelle so that it would have been a 7-2 vote instead of the 8-1 vote. Britney says that Janelle was tacky for making Shane a have-not two weeks in a row. Shane and Britney agree that if they get to choose who will be have-nots for the week they will pick the people that haven't been it yet.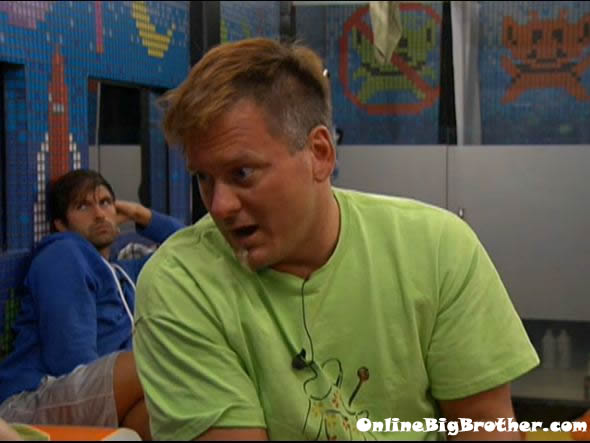 2:50am Joe is talking to Dan and Danielle trying to get their votes. Joe asks Dan what he has to do for his vote? Dan says that he is open. Joe assures them safety if he were to win HOH. Dan asks him how can Joe offer that to everyone that votes to keep him. Joe says that he hasn't offered that to everyone. Joe tells them he hasn't broken his word to anyone in this house. Dan says so you are saying if I vote to keep you in this house and you win HOH. Joe says that he and Danielle would be safe. Dan says he is open to that but he will let him know for sure tomorrow. Dan thanks Joe for coming to him; he says he hasn't been approached by anyone else this week. Dan says it has been awhile since they talked game and this is a good first step.
3:40am – 4:25am Dan, Britney, Joe, and Danielle all head to bed. The have-not crew talk about food and other random stuff in bed. Wil is the only one in the backyard, he is sitting with his legs in the hot tub. Wil then heads to bed.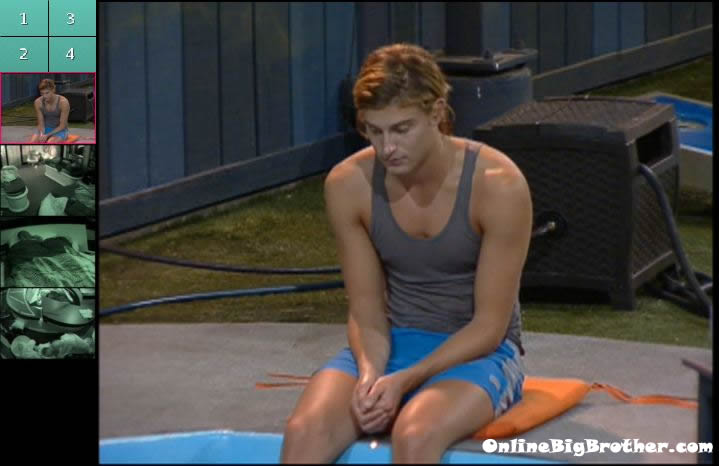 6:15am All the house guests are still sleeping..