POV Holder:
Next POV:
Aug 11 (Saturday)
POV Used
POV Ceremony
Aug 13 (Monday)
HOH Winner:
Frank
Next HOH:
Aug 16 (Thursday)
Original Nominations:
Wil / Joe
Current Nominations:
Have Nots Cod fish/Candy Canes
Joe, Shane, Danielle, Britney
Last Evicted Houseguest
Janelle
5:20pm Cam 3-4 Wil and Britney
Wil going over his conversations with Frank and Boogie. Wil is really pissy about them, he says the first time he went up to the HOH Frank didn't even talk to him it was all Boogie, "Fuck that Boogie isn't the HOH" The second time Wil went up to the HOH Frank was 2 faced.
Wil: "If you feel comfortable telling me who you are working with.. But Ashley and I really want to work with you"
Britney says she's working with Shane and is friends with Danielle but as far as deals she doesn't have any (Shhhhhhhhhhhh………….)
Joes comes in and starts giving Britney advice on how to sleep in the Have nots room. (There's a image in the gallery below)
5:27pm Cam 3-4 Ashley and Jenn
Ashley is saying she's not going to go up and talk to Frank, she'll wait to see who he nominates. Ashley: "Is that a good Idea" jenn isn't sure what Frank will think everyone knows her back is in rough shape. Ashley doesn't know what to even say to Frank, She feel ashamed that this has happened to her. Ashley: "I have no idea what's going on or why my back is doing this" Feeds cut..
When they come back Ashley and Jenn are walking up to the HOH bedroom. Ashley walks up the stairs on all 4 says "I'm like a cat" …. feeds cut (I wonder how high Ashley is right now)
5:32pm HOH Keyser Soze and Frank
Ashley: "You know I'm hurt and everything>.."
Frank : "you're not going up"
Ashley: "ohh ok Cool .."
Ashley giggles says she thought her and Joe were going to be nominated.
Frank says if she wins POV he doesn't want her to use it because then he has to make 3 people pissed.
Ashley confirms she won't use the POV if she just happens to win it.
Ashley: 'I don't want you to think I'm useless in this game I'm getting better"
Ashley briefly mentions how she was loyal to Janelle up until she found out all the nasty things Janelle was saying behind her back. Ashley has never felt like she was part of a group, the people she was with in the game were shady and she never fit in. AShley: "Your group was thick as thieves" Ashley thinks Frank's group has always been tight.
They start laughing and Eagle eye joe. Before the Have Nots Competition Joe told Britney he was hoping that it would involve hauling Bricks. Ashley says she's bummed out she couldn't compete in the comp today.
Frank encourages her to not feel like she's complaining and just do whatever the Doctors recommend. (Lots of feed cuts)
Keyser Soze = Ashley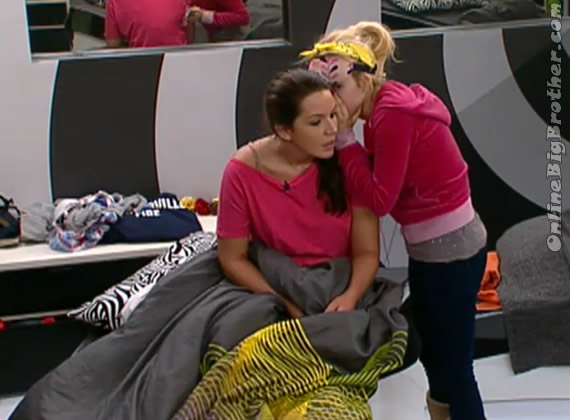 5:50pm Cam 3-4 Danielle and Britney
Very hard to hear because they are whispering ans sucking on candy Canes.
Danielle: "I don't believe him"
Britney: "I KNow"
Britney: "He's not untrustworthy.. we Cannot trust him"
Danielle: "He's way more likley than EAGLE EYE to win"
Britney: "I know"
Britney: "We need someone else to take out Frank and Boogie"
Danielle: "Dan Will"
Britney: "He will?"
Danielle says yes she asks her if Joe and Wil are going up. Britney says yes.
6:45pm Trivia Nomination Ceremonies
7:05pm Trivia Nomination Ceremonies
7:35pm Trivia Nomination Ceremonies
7:44pm Nominations are up Wil and Joe are nominated for eviction this week. POV is played tomorrow.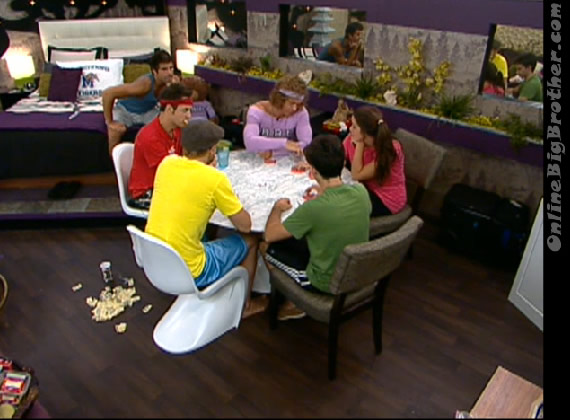 7:46pm HOH Cam 3-4 Poker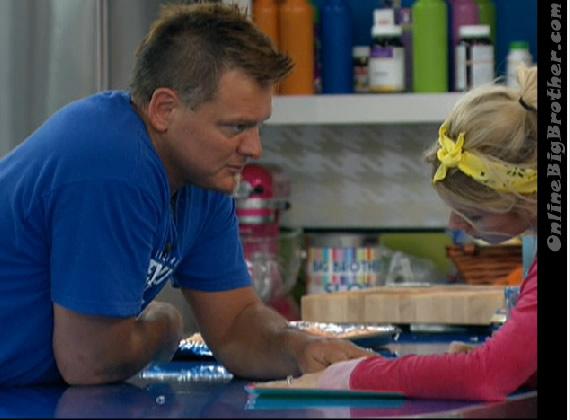 7:51pm Cam 1-2 Kitchen Britney, Wil and Britney
Joe is reading the Have Nots Rules and says you are allowed to eat Salsa. JOe: "we can make avocado salsa.. We can make whatever salsa we want" (Steak salsa… For all you that underestimate Joe he just may have found a loophole in the have nots rules.. lol) Joe is going to ask the Diary Room if he's allowed to make salsa.
8:41pm Cam 1-4 The last hour has been poker :( . Only Ian and Frank remain in the poker game. All the cams are on the houseguests eating talking about working out tonight. (I added a bunch of images from the poker game in the gallery below)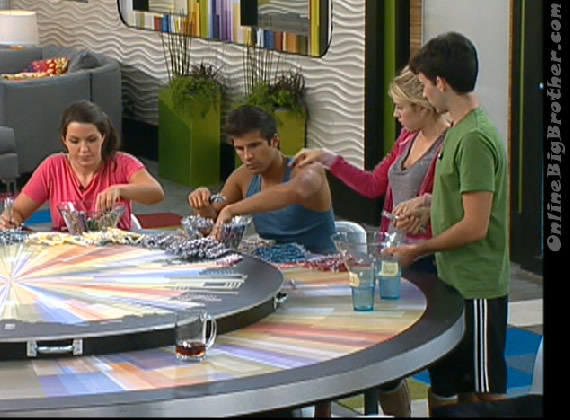 9:00pm Cam 3-4 Kitchen Havenots are dividing up the candy Canes.. Some of the flavors : Pina colada, root beer, blueberry, strawberry, bubble gum, sassafras, Blackberry, cotton candy, Banana, Cherry, Spearmint .
FlashbackBuddy direct links to the feeds (Only works with Chrome Browser)
You must have the live feeds to see this clip.. FlashBack FREE TRIAL!

We are experimenting with Flashback Buddy this weekend to tag some of the important conversations. This allows people with the live feeds to just click a link and go directly to the video clip.
Flashback Buddy Link Britney and Danielle in the have nots 5:50pm Cam 3-4 Danielle and Britney
Share it YO!!
Tweet