POV Holder:
Next POV:
Aug 11 (Saturday)
POV Used
POV Ceremony
Aug 13 (Monday)
HOH Winner:
Frank
Next HOH:
Aug 16 (Thursday)
Original Nominations:
Current Nominations:
Have Nots Cod fish/Candy Canes
Joe, Shane, Danielle, Britney
Last Evicted Houseguest
Janelle
Have nots get to eat Cod fish and candy canes..
Have nots are = Joe, Shane, Danielle, Britney
Ashley Did not play due to her back injury
3:14pm bathroom Britney, Dan, Boogie
Britney is pissed about someone screaming at them during the competition (Maybe joe). Boogie tells Britney it's not the end of the world being a Have Nots "I mean Cod.. Joe probably knows how cook that a million different ways".
3:20pm Cam 1-2 Dan and Danielle Kitchen
Dan: "back to your home"
Danielle: "haha I know.. Have nots.. From the HOH to the Have nots"
3:25pm Cam 1-2 Danielle and Dan Bedroom Watch with FlashBack FREE TRIAL!

Danielle says that Joe tore his clothes off towards Jenn like it was her fault and Started cussing.
Danielle: "I've had it I can't even be nice to him"
Dan: "Be nice because he's going to snap at him.."
Danielle: "Who Shane?"
Dan hints Wil.
Britney joins them, brings up more about Joe's performance in the Have nots. Says that Joe ripped off his clothes and started yelling at the girls. The competition was very physical and some of the smaller girls struggled with it. Joe freaked out on everyone about it. (Eagle Eye against the house.. its the only way to make it fair for the house)
Britney: "How about you shut your mouth keep that breath in your lungs and use it to get your ass up the ramp.. Ya Joe life is hard.. I feel like i'm in the fricken army and he's calling me to the front lines"
Danielle: "Go GO GO Danielle move your ass Danielle GO GO put your shoulders in the water.. Go HEad First.. GO GO GO Move your ASS.. this is the super bowl go go"
3:30pm HOH cam 1-2 Frank and Boogie
Boogie mentions how Joe going over the deep end today might work to their advantage. He's obviously the girls target. Boogie is thinking maybe they should take wil out this week instead of Joe. Frank thinks Joe is the weakest player in the game both in competitions and social. He's sure Joe won't win any competitions. They are just worried if they bring Joe in and tell him he's safe and not to talk to anyone he'll start running around with lies and alliances again. Frank is going to talk to Joe and see what they can get from him. Boogie mentions that if they keep Joe safe this week they'll probably be able to get a vote from him if they are on the block.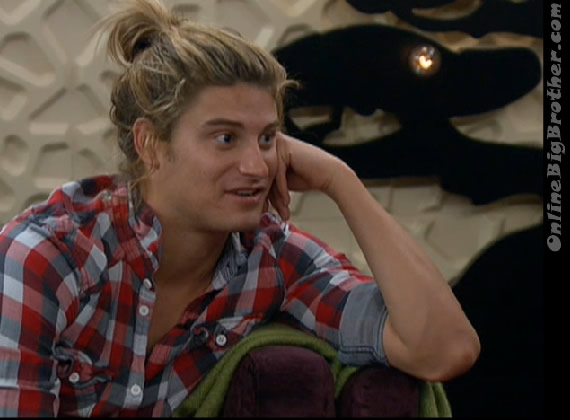 3:47pm Cam 1-2 HOH Wil and Frank
Wil apologizes to Frank for what he said earlier in the day. He promises to Frank that him and Ashley will not target Frank or Mike. (unfortunately Ashley can move right now so unless HOH is a sleeping or Gravity Bong building content she's not winning)
Frank says because Joe is such a target in the house he kinda has to put him up. Frank doesn't know how close Britney, Shane, Dan and Danielle are but if they are close and he puts one of them up then he has to deal with them being PIssed and targeting him next week. Wil cannot offer Frank numbers all he's got is himself and AShley but Joe is real trouble in the house. Wil says that there are plenty of people who have been wanting to evict you up since week 1 and those people will not be nominated today. Frank reminds him that Boogie has been the only one in the house that has truly had Franks back in this game.
Frank: "Joe will be poison in the Jury with all his stories and Lies"
Wil says if he had won HOH he probably wouldn't waste it on Joe so Wil is a bit worried all he wants from Frank is a heads up if he's the target or not. Wil won't be mad if he's up as a pawn..
Wil: "I don't trust Britney.. I don't think she's legit and I think she knew the coaches were coming back"
Wil gets up to leave tells him no hard feelings… "take it easy with nominations"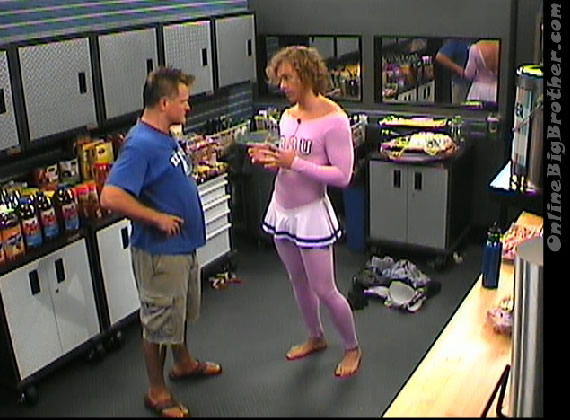 4:09pm Cam 3-4 Frank and Joe
In a nut shell Frank tells Joe he is going to be nominated but it doesn't mean Joe is going home.. You need to act like you are going home but hopefully we can send another person out.
Frank: 'As long as you keep your cool you are good… Don't stir the pot"
Joe: "Alright"
(Powerhouse lives to poison again)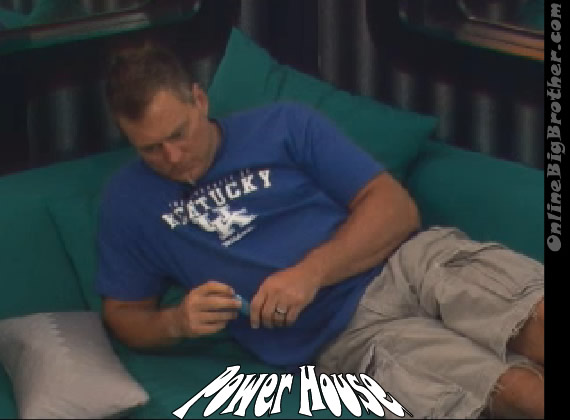 4:49pm Cam 1-2 HOH Quack pack and Silent 6 (Minus Dan) random chatter.. Frank says the nominations are in the next 30 minutes
Cam 3-4 powerhouse moment of Silence.
5:00pm Cam 3-4 Wil and Jenn
Wil is feeling down he is sick of being a pawn and having no power in the game. He's questioning why he even signed up in the first place. Jenn tries to make him feel better. Jenn: "between us I've kept it real 100% with you"
Wil mentions how strange it was that Ian was so against making Shane a haven not.
Jenn: "Why can't we make Shane a Have Not?"
Jenn: "I think Ian is getting back into the game.. but I see him as having Frank and Boogs back"
Jenn is nervous about Ashley being so hurt.. She's hoping Ashley is up for the POV tomorrow. (T!Ts is only running at 2/3 right now imagine what they can do with a full deck)
Share it YO!!
Tweet