POV Holder:
Shane
Next POV:
July 28 (Saturday)
POV Used
POV Ceremony
July 30 (Monday)
HOH Winner:
SHANE
Next HOH:
Aug 2nd
Original Nominations:
Ashley and Joe
Current Nominations:
Have Nots (Cereal & Salmon)
Joe, Ian
Coach Competition Winner
Janelle (Wil SAFE)
Next Coaches Competition
August 3(Friday)
Last Evicted Houseguest
JOJO
3:11pm Cam 1-2 Britney and Janelle Watch with FlashBack FREE TRIAL!
Britney points out that Danielle has been acting really weird she hasn't talked to her all day.
Britney saying that one night Dan pulled Danielle away and made her drink water. Britney: "t's really weird.. she wasn't even drunk" Janelle: "What's a matter with him" Britney thinks he just doesn't like seeing her get drunk in the house. Britney asks if Family dinners are now over. Janelle isn't sure..
They start joking about Shane's HOH basket being the worst one ever. Only thing in there was nuts, energy drinks and muscle milk.
Britney points our how much in love Frank with janelle. Janelle had a talk with Frank and he doesn't make as many inappropriate comments. Janelle: "He said… Janelle you have a fit body and by fit I mean a sexy body" Britney says that Frank feels that Janelle is the perfect women, She's tall, Strong and athletic. Janelle mentions her husband is going to kill him unless he stops
britney: "wasn't that weird when he said he was going to buy you a dress.. OMG.. "
3:31pm Cam 2-3 Dan, Britney and Janelle
Janelle saying that she doesn't think she will be going to Vegas, She'll need to get a nanny.
Janelle: "There's drinking there I don't want someone falling on her"
Janelle says they will find out on Thursday what the twist will be. Britney points out that Janelle knows she could be here for the next 3 weeks but her and Dan could go home at any week.
Britney asks dan what he thinks will happen on Thursday.
Dan has stopped speculating on what will happen.
Britney: "Can I ask you a gross question.. have you looked at your Vag since you've had a baby"
Janelle: "No.. is it supposed to look different.. My husband hasn't said anything.. I'm not against having plastic surgery down there" (poor dan)
Britney tells them a story about falling off a horse on her vagina, "I thought I broke my vag for good"
Janelle leaves.. dan starts asking Britney little questions. (his standard social game.. get the other person talking about themselves)
Boogie joins them and they start talking about High School football.
Watch what happens, AS it happens: Big Brother 14 Live Feeds!
Subscribe today for your FREE 3 DAY TRIAL!


3:47 Cam 1-2 Kitchen
Wil telling Joe that they need to approach Shane not as friends but as a game proposition,
Joe agrees says he'll go up to Shane tonight and talk to him man on man and word it like a partnership.
Wil: "The four of us together we got the brains, we got the physical and we got the social it's a much more diverse group"
Ashley says that the HOH competition on thursday will be endurance and Ashley and Wil have a good chance to win it.
Ashley is thinking they might want to start selling the idea of taking out Ian. Ashleys reasoning is the only person that has a chance to win an endurance competition other than Wil and Ashley is Ian. If they take Ian out this week Frank won't win HOH next week and Janelle's team will take Frank out. Ashley adds that they can pull that off they will run the house.
Janelle joins them.
Joe and Janelle tell the other two that by the pool today Frank called Janelle a whiny face. Joe: "that pissed me off… really dude.. "
Joe saying they should start whispering near Frank that Shane is putting him up. Janelle tells them no way. She wants Joe to be acting he's going home. Janelle tells them about he season 6 alliance called the friendship that kicked her teams a$$. She Janelle tells them its very important that they stick together the nerd herd did and they won the final 2 spots.
4:04pm Cam 3-4
Shane is feeling that they are in a tough spot right now Danielle disagrees she thinks that Frank is Janelle's target now.
Shane and Danielle both agree they need to keep the "3 amigos" secret from their coaches. He will talk to Frank tonight and make sure he hasn't said anything to boogie.
Danielle says that Janelle is really getting on her nerves. Shane can't stand her either he doesn't trust her. Shane: 'She's so Fake".. Danielle: 'She's all being sweet with Frank now.. are you kidding me". Shane main priority is to make sure that Janelle doesn't figure out that they are working together. He's certain if she finds out she'll put them up together.
Shane tells her he really wants to play down any showmance between them.. he doesn't even think they should been seen whispering with each other. Danielle understands.
Joe offers Shane everything. Joe: "Alright.. sorry to bother you.. I'm on a live line here"
Shane: "I want you to know nothing has been decided yet"
Joe: "I'm on my knees telling you we want the final 4 deal with you… Janelle is 100% on board with it"
Joe's dream is to stay in this game a little longer, for his kids.. all he's asking is if he uses the POV on Joe. Joe doesn't care who Shane puts up as the replacement nominations.
Joe: 'I'm willing to go with you 100% outside of my team.
Janelle will take Wil everyone knows this.. if you really put this in perspective in less than 2 weeks people are going to fight because teams are going to start turning on each other
Joe saying that yesterday Frank was yelling at Janelle because she didn't want to Backdoor Shane. Joe: "I'm a true kentucky boy my word is solid.. I would Take a bullet I would jump in front of a bus"
Joe says that Boogie has a much stronger team than Janelle If they can take Frank out Boogie is thru. Shane asks Joe if he would take out his own team. Joe says yes in 2 weeks he'll take his team out. Joe saying that Boogie is untrustworthy because he had a deal with Janelle and turned his back on her. (Just like Janelle did week 1 to Shane's team)
Shane says that Joe is in the same spot Shane was in last week but for Joe he has teammates. Joe: "You'll never met a guy that can keep is silent like I can" Joe explains to Shane that soon the team will not matter, Coaches will not be able to save players they might be removed from the game all together.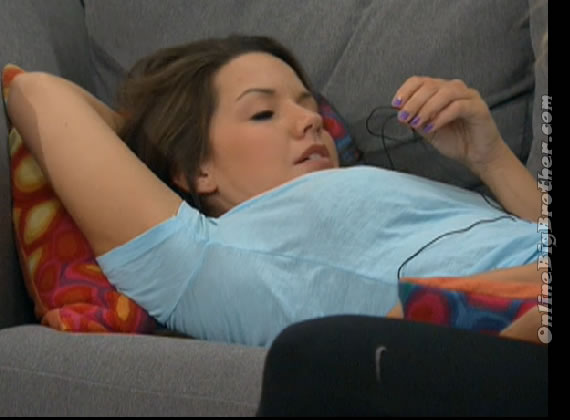 4:40pm Living Room Danielle, AShley and Janelle
Britney saying that she's realized that her and Shane are just friends and even then he doesn't even really talk to her much. She adds that the kiss was just a kiss, nothing else. Janelle brings up that her and Shane will kiss again. Danielle doesn't see that happening she doesn't see him like that. Ashley and Janelle ask her if she knows what Shane will do with the Power of Veto. Danielle doesn't have a clue says Shane hasn't spoken with her at all today.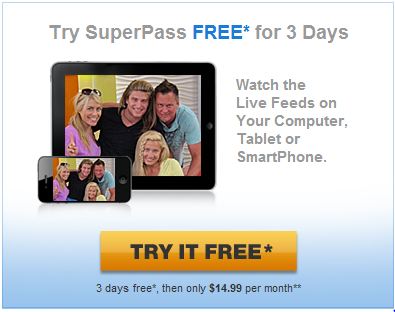 Share it YO!!
Tweet