Big Brother News stories from the month that have slipped through the OBB cracks. Casting is still cruising along just another couple weeks to go. No Call back spoilers have leaked, CBS puts strict rules down prohibiting people from talking about callbacks on social media, blogs etc etc. If you want to get disqualified then tweet you got a casting callback. Official start date has been released for this coming season, July 12th is just around the corner.
Robyn Kass tweeted when asked about the semi finalist.
"Nope, we have NOT finished our semi finalist rounds yet!! #BB14"
There is still a load of casting calls and you can still submit your Big Brother 14 application online.
Big Brother Alumni News roundup
Britney Haynes gets married
Kail's (BB8) business burns down
Kristen Bitting making cameo appearances on Off their Rockers and on Baggage
Assorted Big Brother Alumni at Reality Rally 2012
Big Brother News we missed
Janelle Sells Wedding dress
Janelle Pierzina from BB6 and BB7 is selling her wedding dress for 2300buck. Janelle just had a child and has kept out of the Big Brother spotlight lately.
Priscilla of Boston Wedding dress style PL142 size 8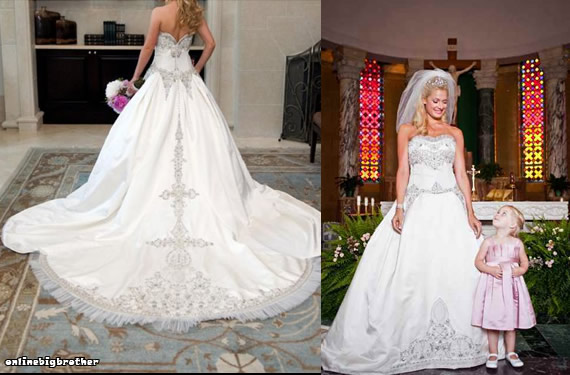 Casting isn't Over yet
Big Brother Hopefuls Line Up For Dallas Auditions. How many BB players came from Texas… Lane, Steve (BB10). Joshuah (BB9)??


Jessie's Wrestling
Big Brother 10 and 11 Mr. PEC-Tacular Jessie Godderz & 'The Freak" Rob Terry Freak N' PEC-Tacular. Jessie is hilarious in these wrestling videos..
Dr Will Selling moisturizer
BB2 Winner and BB Allstar Dr. Will Kirby on QVC – April 20th, 2012 – 11:00 PM. Will Kirby, Board Certified Dermatologist, illustrates the benefits of the Neutrogena Dermatologics® Total Hydration Water Gel. Last year it was rumoured that Will and Mike Booger were going to be on BB13, when asked if he would be on another season of Big Brother his reply
My focus these days is my family, my friends and my profession. While I sincerely appreciate the enthusiasm of reality television fans I have other priorities that supersede any possible participation in non-scripted programming this summer.

Moreover, I absolutely enjoy public speaking and the occasional television appearance but I have officially retired from competition based shows – There is simply nothing left for me to accomplish in this genre.
Marcellas Reynolds Webshow
BB3 and BB7 AllStar Marcellas Reynolds is in a new web show for ROC skin care. The Show is called You and Improved it shows how real women, with the help of RoC®, take the journey to look 10 years younger. Watch their journey, be inspired, and enter for a chance to win. I feel sorry for Marcellas, he once had the title for worst move in Big Brother. Lawon stole that title by volunteering to be put up for eviction in the hopes that a secret power be granted to him.
https://youtu.be/xPALtQeRMiI
CBS CEO Les Moonves rich as f***
Great to hear CEO's like Les are getting paid what they deserve, CBS CEO Les Moonves 2011 Compensation is an INSANE amount: $69.9M, Up 21% from 2010. CBS has had a successful year the stock has risen 40% so c'mon his 21% increase is peanuts.. right? The CEO's $69.9M package makes him by far the highest paid media CEO for the year. Les Moonves compensation is broken up accordingly: $3.5M salary, $27.5M bonus, $8.5M in stock awards, nearly $27.3M in option awards, $1.5M change in pension value, and $1.6M in other compensation.
You would think with all the money CBS has they would be able to upgrade the Big Brother House Cameras to HD.
BB4 Winner Jun Song has a baby
Early in April Jun From BB2 had a baby boy named Noah. He was 6 week premature but is now at home with mom and dad doing well. He's already on twitter, I fully expect mad crazy reality tv smack talk from him in the future and probably an appearance on Big Brother 34.
Michelle Noonan on Love for sail
Love for Sail is a new dating show set on Norwegian Cruise Line ships. Each episode features four women in their 30-40's fighting to win the affection of six men in their 20-40 aboard Norwegian Pearl cruise ship. There is a lot of botox, silicone, and liquor. Michelle appeared on episode 3 which showed on April 24 10pm/9c on Lifetime.
Folks living in America can view the episode here. https://www.mylifetime.com/shows/love-for-sail
Janice Dickens on Celebrity Big Brother UK 2012
According to the Daily Star Janice Dickinson is on the short list of potential houseguests on the hit UK reality Show Celebrity Big Brother. You may remember Janice Dickinson from being on America's next top model, the 57 year old "First American Super Model" will definitely spice that show up.. IMOO it's still unwatchable.