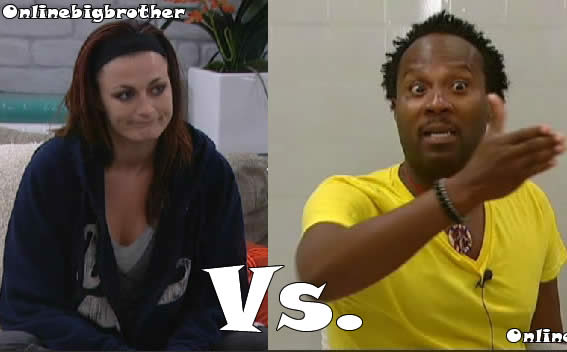 Rachel Vs. Lawon Big Brother 13 Live Eviction Results
A Painful week indeed for the Dani fans an Awesome week for JJSA. Thanks to Shelly, Kalia Da Hut put up one of her own alliance member in the hopes of gaining BFF status with Jordan and Jeff. Lawon will be going home, Kalia is screwed. This is being called one of the stupidest moves in Big Brother History and will cost Kalia the game. The only good thing about all this is when the dust settles DK will figure out how BLANK they are and will stop trusting Shelly, at the hope anyways. Tonight there is also the twist results who does CBS want back in the game.. and will they beat Lawon the Juggernaut. It's a exciting night get the feeds help OBB pay for all our bandwidth and server fees.
Adam I'm still waiting for you to do something. Tell your jokes make us laugh on the feeds and hopefully you get evicted before you make anymore HUGE GAME MOVES
Shelly You were robbed by CBS this week and for that I feel sorry for you. I think this is the week your lies become exposed so start looking to win a comp.
Brendon I would rather you cure Cancer than be ON Big Brother 13, If you come back tonight please go after JJ and make this summer fun.
Rachel I hated you last week now i'm secretly hoping for you to make some big move and strange alliances. figure out that JJSA are using you and SHAKE the house.
Dani You're teamed up with the worst player this year and played a BLANK game this week, you need HOH/POV's and a miracle to survive.
Kalia DA HUT All the respect you gained from your stunning HOH performance was lost the second you put your own alliance member up. Your game is done just self evict if Brendon comes back.
Lawon LOL @ ME, last Thrusday I said you are safe this week no matter what and look your going home…
Jeff You won POV used some muscle and now your alliance is the strongest in the house. Keep it up and you'll be unstoppable, But watch out for the skyping neanderthal
Jordan I miss the cookie dough monster Jordan send this Goatee Jordan back to the parallel dimension she came from.
Porsche you like 3 somes, eating, and floating you get a OBB high 5. You may need to pull out a POV win this week to be be extra safe because the straight shooter doesn't like your easy ways.
My prediction is Lawon gets evicted and Brendon comes back and the HOH will be won by Brendon assuming her can play.
Evicted houseguest is
New HOH is
Big Brother 13 Twist is
*Please note during the Thursday live show the site will be running in lean mode. Only this post will be view able and no comments will be processed. Once traffic goes back to normal I'll turn it all back on and we can rock out the discussion.
3-4:40pm feeds pm trivia
Comp looks like it's going to be physical
5:22pm Bedroom Porsche and Dani Dani explains to her it was a HUGE mistake to put Lawon up, "You know that is going to happen" Porsche: "Yeah…. Lawon would of been a sure vote". Dani says it's happening again..
Porsche mentions the twist might save lawon…
Kalia DA HUT comes in. Dani says that All 4(JJSA) of them were in the havenots for a long time says Rachel is going to stay. Kalia: "This is the same thing when Dom left" Kalia says he wants Shelly to at least come to them and tell them the truth about who she is voting for.
Evicted houseguest is lawon
New HOH is
Big Brother 13 Twist is Brendon comes back with over 1 million votes destroys Lawon in the comp
*Please note during the Thursday live show the site will be running in lean mode. Only this post will be viewable and no comments will be processed. Once traffic goes back to normal I'll turn it all back on and we can rock out the discussion.
Jordan votes to evict Lawon
Jeff votes to evict Lawon
Porsche votes to evict Lawon
Dani votes to evict Lawon
Shelly votes to Evict Lawon
Adam votes to Evict Lawon
Brendon comes into the house Lawon gets slaughtered
Get to see the HOH comp will be later tonight – Grab the Feeds
7:08pm Bedroom DKP talking about how awesome life is right now. Dani says she's surprised that America vote for Brendon. Kalia is not
7:06pm Rachel: "thank you America"
JJBRSA all celebrating there super alliance.. How long until they split..
7:11pm DKP talking about Porsche and Dani having to win HOH or they are screwed.. they start trying to guess when the HOH is they think it'll be late tonight
7:14pm Purple room BR rachel telling him that Jeff and Jordan were the only ones looking out for her and everyone else was mean.
(Porsche, Dani and Kalia are the only ones that look worried.. from their comments they are completely pissed at Shelly because of how she acted after Brendon came back
7:21pm Kitchen DKPA kalia: "There all all in the Havenots room… and guess whose there…" Porsche tells them she got booed when she voted
Dani: "Adam just so you know they didn't save you they evicted DOM" Adam: "Huh?"
Dani: "When you were on the block with Dom YOU were the target but they decided to evict Dom because of me"
7:22pm Havenots room JJBRS, Brendon telling them about when he was sequestered
They start telling Brendon about how they screwed with DK .. Everyone laughing
7:30pm Kithcen Adam and Dani in silence.
7:31pm Havnots JJBRS Celebrations still going strong
7:35pm Kitchen Adam and Shelly Adam saying that Kalia and Dani made bad game decisions that is why they are screwed right now.. Tells shelly why would he go with DKPL, JJRS was much stronger..

7:41pm All four feeds the super alliance celebrates. Jeff tells Shelly he's going to be Classy about it.
Adam comes in tell Jeff what Dani was telling him.. Jeff thinks the "other" side has gone loonie toons
Share it YO!!
Tweet