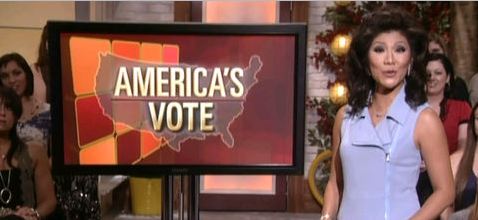 America's Vote / America's Choice has become a integral part of involving the viewing public in the Big Brother reality TV show. Formerly known as America's Choice, it was renamed America's Vote during Season 7 Big Brother All-Stars, where the viewing public is given the opportunity to become involved in the game. The voting is opened up to the viewing public each season where fans are able to vote through the CBS.com website and via text message. The reward is based on the winner being the selected for receiving the majority of the viewing publics vote. The America's Choice polls typically begin during the half way point in each season, with the viewing public being able to vote numerous times on a weekly basis.
Examples of previous America's Choice polls have been for house guests to win a phone call from home, use internet chat with fans, and even walk on CBS Soap Opera roles. Other seasons the polls were choices between which house guests would win a special opportunity. There have also been contests where America is asked what challenge the house guests should participate in or what appliance they should receive.
During Season 6, the contest was an America's Choice poll for the viewing public to vote which evicted house guest would win the opportunity to return to the Big Brother House.
During Season 7 Big Brother All-Stars, the America's Choice was give new name: America's Vote.
During Season 8, the America's Choice was combined with America's Player where Eric Stein was picked to complete weekly tasks chosen by the American public.
During Season 10, the American public were given polls on what the Big Brother Have Nots would be allowed to eat without being given a penalty. This type of vote was also continued into the Season 11, Season 12, and Season 13 of Big Brother.
During Big Brother 13 the American public was able to vote on which evicted house guest would earn the chance to return to the big brother house. The vote was between Cassi Colvin, Dominic Briones, Keith Henderson, and Brendon Villegas. Brendon won the poll by receiving 39% of the votes, which gave him the right to compete to come back into the big brother house. Brendon successfully won the competition against Lawon Exum, and returned to continue to compete for the grand prize.