POV Holder:
TOM
Next POV
March 9th
POV Used
YES
POV Ceremony
March 11th
HOH Winner:
TOM
Next HOH:
March 14th
Original Nominations:
Gary & Suzette
Current Nominations:
Suzette & Aj
Last Evicted Houseguest
Danielle
Have Nots
Alec, Topaz, Aneal, Jillian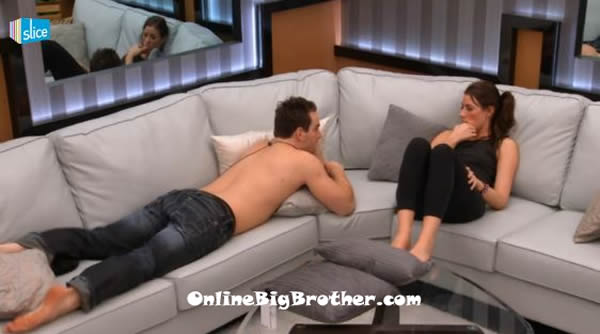 6:50pm – 7:30pm
Liza heads up to the HOH room. Tom wants to talk game with her. He asks her what her game is, what's her strategy? Tom tells her that right now she sucks at competitions. He says that right now she is playing the game right and says that everyone trusts her. Tom says that his gut right now is screaming Andrew, not this week or next but soon. He is being weak and waiting to make his big move. Tom says everyone is talking Aneal and Gary but I want Andrew out of the house before he has the opportunity to make a big move. I don't think anyone has the balls to put up Andrew. Gary would and Aneal would but I don't see them winning an HOH any time soon. Liza says its not good tv for one of the 9 to win. The producers are going to tailor the competition for one the others to win. Tom asks Liza who she would put up if she won. She says Aj and Andrew. tom asks if Andrew wins POV and comes off what would you do. Liza says I could fix it. Tom asks what would you do give him a h@nd j0b? Liza says that she was approached with 2 separate final 5 deals, where you were one of them. Tom says you were probably approached by Jillian and Andrew. Liza says that she isn't going to say. Liza says that the person in the house that doesn't know what the fu*k is going on is Topaz. So for her to be cutting deals is ridiculous. Tom says the people I want out the most are Andrew and Topaz. Topaz does fu*k all and is useless. And Andrew is coming after me or someone close to me. Tom says that he would rather have Aj than Topaz in the jury house. Tom thinks they could get Aj to put up Andrew by telling him that he wasn't considered for jury house but if he puts this one person out that is sinking him more than he knows …he could go to jury with them. Liza tells Tom that she was talking to Gary and says that he is indebted to you and yours. She says that he feels like he owes you and those with you. Tom says that Gary is just looking for social acceptance. They talk about putting up Aj and Topaz. Tom says then we could back door Andrew. Liza says I would rather watch Andrew play for POV and lose. Tom says either way if we get out Andrew or Topaz its win, win for us. Tom says then we could use Aneal later in the game, but he better not turn on us. Liza says he won't he is 19. Tom talks about wanting to get Jillian out before Jury. He says that he would be voting to keep her but telling other secretly to vote her out. Tom and Liza continue to go over what if situations. Tom thinks if Gary wins HOH he can convince him to put up Andrew and Jillian. Then either way no one hates us. Tom says either I need a cold shower or I need to go work out because I am turned on. Liza asks this gets you hot? Tom says yes! Tom says either Emmett is fine with Jillian going home or he goes crazy and makes himself a bigger target.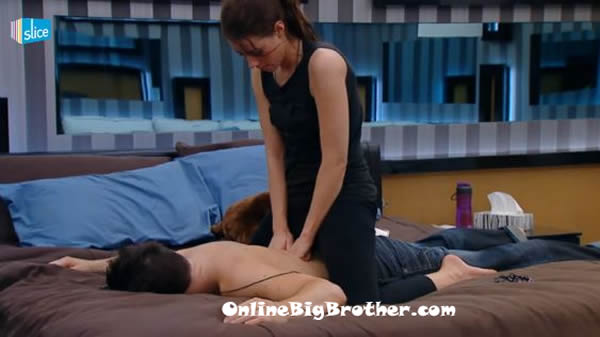 7:40pm Liza start giving Tom a back rub. Meanwhile Suzette starts making some big moves of her own to save herself from eviction: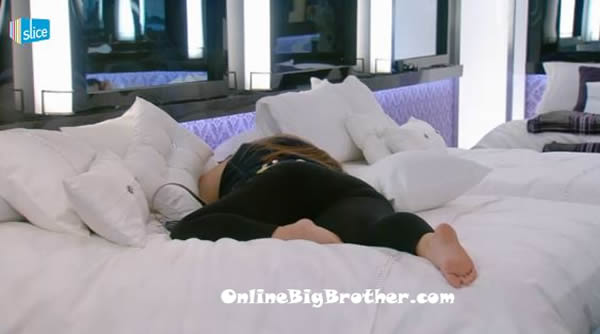 7:45pm Out in the backyard Alec coaches Gary how to workout. Gary has his "workout gear" on.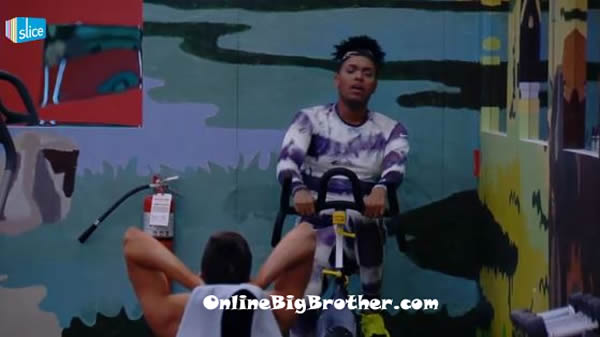 8pm – 8:25pm Peter explains to Talla that there are an infinite number of her in different dimensions. Talla's mind is blown. Liza comes into the kitchen and start to laugh uncontrollably when she sees Gary's workout gear. Peter says it looks like he is in prison gear. Talla says it looks like he is in a Richard Simmons video. The camera switches to Andrew and Aj out in the hot tub room talking about Talla. Aj says that she is very physically attractive but she is mentally disabled. Aj laughing and says that's an insult to mentally disabled people. They head back to the backyard couches.
8:35pm – 8:45pm Jillian made a ice cream dessert for Talla and a couple others. Talla has a couple bites them starts doing the dishes. Talla asks Jillian if she can freeze her ice cream? Andrew and Aj start laughing. Talla says oh my god I can't believe I just asked that! Andrew asks if that corner of the island is sharp enough to bash his head on. Aj laughs. Tom joins them in the kitchen. He wonders what is up with Talla. Aj says that its the ONE cup of coffee she had. Aj says I should go give her a smoke. Andrew says give her a joint… ..or a rag of chloroform.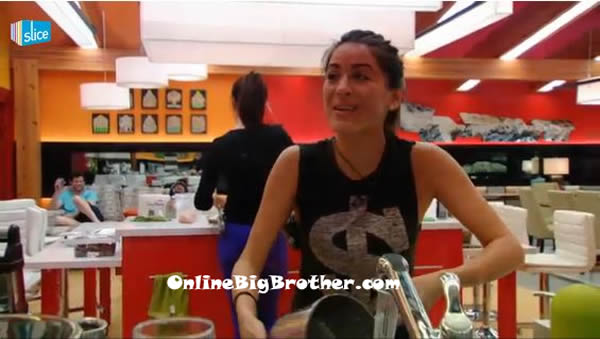 8:50pm – 9:20pm Talla joins Topaz, Suzette and Gary in the pool. They discuss going in the pool while being on their periods. Talla and Gary start doing a synchronized swimming routine. Tom come and does a cannon ball into the pool splashing them all. Then Topaz starts talking about her pubic hair. She then stands up and pulls her bathing suite down forgetting the camera is on her. Suzette, Talla and Gary all scream. She pulls them back up and can't believe she just did that.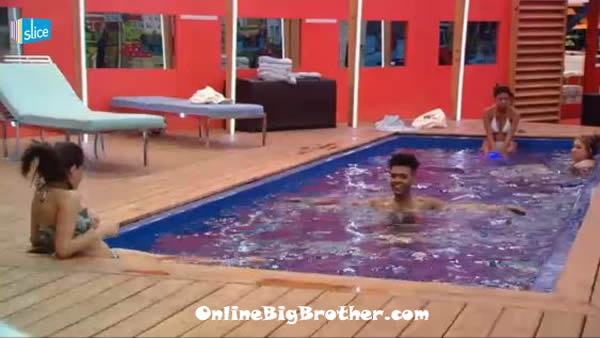 VIDEO of Topaz pulling her swimsuit down: Topaz Flashes her Vag1na

Big Brother Canada Topaz pulls down her bathing… by dm_513e8b5e17a67
[polldaddy poll=6954869]
Stay connected and interact with other Big Brother Fans on our Facebook page.
And Follow: @BigBspoilers and @Dawgsbigbrother on Twitter for the most up to date spoilers.
Share it YO!!
Tweet