POV Holder:
?
Next POV
?
POV Used
POV Ceremony
?
HOH Winner:
ANDREW
Next HOH:
April 4th
Original Nominations:
Current Nominations:
Last Evicted Houseguest
Aj
Have Nots
? Gary, Peter, Topaz, Emmett (Slop Pass) ?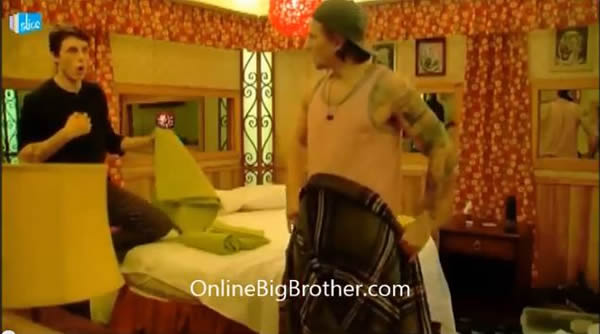 12am
The Big Brother Live Feeds get turned back on just on Camera 1. Jillian and Emmett are in the kitchen. The camera quickly switch to Alec and Gary in the havenot room. Alec says he said who's the target? He said Topaz. What am I going to say? Alec says that she (Topaz) hasn't looked at me in two days! He says she said oh don't worry you're not going to go on the block if I get HOH. What the FU*K does that mean! You're just turning your back on her because you're having a rough patch. Alec says she's not talking to me or looking at me .. I tried to talk to her 3 times today! Gary asks so you're just giving up on her!? Alec says she gave up on me! Gary says I can't even look at you right now! What choice do I have Gary I pushed .. there was nothing I could do. (Alec says something but its hard to make out what it is..) Gary asks so you've just given up. Alec asks what can I do? Gary says She hasn't given up on you. Alec says she said she fu*king HAS! Gary says no she hasn't, she said she gave up on personal… she did say once that said she has given up on the alliance that hasn't been keeping their word. Gary says all you had to do was vote for what Topaz said. Talla comes in and asks where Topaz is? Gary tells her that she is just talking to Andrew. Talla asks Gary to say good night to Topaz because I want to go to bed. Talla hugs Gary and leaves. Alec says the best I can do is vote for you to stay because you didn't turn your back on me and Topaz did. And you know what Topaz is stubborn, I asked her 3 times today to talk. He says that he asked her if she is just not talking to him or are you not talking to anyone? Alec says that then an hour later in the bathroom he sees her talking to Talla. Gary says she is upset at you. She's not allowed to be upset at you? Alec says first of all.. Gary interrupts and says it was started from you. Alec asks what was started from me? Gary says all you had to do was vote for him. Did you forget that?! Alec says I told Topaz… Gary asks what are you forgetting? Alec this didn't start from anyone but you… take some responsibility.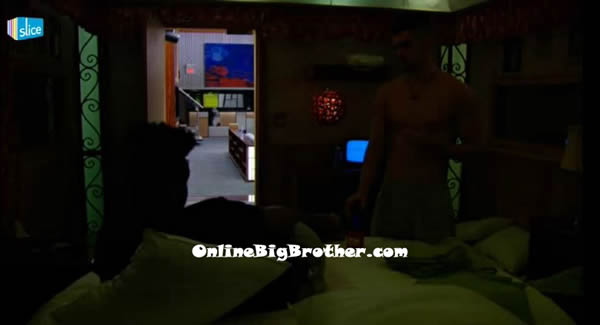 Alec says he looks you in the eyes and tells you something .. Gary says yeah, I am talking about … go back a little bit when Topaz was HOH… Alec says yeah. Gary says and she wanted Andrew gone… and all you had to do was vote for her to leave. Alec says Andrew told me he was going for Emmett and Jillian.. he was taking out big dogs.. Gary says what is he doing now?! Alec says now he's flipped it! ALec says you know what I thought just sitting here.. they were not scared one bit .. Emmett and Jillian must have something going on with him. Gary asks are you playing me Alec?! Alec says I told you exactly what he told me. Gary says because I signed up for something with you, Peter, and Topaz. AND it scares me that you are just this easily ready to DROP Topaz because that makes me think that you could just as easily drop me! Alec asks WHAT THE FU*K CAN WE DO?! What the fuck can we do!? Gary says we can do a lot of things ..I don't even want to talk to you about game because I don't know if I can trust you! Alec says I tried to push her .. Emmett and Jillian. Gary says all Andrew has to do is put Topaz in it … I can make sure Emmett does play in the veto. Alec says no you can't do that ..it says player pick. Gary says I am going to go confirm right now. Alec says it says player pick, I read it. Alec says so if you can tell me that Topaz hasn't given up on me. Gary says she hasn't …she has given up on you emotionally ..but that is something a boyfriend is going to have to figure out how to get back .. but the alliance .. the fu*king game that we are in .. no she hasn't given up on it. Alec asks can you understand… Big Brother cuts the feeds …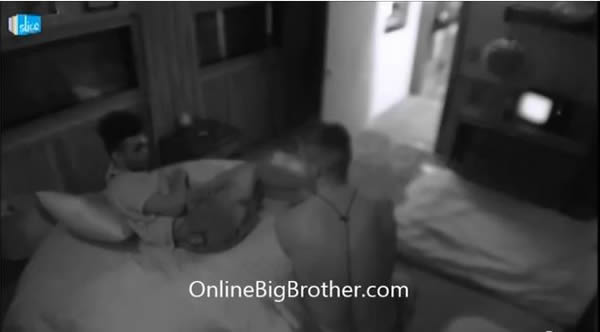 RE-Cap of what's happened within the last day:
*** So it sounds like ANDREW is the new HOH and not sure if the nominations have been made yet but it sounds like his targets are GARY and TOPAZ.
*** Aj was SURPRISE EVICTED under Topaz's HOH reign
*** Alec and Topaz have BROKEN UP!
*** Gary MIGHT be a Havenot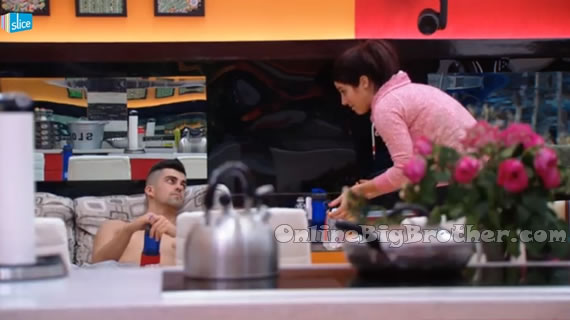 Have nots room Peter and Emmett
(Simon here)
Have nots room Peter and Emmett
Peter: "Even the fact that Andrew would Suggest me over… .. Makes me .. "
Emmett: "He didn't suggest that.. we were just talking over all scenarios."
(Feeds switch to Kitchen but audio sticks to the Havenots room)
Emmett: "Andrew did say he was going to put you up.. we were just talking that… "
(Audio syncs with the Kitchen, Alec and Jillian)
Jillian: "You can trust each other but be like ohh she's not for me'
Alec: "It sucks for me.. "
Jillian: "You are too active in life to be with her"
Alec: "I dunno.. towards the end I was like what am I doing"
Jillian: 'I could see that"
(Alec and Topaz broke up.. lol sweet feed madness)
Jillian: "Umm.. If hang on I want to talk to you"
Alec: "Ya"
Jillian: "If gary goes up.. god forbid he wins the VETO you should just keep cool keep to yourself talk to all of us and she's going to eventually have to join the circle.. you're not a bad person to be doing that it's her doing it not you. "
Alec: "It's hard because she's 1/8 of the house and when 1/8 of the house isn't talking to you.. I feel awkward… "
Jilian: "i would get over it"
Alec: "Nobody has ever broken up before.. "
Talla/Emmett/Peter join them..
Talla tells them she's going to bed.. leaves.. She's heading to the Have Nots room
Jillian: "This is a Awkmance… "
Alec: "YES Awkmance… perfect"
Jillian: 'anybody want some shrimp… except for Peter who wouldn't eat them anyways"
Alec: 'What are they flavoured with"
Jillian: "They have nothing in them but fresh garlic and salt.. No oil nothing.. they probably taste really bad. "
Andrew walks in Emmett pats him on the back.. (hard to hear him… Says old man.. I know where you sleep)
Andrew grabs a jar out of the fridge walks up to HOH tells Emmett "can you close that for me Sorry i'm a stooge"
Topaz is right in front of him heading to the HOH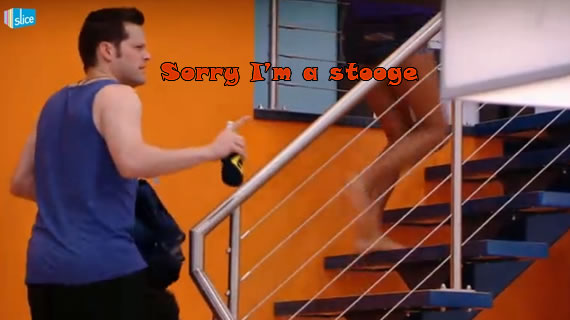 [polldaddy poll=7002638]
OnlineBigBrother.com
Stay connected and interact with other Big Brother Fans on our Facebook page.
And Follow: @BigBspoilers and @Dawgsbigbrother on Twitter for the most up to date spoilers.
Share it YO!!
Tweet