POV Holder:
Jenn
Next POV:
Sept 1 (Saturday)
POV Used
YES
POV Ceremony
Aug 27 (Monday)
HOH Winner:
Frank
Next HOH:
Aug 30 (Thursday)
Original Nominations:
Dan And Danielle
Current Nominations:
Danielle And Britney
Have Nots
Dan
Last Evicted Houseguest
Boogie and Ashley
Pandora's Box POwer
Ian did NOT use his veto power
10:25pm Cam 1-3 Backyard
Everyone but Jenn are outside having fun.. (Don't ask me who Jenn is)
Dan :"From top to bottom which cast was more enjoyable to be with.. 12 or 14 "
Britney: "12 without a question.. no offense guys"
Dan: "Really?"
Brittney list off all her friends in the house says all they did was laugh and have a good time.
Ian: "Why can't you drink.. Sunday? "
Dan: "I'm a have nots".. what did you say Sunday"
dan laughs..
They now begin the long process of dividing up the beer. Ian gets 6 beers, he tells them he doesn't care if this is the last time he drinks all season he'll give his beers up next week. Britney gets a bottle of win Ian gets 6 Beers.
Britney toasts Ian "Ian you are my Favorite"
They start talking about dates when Events in the house occurred. Britney laughs "At least I don't have to sit around and try to remember these stupid dates"
Britney: "When I'm done this wine… I'm going into that pool"
Joe: "You are going like Wil"
Britney: "No.. I'm going in my bikini and I'm having the swim of my life"
Britney brings up how weird Ian was the first week..
Ian: "Those first few weeks in the house are so insignificant"
Britney: "Thats what I was trying to tell you guys"
Everyone starts joking around about Ian's awkwardness. Britney brings up Ian creeping out the girls in the shower.
Ian: 'I hate to break it to you guys if you are worried about me watching you in the shower.. there is a lot of guys creepier than me watching the feeds"
Frank: "All I know is you F****** Girls are a lot dirtier than the guy.. if I step on another razor guard I'M GOING TO FLIP MY F******** SCRIPT"
Ian: "And wasn't it just JOJO that was the one riled up with me in the bathroom"
10:40pm Dan goes to check on Jenn. He tells her that Britney and Ian are drinking they have all the alcohol tonight. Jenn cannot stand Ian when he's drinking. Jenn wonders if Britney has calmed down. Dan thinks she has but she's drinking an entire bottle of wine so she'll probably turn it up a bit tonight. Jenn doesn't want to hear Britney talk any more about her being upset she's nominated. Jenn thinks it's bringing the entire house down.
Britney goes and gets Jenn. In the bedroom she says her and Ian are getting tipsy Jenn should join them. Jenn: "Ohh great I wouldn't miss that for the world.. lets go". Back in the backyard Ian is talking that he demands to listen to some Matt and Kim (Daylight Video Link ) tomorrow morning becuase his HOH reign was so short. it would be "Very fitting"
(Lots of Cross talk going on)
Britney: "Ian When he came into this house there wasn't a single hair on your N** S***K and now he leaves with a full B****"
Everyone is telling them to keep drinking.. every couple minutes one of them reminds them to take a sip of their drinks
Britney's speech slurred tells them she's glad to be in the presence of such good people. I will be happy if any of you win Big Brother 14.. You are all great people.
Ian: "I always said if sarah looks like the tattoo on his back he must have stock in viagra"
Frank: "No if she looks like the tattoo on his back he wouldn't need Viagra"
(The response to both of these comments are mixed from Joe.. Ian is on his second beer and the giant tattoo on Joe's back of his wife looks F***ked )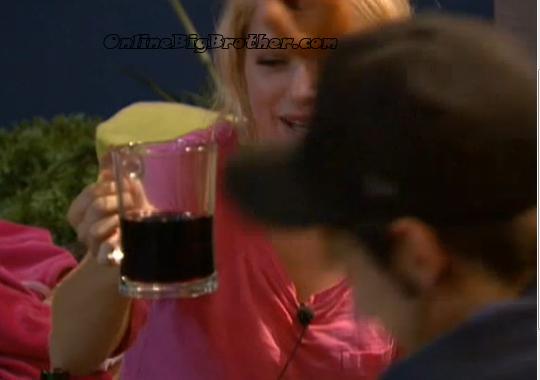 11:28pm
Britney telling them all she loves them.. (She's drunk) Ian is also getting drunk and cocky he starts bringing up how during the Big Brother 14 casting convention he overheard people in casting calling one of the cast members Carrot Top. Ian laughs says he didn't think they meant Frank because when he saw Frank he thought Matthew Mcconaughey. (LOL)
(Crosstalk everywhere.. )
Ian: 'Mike may not be in the Big Brother house right now but you know where he is now.. In Kara"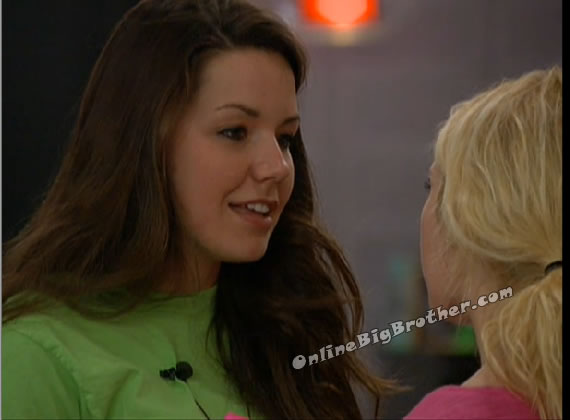 11:33pm Britney and Dani
Britney tells her she needs to get Frank and Dan out. Danielle: "Frank first and Dan second". She can trust Ian
Daniele: "I swear I trust ian.. I swear it"
Britney: "YOu know how much your friendship means to me.. you are the best thing I have ever met.. "
Britney: "Dan will cut your throat you know that"
Danielle: "He already did"
Britney: "You can win you can win.. "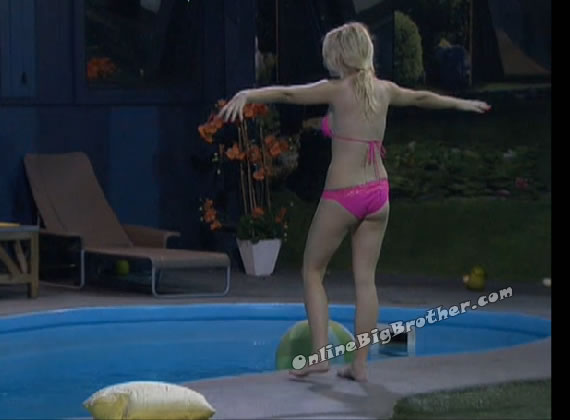 11:42pm Cam 1-2 Britney jumps in the pool
Ian follows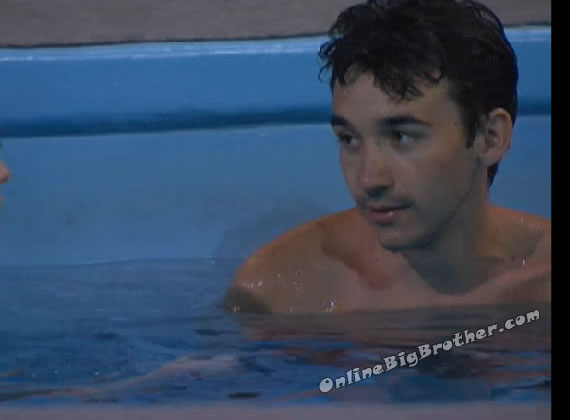 11:43pm Cam 1-2 Pool Britney and Ian
Ian is slagging on Matt For evicting "Furniture"
Ian: "He evicted someone who's a$$ is attached to the coach"
Britney and Ian share a good laugh. Ian adds that He took Furniture out with Ashley during the double eviction.
Ian says he's glad he came
Britney: "Ian get Frank out.. F***** get him out"
Ian: "I promise I'm going for it"
(Sorry I can't hear a thing in the pool.. This is the conversation I want to hear.. I think Ian is laying out his strategy. )
I think Britney is warning him about Dan saying he's going to try and draw him in.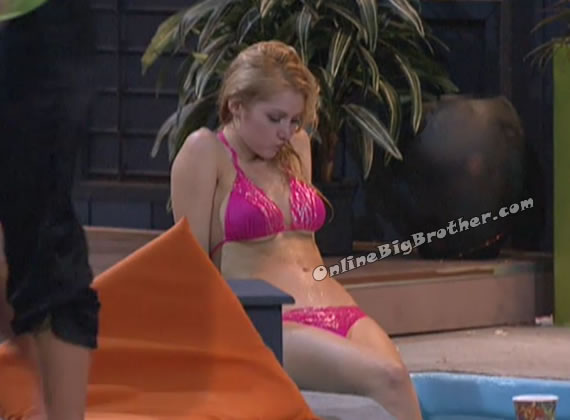 12:00AM Hottub Britney, Ian and Danielle
Ian does a shout out to some of his science dude.. "John and Graham how that Process Design going. "
12:08AM Britney is pretty drunk she goes inside with Danielle. Britney wants to go into the HOH room for a shower. Danielle says they have to ask Frank. Britney: "We have to ask frank…" Danielle: "Lets just go into our lair"
12:18AM Britney passes out
12:19AM Backyard hot tub Ian stands alone
Bikini image of Britney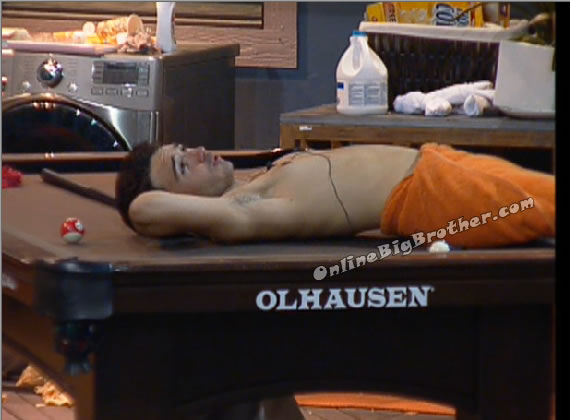 12:30AM Cam 1-2 Ian drunk laying on the pool table
Ian: "I might not win and take that shit to the bank.. I'm not winning this shit.. I know how to play this f****g game.. I sent Mike F****ng Boogie home.. Good versus f******ng evil i'll be on the same fu****ng team.. EVIL. "
Ian: "Frank will be there too but he will be on the good guys side.. he's a good guy "
Ian: "Evil dick will be on that team to.. QUACK.. shouldn't of happened that way"
Share it YO!!
Tweet