POV Holder:
Andrew
Next POV
?
POV Used
POV Ceremony
?
HOH Winner:
ANDREW
Next HOH:
April 4th
Original Nominations:
Gary and Topaz
Current Nominations:
Last Evicted Houseguest
Aj
Have Nots
Gary, Peter, Topaz, Emmett (used Slop Pass)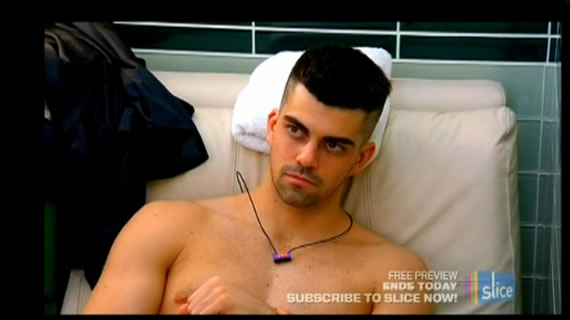 Some info from the Show today
Right After Topaz wins the HOH competition she is brought into the HOH Room where she is suppose to nominate two people. Arisa says she has 5 minutes to nominate 2 people for eviction. Little does she know that the other houseguests are downstairs watching it.
Topaz is talking to herself as she paces says "The house probably wants Talla out"
If I nominate Aj and Andrew I want Andrew out not AJ… .. Essentially she lays out her entire game for the other players to listen in on it.. Gary and Emmett both say it's not fair… Topaz also says if Andrew uses the POV she'll put up a strong player to backdoor
It's really worth watching this episode.. They destroyed Topaz' game but sure mixed the house up..
** NO VETO **
Emmett votes to Evict AJ
Gary votes to Evict Andrew
Peter Votes to Evict AJ
Talla votes to Evict Andrew
Alec votes to Evict AJ
Jillian votes to Evict AJ
AJ Evicted … When he's talking to Arisa he mentions how unfair that was to Topaz.
Alec's and Topaz really did break up..
HOH Competition is questions.. Andrew wins it .. Talla comes in second place. It came down to a tie breaker.
Andrew was also granted another special power.. he got to choose the next four Have nots..
Andrew: "I'm going to pick Emmett.. because he's just going to use his pass .. so better get rid of that right now" (Emmett had a slop pass)
Have Nots – Peter, Gary, Topaz, Emmett (Peter volunteers and Andrew picks Gary because he hasn't been on it yet..
Gary starts crying.. runs off the HOH set.. turns into a major breakdown. (Really hated the feeds were blocked for so long A lot went down)
In the HOH room Andrew tells Gary that Topaz is going up and is his target.. He says if Andrew or Gary use the POV they will play it and he'll backdoor someone..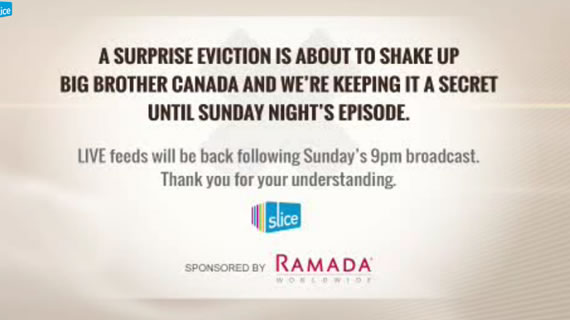 10:00pm Feeds are Still cut…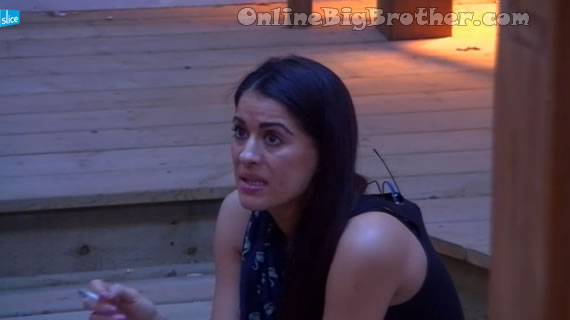 10:06pm Hot tub Room Talla and Alec
Talla is talking about someone being acting like they are in isolation. She doesn't understand why people act that way because every week someone will be on the block.
Talla asks her if he misses Topaz. Alec says no, "I feel a little more relieved.. you know When you are in a bad relationship"
They joke around about Topaz thinking that Talla stole her man.. They head back in..

(Video uploading)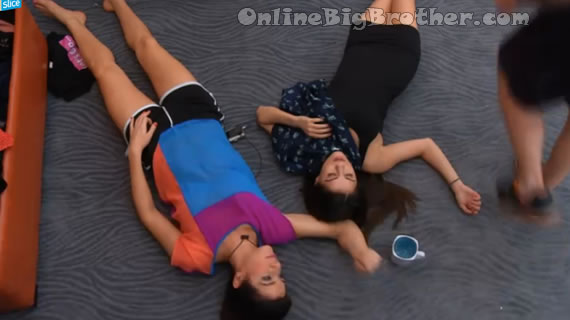 10:12pm Jillian and Talla Talla talking about Gary and Topaz making themselves isolated (BTW Talla says OMG FAIL about every 90 seconds)
Jillian just wished Thursday would come.
Jillian wants to do something for April fools tomorrow some type of prank. Jillian thinks they should wait up on the stairs and pour Water and Flower on the guys.. Talla proposes they pour cold water on them in the shower.. (How about open Alec's shower stall 😉 )
Andrew joins them and is in on the April fools event. Andrew says the Veto Ceremony is Tomorrow
Andrew: "I know what I'll do .. HEY .. I know a really good April fools.. the veto probably tomorrow.. I'll just tell them both I will use it one them.. "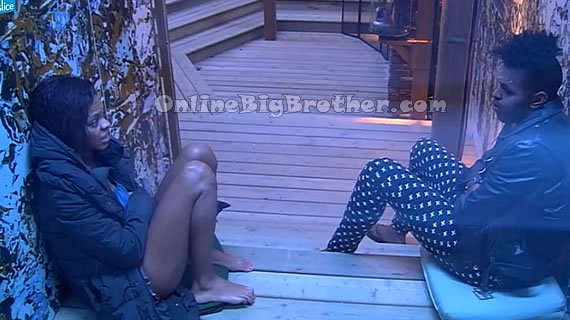 10:30pm Gary and Topaz Stooges war room
Gary: "Just weird how one of these people are going to vote one if us out"
Topaz: "I can't even look at him" (Alec)
Gary: "Every single person in this house makes me sick"
Gary: "Andrew is mega making me sick.. just how he's walking around like he's teh big kid on campus.. "
Gary: "Talla is annoying as fu*** just because her uncle is in teh house and likes to rub her Va*** all day (HUH?) .. she thinks she can yap all she wants because she's safe this week.. Alec is just beign a bro.. Peter is just silent and is going to be silent until final 2.. Emmett and Jillian are happy in their Showmance… there has just been too much drama for them to be the target.."
Topaz: "They don't know that they will be the target next week.. "
Sounds like Gary and Topaz think that Topaz is the target.
GAry: "I want to put up Alec and PEter.. " Their plan is for Gary to get close to Emmett and Jillian. Jillian is really annoying Gary but he still has to play nice to her.
Gary and Topaz joke about Alec and Talla getting close now that Topaz is gone.. Topaz calls Alec hooking up with Talla as a "Downgrade" Gary thinks it's much bigger than just a downgrade. They talk about Talla's skin and how the smoking is starting to take it's toll.
Gary: "I want her to keep on smoking.. she'll look wrinkled crusted and busted when she's 30"
Topaz: "Why didn't I nominate her.. "
Gary: " Wouldn't have to hear her barking.. ."
Topaz points out how Andrew is walking around like he's the man.
Gary: "He's walking around like King Kong with a small dong"

(Video Uploading)
10:30pm HOH Everyone else but Gary and Topaz
(I Think Andrew, Talla, Jillian, Peter and Alec got to see a movie)

(Video Uploading)
[polldaddy poll=7002638]
Stay connected and interact with other Big Brother Fans on our Facebook page.
And Follow: @BigBspoilers and @Dawgsbigbrother on Twitter for the most up to date spoilers.