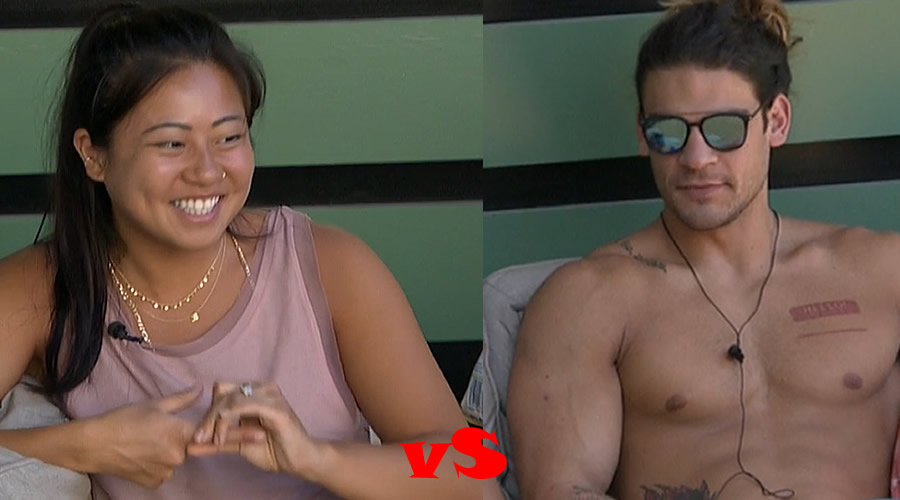 This week of Big Brother was full of potential, full of hope, but turned out to be full of sh1t. Blame Cliff, Blame Christie's power, Blame poor casting .. or just blame all three! It's telling when 9 people are below 2.10 in the rating. Just FOUR  of the 13 players left are viewed favorably.  This must be rivaling Big Brother 19.

Rank your houseguests —-> Big Brother 21 Ranking
Summary of tragic events
Last week Cliff was evicted by the 6shooters ostensibly because "Nicole was unjustly treated by Bella and Nick" The real reason is Christie convinced them all that Cliff is targeting the couples and he's building an army. An army containing Ovi, who is evicted and Nicole who was on the block beside him.
In a huge shocker Cliff wins the camp comeback then goes on to win the Head of Household competition. For the first time since week one, the fandom is happy. Cliff's plan is simple. He wants to reduce a number on the 6shooters by temporarily teaming up with Nick and Bella. He makes it clear this is their last chance to turn the tide. Cliff nominates Jack and Jackson and we are all filled with hope.
Jack burns his power to redraw the POV players. Jackson goes on to win the Power of Veto.  It's obvious Jackson will use the veto on himself. Christie might use her power on Jackson allowing him to pick the nomination in his place. Cliff starts going limp chicken.
Christie convinces Cliff if he nominates Bella she will not use her power and he gets 2 weeks of safety from her, Jack et al. Cliff accepts her deal and nominates Bella. He then turns around and tells his high and dry outsiders all they need to do now is Win HOH and turn it around.
Cliff forms up a new alliance from the ashes of ZING called Cliff's angels. A pulling together of strategic masterminds like Jessica, Competition beasts like Kat, and fan-favorite Nicole. They discuss getting out Jack over Bella. Jessica doesn't want to "Christie's trusts is broken. we lose the ability to bring her over here. we now make enemies with that WHOLE side". Kat doesn't want to because what would her mother think watching back home if she votes to keep the mean girl in the house.  They decide to lay low and hope the 6shooter breakup while fighting Sam and Nick.  A Winning Strategy!
To be fair to Cliff he did turn his game around a lot. Thanks to his back to back competitions wins. At this time last week, he was a dead man walking and now he's now straddling the cool kids alliance and the outsiders.
The house is going to vote Bella out tonight and then we get to watch a Head of household competition on the live feeds. These past endurance competitions have been a real let down I don't see why this will be any different.  Going into the next week you will most likely need to double your supply of Kraken. Get your feeds using this link Stream the HoH Competition. Try it FREE!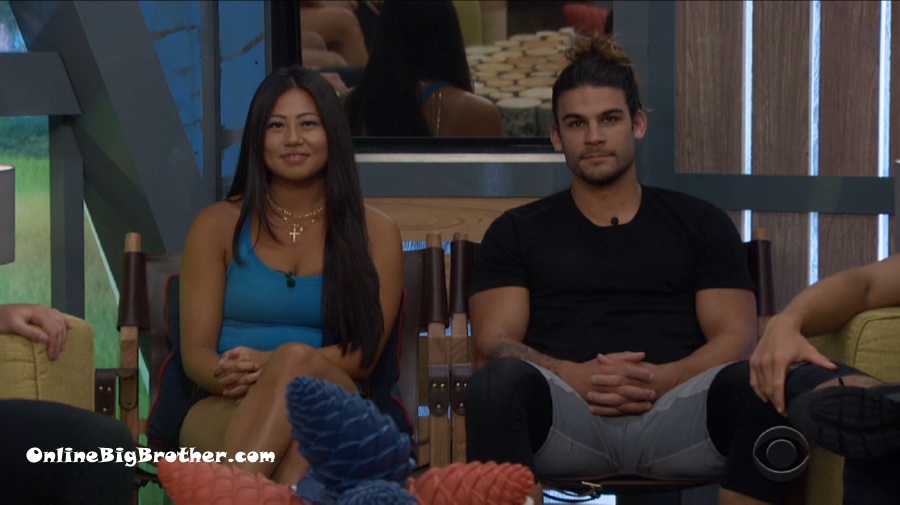 Results from the show
Bella – Who is a bigger threat in this game?
Bella points out the 6shooter alliance.
Jack – I hate speeches .. I am thankful to have met all of you in here. I just want to have fun, I'm a team player
Christie Votes to Evict: Bella
Sis Votes to Evict: Bella
Michie Votes to Evict: Bella
Nick Votes to Evict: Jack
Sam Votes to Evict: Jack
Nicole Votes to Evict: Bella
Kat Votes to Evict: Bella
Jess Votes to Evict: Bella
Holly Votes to Evict: Bella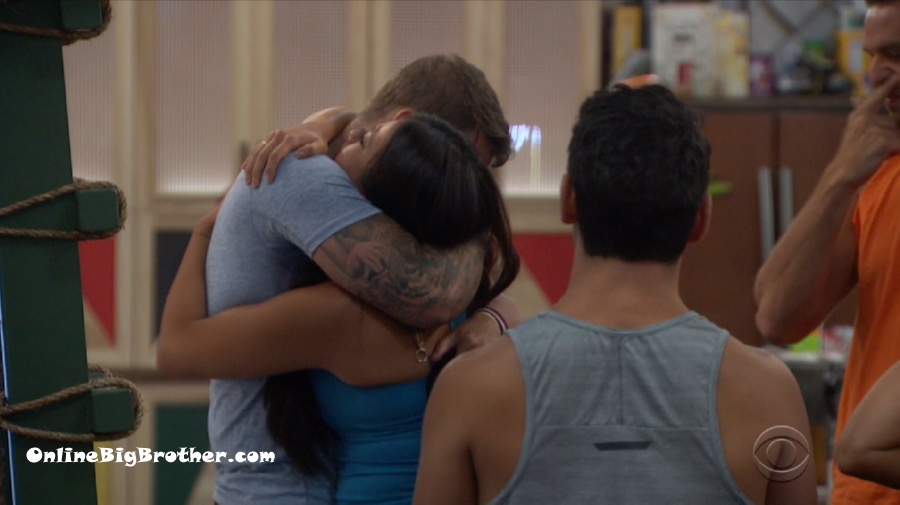 Bella evicted
Nick takes it hard. Holly and Chrsitie are rubbing him as he cries he breaks away and goes to Sam.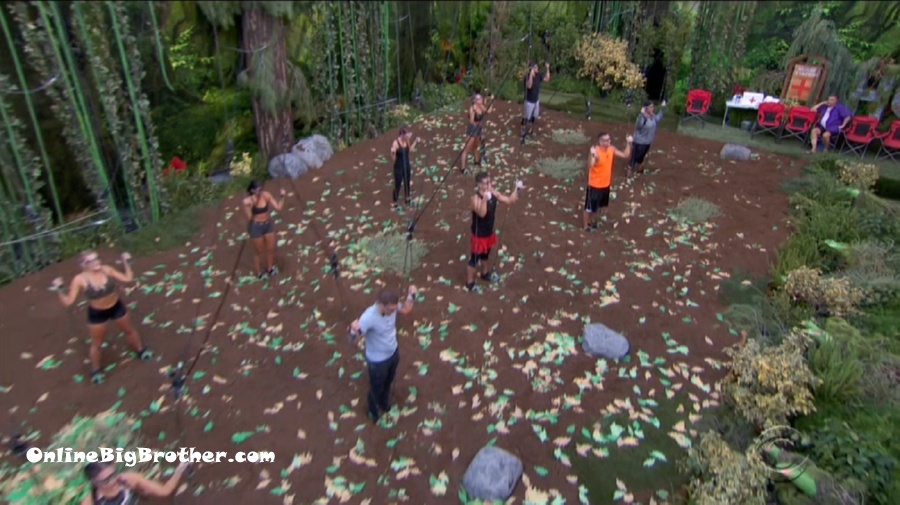 Head of Household Competition
If you fall off you pull a punishment and two houseguests will receive the poison ivy punishment.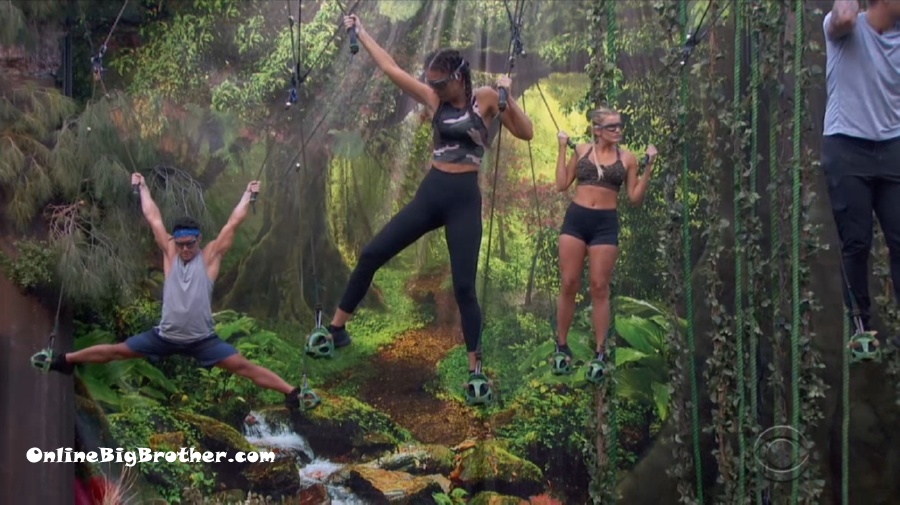 Don't really need to tell you this but Jessica fell off first. Second player off is Nicole
A fan vote is coming up: You can send 3 houseguests on a field trip putting one of their games on the line