Head of Household Winner – Cliff
Have note are: Tommy, Christie, Jackson, Kat
Nominations are: Jack and Jackson Bella
Power of Veto Players are – Cliff, Jack, Jackson, Sis, Sam, Kat
Power of Veto holder – Jackson
Power of Veto Ceremony – Jackson used the Veto on himself Cliff nominated Bella
Powers in the game
Christie – Panic
At any of the next four Power of Veto Ceremonies, Christie can turn the Golden Power of Veto into the Diamond Power of Veto and allow the current veto holder pull someone off the nomination block, but instead of the Head of Household naming the replacement nominee, the veto holder names the replacement.
Grab your live feeds —-> BB21 Live Feeds Subscription Link
Rank your houseguests —-> Big Brother 21 Ranking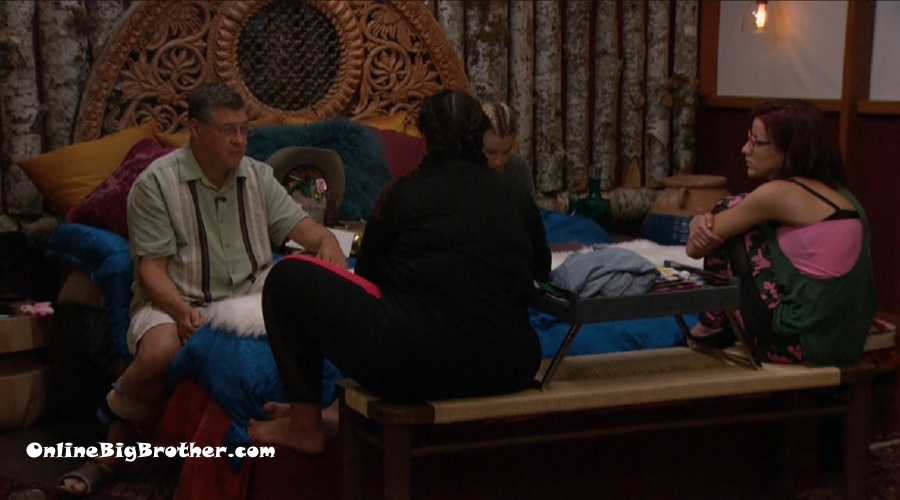 2:30 pm Cliff, Nicole and Kat
Talking about Bella not getting the votes they should all vote the same way to not rock the boat. They discuss what would happen if the vote comes to a tie and they keep Bella
Cliff – you would be forced to work with Bella for another couple weeks. WE would need all of them to try and get them out after that point you would boot Bella and the three of us Plus Sam and Jess would be a group of five and take it from there
Cliff – if you three don't want to go that way and join the other group right now and stay in their good graces assume Bella is this week and Nick is next week
Cliff – After that who knows .. what if y'all win the HOH
Kat – this is the first time I would feel comfortable winning the HOH I would put Nick and Sam up (of course)
Nicole wonders how close the 6 are.
Kat – I don't think they are, to be honest. I think for right now If Nick or Sam would win HOH they would put up someone from that side. Which is fine.
Kat – if someone from that side won right now they would put Nick and Sam up. We're safe I don't want to get into the middle of it so much happens.
Kat – 2 to 3 weeks is a really long
Cliff – there's something to be said about being patient. AS the numbers start reducing that group will start looking at themselves and figuring out who is the weak part that we're going to need to target next
Cliff – who do y'all trust in that group or do y'all think is tight
Kat says Christie and Tommy are the closest out for the pairs
Kat – Sis and Jack. that's just a fling. Jack games more with Christie he has her back over Sis
Kat – out of those pairs they're not a concrete six there's something bound to happen they will get split up
Cliff – the tightest bond out there and I'm leaving out Christie because she seems tightest with everyone out there
Cliff – beyond Christie Michie and Jack are really tight .. those are the two that worry me. Christie, I hope she's smart enough to know she doesn't want to go to final 5 or 6 with jack and Michie in the mix that would be horrific
Cliff – I don't think I can trust Christie but she's playing a game too and so I don't know
Kat – I think I trust Christie too much
Cliff – I feel like that too
Kat – she is a good person she is level headed unless she's emotional getting her period (which never ends)
Cliff – if we can survive for maybe a Bella, Nic and a Sam than maybe Christie and Bella will be looking for numbers to go after the others
Kat – that's what I see to
Cliff – if that's a path maybe we don't want to rock the boat too early
Jessica comes in. (and the real game talk starts)
Cliff – the only way to get Jack out is for all y'all vote for Bella if that's not going to happen we should all go the right way
Kat to Jessica "what are you thinking"
Jessica – I'm not thinking. It's going against your morales
Jessica says there will be 2 votes to keep Bella.
Kat – Nick has been trying hard to get back in with that Six and make it a 7
Jessica – we vote Jack out we now make enemies with that WHOLE side and does Bella have any loyalty to us
Nicole says if Bella goes Nick might be a free agent and that other side will pick him up.
Cliff and Kat disagree there's been too much damage done.
Cliff says voting out Jack "Divides the house right now"
Jessica says even if they do keep Bella they doubt she'll stay loyal to them.
Kat says Bella has been the meanest to her in the house "I would hate to cast a vote to not evict her and like my mom is at home watching being like wow you're keeping the mean girl" (ZOMG)
Cliff says if it comes to a tie it means all of them stuck their neck out and he would vote that way.
Jessica if they vote out jack – Christie's trusts is completely broken. She definitely sticks her guns with Jack and the rest of the team and we lose the ability to bring her over here (ZOMG)
Jessica – right now she's playing free agent double agent
Cliff – Maybe we be a little patient we trust Christie a little bit that she truly doesn't want o go to the finals with Jack or Michie
Kat going on about Sam coming after her. Cliff, Nicole, and Jessica convince her he's not he's going after the other side
Nicole – Sam very much fits in with us
They are all agreeing that Bella isn't someone they want in the house
Jessica says she's not going to sacrifice her game for Bella she would for the people in the HOH room.
Nicole says if they keep Bella she's not going to be loyal to them and Cliff losses everything he got from his HOH.
Kat – the other side wants Sam out for other reasons .. he won two back to back vetos umm but he is funny and likable so he' very threatening .. he could win the whole thing .. so people are gunning for him for other reasons other than Nick and Bella
Cliff – sounds like we're in consensus. I'm not voting .. are you going to do you want to what do you think about Sam would you tell him
Jessica – he's going to do it anyway .. I don't think anyone is going to look at him more or less of a target
Jessica – if it's going to be all for Jack it has to be all for Jack because anyone who is not part of their six is going to be targeted and know where that vote is coming from (Shoot me now)
Jessica says they will pin the votes on them like last week
Nicole – what if they do it again
Cliff – the best way to avoid it is to make sure not to tell everyone this is a done deal
Cliff will tell Christie beforehand they are all voting to keep Jack (Becuase that won't get twisted)
Jessica thinks Sam and jack are close and Jack looked at Sam like an Ally
Kat disagrees
Jessica – they were close
Cliff – If we can survive for the next week or two than Christie, and Tommy are our path to ford some stuff and get those guys out
Kat – I really think that 6 will break up that won't be the final 6
Jessica – Christie will get out. just watch out talking with Jack and Tommy
Cliff – yeah very very tight
Cliff says don't call targets around the other group because it will come back to bite them.
Jessica talks about how they have to win the next two HOH's.
Jessica says especially the HOH after the next one they have to make sure Christie is on their side because she'll want to use her power.
Cliff – we got the potential to lay low and sneak in a bit. let that 6 go after Nick and Bella and SAm buys us a few weeks and see where it goes
Cliff – I'm trying guys, it chaffs my a$$ they wanted me to go back and break a promise to anyone in this game
Kat – it was disgusting
Cliff – I wouldn't do that for myself in this game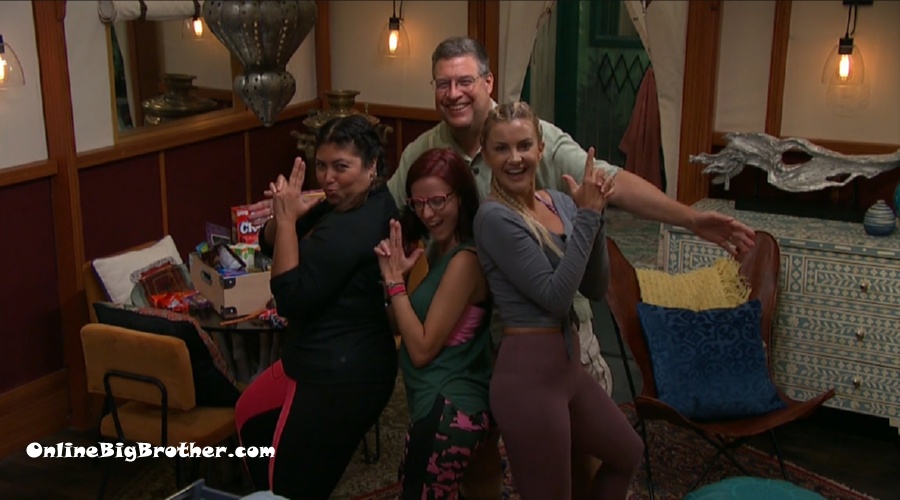 3:07 pm they form up Cliff's Angels alliance.
(This will rival Foutte)
3:33 pm Jessica and Jack
Jessica – I'm not a threat to anyone game. I'm as honest and upright as I can be and physically I don't think I can beat .. I do believe in myself. Endurance I'm scared outta my mind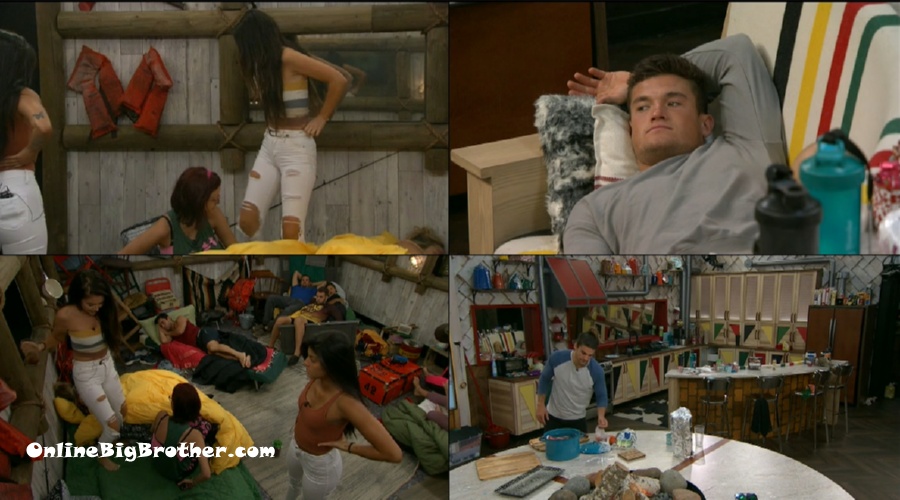 5:47 pm chit chat
(Tommy, Bella and Nick did talk)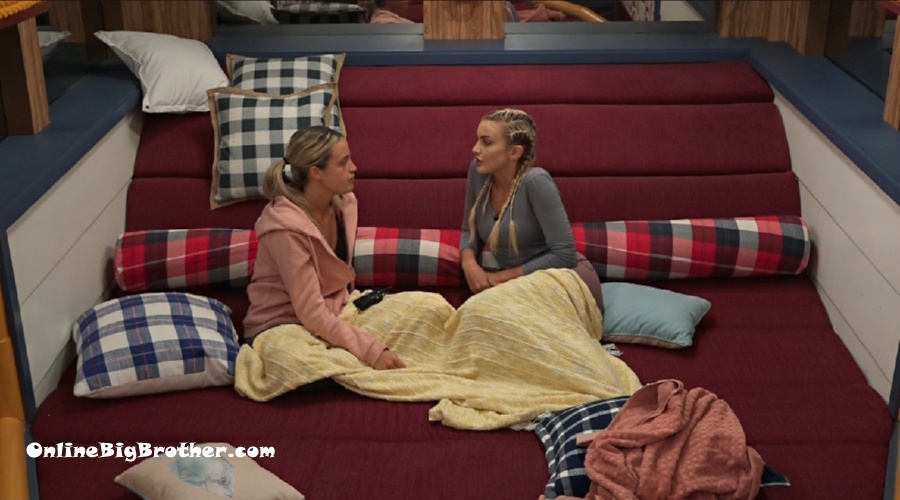 6:12 pm Christie and kat
Kat – I know my mom is watching it I know my friends are watching it.
Christie – I could totally see you win HOH
Kat – Nick, and Sam, I need them out but they're not my targets.
Christie says Sam wants "Jack and Jackson gone"
Kat says her plan would be to tell Jackson he's a pawn but he's not.
Christie – the only people to keep Jackson would be Jack, Holly, and Sis
Christie – If I won HOH I would do the same thing (take out Jackson)
Christie – I don't like the way he chasses girls
Kat – I don't like the way he's treating Holly. She's starting to crumble
Christie – He's not nice .. Just hearing all the things he does to f* with people he is peeing on the floor. He says he takes extra extra long hot showers.. he just stands there
Feeds flip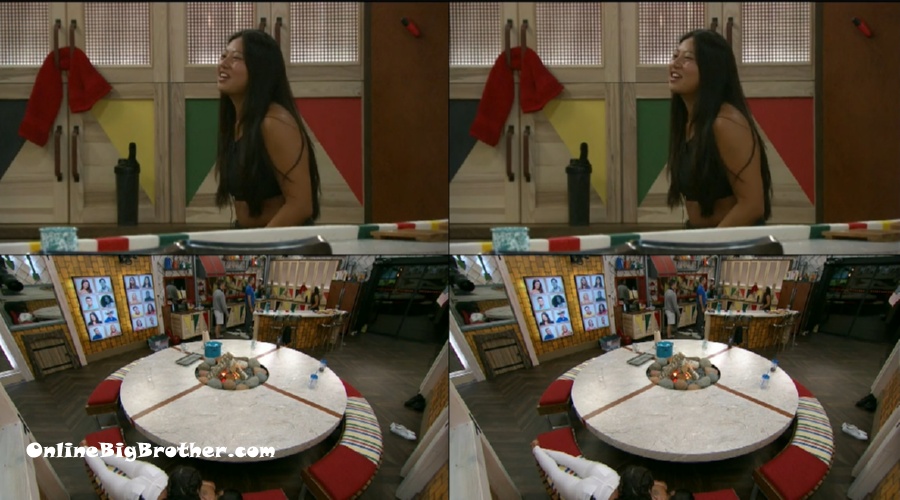 6:57 pm Studying days Nick, Bella, Sam with Jackson cooking in the background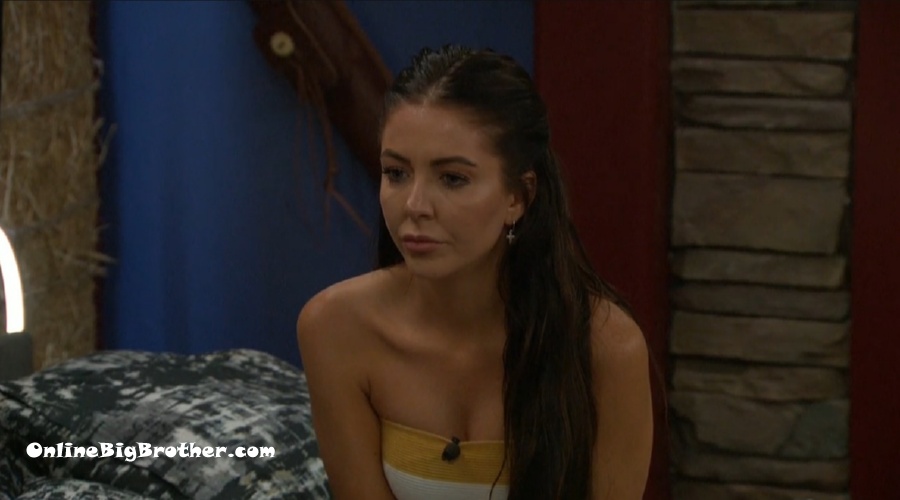 7:04 pm Holly and Kat
Holly tells her something not in the place of jealously or gameplay
Kat – I want what's best for you.
Kat brings up Jackson saying how hot Kaitlyn was because "she's so small .. .kaitlyn slide into my DMS"
Holly – real world I would be like BOY bye
Holly says Jackson is going through a lot more than they know of "Personal stuff"
Kat – is that why he was called in
Holly – yes
Kat – has he said anything more that has caused headlines
holly – no
Feeds flip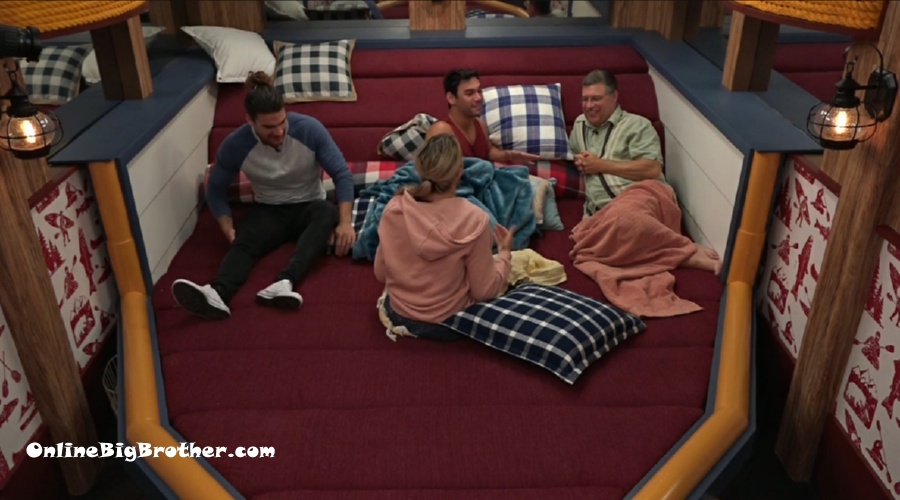 7:10 pm COOL KIDS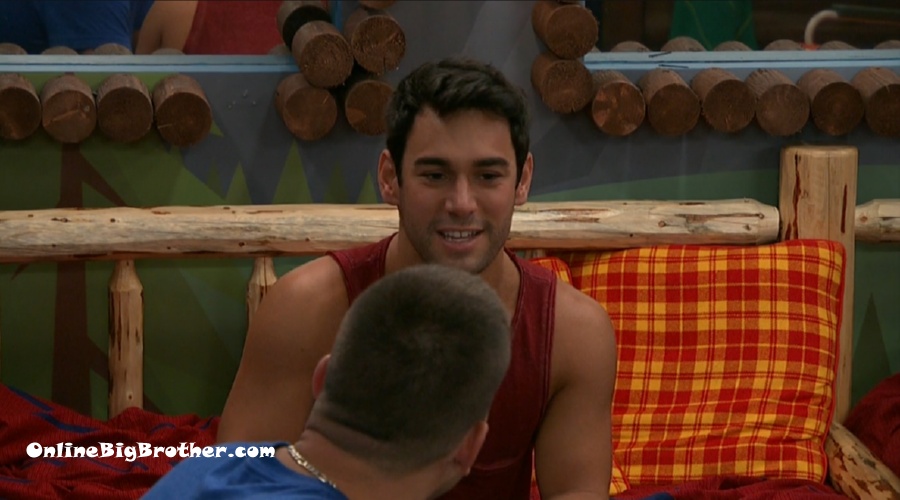 7:41 pm Sam and Tommy
Sam – I just want to make sure we're on the same page
Tommy – I know the relationship I have and I trust them.. you're one of them
Tommy – I would have loved the flaming five could have be real because I love you all