Head of Household Winner – Cliff
Have note are: Tommy, Christie, Jackson, Kat
Nominations are: Jack and Jackson Bella
Power of Veto Players are – Cliff, Jack, Jackson, Sis, Sam, Kat
Power of Veto holder – Jackson
Power of Veto Ceremony – Jackson used the Veto on himself Cliff nominated Bella
Powers in the game
Christie – Panic
At any of the next four Power of Veto Ceremonies, Christie can turn the Golden Power of Veto into the Diamond Power of Veto and allow the current veto holder pull someone off the nomination block, but instead of the Head of Household naming the replacement nominee, the veto holder names the replacement.
Grab your live feeds —-> BB21 Live Feeds Subscription Link
Rank your houseguests —-> Big Brother 21 Ranking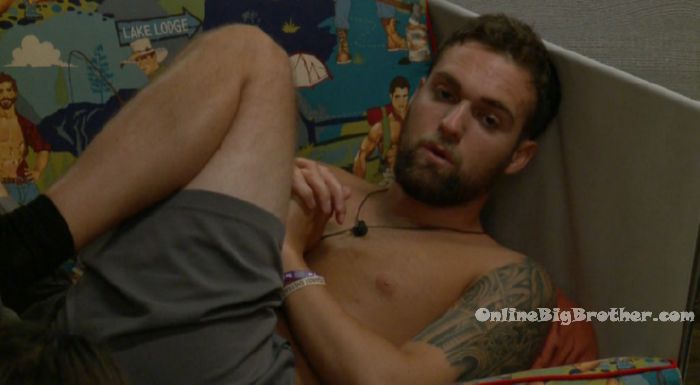 8pm Outside the HOH room. Cliff, Nicole, Sam, Nick and Bella.
Cliff – he (Jack) told me that he was going to campaign today but he didn't. Nick – he said that yesterday. Bella – I think I have valid arguments. If they don't, they don't. Nick – even if they don't do it at least they will be thinking about it moving forward which will help all of us. They all know like sh*t she's right, we have to take our shot soon. Bella – well not take our shot soon, we have to take our shot now. Nick – well I know, I am hoping so! I would be just as adamant if it wasn't you.. like this is the best shot. Bella – its literally not even about me. Anyone of you would win against me in the end. Cliff – if we get to 5 votes (a tie) I will do my part and vote him out. They talk about trying to get Michie to vote with them. Nicole – tell him that you will owe him. Nick – tell him that he can put you up next week if he wins. Cliff – if he votes with us I will protect him because that means he's with us.

8:30pm Bedroom. Christie and Jack.
Christie – even if he (Nick) said that ..just so you know me, Sam and Jack are in an alliance. I would be like really? That's funny because then why were you and Sam BEGGING me to keep Jack on the block this week?! BEGGING! Jack – good, then I don't need to explain it. Christie – that would literally be so dumb. Let him say whatever he wants. What is he going to say? He can't say anything about Flaming Five… you guys all know about it. He can't say anything about Orwell not that Cliff knows about it. And if he does bring up Orwell it is going to be f**kin epic. He probably thinks we would never tell him that. Jack – what else would it be? Christie – I don't know, I can't think of anything. They sealed their fate with so many people. IF he tries to get Jess everyone can vouch for how mean he was to Jess. Jack – to be honest if its a $5,000 or $10,000 prize and a slip and slide ..I am going for it. I am going to take it. Christie – really? Jack – in the hopes that someone else wins it. Christie – she (Sis) likes you more than she thought she would in the beginning. She is also worried about your ex. Jack – I do it for a reason. It keeps us safe and her at a distance. Christie – you and Sis are playing completely different games.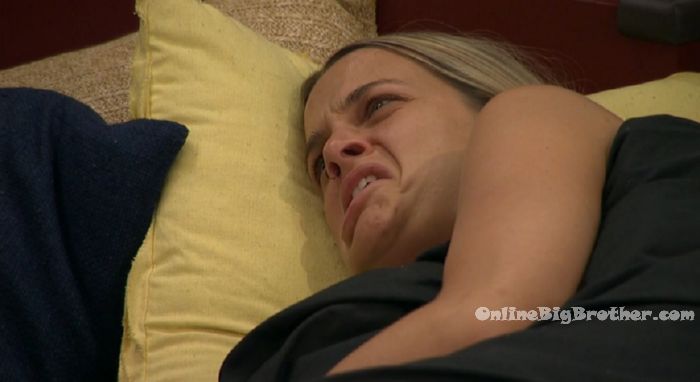 9:14pm HOH room. Nicole and Jess. Jess – why would you feel like you owe him an answer and why … does Christie think that Jackson is going to vote Jack out? Nicole – I don't know?! Me and him had the conversation and then she pulled me in the room today and said I want you to know that there is a plan that's being said with Michie, Holly and you .. are going to vote to keep Bella and I want you to know that's just a ploy, that's fake. Michie did tell me this is the plan but its not going to come to fruition so don't bother with it. And then Christie tells me no no there is a plan but its just a lie to make Bella feel safe when she's not. Like he is just being a d**k basically to make her have false hope. So I am like is there a plan, is there not a plan .. I'm like.. I don't get it?! Jess – so you're getting confused as to what they're telling you? Nicole – yeah. Jess – from what Michie is telling her he isn't voting for her he is just telling her whatever she wants to hear so that she doesn't have to scramble or feel like everyone is.. Nicole – I think I said this to you yesterday if Nicole votes to evict Bella.. one of them is going to throw in a rogue vote and say it was me. Jess – yeah they could. Jess – but you know that there would have been no reason for CLiff to talk to Christie and for her to not use her power.. him put up Bella and not vote Bella out. Because we would then lose Christie's trust .. she has a power. She wants to use it on a specific person that is not you, it is not me and that is not Cliff and that's all that we can hope for. You have to have faith in that system because it is not a right now ..oh this is looking good. You know that there is a 50/50 percent chance that everything that Nick, Sam and Bella are doing is to me a big fat flop! And you're going to be stuck in the middle of it again and no one is going to be able to take you out because the know you've done it before. Nicole chooses to keep on going that way. Bella joins them and the conversation ends. Bella leaves.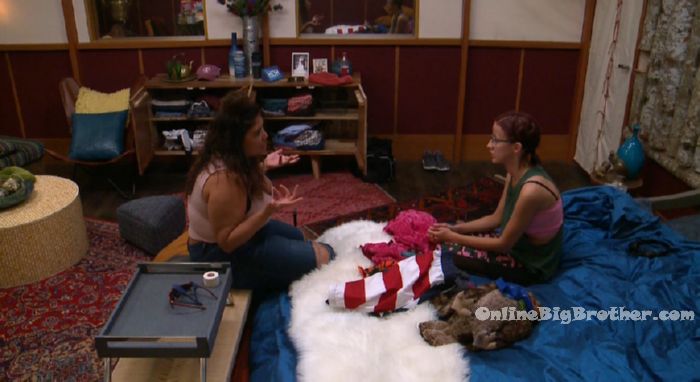 Jess – if Christie knows 1000% that it wasn't me and it wasn't you .. she is going to know that it was Jackson and Holly. And she is going to tell Jack. Jess – in CLiff's eyes I think that Michie is just blowing smoke up her a$$ in all honesty. Like I couldn't see Holly and Sis are relatively tight and Michie and Jack are tight …so if Michie and Holly are asking you who you would put up. I feel like it would be a potential to throw you under the bus… so that you would be a clear target for next week. Nicole – they haven't asked me that yet. Just which way I am voting. Michie was just I need to know which way you're voting so that I can know and I can protect you. Jess – protect you from what?! Nicole – I know that's what he said to me I like you but you're going to have 5 very angry people coming after you. Jess – who is the five? Nicole – Holly, Jack, Sis, Christie, Tommy. Jess – people don't know where you lie. His delivery isn't the best. Nicole – he is very aggressive. Jess – because Bella's burned me, they know where I stand. Nicole – I do hear Nick and Bella out when they talk to me and I feel like people take that as I am working with them.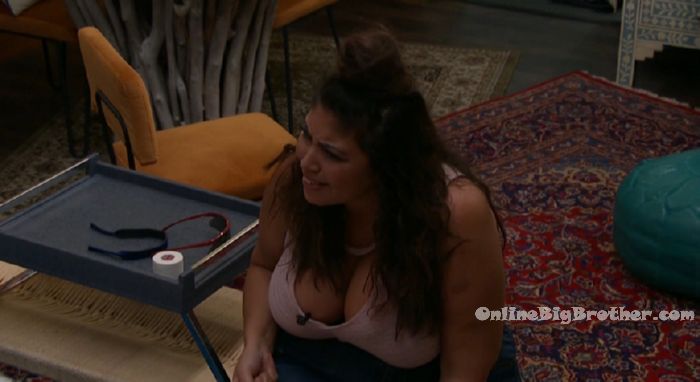 Living room. Sis and Tommy.
Sis – she's trying to be ditsy but she's really not. Part of me is thinking its only a matter of time until she wants to do something crazy. She probably wouldn't but I think she is a lot smarter than.. she leads. Tommy – I am pretty sure she knows… like when I was in the RV and heard her and Jackson talking.. the way he treats her.. its kind of like she knows he treats her like sh*t. And she is just allowing it because its part for the game and not like she is falling for it. I wouldn't be surprised when we get out and see her in her DR's like this f**king tool bag thinks he can talk to me like this?! And I am going to keep batting my eyes and playing dumb. Sis – yeah I think she is really smart and if she wanted to take shots at Jackson or whatever its on her and then we don't have to do it when it gets down to it. Tommy – I didn't think so until two days ago when I heard that joke .. that's like not a joke that this person would make. I think she is more political and everything too. Sis – I think she is very political. Tommy – its funny.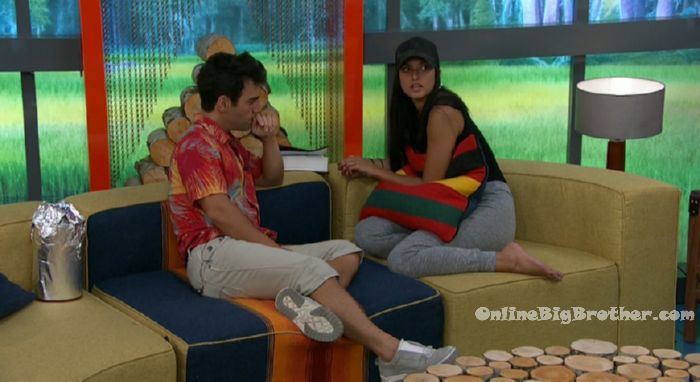 9:22pm Storage room. Sam and Bella.
Sam – Christie pulled Nicole in the boat room and she didn't give specifics but she knows you were campaigning to keep Bella, Michie and Holly and they're f**king with you about the whole they're going to flip thing. And Christie came to Nicole and told her but don't flip, we still have your back. And I was like but why would Christie tell you that unless she had a feeling that was going on and she was screwing with Nicole. I told Nicole that she should be aware of that but that they might be f**king with you. Bella – okay, but I have nothing to lose though and she is probably scared. Sam – she said that Michie is f**king with Bella. Bella – he hasn't talked to me at all… that's a great thing and other than the campaigning he said I brought up some great points. But ever since then he hasn't said a word to me.. so she must be nervous. Sam – so if you talk to Michie and say if you're going to flip, let Nicole know. Nicole is worried that if they try to flip they're going to pin it on her again because she already did it.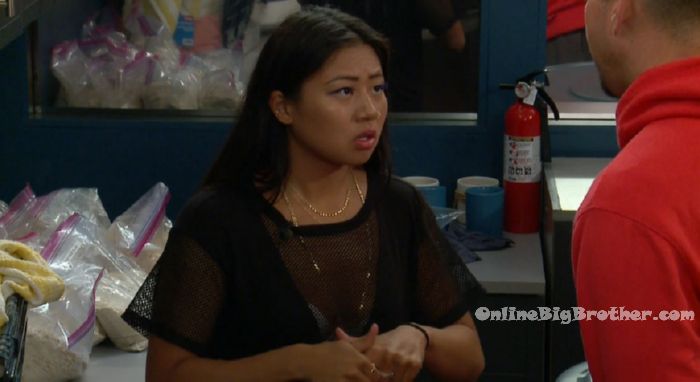 Boat room. Christie, Jess, Nicole and Cliff.
Christie – From everything that I hear everyone is on the same page to get Bella out. Cliff – I think we're all on the same page. Christie – Bella is trying to use a fear tactic. Nicole – maybe my problem is, I listen too much and hear people out. Maybe I shouldn't be such a listener. Maybe I should just get up and walk away. Christie – no you have to be you. You owe everyone the time a day. Cliff – there is nothing wrong with listening to everyone .. you just have to weigh why they're telling you.. Christie – they literally did this to you two weeks ago and they're trying to do it again now. Its up to you to break that cycle. I don't think anyone is going to do anything because I literally threatened everyone's life.. like lets be mature, lets do what we set out to do and lets move forward. Christie – this week is really showing me people's true colors. And I see how people play now and I have no problem standing up in a room if things did go funky and saying … if it puts a target on my back then it puts a target on my back. Like we're all still on page to get one person out and I don't believe in pinning people against each other just for you own self benefit or fun or lets just see how this will go. Even if you think that Bella will go, why would you give her a vote? Nicole – exactly. Christie – you would be dumb to just do that to support.

11pm Bedroom. Bella, Nick and Sam.
Nick – Christie told Tommy if you did sit next to Jack there is no way you would have gone home. Tommy said don't say that. Now its funny if I do win HOH…and then we win the veto I would put Tommy right next to her and be like you told me that no one would go home next to Tommy so have fun taking your power home with you. Bro its on and if I hear one more person talk personal with me. I am done with the personal sh*t.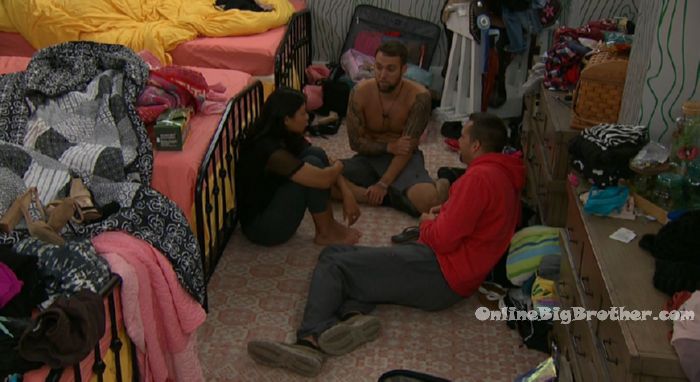 12am The house guest are holding up a bed sheet over the boat room door and they're sticking their feet under and trying to guess who's fee they are. Next they guess who's hand it is?




1:05pm Boat room. Cliff and Bella.
Bella – I think from here on out I will be able to separate game versus personal. Like how lucky are we. Like CBS is literally the best thing that has happened to me. I can't get over it. Cliff – think of how many 10's of thousands of people would have given anything to be in our shoes. If you go home tomorrow that would be unfortunate but you still had 5 weeks in this house. That is amazing! IF you go home, there will be a couple more behind you. Bella – I KNOW I AM GOING TO BE HERE ON FRIDAY! Cliff – I would be grinning from ear to ear. Bella – and I hope I win HOH! Cliff – if you do it, more power to you. I wouldn't have said it was possible a couple days ago but Michie is enough of a wild card especially if he and Christie are on the outs. Bella – seeing you smile like that makes me think it could happen. Cliff – I see the possibility. Bella – I am blessed that I can see hope.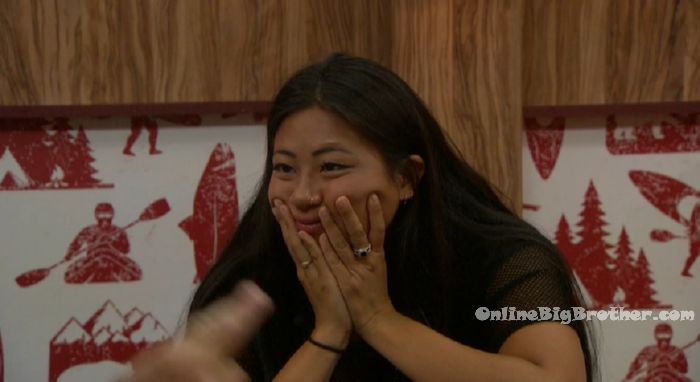 1:30am Nick, Sam and Bella.
Bella – throw me this next HOH! I want to win it so bad! Sam – for how much of a spiritual person she is .. she is getting so witchy for use of a better term. Why is she getting so cocky about it. Nick – I hope I win HOH so that I can put her stupid a$$ up. Dude, you thought I was savage with Kemi! Sam – I wouldn't be surprised if they rally up all the troops and come in here and are like just to let you know we are not flipping. Nick – I will tell them to get the f**k out of my room. Bella – I saw Michie and I said regardless of what happens I just wanted to let you know that I would do anything for you if you need my help outside this house just let me know. This is not me talking game. Then Tommy comes around the corner and sees us talking and then walks away ..super sketchy and then come back and hugs me …like f**k off!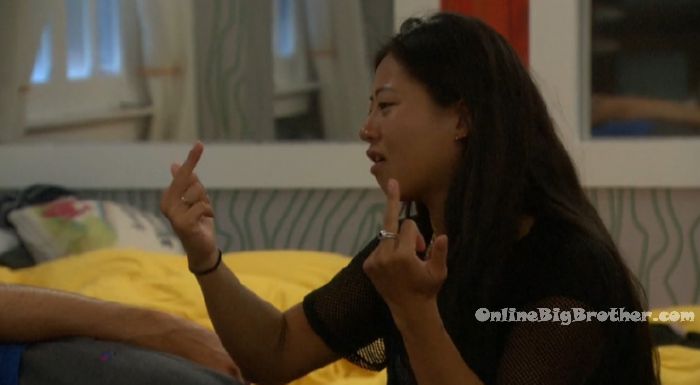 2:11am Bathroom. Holly and Kat.
Holly – Did the Christie thing actually happen? As soon as I heard that I was assuming that it was true because you and I just had that conversation. Kat – I'll be honest its more than just Christie that have that same (she points to her head) thinking. Please don't tell him.. (Jackson) because if he honestly believes that he doesn't give off that vibe then he can just be himself. That's all he can do. And a lot of people share that same thing. Holly – because of how he acts with you? Kat – please don't tell him this .. unfortunately it has been given life. Holly – like what? Kat – that its a thing that people are talking about. Holly – oh like outside? Kat – MMMhhhhmmm. Oh no I don't know outside.. No it is a little bit top of mind for people because of how he treats me. I think it started when he blew up on me and then walked outside and like ran my name. That's when people thought whoa he's super f**king reactive! I am afraid to say anything.. well not to you but… he is reactive. Holly – well I know that now. Kat – I just don't want him to come and target me because of something I am telling you. Holly – he is not going to target you but I know not to tell him stuff. Kat– its not only how he treats me but the little things like Holly are you going to make me some slop patties?! Its tiny things like that .. like go make me a sandwich! Holly – really, he does that? Do people pick up on that but they don't pick up on how he cooks everyone dinner? And brings people coffee in the morning. Kat – also when people are telling a story he interrupts and tells his version of the story that is better. Yet if someone interrupts his story he gets really mad. Its less of how he treats women and more of how reactive he is with everything. And everyone walks on egg shells around him. And everyone picks up on his douche bag stories and that coupled with other things and he says derogatory things about Jess and me. Holly – what has he said about Jess? Kat – I don't know I haven't heard anything but.. Holly – the only thing that I have heard him say to Jess was how loud she is. Kat – and people picked up on how rude he was when he broke up with you like he wouldn't even look at you. Holly – I just don't want to look weak idiot.. because this is not the real world.. you know?! Big Brother switches the feeds..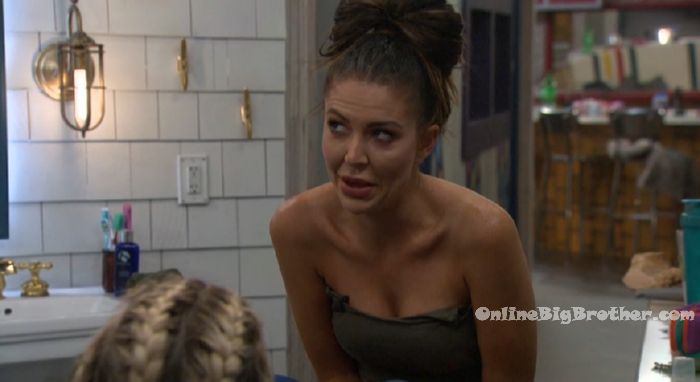 3am All the house guests are sleeping..
Show your appreciation!
If you are one of the generous people that donate to help keep the updates coming, we're giving out a bit more this year. Check out this page for more details: OBB Members