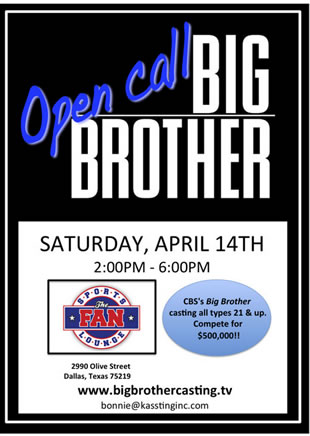 Casting calls for Big Brother 2012 have been going for the last 2 weeks. Already we've had Los Angeles, San Francisco, Charleston, New Orleans, Boston, Uncasville, and Cincinnati. Robyn Kass (@Kassting) tweeted That the turn out so far has been great. Some pictures from the auditions shows a line up in LA with a guy in crutches waiting..
The next batch start again April 14 2012, With Scottsdale, Denver, Louisville. Followed by Tulsa , Odessa , Columbus , Topeka, Boise, Atlanta, and Pittsburgh. There has not been a date set for the Miami Casting Calls. If you are serious about getting on the show give Dan Gheesling's Book a look it'll definitely give you the edge. Dan has also released a series of great blog posts giving out Casting tips including videos showing the casting process.
Casting Calls Open to Anyone
Big Brother Casting has been really pushing the casting calls this year with TV Ads, Online Applicaiton and Craigslist ads asking for Anyone and everyone to come to the open calls.
Here's one that caught my eye which basically is inviting anything to show up. Maybe they should cast a Monkey or Rachel's dog Benz.
CBS and Kassting Inc. kindly requests your participation in the casting of CBS's Big Brother, gearing up for another season of fun! Are you an outgoing, intriguing, competitive person who would make the perfect BIG BROTHER House Guest? Are you up for anything and everything? Are you ready to live inside the BIG BROTHER House with a group of strangers while multiple cameras record your every move and sound 24 hours a day, seven days a week? Are you willing to compete for half a million dollars against other participants as aggressive and ambitious as you are? If you can answer yes to these questions, you just might qualify as a contestant on CBS's BIG BROTHER!!!!
Looking for moms, dads, grandparents, college graduates, singles, ALL AGES (21 and up), ALL ETHNICITES, ALL TYPES of GOD's creations! COMPETITIVE AND BIG PERSONALITIES ARE A MUST!!!!!!!!
14 remaining Casting Calls For Big Brother 2012
Remember you need to bring nothing to the Open Casting calls but read the requirements to make sure you are eligible.

Miami Beach, FL
Friday, May 4th 7pm – 9pm Cameo 1445 Washington Avenue 33139
New York NY.
Saturday April 14, 2012 ( 12PM-2PM )
JOHNNY UTAH'S
25 West 51st Street #3
New York, NY 10019
Dallas TX.
Saturday April 14, 2012 ( 2pm – 6pm )
THE FAN SPORTS LOUNGE
2990 Olive Street
Dallas TX 75219
Chicago IL.
Saturday April 14, 2012 ( 12pm – 4pm )
ROCKIT BAR & GRILL
22 west Hubbard St.
Chicago IL. 60654
Scottsdale AZ.
Saturday April 14, 2012 ( 4pm – 7pm )
DOLLHOUSE LOUNGE
7419 E Indian Plaza
Scottsdale AZ 85250
Denver CO.
Saturday April 14, 2012 ( 2pm – 5pm )
ROCK BOTTOM BREWERY – Downtown
1001 16th St. Unit A-100
Denver CO 80265
Louisville KY.
Saturday April 14, 2012 ( 1pm-4pm )
T.G.I.FRIDAY'S
415 South 4th Street
Louisville KY 40202
Tulsa OK.
Tuesday April 17, 2012 ( 4pm-8pm)
OSAGE CASINO TULSA – EVENT CENTER
951 West 36th Street North
Tulsa, OK 74127
Odessa TX.
Saturday April 21, 2012 ( 1pm-4pm )
MUSIC CITY HALL – CAROUSEL STAGE
4101 East 42nd Street
Odessa, TX 79762
Auburn WA.
Saturday April 28, 2012 ( 12pm – 2pm )
MUCKLESHOOT CASINO – CLUB GALAXY
2402 Auburn Way South
Auburn, WA 98002
Columbus GA.
Saturday April 28, 2012 ( 11am-2pm )
RIVERTOWN FORD
1680 Whittlesey Rd
Columbus, GA 31904
Topeka KS.
Monday April 30, 2012 ( 4pm-6:30pm )
WASHBURN UNIVERSITY
Memorial Union, Washburn Room A
1700 SW College Ave.
Topeka, KS 66621
Boise ID.
Friday May 4, 2012 ( 3pm-6pm )
LIQUID LOUNGE
405 South 8th St. #110
Boise, ID 83702
Atlanta GA.
Friday May 4, 2012 ( 5pm – 8pm )
FADO IRISH PUB
273 Buckhead Ave. NE
Atlanta GA 30305
Pittsburgh PA.
Monday May 7, 2012 ( 2pm-8pm )
RIVERS CASINO
777 Casino Drive
Pittsburgh, PA 15212
Miami
Not Set Yet