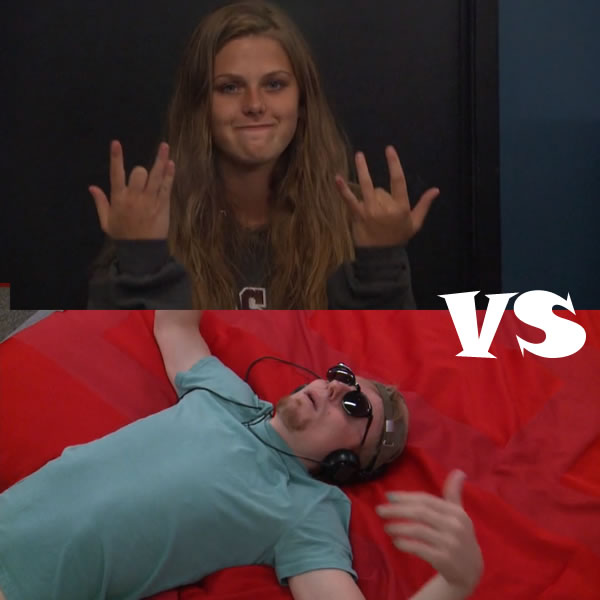 It's the same thing as last week. As Level6 puts it the only thing different is they "actually" like Scottie he's not a "douche" like Fes. From here on in it's really getting down to who wins the first batch of competitions and uses those wins to take out a level6 member. After this week, 2 votes give you a tie. This gives the trios in the house tremendous power (Angela, Kaycee and Tyler).  For this week after level 6 locked the veto there wasn't anything much happening. For a hot minute it felt like there might have been a late Wednesday night flip but it fizzled out within hours.
Posts of the week
Part 1: Catch Up From the previous Week + any new powers
Fes was evicted from the Big Brother house. There was a HIVE reunion party in the JURY with one HIVE member getting a chance to come back in via a competition.  Scottie won the battle back and proclaimed to the fans he was going to try and get back in with Tyler. (poor wounded bird). Tyler ends up winning the Head of household later that night. No new powers were introduced.
Part 2: Nominations
Tyler nominates Haleigh and Scottie for eviction. Citing that Haleigh has targeted him before so for his own personal game he has to nominate her. He tells Scottie that he's the pawn. In reality the target is Scottie. Tyler puts in serious work to convince Scottie he's good this week. (this doesn't last).
Part 3 Power of Veto
Kaycee wins the power of Veto. No one in level six is going to flip at this stage of the week. They plan on not using the veto and sending Scottie home. Angela notes that it's been a while since they've had a good blindside.
Part 4 Power of Veto Ceremony
Kaycee does not use the Power of Veto. At this point Scottie makes it known that the HIVE made a jury pack. They will each pick one person they do not want to win. There will be 4 hive members minimum in jury but most likely there will be 5. The HIVE will be a strong voting block on Finale and will sway who wins the season. If this goes as planned the pack may not have much affect as a Level 6 member will still win Big Brother 20. Level6 was one of the strongest most loyal teams in Big Brother history.
Part 5 Pre eviction
JC is worried about the Angela/Kaycee/Tyler power block he keeps trying to get Tyler to want to have the final 4 Sam, Haleigh, JC and Tyler. Tyler won't flip on Level 6 this early. JC shops this concern around to Sam and Brett. He's ready to make a move against Angela if a double comes up if not he'll keep hiding. Haleigh crawls DEEP up into Angela and Kaycee but it's not working they still want her gone.
Where does this leave us?
Scottie is going back to Jury and unless JC or Haleigh win HOH a non level 6 members will be evicted next. Late Wednesday night they got alcohol again for the third time. Brett and Haleigh got in a argument over her spraying him with the kitchen faucet and him telling her that Scottie is winning his heart over because of it. Haleigh started crying and "made a big deal of it" This pissed Brett off even more and he started talking about getting Haleigh out this week. After a cool down period he decided against it. JC is suspecting that production is pushing the Angela and Tyler showmance (production is 100%). He points out that the questioning in the Diary room and the constant alcohol they are getting is evidence of this. At this stage looks like Haleigh is the next target.
There's no TOP 10 Gifs this week as we didn't even get 10 gifs published.. so here are the gifs that we did get to..
Head of Household and Eviction results
JC Votes to evict: Scottie
Sam Votes to evict: Scottie
Kaycee Votes to evict: Scottie
Brett Votes to evict: Scottie
Angela Votes to evict: Scottie
Scottie evicted
The Head of House hold winner is Kaycee
A easy way to support the site if you are an amazon shopper is to make your purchases through our link. You pay the exact same thing but we get a small % commission. It doesn't cost you anything and helps us out.
Amazon Canada
Amazon USA
Rank the houseguests!
Easiest way to Rank the house guests use link below