| | | | |
| --- | --- | --- | --- |
| POV: | ? | Next POV: | Sept 8 |
| POV Used | No | POV Ceremony | Sept 10 |
| HOH: | Kaycee | Next HOH: | Sept 13 |
| Noms: | ? | Have Nots | JC, Sam, Scottie |
A real easy way to support the site if you are an amazon shopper is to make your purchases through our link. You pay the exact same thing but we get a small % commission. It doesn't cost you anything and helps us out.
Amazon Canada
Amazon USA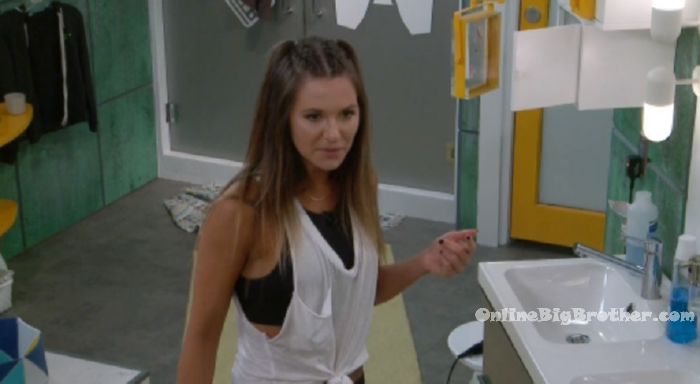 7:04pm The live feeds return. Bathroom. Angela and Kaycee. Angela – was that f**king speech aimed at me and Tyler? From Scottie. He said Hilton Head and D**k. I didn't get it. Kaycee – I don't know. Angela – I thought it was funny and then I thought about it and was like .. is that a dig at both of us? Kaycee – I would ask Tyler. Angela – I didn't even say anything. I don't even care about it but I was like wait!?
Kaycee – that was rude. Angela – It was so close. (HOH win was close between Brett and Kaycee) It was meant to happen. Kaycee – it was meant to happen. Angela – I am so happy for you. I'm so excited for you. That was amazing!! They head to the kitchen. Brett – I thought I out buzzed you.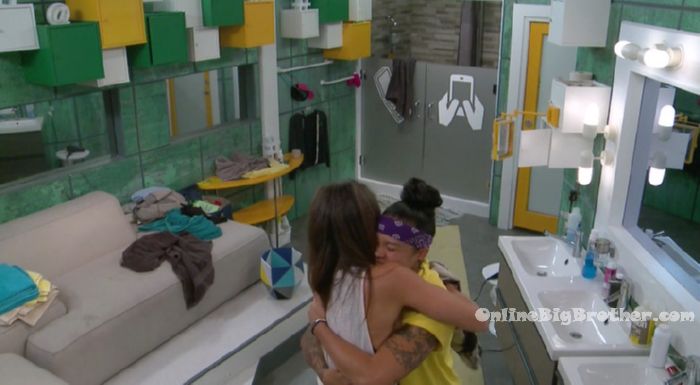 7:09pm Kitchen. All the house guests are chatting. Brett – Damn and Scottie told us all to suck it on his way out. Haleigh – he also ..when he jumped he flipped us off. Tyler – he did! I am pretty sure he did it. Haleigh – he did. Brett – I didn't see him flip us off. Haleigh – he did. Brett – he was like you all can suck it! Angela – Wow! classy! Sam – his hair looked good! (LOL) Tyler – he said I don't know if I am going to be evicted because everyone's been d**king around. Angela – welcome to big brother. Haleigh – I don't know how he thought that would be helpful. Tyler – I feel like they will probably be pretty upset with him about that. Haleigh – yeah! This was live television and he said di*king around. He flipped us off. He said you can s*ck it! You've been giving Hilton Head. Angela – Oh that was lovely too. I didn't it until 30 min after and I was like what the f**k! Haleigh – he said you can all su*k it except for you Tyler because you've been getting Hilton Head. JC – I just got it! JC laughs. Tyler – shut up JC! Haleigh – that's not classy. Tyler – he said he was going to do that but I didn't think it was going to be like that. Sam – I still like Scottie. Haleigh – it was inappropriate. Angela – and this is why you got evicted Scottie because you're irrational, erratic and no one knows what the f**k you're going to do.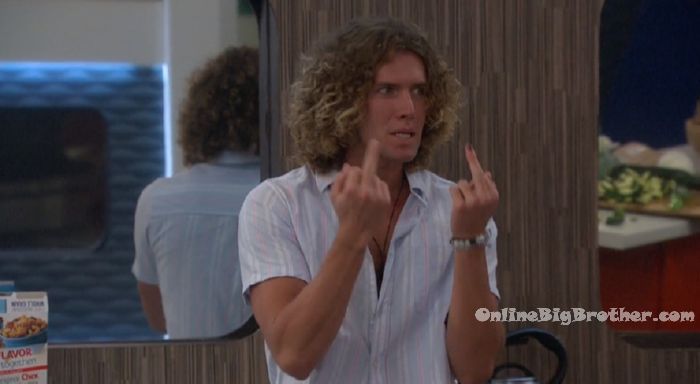 Bedroom. Brett, Angela and Kaycee. Brett – this is perfect. Kaycee – I have to figure out what to say. Angela – put Sam up as the pawn (against Haleigh). Brett – yeah, that's all you say. Just say Sam is the pawn and Haleigh is going. Angela – I had a conversation with Sam in here and said that everyone is on board and if this vote goes smoothly Haleigh is gone. Brett – you could even tell her.. like how you proposition it ..we're down to slim numbers and you two are the only people have have a problem in the house. Angela – but I already made Sam feel comfortable that she is not going home. She (Haleigh) will have been on the block for 3 weeks now. Brett – we're good this is perfect!! I honestly didn't expect Sam to vote Scottie out. JC joins them. JC – I am so happy! They talk about what Scottie did and said during the eviction again. JC – it was very stupid to do that because we have a lot of opportunities when we get out of here.. and they could shut him down. Brett – if they really want they could take his stipend. Big Brother blocks the feeds.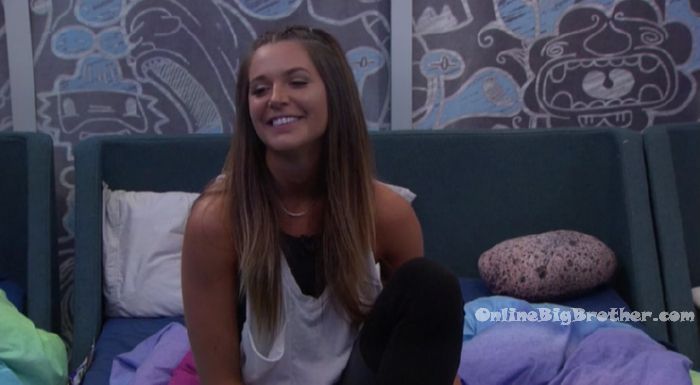 7:56pm Bedroom. Brett – well its a good thing that Scottie didn't stay after that speech. It would have been awkward as balls. Tyler – I didn't know what to do. Threw the f**king dog at him. Brett – I star fished him.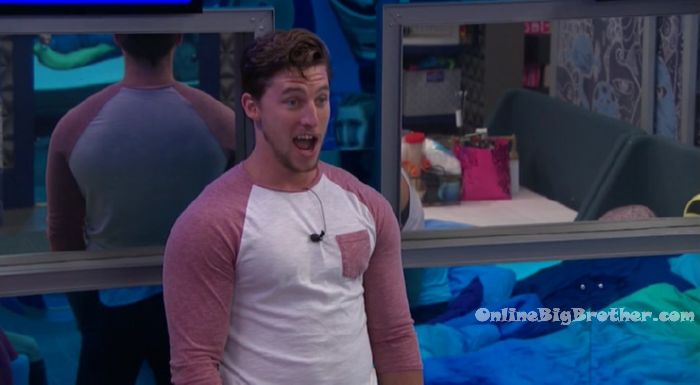 8:10pm Sam talking to the cameras. I will stay for you. I will be happy about you. I will play for you. Because I've got to want to stay here. I've got to want to be here. I want to be here. I want to be happy here. Things here make me happy. I can stay here. I can live here. 5 more week? 6 more weeks? 20 more days. I can do 20 more days. That's not so bad. That's 20 things to be thankful for. Hundreds and hundreds of things to be thankful for.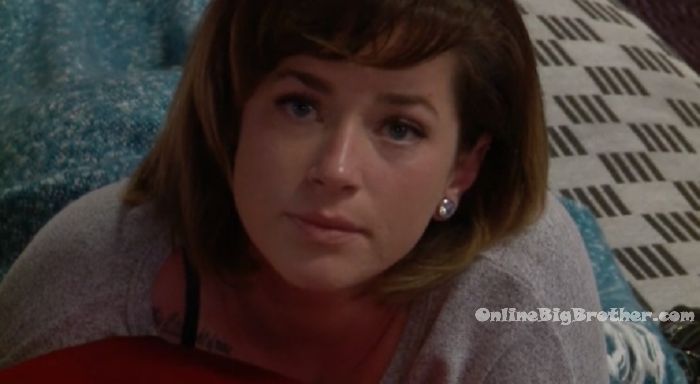 8:35pm Bathroom. Angela and Tyler. Angela – I hate this game. Tyler – MMMmmmHHHHmm. Its only a game. It will all be worth it. Angela – I am just so sick of being personally attacked. Tyler – I am sick of you being personally attacked. Angela – its been two weeks in a row. Tyler – you're going to be here ..we're top 6. Don't let them get to you. Angela – why me!? Why!? I don't get it. What did I do to Scottie? Tyler – nothing. Its not going to get to you.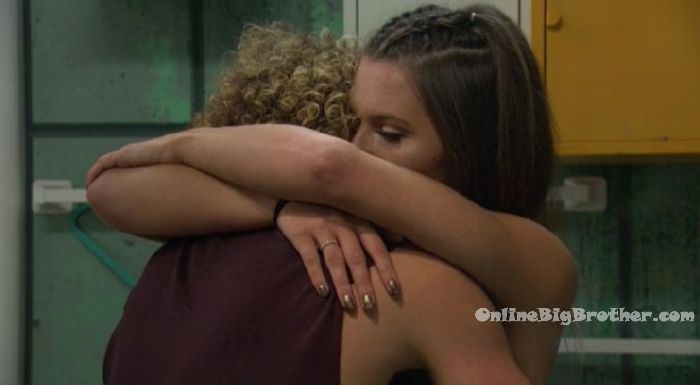 8:40pm – 8:55pm Angela and Kaycee. Angela – I am just so sick of being personally attacked. When he said it I just thought it was some d*ck joke. Then I realized what he said and I asked Tyler if it was a dig at us. Its just so f**ked up. Kaycee – karma will get him. People are going to hate him. Angela – I am like really!? I am getting bullied in this house for doing nothing. I have done nothing but play this game respectfully and honestly and this is how I am being treated. I have people bringing in things that have nothing to do with this game.. its slander! Making up lies about myself and my character and saying it on national television. Its like are you f**king kidding me!? I would never do that to someone. Kaycee – it shows a lot about they're character. Angela – and I have done nothing to Scottie. I've done nothing but been so kind to him. Kaycee – it makes no sense. Kaycee – you don't have anything to worry about. It makes him look bad and people see that. Angela – it infuriates me and its almost to the point where its unforgivable. And now I know Scottie's character whether or not I want to have this friendship in my life. And you know I love Scottie. Kaycee – he honestly does too much. I am sorry that, that happened. What these two have said about you is so far from the truth. Angela – why, why me!? What did I do!? Kaycee – you didn't do anything. Angela – grown a$$ men attacking a girl. Kaycee – it was out of no where.. on their way out. It makes them look like sore losers. I am sure Julie isn't happy with that sh*t. I'm sure they've got your back. Angela – well you won HOH, that's what's making me happy right now. Haleigh will try and talk to you. Just say you don't know yet. Kaycee agrees. Angela – that jury house is a classy group. Kaycee – for real. Tyler – there's a reason why they're there and we're here.
Angela – its bullying. Haleigh – to people that can't say anything back.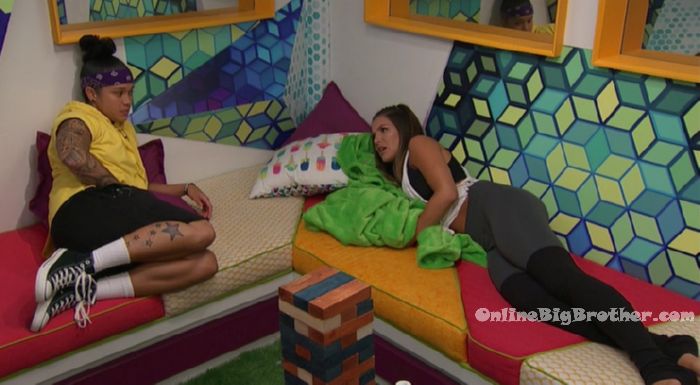 Havenot room. Brett tells Sam – its doesn't matter what happens here. The house unanimously wants Haleigh out. The key is whoever else goes up.. stays calm .. Sam – its going to be me. Brett – no, I'm saying it could be me too. You've got to stay calm, that's all I'm saying. I am just prepping you and myself because it could just as easily be me. Sam – I've just seen a few times now that the "target" isn't necessarily the "target". Brett – every time its been the target. I mean that's true. I'm saying the only reason why it flips is because the other person freaks the f**k out.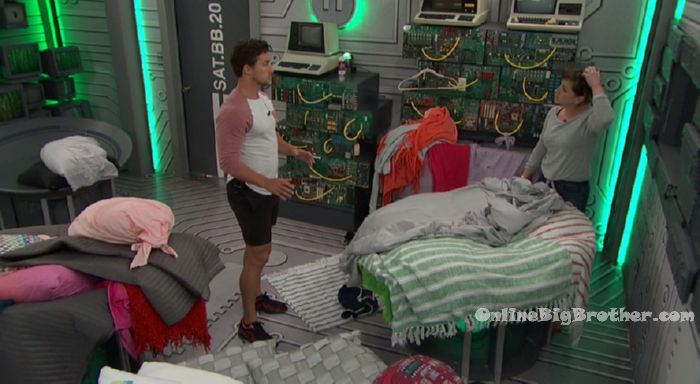 9:10pm Lounge room. Haleigh and Angela. Haleigh did y'all notice the way he (Scottie) acts like fidgety or grabby or pissy .. that whole new mood he goes in. It was creepy. Can you just imagine you stay and that's the speech you just gave!? Angela – congratulations you're the biggest target in the house. The same thing with Fessie that week. I am over it. He (Scottie) said to me that that they just tolerate me. Angela – he didn't even try to talk to me. I guess that's what d*cking him around meant. You brought this on yourself. Look at the last time you were on the block. He threw you under the bus and you were his number one ally. Haleigh – I am tired of putting faith and trust in people and getting it thrown around.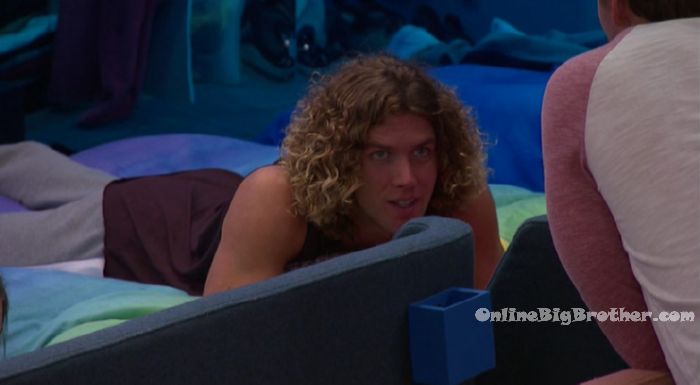 9:38pm – 9:55pm Brett, Tyler and Angela. Brett – its smooth sailing now. Tyler – we control the votes now. This week all it takes is two and the HOH and next week it only takes two votes.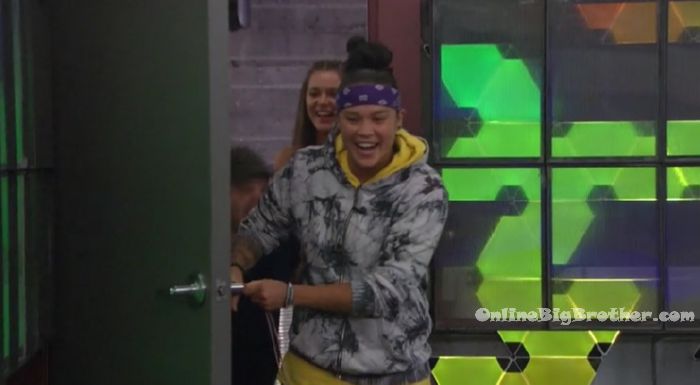 10:13pm – 10:25pm Diary room leak. Production "Okay big energy, who wants to see my HOH room" Soon after Kaycee comes out of the diary room. Kaycee – who wants to see my HOH room!!! They all head up to the HOH room. They check out her photos. When kaycee starts reading her letter she start to cry. Kaycee – something is in my eye. The letter is from her brother. At the end of the letter her brother asks her to be his best man / woman in his wedding.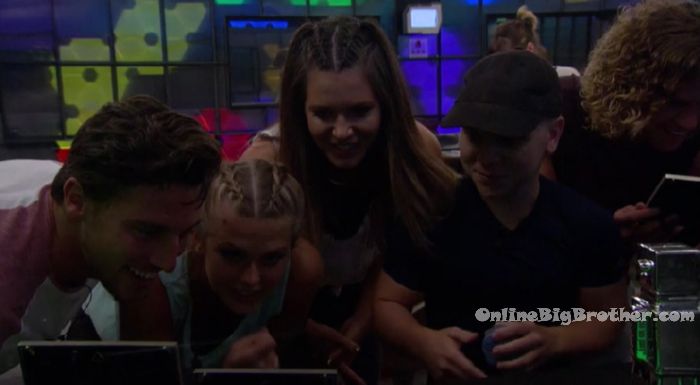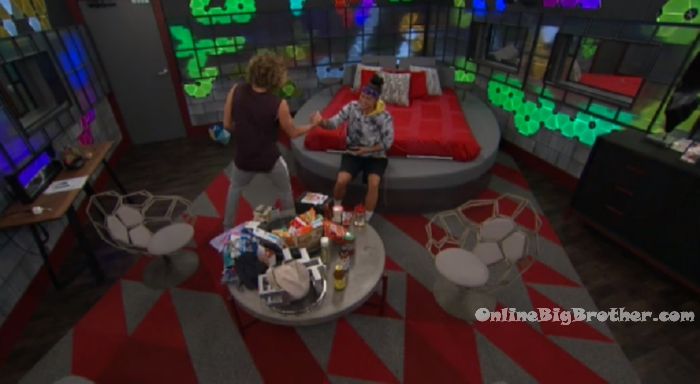 10:50pm – 11am HOH room. Tyler congratulates Kaycee on winning. Tyler – awwww dude! Kaycee – I would have been so pissed if he (Brett) got it. Tyler – Brett? Kaycee – yeah because it was within seconds. Tyler – he was so close dude! Kaycee – So I am trying to figure out what to say to Sam. Should I say something to her in the morning? Tyler – yeah. I think so.. Brett already went there and said I think the whole house wants Haleigh out.. so I don't know if its me, if its you. Kaycee – I am not going to tell Haleigh. I am just going to say that I don't know what I'm doing. Just like she was with me. I'm going to be vague. Tyler – she is going to be up here pestering you the whole time. Kaycee – I know. Dude that is going to be so f**king annoying. So for Sam, I will say something to her tomorrow. Haleigh is for sure the target this week and everybody wants her out. I have no other targets in the house and to keep the house happy .. and something to do with the rogue votes. Something about he voting against the house. You voted against the house twice. And be like you are not leaving this house. Haleigh is for sure leaving. Tyler – I think she will understand that. Kaycee agrees. I really want to keep it as simple as possible. It will be a smooth week. I have no other targets. Haleigh is my last target. I need a pawn and I don't want to piss of the house. Angela – Sam and Haleigh are both going to act calm this week and its giong to peo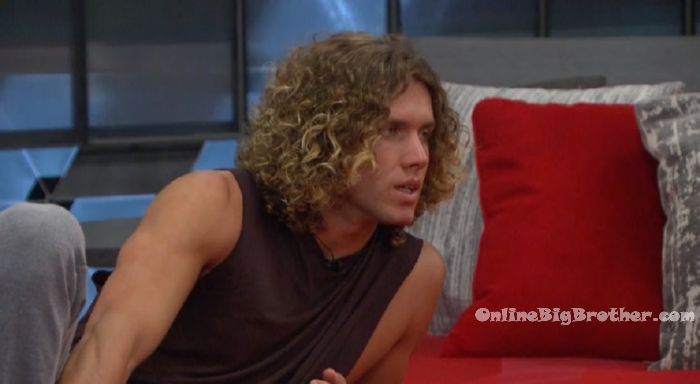 12:05am – 12:40am HOH room. Kaycee listening to her music. Angela joins her. Angela – does Haleigh have any idea that you're putting her up? Kaycee – I think she does because she put me up. Tyler and Haleigh come up to the HOH room.
12:46am – 1am JC heads up to the HOH room. He says if I go in there and they walk out again.. I am just going to bed. Every one but Sam and Brett are in the HOH room. Sam is in bed. Brett is in the diary room. They talk about sequester. Haleigh says that she didn't know you order wine in sequester. Angela says she did it on the reg. JC thought his room was bugged so he checked everywhere in the room.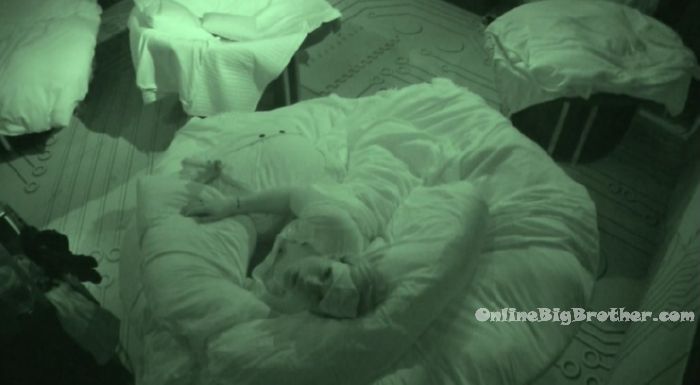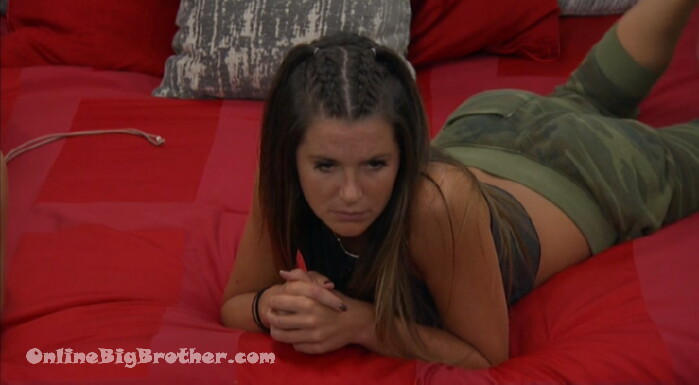 1:10am  HOH… chit chat…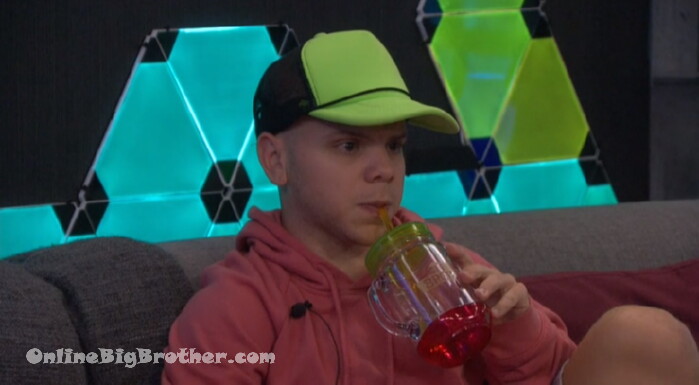 1:19am JC and Tyler
Tyler calls haleigh "Fake a$$" points out how she'll talk sh1t about Sam all night then give Sam a hung good night. He's done with that bullshit
JC – she's just a 21 year old give her a break
Jc – how do you feel about the thing I never talk to you about that
Tyle r- about the Scottie..
JC – yeah
T – it was kinda annoying
JC – I hate to say I told you so but I told you so
Tyler says Scottie saying that in front of the entire house didn't accomplish anything
T – everyone has it in their heads already
JC – that was a BIG a$$ F*ing confirmation there
T – It wasn't a confirmation
JC – not a confirmation you know what I mean.. no one spoke like that at all.. zero like that
T – I'm fine.. I don't give a f* about that I just don't think that was a god thing for him to do
T – those things don't bother me but I feel for Angela, she's got her family watching this
JC – this is the second time they've done this to her
JC feels bad for Angela because of Scottie's speech. "Her family is watching"
Tyler – why did Sam vote him out
JC says she asks him and Brett what she should do.
Tyler was shocked by her vote.
JC says this week is going to be crazy when Sam goes on the block.
JC says he's got a good relationship with Brett right now
T – I think I'm ok
JC – the worst that could happen was Sam wins HOH and if she thinks there's a showmance..
JC – I could still get in her mind I think I could…
JC says Haleigh is gone this week.
Tyler reminds JC that Haleigh can't win the veto
JC – her or Sam..
JC – I'm the weakest one in here…
JC goes on to talk about having not won any competitions he's not making it to top 3.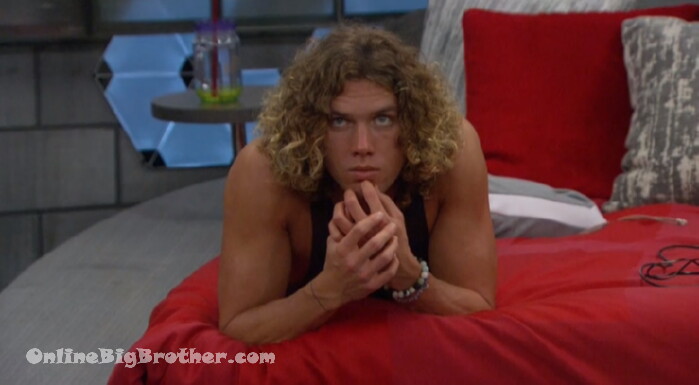 Tyler- we're good.. and now Kaycee can't play next week
JC – are you still down with Kaycee top 3
Tyler- at first she was winning but now she's winning everything
Tyler says the jury will be biter.. if you take sam you'll lose.. "Rockstar, Bayleigh , Fes, Scottie all voting for her"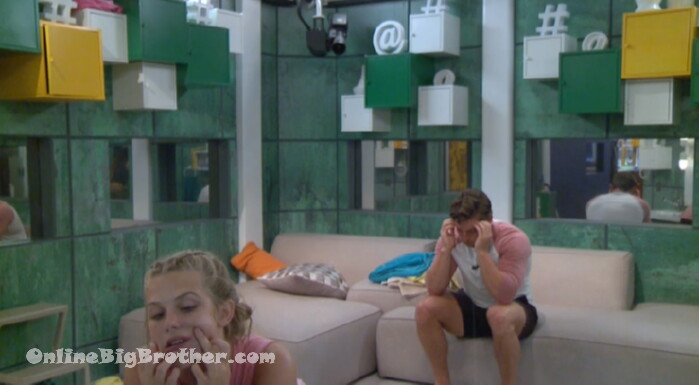 1:21am zittting
1:37am walking on their way to bed. Haleihg and JC are talking about how they don't even remember "Swagz"
Haleigh – it was so long ago..
(it was … forgotten)
1:51am (Production must think this is adorable)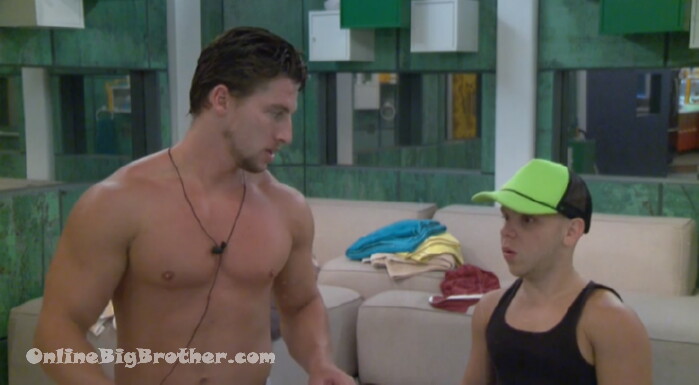 2:11am Brett and JC
JC – she's f*ing crazy
B – I agree..
They mention how "Comfortable" and "Crazy" Sam is acting right now
There's worried how Sam will react when she goes on the block.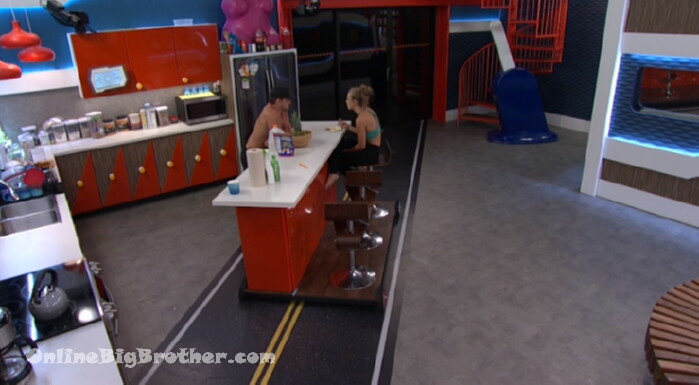 2:37am Brett and Haleigh 
Brett brings up how mad JC is that Sam has the big Saucer in the have nots now.
Haleigh says she's surprised that Sam gave her a vote today. Brett suspects it was because of Scottie's speech.
Brett says if it was 50/50 and Scottie did a speech like that he would have guaranteed to be out the door. Brett tells Haleigh it's wasn't 50/50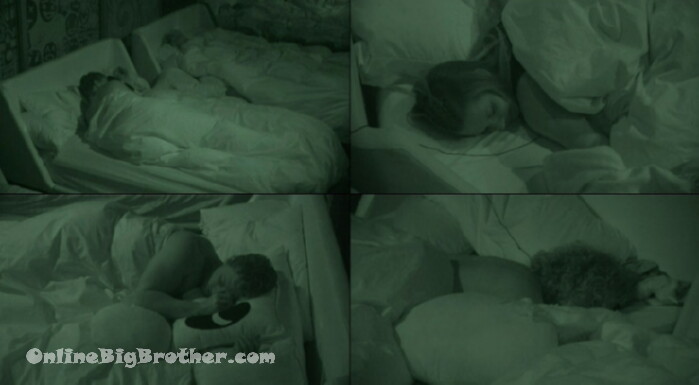 2:48am zzz zzzz
9:28am reruns
11:30am reruns..
1:11pm no
2:12pm Feeds are back after almost 6 hours.. They got to see Nicole and Derrick.
Without your support this website wouldn't be possible. Please consider making a donation. Any amount is greatly appreciated. All donations go directly to paying the considerable costs associated with running this site.
Rank the houseguests!
Easiest way to Rank the house guests use link below