| | | | |
| --- | --- | --- | --- |
| POV: | Kaycee | Next POV: | Sept 1 |
| POV Used | NO | POV Ceremony | Sept 3 |
| HOH: | Tyler | Next HOH: | Sept 6 |
| Noms: | Haleigh & Scottie | Have Nots | jc, sam, scottie |
Big Brother Spoilers Would be very neat if JC, Brett and Sam flip and Haleigh gets evicted.
9:05pm They got alcohol..
A bottle of Wine and a handful of beers. They've been getting a lot of alcohol lately.
T – at least bob is telling us now when there's alcohol
Tyler suspects they've lost out on alcohol in the past because they never ask for it and never check. (in fact they have) He points out Rachel use to ask every night and they never gave them any.
it turns into beer pong…
T – it's so weird playing this in silence..
Getting sloppy… #BB20 pic.twitter.com/jM9yCQvuYy

— OnlineBigBrother.com (@bigbspoilers) September 6, 2018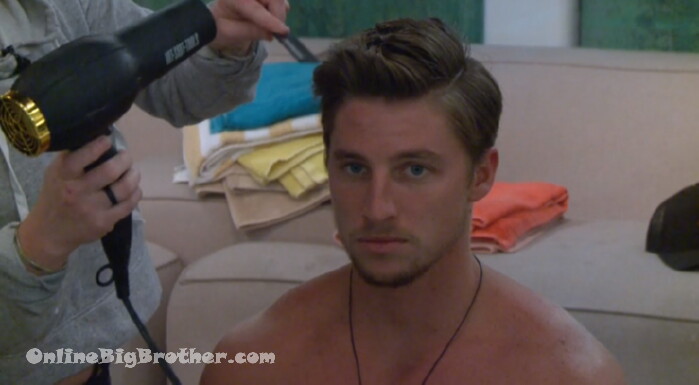 Sam does Brett's hair up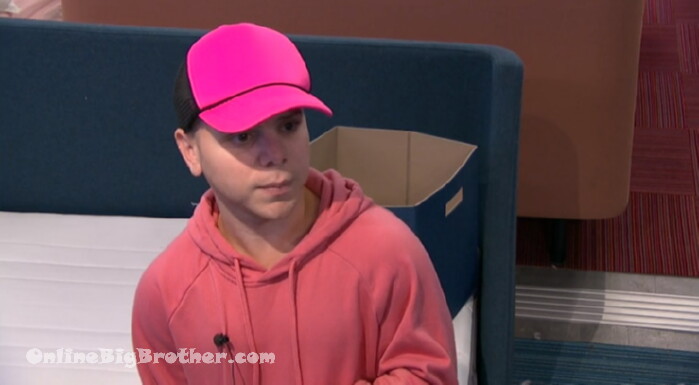 9:43pm JC and Brett
JC says Angela is getting sloppy when she drinks you can tell, "She's going to be crawling up stairs tonight to"
JC – F**
JC – it's more work for us … for me basically
JC – I know how sloppy she gets when she's drunk
JC says Angela will be up in the HOH till 6am being in Tyler's head..
JC – that's the only thing I have in my head I could care less about the f*ing alcohol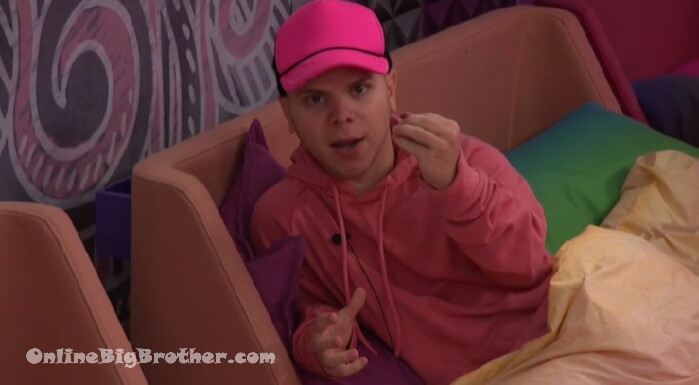 JC is pissed about productions messing with him by giving the haves alcohol
Brett – we're at the point.. what are we supposed to do ..
JC – they never give us alcohol twice a week they never f*ing do
Feeds cut..
JC says Angela is already watching him weird..
Brett – me to
JC says they need to stick to their plan and get out Angela.
JC – I want to talk to Tyler tonight.. I really want to talk to him.. if Tomorrow is a double eviction we won't have any time.
JC says the one thing about keeping Scottie over Haleigh is Haleigh is with Angela now..
Brett says Scottie can actually win competitions and once he does he'll do whatever the f* he wants. With Haleigh they can influence her plus she'll go after Sam.
JC – after tonight.. they f* than we're done… if they do anything sexual.. they kiss then we're f*ed
Brett – oh I know
JC – thank you Big Brother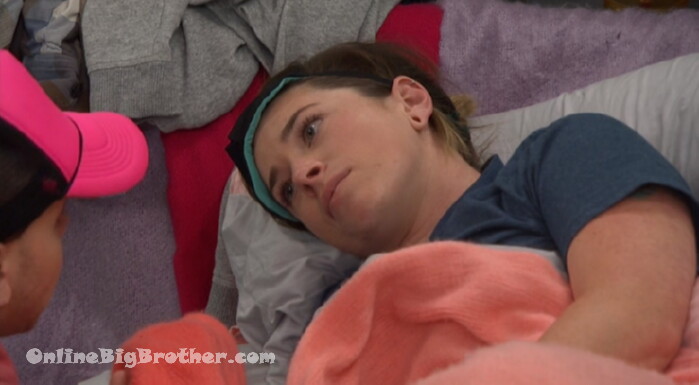 10:00am JC and Sam
JC says Sam, Him and Brett all have each other's votes. Tomorrow JC is going to let Sam in on what they are doing.
JC – it's about putting the right people up
JC – it's about making the right move
Sam – ok I trust you..
JC – you are going to be fine.. worst case scenario is haleigh wins.. that's worst for us
JC says the two of them might go up because they are both seen as the weaker players
JC – me and Brett… I dunno..
JC says if he wins HOH he'll bring Brett and Sam in and tell them what he is going to do.
JC – right now keep your mouth shut..
10:05am Kitchen haleigh, JC, Brett, Kaycee and Angela
Brett – when did I ever spray you with the f*ing faucet
H – I didn't even get you right away
B – when did I spray you with the faucet when did I ever play any joke on you
H – you just called me 2 girls and 1 cup
A – you told us we were whores
B – I never said that
A – Basically
H – Basically you said Angela and I are in a porn..
B – never said that..
laughter.. awkward laughter..
Haleigh – whatever BRETT
Brett – Okay Scottie is winning my heart right now
H – too far.. too far
B – it's ok I can go to far
A – that's F* up Brett.. you little sh1t..
Haleigh runs upstairs…
Brett – they can dish it out but they can't take it..
Brett – Haleigh sprayed me with a hose and I said Scottie is winning my heart right now
T – she didn't like that
Brett – I guess not.. I really was just kidding..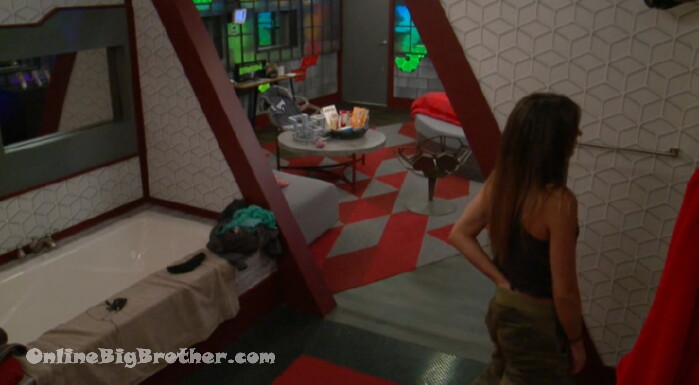 10:18pm Angela and KAycee Haleigh crying in the shower..
Angela – Halegih… stop crying.. he was kidding that was mean..
Angela – he went too far..
halegih says Scottie has been saying f* up sh1t all day Scottie told JC that Halegih I told him that that JC was the whole reason why he was going up
Angela – do you think BRett would vote Haleigh out.. he would be stupid to.. Scottie's his target.
Kaycee – in Scottie's GBM Brett told SCottie … he had to do it..
Angela – are you serious.. that's perfect then he has to go tomorrow. (Scottie)
Haleigh comes out start complaining about Scottie.
Kaycee – Why would you stoop down that low (Brett)
Angela – Especially to a girl.. Girls are sensitive.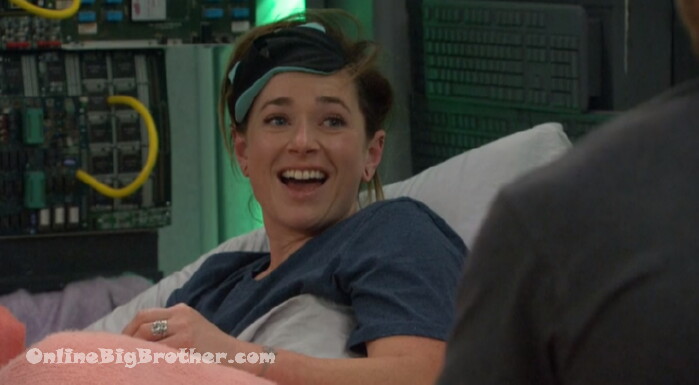 10:19am Brett and Sam
Brett – we need to talk game sometime soon
Sam – ok what should we do
Sam – I know Haleigh hates me
Brett – I know
Sam – for some reason she absolutely hates me
B – I know
Sam – and I have never treated her
B – I haven't forgotten our conversation in here.. and what I am saying is so far it hasn't mattered which way so there was no point to talk but I just need to know where you are thinking too because I feel like the only other person you are close to in the game is Scottie
Sam – I do really like Scottie.. I'm not happy to see him go
Brett – Scottie was the only person I was happy so see..
Sam – it's as simple as this Haleigh doesn't like me and she'll put me up Scottie does like me and he won't put me up
Brett – what makes me nervous is Scottie has put me up.. I want to keep Scottie.. I want to.. I know Haleigh was a pivotal part of every time I was put up
Sam – Scottie told me that you and him made up
Sam adds that when haleigh goes Scottie has no one. Brett says he would work with Scottie.
Brett – if you and me are going to work together we have to be candid with each other.. I have to know I can speak candid with you in a isolated room and it'll stay private
Sam – DUH.. if I get to win and I have 5 minutes I'll talk to you..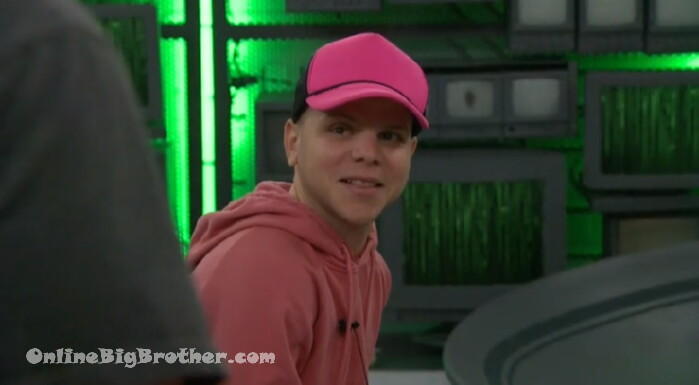 JC joins them..
Brett – I am literally at the point of voting her out
JC – we can do it.. you want to do I'll do it.. (NICE)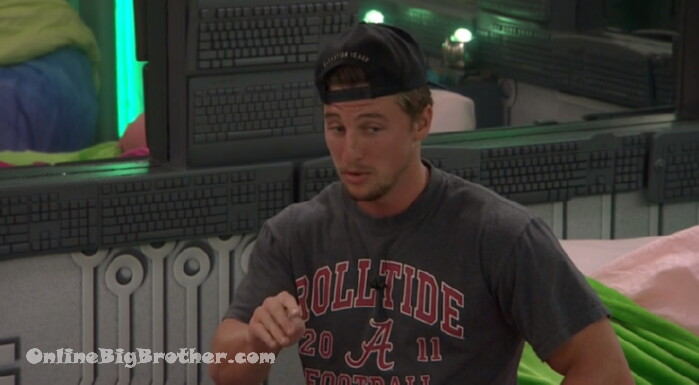 Brett – B1tch you are on the f*ing block and you feel comfortable enough to spray me before eviction.. then I make a joke and you get mad..
Brett – I was truly kidding while I was out there..
JC – I am dead serious… sleep on it..
Brett – she's up there ranting and raving like she's in a position of power…
Jc – if you are going to make a move like that bring in Scottie..
Brett – I know..
Brett – I was completely kidding then she turned this into a thing
JC says for Brett to wait how he feels in the morning.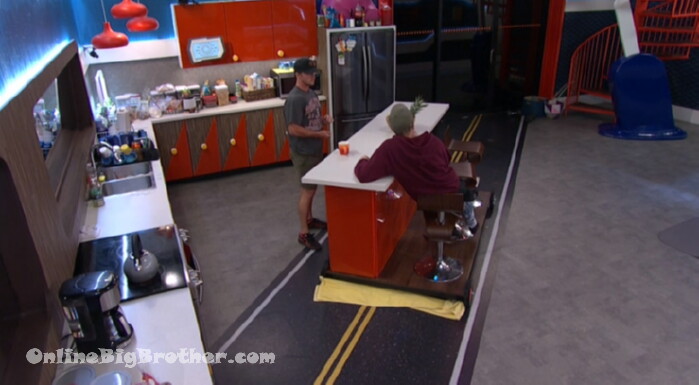 11:00pm Brett and Scottie
B – on a personal level I want you to stay..
Brett points out that on the flip side he would feel stupid if he didn't vote out the person that put him on teh block once.
Brett says he's very bothered that Haleigh feels comfortable with spraying him with water the night before the eviction.
Brett goes on about being pissed at Haleigh
B – I can be really funny.. I got the best joke of all..
Scottie – if that's the case than you, Sam and JC will ahve to flip
B – I talked to Sam.. it's just JC..
Brett – tell JC he'll have the big saucer.. it'll go a long way
Brett – say, If I stay you get the big Saucer
Scottie – that's good
Brett – I'm trying to see if I'm being petty right now
S – right now I don't think I have her vote..
Brett – I dont' think you do
B – it pisses me off how much Halegih has crawled up their a$$… holly f* has it worked..
S – I think so ..
Brett – I was annoyed but now I'm annoyed and I am annoyed I am annoyed and it's getting worse..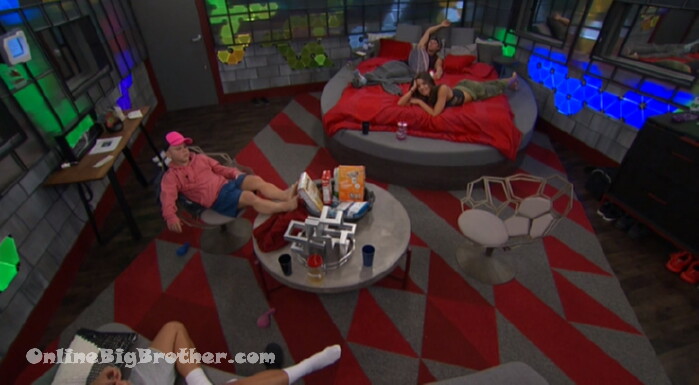 11:32pm HOH Anegla, KAycee, JC, Tyler
JC says he's going to go change his GBM, "IU know the craziness in teh house"
Kaycee – no we are voting out Scottie
A – SCOTTIE has to go
JC – I'm changing my GBM jsut in case..
Angela – 1-2-3 there's three voted that's all we need.
Angela – there's now need for you to change your GBM
Kaycee – you're locked in
JC – OK fes…
Angela – at least we had some entertainment for tonight
JC says production invoked all this drama tonight. THey gave them the alcohol without it they would have gone to bed.
T – we use to never get it because Rachel would ask every day
K – I can't believe she didn't get it on her 30th
T – because she asks too much
A – she asks every 5 minutes
T – It literally says in the rule book don't ask for alcohol
11:49pm
Angela says they are all voting Scottie out because SCottie can win competition vs Haleigh.
JC – what if it's mental
Angela – Haleigh is not that smart she won a competition reading hashtags because she's 21 years old..
Angela – Scottie has to go this week, Haleigh goes next week
11:53pm Brett and Haleigh
BNrett – I'm annoyed.. the whole scenario was annoying for me.. I was completely fine then I make the joke and I become villainize me
haleigh – you're joke hurt my feelings to the point i wanted to cry to I walked off..
Brett – I'm just being candid
Haleigh says when she sprayed him with the hose she wasn't trying to to hurt him.
Apparently Brett moved his bed so he's not sleeping next to Haleigh. HE's claiming that it is because the other room is 10 degrees warmer.
Haleigh says she sensitive, She was drinking and she was on teh block those three things made her sad. She doesn't think he was trying to be mean to her.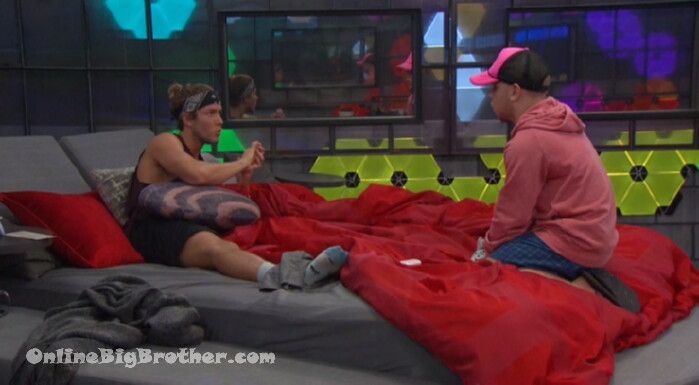 12:10am Tyler and Jc
JC going on about wanting Haleigh out.
JC says Sam wants Haleigh out Brett now wants Haleigh out.. "they were campaigning for her to get out"
Tyler- I don't give a f* who goes..
Tyler – if you f* with Angela and Kaycee that gives them a reason to come after you..
JC – If I f* with them one of them is going home..
JC thinks he could do Damage control with KAycee.
Tyler doesn't think so he says if JC put Angela up kaycee will come after him.
Tyler – you don't think SCottie won't put you up.. and Scottie can win HOH..
Tyler says Scottie and Halegih are the next people to go after that it really comes down to who can win competitions.
Tyler- you want to keep Haleigh and Sam to final 4.. f* no .. I would be gone..
Tyler – if you split those up too soon and you think you can get the other one to wrap around your finger it won't happen.
Tyler says he knows JC thinks he's in love with Angela but he's not lying to JC right now.
Tyler- here's Angela's list.. SCottie, Halegih and SAm.. she's sketched out by Brett..
Tyler – you know she likes Kaycee.. she hangs out with me all the time..
JC – I am going to vote out SCottie whatever you want
T – all I am saying is he's better at winning competitions.
JC says KAycee is completely a follower..
JC – Sam will put KAycee up before me..
Tyler thinks BRett will take a shot at him if he gets a chance.
JC says he won't because JC will be in Brett's ear .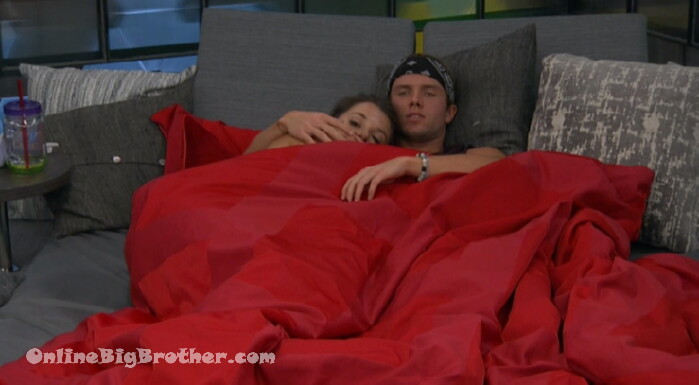 12:51am Angela and Tyler
Angela says her and KAycee just talked to Brett to reassure to him that Haleigh is driving them crazy and they wall want Halegih out next.
Anegla says Haleigh has been acting too comfortable she shouldn't be acting like that
Tyler- halegih really isn't good at this
Angela – no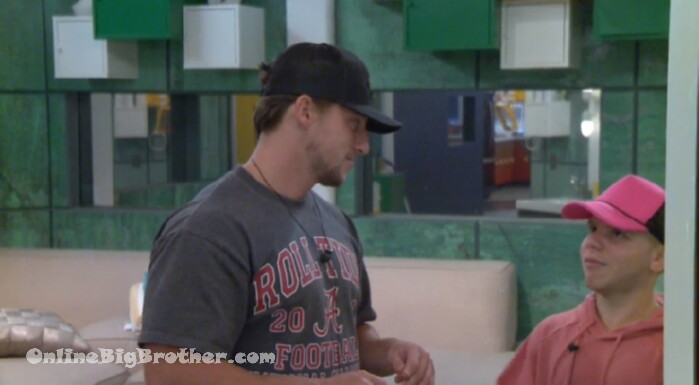 1:24pm Brett and JC
Brett says right now they should keep Haleigh. If they keep Scottie it'll piss everyone off.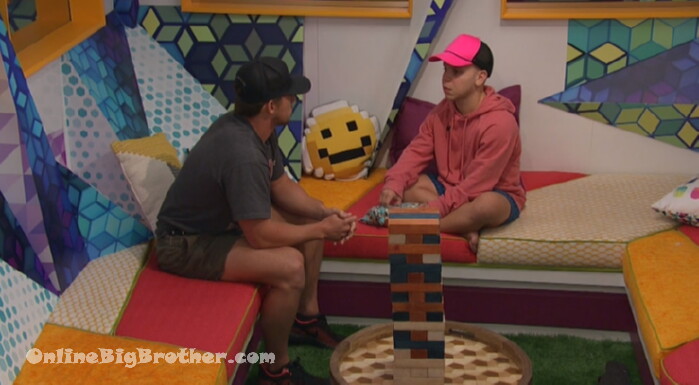 2:16am JC and Brett
JC says Tyler really wants Scottie out he wants Haleigh out..
Brett – everyone is freaking out thinking I am all pissed out..
JC – Kaycee is a big a$$ follower..
Brett says if it's a double they have to take their shot this wek.
JC – if I get HOH.. I put Angela and KAycee on the block..
Tyler says Angela will have two votes that will keep her safe after this week that's all she needs.
JC – we need to get her out like right now
Brett – Sam is not going to put Kaycee up next to her because Kaycee and Sam are tight that's what makes me nervous
JC – Sam doesn't have anyone talking game to her
JC says when they are given alcohol Angela turns into "Sloppy Bottom" and throws herself at Tyler.
Jc – every time she gets drunk she sleeps up there
Brett – she's sleeping with him?
JC – every single time..
JC – they are like we have to keep this showmance going.. give them more alcohol.. (production)
JC about Tyler – he has no game he's got looks..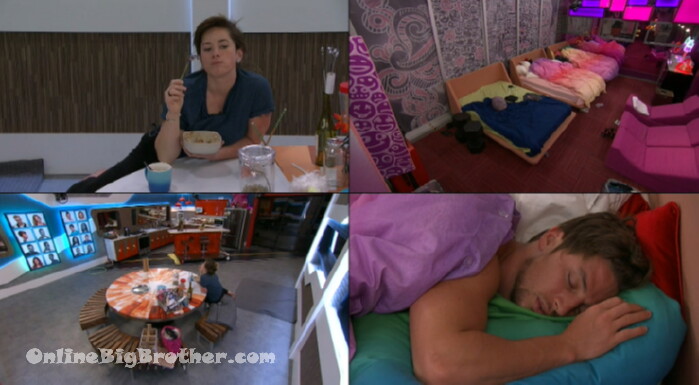 10:40am Houseguests are starting to get up…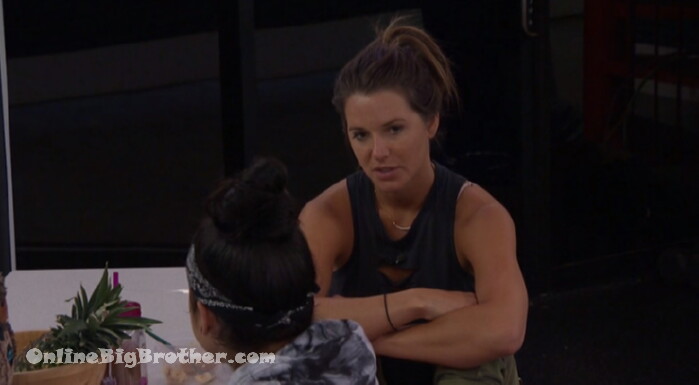 11:00am Kaycee and Angela
Kaycee – He knows something (Scottie)
Angela – that look on his face
Angela says after JC kicked her out of the HOH to talk to Tyler he was called into the Diary room after so she ran back upstairs. Haleigh went up to the HOH and kept ringing the door bell. They never answered.
Katycee – she came down with me, JC and BRett and said I rang the doorbell 3 times and no one answered.
A – yes.. Actually she only rang it twice..
Tyler joins them.. Kaycee says Scottie is acting like he knows. he was in the storage room with Haleigh and she must have said something.
Kaycee – I feel like waking up Halegih and be like.. what you tell him?
Kaycee gets where Brett was coming from last night.. "She is feeling real comfortable by acting like that.. "
Kaycee – I can't wait till she's gone (Haleigh)
Angela about JC – he was the only one that wasn't a have not that wasn't able to drink and we're all playing beer pong.. that was the motion behind it.. (Brett)
They talk about reminding Brett they are still a team.
Angela can see how Brett walking in on the 4 of them including Haleigh playing beer pong and he was on the outside.
Kaycee – he feels left out.. and at the same time seeing how comfortable
Angela- I thought Brett was going to come play with us.. I didn't think he was going to sit their and watch
Kaycee – and just knowing how fake she is as a person
Angela – I don't understand she was going laying in Scottie's lap after this happened.. weird sh1t.. she went upstairs to cry then came downstairs and laid in Scottie's lap. Brett was like What the f*
Kaycee – that's weird.. she has to go…
they beg production for a double eviction so they can get Halegih and Scottie out.
11:16am feeds cut for HOH lockdown.
If you enjoy reading the content please find a way to support this site.
Rank the houseguests!
Easiest way to Rank the house guests use link below