POV Holder:
Paul
POV Competition
June, 24th
POV Used
?
POV Ceremony
June, 26th
HOH
Nicole
Next HOH
June, 30
Roadkill Competition Winner:
Frank
Original Nominations:
Paulie, Jozea, and Paul
After POV Nominations:
? and ?
Have Nots
?
Watch the 1st WEEK of the live feeds for FREE:

Big Brother 18 Alliances Help Guide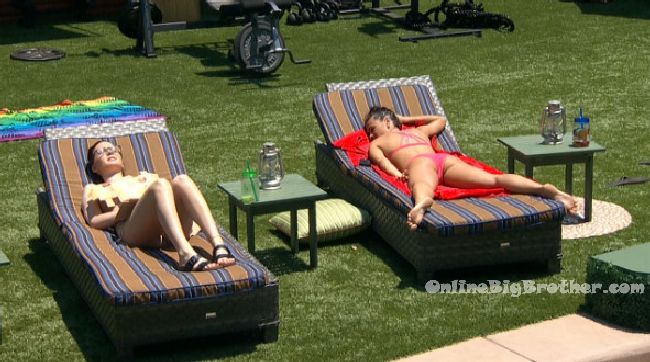 12:55pm Da'Vonne asks Michelle and Nicole we were talking about Fatal 5, which one do you think is gonna be easier to get out, James or Frank? Michelle and Nicole both they should put them up together when numbers reduce. Michelle laughs that James will get 7th place again. DaVonne leaves. Nicole says that Victor told me that Bronte was gunning for me. Victor is going to be a target to everybody. Bronte is only a target to … I mean I don't trust her and I don't know who else. Everybody is going to be swinging at Victor. I would be fine with either of them. Michelle says me too.

Michelle heads over to talk with Natalie. Michelle says its not going to be a vet because otherwise they would have been up. Its basically a 33% chance of going up. Natalie tells Michelle she doesn't want her to go home.
In the kitchen – Frank falls victim to James' upside down prank again. "I'm not cleaning that up again!"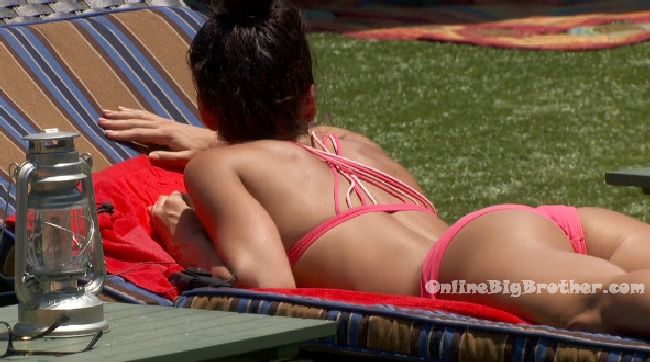 In the bedroom – Nicole asks James and Frank if they're going for the HOH. James says I'm going to if I have to. Frank says I am. Corey is going to go f**k ham! Nicole asks who is he after? Vic? Frank says I hope so. He was mad at Paul for yelling "What now b***h" But I think he was more mad because he lost. Nicole asks when the veto ceremony is? Frank says I think it might be tonight. Here's the great thing, they don't think its going to be Bridgette (As the Roadkill nominee replacement)… its going throw another curve ball. so when it is they're going to be shocked. Nicole says they're going to think its me. (Who nominated Bridgette) Frank says they told me last night they think its going to be Day or Zakiyah (going up). Nicole says they told me last night, they're coming after the returners. James asks who? Nicole says Vic. Frank says Jozea said if he wins HOH he would let people volunteer to go up. Nicole says that's not how big brother works. Frank says their f**king world is giong to be turned upside down when Jozea goes home. Vic's going to have no one. I'm telling you he is going to pop off whenever he goes on the block. Are we putting him and Bronte up on the block or Paul. Nicole says I think Bronte. I think if we put up Vic and Bronte one of them would win the veto. One of them would take themselves down. James says this season is about heavy hitters. We can't be scared because someone might win the veto. Frank says I think Vic and Bronte because they're both on the same side. James says I think when Jozea leaves .. Vic will be the leader of Natalie and Bronte. Don't Natalie, Bronte and Bridgette have something going on too? Frank says I'm not worried about that. James says I think take someone out from both sides. Tiffany joins them. Frank talks about putting up Bronte. Frank brings up how Jozea was talking about being the Messiah.
FLASHBACK and watch everything you missed: Live Feed 7 day FREE Trial!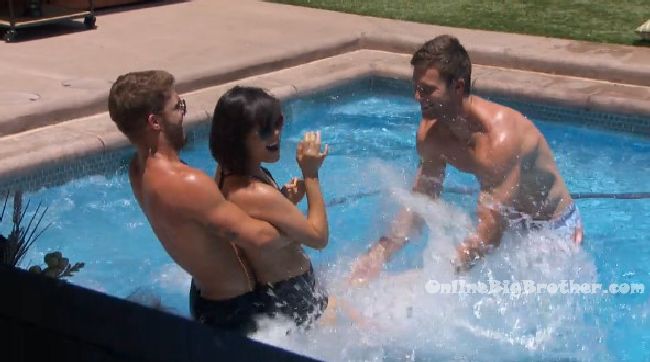 Double teamed https://t.co/dLQ6Ov105C@bigbspoilers #bb18 pic.twitter.com/Ukv5jUni3g

— Dawg (@DawgsBigBrother) June 26, 2016

2pm Cam 3-4 Safari room – Frank is talking to DaVonne. DaVonne says this is going to be the first blindside of the summer. Frank tells DaVonne that he, Nicole and James were talking about how if they win HOH next week they would put up Vic and Bronte. Frank says Vic is annoying to live with. Eating all the food and popping off at James. DaVonne says it would be best if he was on slop and on the block. Frank says I'm playing for blood for HOH! I'm playing to win. I want my t-shirts. I know you are too .. I know you want to see pics of your family. DaVonne says I'm glad the veto played out like it did. When you put Bridgette up she is going to freak out. Frank says you know who else is going to freak out … Paul. DaVonne asks about what Frank thinks the odds are of there being a buyback pre-jury. Frank says he doesn't know. He wonders if Paulie or Tiffany's sibling would come back. Tiffany joins them and the conversation ends. Tiffany says she talked to Jozea for an hour… it was hilarious .. he thinks he's the glue that keeps us all together. And that he's going to be hosting the Grammys. I told him you have all the votes .. you're safe! You're good!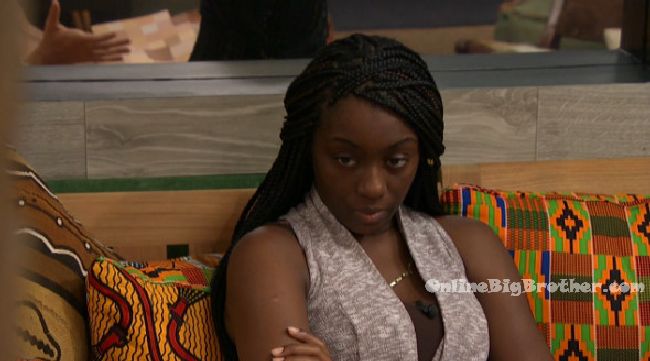 2:25pm – 2:30pm Cam 1-2 Bedroom – Paul talks to Nicole about not wanting to be grouped in with Jozea. He likes to have these meetings and stuff which is fine but I don't really want to be a part of it. Nicole says I know what you're saying because people will assume you guys are a 3 pack. Nicole says I don't even know why Jozea was targeting me … I've playing in 6 comps and won 1. Paul says we've been watering him down with that. I really do like you. I can tell you're a really good person. Paul says I like Jozea but I don't want people to think his ideas are my ideas.

2:40pm Big Brother blocks the feeds for the power of veto ceremony…
4pm Still blocked…
FLASHBACK and watch everything you missed: Live Feed 7 day FREE Trial!