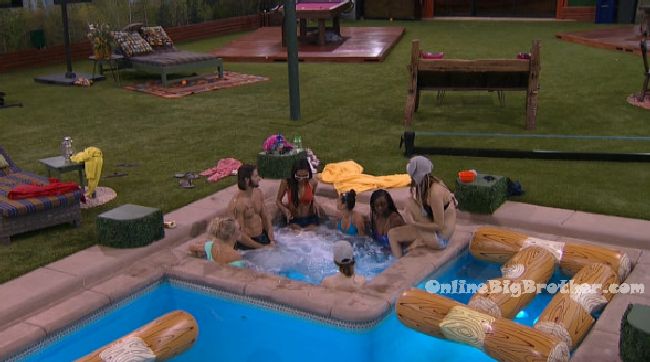 10:50pm The house guests are in the hot tub playing would you rather. Paul asks Victor would you rather dunk your balls in boiling water or shave your head? Victor thinks about it and then says shave my head. Michelle asks would you rather be on Big Brother or Survivor? They all say Big Brother. DaVonne asks would you rather lose our sight or hearing? They all say hearing.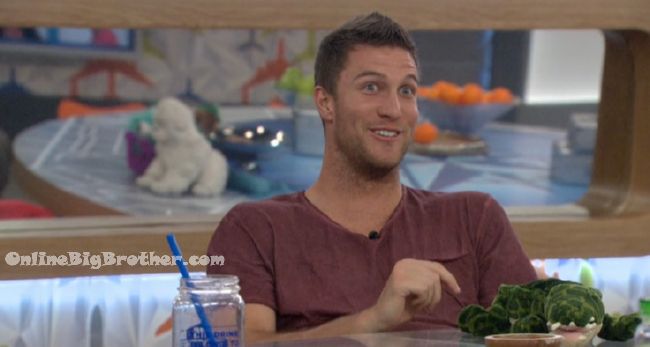 11:05pm Cam 1-2 Kitchen Corey,James, Bronte, Paul, Frank
Corey – he went and bought a goat and put in it there backyard.. it was in our baseball house he got f*** up one night he got some lighter fluid and sprayed it on it tried to light that mother f****r on fire he was so drunk
James – he tired to light a goat on fire
Corey – this goat it was scared to death.. it was right by the fire place.. it wouldn't even move
Paul – why did you hurt goats
Corey – he wasn't going to move he was so scared
Paul – why would you light a goat on fire thats not nice.. i would never light a goat on fire
Corey – he tried to light that mother f***r on fire… he was the drunkest person
11:10pm Bedroom –
Jozea is talking to Bronte. Jozea says I'm not angry, I'm just upset. If I drink I just get inside my head. And I don't want to do that. I can't put on a smile when people are being fake to your face. She tried getting close to me with the whole gay thing… she's (Tiffany) gay and I'm gay. Don't lie to me. Paulie's walking around the house like he ain't going home just because he's had a couple drinks. If everyone was just honest in this world, this world would be a lot better. I'm like glue.. I keep people together. Even if like I get HOH when we're down to 8 or 9 .. that's all of us .. I would let you guys decide who goes up.
Nicole is talking to Victor. Nicole asks am I Natalie's target. Victor says Natalie doesn't have targets. If anybody it would be Bronte. Victor says that Jozea is livid. He is pissed at Tiffany. Yesterday when he was having his meeting she butted in. Nicole asks why am I Bronte's target? Victor says if anything its because you're a vet.
11:35pm In the living room James pranks a drunk passed out Paul..

James pranking drunk passed out Paul @bigbspoilers #BB18 pic.twitter.com/KM3v2kTZ4Y

— Dawg (@DawgsBigBrother) June 26, 2016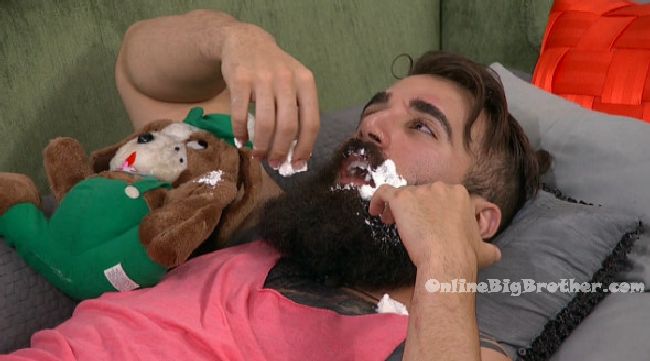 11:50pm Cam 1-2 Backyard – Paulie tells Bridgette that she is good even if she goes on the block because she would be up against Jozea. Even if he tries to bully, you can use it against him. Michelle says I can't stand another meeting. Paulie says oh he will have another meeting as soon as the nominations are done. Bridgette says I feel like I'm caught in the cross fire. Michelle says I don't think people are saying as much as you think they are. Paulie says just stay positive.. everything will work out. People are looking out for you.
12am Frank asks Jozea who he thinks will go up. Jozea says I don't know. I don't think it matters since Paulie or I are the targets. Franks asks who do you thinks won the roadkill comp. Jozea says maybe her (Tiffany). I've been observing her.. she hasn't said anything about it or talked about it.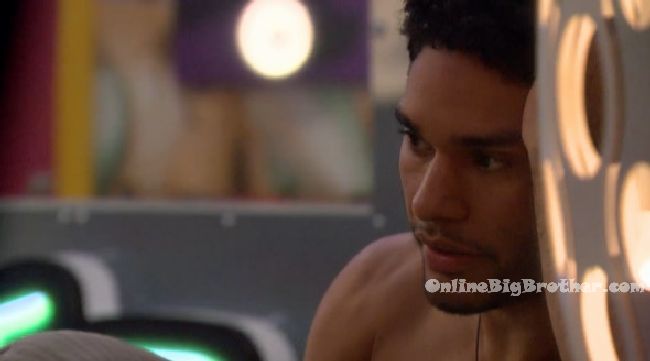 FLASHBACK and watch everything you missed: Live Feed 7 day FREE Trial!