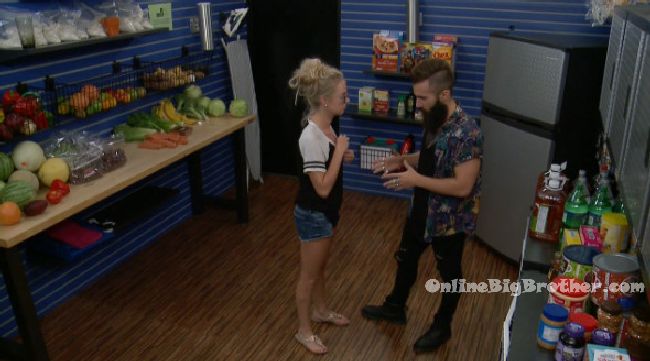 6:20pm Storage room – Paul tells Nicole Don't be surprised if Jozea tries to have a heart felt conversation with you. Nicole leaves. DaVonee comes into the room. Paul says I think its either Tiffany or Michelle (Roadkill winner). Paul talks about his theory of why he thinks Michelle is it. Bridgette enters and Paul tells her that he thinks the roadkill winner was Michelle. In order to avoid people knowing and keep anonymity she put someone from her own team up. She smirked when you went up. Paul tells her not to worry, you're safe.
6:50pm Vic and Paul are playing a game of pool. Tiffany, Bronte and Nicole are laying out on the backyard lounger.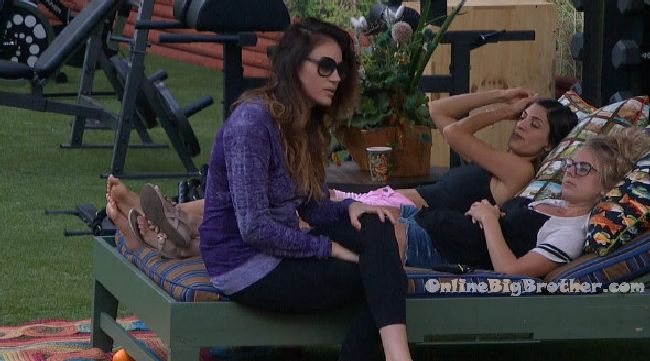 6:55pm – 7:10pm HOH room Cam 1-2
Paulie is talking to Frank in the HOH bathroom. Frank says you don't have to worry at all. I'm tell you, you have no worries .. 7-4. Jozea is going to walk out the door and talk to Julie. Paulie asks you're that positive. Frank says yes. Even if we lose 1 that's still 6-5. Paulie brings up how he was talking to Tiffany and she commented on how Bridgette, Natalie and Bronte are always spying. Frank says he's got nothing to worry about with Bridgette. Paulie says I'm just worried about her spying. Frank asks why would she come up here to spy and tell us about the meeting? Paulie says to make us feel more comfortable. Frank says I think when the vote comes out their mouths are going to drop and then we're going to stroke them in the HOH. Tiffany joins them. Paulie says I want to go hard for the HOH to put up two people from their team and have one of them go home. They talk about how Jozea says he's does makeup for celebrities. Paulie says he's not.. I saw him at the New York / Philly casting call because I MC'd that ..and he's nothing what he says he is.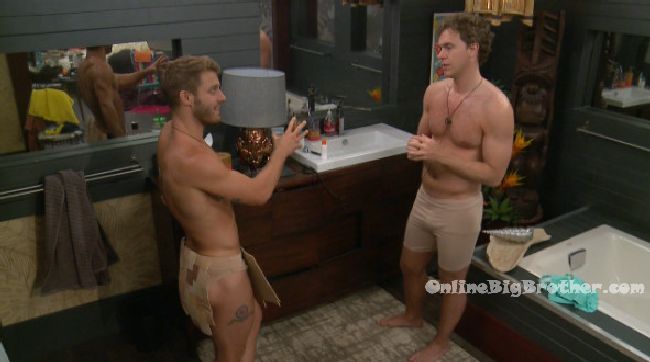 FLASHBACK and watch everything you missed: Live Feed 7 day FREE Trial!
Share it YO!
Tweet