POV Holder:
?
Next POV
July 27th
POV Used
?
POV Ceremony
July 29
HOH Winner:
Aaryn
Next HOH:
Aug 1
MVP:
?
Original Nominations:
Current Nominations:
Last Evicted Houseguest
David, Nick, Jeremy, Kaitlin
Have Nots
Judd, Amanda, Candice, GinaMarie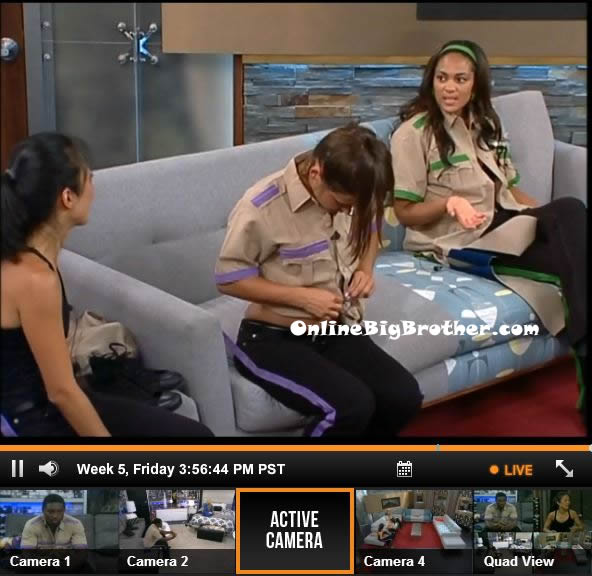 RESULTS of the HaveNoT Competition: Judd, Amanda, Candice, GinaMarie.
HaveNot FOOD: Ramen and Raisins
3:55pm In the living room – Helen, Candice, Andy, Judd and Spencer are talking about how bad it is being a havenot and how they never heard about how difficult it was to be a havenot week after week.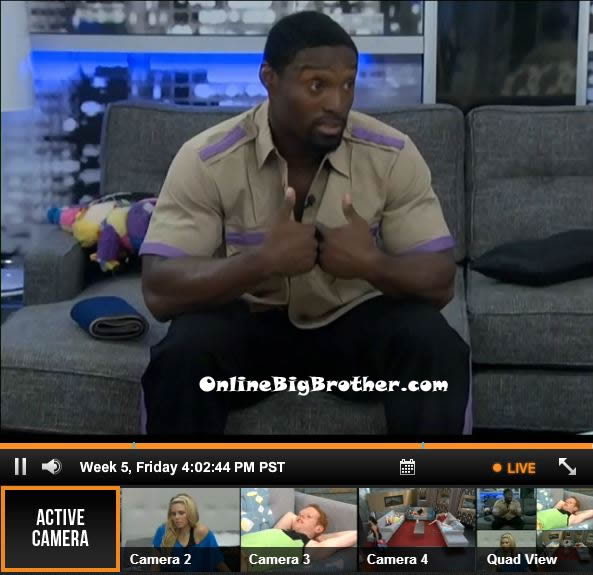 Up in the HOH room – Aaryn is talking to Howard about how she was shocked when she heard she was being called a racist. I was crying so hard I could not breathe. I know I should be more PC (politically correct) but that is not me. It destroyed my reputation in some ways and it is still talked about. Howard says that he never labelled her that. Aaryn says well they are saying that you did say that. Howard says I won't go personal, that's not me because I know we have lives outside of here, not even in the diary room did I say that. I know that it a lie when it comes back to me because I have never said anything like that about you. Aaryn says that she heard that Howard, Spencer, Elissa and Kaitlin tried to flip the house last minute instead of Kaitlin going home. Howard says I never messed with Elissa. Howard talks about how they others flipped the vote last minute and tried to frame me for it again. Howard says I never said you were a RACIST, I didn't like the comments but I didn't say anything or make it personal. Aaryn says people want you to be back doored. I understand that if I put you up I would understand if you came after me next week. If I do not put you up I will not back door you because I respect you more than Spencer. Howard says if I stay here next week I will not put you up, I'm not going to say what I am thinking of doing but I think you know. I am going to make a game changing move. Aaryn says that people think you are throwing things and that you will come back full force and take everyone out. I am not scared of you, I think you are a nice guy. And I don't think the same way as the rest of the house. I have someone else in mind of who I want to go home. The house wants you to go home but I don't want you to. Howard says I respect any move you make. Aaryn says I have to make a move that is the least against the house because I know I will probably go up again next week but if I do want most of the house wants maybe I won't go up. Howard says if you make a big more more of the house will respect you. Howard tells Aaryn that Amanda/McCrae made me swear on the bible. Aaryn asks they made you do that?! That's DISGUSTING!. Howard explains the situation that happened where they made him swear on the bible. Aaryn tells Howard that she respects him, if I put you up it's not personal. I had to make a deal to stay here and put up nominees that the house wants. If I don't put you up just know that I will not back door you because I respect you. Howard says I liked hearing your letter because it shows how strong you are and your morals. Aaryn says she knows he will put her up next week if he stays. Howard says no I won't I am going after the people that are puppeteering people in the house. Aaryn says she is scared to make a big move. Howard says if you make a big move I will run with you, I am loyal and will run with you all day long. Aaryn asks Howard if stuff comes up I would appreciate if if you would squash it. I won't let one talk about your religion either.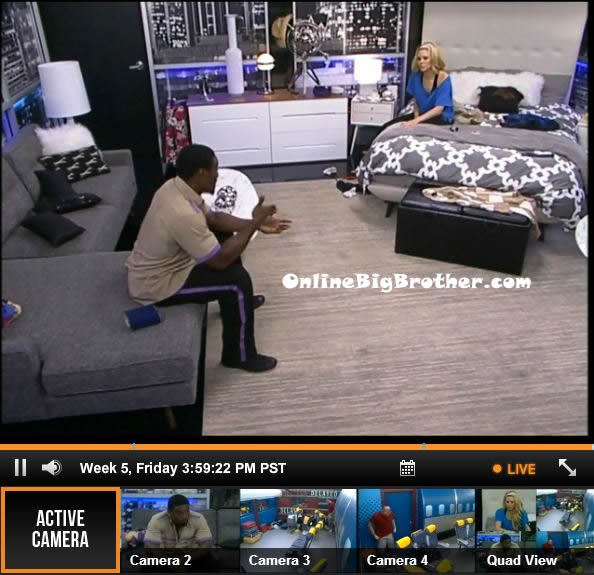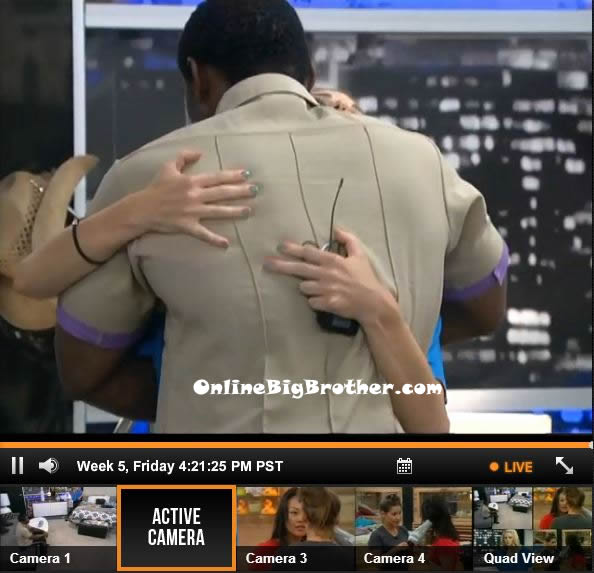 4:25pm Amanda and Andy come up and Aaryn tells them that she liked her talk with Howard. He didn't bully me or anything and told me that he respected my decision. He said that I should make a big move. Amanda says that is a big move (putting up Howard). Aaryn says he said he is going after the power people. Aaryn says he said he wouldn't put me up next week so we will see if he puts me up next week. Amanda says well he will be gone. Aaryn says not if he wins veto. Andy says yeah.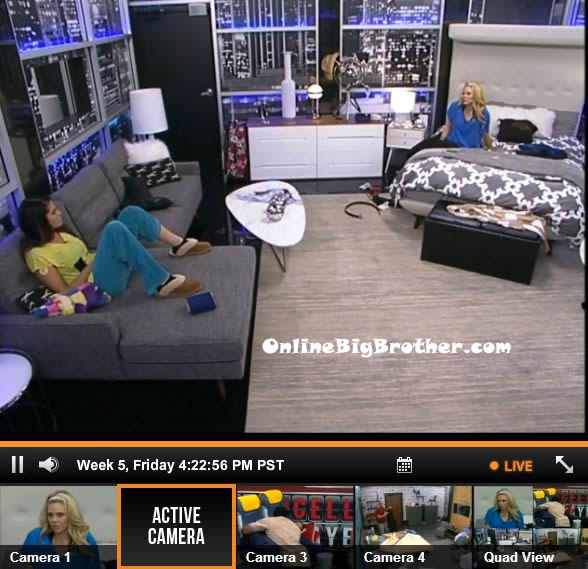 4:35pm Aaryn tells Amanda and Andy that the only people I am not putting up is ya'll. They talk about the jury and who will go before it whether it is a jury of 7 or 9. Aaryn says the people to go before are Howard, Spencer and Candice. Aaryn says of the four people of the outs which one should make it to jury. (Howard, Candice, Spencer, Elissa) Andy comments that we will have to wait to see who wins HOH at that point because each of us have different relationships with those people. It would definitely come down to either Candice or Elissa that make it to jury though. Aaryn says I don't think Howard is after me. Amanda says you're WRONG! Aaryn says he was after me only because he had a deal with Kaitlin but she is gone now. Aaryn says I am putting up Howard like we talked about I am just saying. Aaryn says twice "I look like a dike in these pants I need to get out of them"
4:47pm Production Leak
This cam over the speakers it was production saying something
"Welcome to the Big Brother Evidence Room where you will be competing in a two part Brain Busting Challenge. In part one your goal is to get all of the evidence off the shelves and balance it carefully onto your disks. "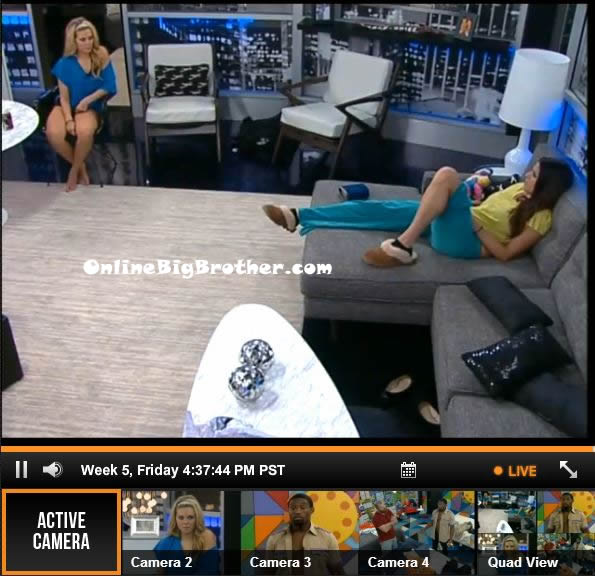 | | |
| --- | --- |
| [polldaddy poll=7277508] | [polldaddy poll=7277150] |