POV Holder:
Elissa
Next POV
July 27th
POV Used
YES
POV Ceremony
July 29
HOH Winner:
JUDD
Next HOH:
July 25
MVP:
AMERICA
Original Nominations:
Aaryn, Kaitlin, ELISSA (MVP – America)
Current Nominations:
Aaryn, Kaitlin, GINAMARIE (MVP – America)
Last Evicted Houseguest
David, Nick, Jeremy
Have Nots
Jessie, Candice, Andy, Spencer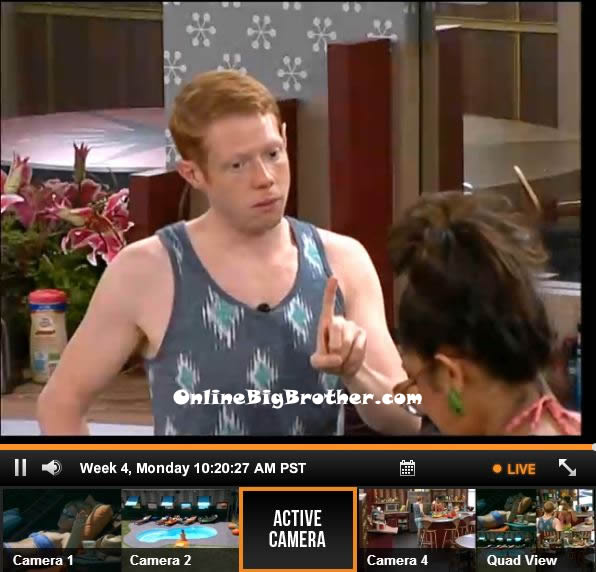 (FYI – the live feed time stamp is wrong. It is 2 hours 13 minutes behind.)
12:35pm In the kitchen – Andy is talking to Candice. He says that he watched a number of the seasons before coming in here and made a list of the top reasons why people were evicted in the beginning of the game. He says that the top 2 reasons were not making big enough connections with people and playing to hard too fast. Andy says think about it – David didn't make personal connections with people, Nick played to hard too fast, Jeremy played to hard too fast! Boom Boom BOOM!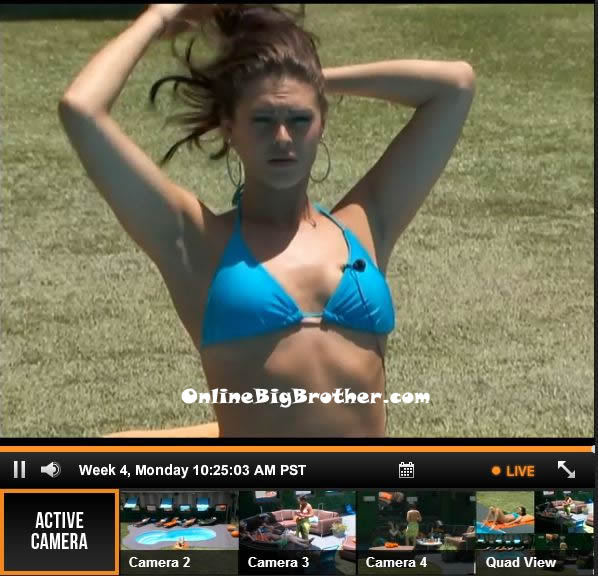 Meanwhile out by the pool – Helen and Kaitlin are talking about the twist. Helen says that she doesn't think the twist has happened yet. That it is going to be something totally different that what we think it is. Kaitlin agrees. Over by the backyard couch Amanda is impersonating Jessie trying to clean up and no one helping her.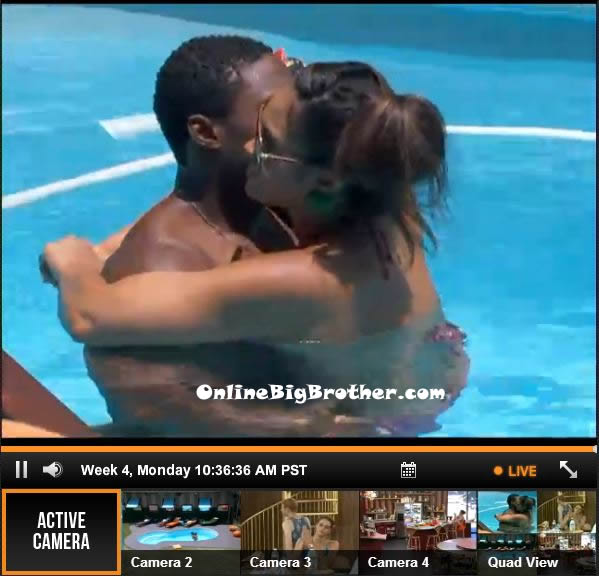 1pm In the kitchen – Aaryn, Kaitlin, Jessie and Amanda are talking about random things and making food / eating. Kaitlin says how bad would it be if the twist was that all three of us got evicted at the same time and – David, Nick and Jeremy walked back in the door. The conversation turns to talking about how Katilin said she was asexual. She laughs and says that Jeremy was so upset he had to have a conversation in the hammock with me about it because he thought I wasn't attracted to him. Kaitlin says I am just going to go ahead and throw up the sign for him just in case he is watching.
@JeremyDMcG1 KAITLIN says I am just going to throw up the SIGN just in case you were watching! @bigbspoilers #BB15 pic.twitter.com/Dz8MjoHWPE

— Dawg (@DawgsBigBrother) July 22, 2013
1:20pm 1:45pmOut by the backyard pool – Aary, Candice, Howard, Andy, Kaitlin, McCrae and Helen are all hanging out sun tanning and talking about random things. They asks Amanda why she isn't wearing her ring. Amanda says she didn't want to get it wet and ruin it. Jessie joins them. All the girls start freaking out about a bug that keeps flying around them. Helen tries to swat it with a fly swatter. Andy comments that Howard hit it with his had and it was fine. Aaryn says okay that was traumatizing, why do bugs always want to mess with me. The conversation turns to talking about the havenot competition where they had to eat ice cream. Aaryn says when she saw it, she knew Gina was going to do good at it because when she eats ice cream she doesn't even take breaths. Jessie asks how many week are in a month? 3 and a half or 4? Aaryn says next person that goes into the diary room should ask for tanning lotion. Andy says and a diamond power of veto for me. Andy says that he will wait a week and then use it on Candice when she is least expecting it. Amanda starts talking about he dog. She imitates how he acts when he's in water. (See the photo below)
2pm – 2:10pm Howard and Candice get into the hammock together. Howard looks at her foot and asks if it has ringworm on it. Candice says no it doesn't ringworm is raised up – Jeremy is gone and so is the ringworm. Candice says I feel like Ginamarie is blaming me for her mouth. She got herself put up not me. Howard tells Candice to just stay tight with Jessie and Andy. It broadens out chances of winning HOH and one of them going home. Howard says just be prepared for whatever it could be a crap shoot. I haven't watched too many seasons but what I noticed was that they even out the game with the competitions.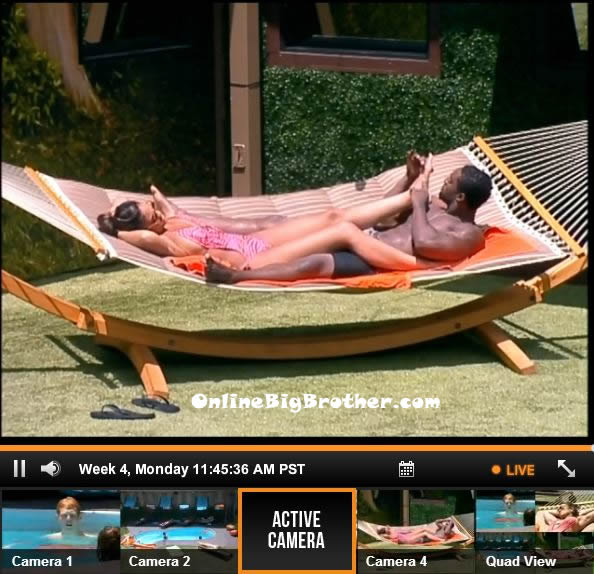 2:15pm In the havenot room – Howard tells Spencer that Candice and Jessie both have said that they are on the same page with us wanting Amanda out. Howard tells Spencer that Amanda and McCrae are being super nice to people now that their bluff was called and they don't have the numbers. Spencer says that he is going to head out to the backyard. Howard says yeah take over, it's your shift. Spencer heads outside to join the others by the pool. Andy asks if being in the pool counts as a shower. Spencer says I think it counts. Candice says anything counts when you're a havenot. Amanda says Ew, I smell like a slop ball.
PEEPING Andy – @bigbspoilers #bb15 #CBSBigBrother #BigBrother15 pic.twitter.com/f9JRKtuYXS

— Dawg (@DawgsBigBrother) July 22, 2013
2:30pm – 2:45pm Elissa and Helen head up to the HOH room and find Judd and Gina still sleeping. They head into the bathroom. Helen tells Elissa that she thinks Howard or Spencer might be the MVP. Helen says that it might be better to send Kaitlin home this week – She is more likely to win HOH and Aaryn will always go up a target. Elissa thinks that Kaitlin is more pliable. Helen says that Kaitlin told her today that Howard is playing both sides. Elissa says that she is going to see if she can talk to Candice. Helen tells her to wait until Howard isn't around. I think Howard is lying to Candice. Elissa says Howard and Spencer are definitely working together. Helen says if we take out Howard, then Spencer and Candice will be alone so then we can get them to come work for us. Elissa says that she doesn't think anyone would have voted Gina as MVP. Helen agrees and says that wasn't the twist, there's another twist coming. Elissa says that she (Kaitlin) said something to me and Amanda that was really immoral that I don't even want to say and it makes me not even want to look at her any more. Elissa says that she (Kaitlin) told Amanda and I that she just got an abortion before coming on the show. The leave the HOH bathroom and talk to Judd and Gina in the other room. Helen and Elissa tell Gina that she isn't going home. The head downstairs.
2:50pm – 3:10pm Out on the backyard lounger – Helen, Kaitlin and Elissa are whispering. They ask her what she thinks about who the MVP is. Elissa asks so you don't think Spencer would have it. Kaitlin asks why would America vote for Spencer. Helen tells Kaitlin that people are telling her that Kaitlin is coming after her. Kaitlin says that's bull sh*t. Helen says it's fine because it makes it look like we aren't working together. Kaitlin asks if she is okay. Helen says yes, Aaryn is going home. They comment how Gina thinks she might go home. Kaitlin says Gina doesn't get it she is up to seal Aaryn's fate. Elissa asks can we make a 2 or 3 week deal with you if we campaign for you to stay? Kaitlin says yeah for sure. Kaitlin says that Spencer is dead weight. Helen talks about getting Howard out next week. Kaitlin says that Candice is going to FREAK OUT! Helen says but we can't let him know. Kaitlin says that she thinks the only reason why someone would nominate Elissa is because they would think if they got rid of you they would keep getting MVP. Kaitlin says I don't think America would have voted for you. Helen tells Kaitlin to be careful of Aaryn because she will say anything to stay. Kaitlin says that she wants to confront Aaryn but won't. Andy joins them. They asks Kaitlin if she misses Jeremy. Kaitlin says no not really, just to hang out with him. I am not heart broken like Ginamarie. We live so far apart, its not like we are going to date or anything. Kaitlin says that this is the first time she has been single in a long time.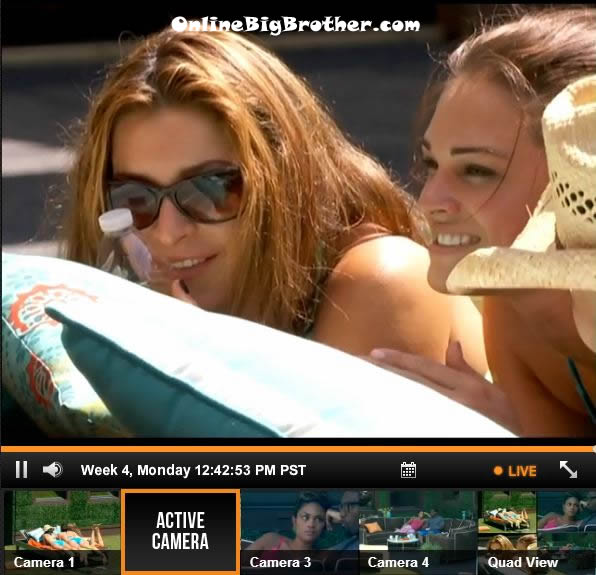 3:10pm The camera switch to McCrae and Amanda in the kitchen – McCrae tells her we'll talk about it later. Amanda says fine, it's just annoying. Amanda comments that McCrae isn't even annoyed or frustrated like she is. She says that it seems like he likes it. She says maybe this should have never have happened. McCrae says oh my god not at all. McCrae says that other people are all over each other and can put blame on others. McCrae says that's strategizing, baby! McCrae doesn't want for them to be seen as big targets. Gina joins them. Amanda tells her that she is totally fine, I've got you. Gina says thank you.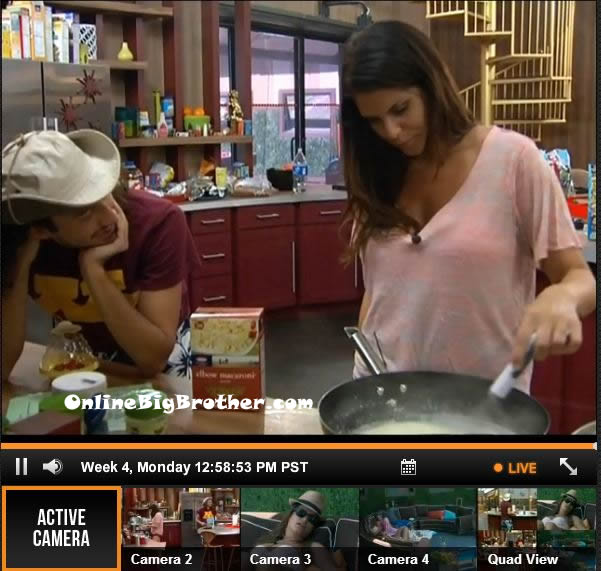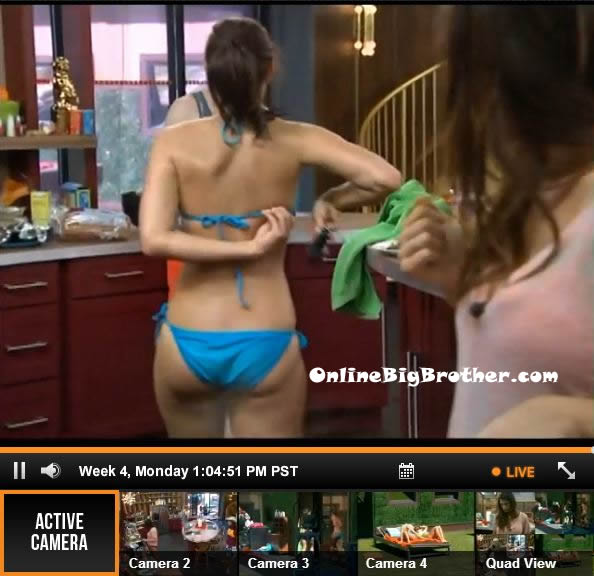 3:20pm – 3:35pm Candice joins Helen and Elissa out on the lounge chair. They talk to her about who the MVP could be. They are all confused. Candice talks about how Amanda and Gina were feuding last week. Candice says she really doesn't know because she thought she was going up. Helen says or me. Candice says hopefully we find out during the live eviction. Helen wonders if one of the guys got it to even out the house because 3 guys just walked out. Candice says in her heart of hearts she thinks Amanda / McCrae were involved in the MVP in someway. Candice says that Aaryn was popping off at the mouth without a muzzle like she wasn't going home. They talk about America being MVP. Helen thinks Aayrn was number 1 because they hate her and then everyone else is just decimals after her. Candice says that Aaryn is just doing random shaddy sh*t. Helen says that you, me and Elissa get along really well. Amanda and I don't jive well, I talk to her the minimum that I have to.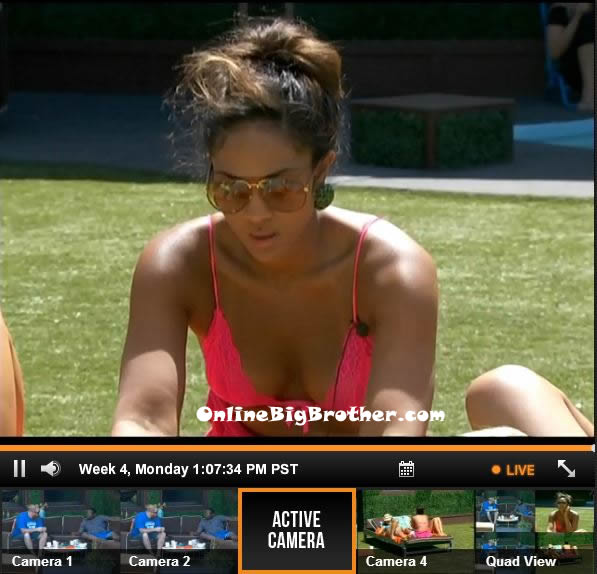 3:40pm – 4:20pm In the bathroom – Kaitlin tells Aaryn that she just talked to Elissa and Helen and they told her that Gina is safe. Aaryn asks Kaitlin to tell her if she hears she is going home. Aaryn says that part of her game plan is to not talk any more. Kaitlin tells Aaryn she will tell her if she hears anything. Aaryn heads up to the HOH room and says that people in the backyard are talking game and says she doesn't know what about, there were just a lot of hand gestures. Aaryn asks what do you think is going to happen? Do you think I am going home? Judd says I don't think so. Aaryn asks can you tell me if I need to campaign. I don't want to go home over Ginamarie who just mopes around. Aaryn says that this has been a dream of mine and I don't want to go home. Judd tells Aaryn that he only put her up as a pawn. Judd asks Jessie if she is voting out Aaryn. Jessie says I was never voting her out. Aaryn tells them that they can lie and say you voted me out because that sh*t works around here. Aaryn says I am at the bottom of the barrel right now and I need all the help I can get. Judd cautions Judd to tell people whatever they want to hear. Aaryn says that she wants to work with him. Judd says that was my plan all along. Judd tells Aaryn that Helen has been talking about keeping you. Jessie says I've heard that too. Aaryn says that she will not talk and just be fun the next few days. I will just hide out and I think everything will be fine. Aayrn says that Candice and I had the biggest fight in here and all it took was her saying one nice sentence to me and then we were good. Judd tells Aaryn that he owes her one. Aaryn says if I stay I will be the most loyal person ever. Aaryn says once people feel secure in their numbers they vote Elissa out. They comment on how Elissa has been acting crazy lately. Aaryn says that Elissa has been tormenting me, every time I take my adderall medication says tells people its blaspheme. She thinks that's the only reason why I am good at anything. Judd asks does she think that about Amanda too? Aaryn says no. Judd tells Aaryn that he feels pretty safe for her. They discuss the votes. Aaryn doesn't think she has the votes but Judd says Helen really wants you to stay. Jessie says that she definitely doesn't want Elissa making it to jury. Judd says she would be the most bitter jury member ever. Aaryn says if I ever made it to the end with anyone they would win over me. Aaryn says I left a hosting job to come here and that was my dream job. Jessie comments that she owes her mom $3000 and won't even break even for another couple weeks. Judd says if Gina doesn't want to be here then why force her to be here. Aaryn says that my mindset was to not be the person that everyone likes, just like how Jordan made it to the end. People want likeable people out now. In my real life I am a real likeable person. Aaryn says maybe the twist is that the MVP thing is over ..then we will bulldoze this bit*h! Helen comes up and Aaryn says oh we aren't even talking .. Aaryn leaves. Helen tells Judd and Jessie that Elissa told her that Kaitlin was coming after her.. We need to figure out who needs to go… Let me go get Elissa. We all need to be on the same page.
[polldaddy poll=7268963]