POV Holder:
?
Next POV:
July 22nd (Sunday)
POV Used
?
POV Ceremony
July 23rd (Monday)
HOH Winner:
Frank
Next HOH:
July 26 (Thurs)
Original Nominations:
Current Nominations:
?
Have Nots /Slop
?
Coach Competition Winner
?
Next Coaches Competition
July 20 (Friday)
Last Evicted Houseguest
Kara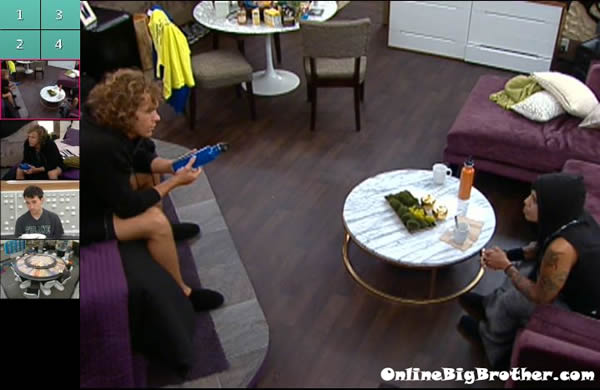 12:15pm Frank and Jenn are up in the HOH room talking. Frank says that he does think that Shane will be loyal to us if we brought him over. Jenn comments on how Ian only talks about the experience and how its fun …she says that she would like to see some fire in him. It would benefit us to have another power player on our side. Frank says that Shane is a smart guy and a power house but he can't really talk game … he just doesn't really think that way. If no trades happen and Shane is on the block and I throw the Power of Veto to him so that he can come off the block then he will owe us and come over on to our side. They break up the conversation and head downstairs.
The Big Brother Live Feeds come with MOBILE Feeds for FREE!Sign-up Today!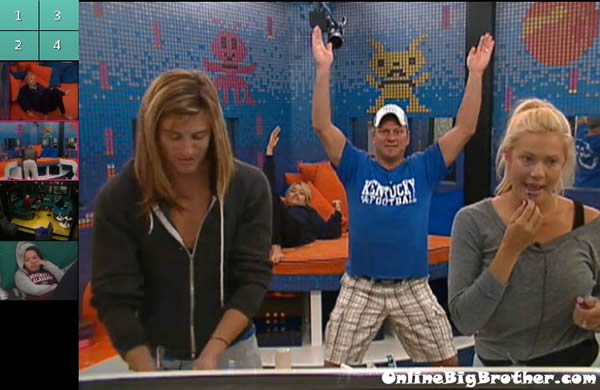 Janelle and Wil are in the bathroom talking about the coaches challenge. Janelle asks if she wins who should I save, should I just draw straws. Frank tells Janelle that they need to make sure Britney doesn't win the coach's competition. Frank tells then that he told Britney if you do win today, and you do trade with someone other than Dan …then I will still put two of your players up. Frank says that because she thinks she is down either way …I don't think she will do that good. Frank says that he was really pushing for Britney to trade Willie for Danielle so that we can get rid of a manipulator player and coach. Janelle tells Dan that if he throws it to her she will keep it the same. Dan says but I need to keep up my rep at home.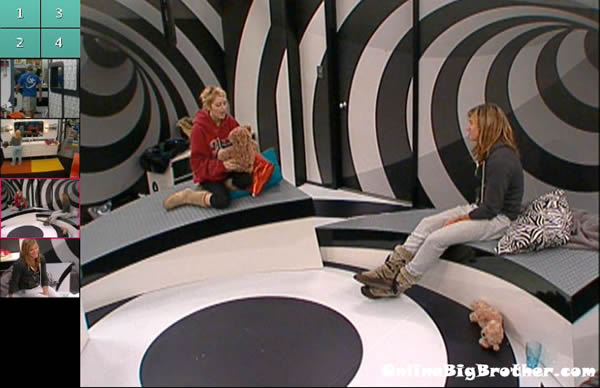 12:45pm Britney and Wil are in the Have-not room talking. Wil says that he needs to protect himself and that he does not want to be traded. He tells her that he has been promised safety this week and even if he is traded, there is no way he is going to trade his alliance. Britney tells him that she thinks Ashley is mad at her. Wil says that Shane is a great guy but JoJo and Willie are not his cup of tea. Wil tells her if she trades for him that it would not going to be a good move. Britney says that she thinks she is the only coach that is considering trading one of her players. Wil then leaves the room. Britney says to herself, "I heard them say you go talk to her, she likes you". It's so awkward.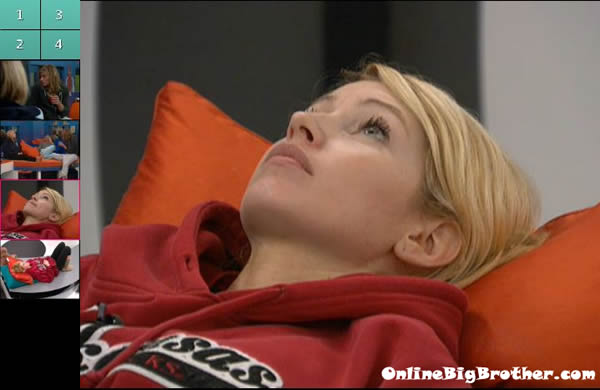 1:10pm Dan and Mike are up in the HOH room talking. Mike is telling Dan about everything that has been going on and all the conversations. Dan asks if he should go bum rush her. Mike says no, because you don't really have anything to offer him. I think you, me and Janelle just have to try our a$$es off to beat her. Mike asks if he should trade if he wins. Dan says he isn't sure because Shane is still a marked man. You could always go gangsta and get Wil. Mike says that he just doesn't want to rock the boat. Frank joins them. Dan says that he thinks Jenn is aces. He says that no one would put up Ian at this point, especially not Ashley. They talk about how Janelle loves her team and won't trade. Ian joins them. Mike tells him that the nominations will be Willie and Shane, as long as Britney doesn't win the coaches challenge. Ian says that he is looking out for Ashley. He says that he is hurting to get this room next week. He says that he doesn't care if he had to sit on a stick and rotate for 5 hours he would do it to get this room. This room is sick as sh*t. Mike says yeah as long as you or Jenn get it, it will be perfect.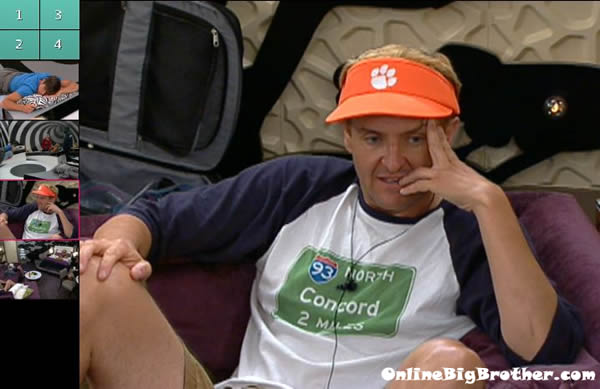 Janelle joins Mike, Ian, and Jenn up in the HOH room. Janelle says that she is so nervous that Britney is going to take Wil. Mike says that he did his job to intimidate her this morning. Frank joins them. Mike tells Janelle the entire conversation of is talk with Britney. He then tells her that Dan said that he will not trade, we own him. Mike says that if Dan has Willie it will be like he is not even here it will be so unthreatening. Mike talks about how he had a conversation with Shane too. He says that he told Shane that he was the one guy that could have gotten Willie in check. Mike says that Shane isn't that smart. Janelle comments on how Shane is a beast. Wil and Ashley join them. Mike asks Wil if he had the conversation with Britney yet. Wil says that he did and that she said that she wouldn't give him a straight answer. He says that if she did trade for me, I would make her life a living hell! They all laugh. Mike says that there are going to be three of them against her in the competition and they are going to crush her. Wil says that he told Britney that there is no way in hell he would work with Jojo …that chick is garbage. He says that she told people not to call her a slut and then she took of her shirt and was in her bar straddling Shane giving him a massage. They talk about how Jojo told them that she likes to take it in the a$$, especially when she is on her period. Jenn says just don't let me go home before her, because I am the real New York sh*t. The conversation turns to talking about Joe and how he gets all riled up about things when he needs to just lay low.
1:30pm Big Brother cuts the live feeds to TRIVIA.. Most likely the coaches challenge is happing now.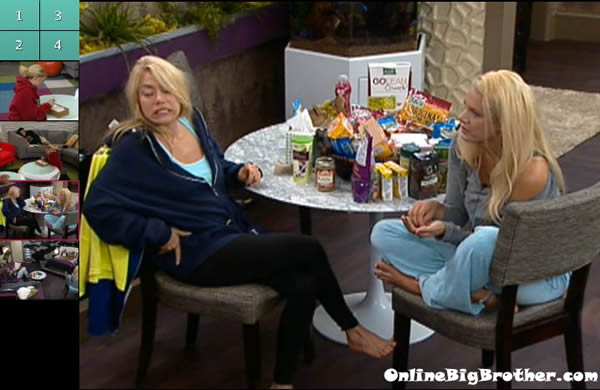 2:55pm The Big Brother 14 Live Feeds are still showing TRIVIA…
3:10pm The Coaches competition is still happening..
Watch what happens, AS it happens: Big Brother 14 Live Feeds!
Subscribe today for your FREE 3 DAY TRIAL!