POV Holder:
?
Next POV:
July 22, 21
POV Used
?
POV Ceremony
July 23rd (Monday)
HOH Winner:
Frank
Next HOH:
July 26 (Thurs)
Original Nominations:
Current Nominations:
JOJO and Shane
Have Nots /Slop
Willie, Shane, JOJO, Ian
Coach Competition Winner
Janelle
Next Coaches Competition
Last Evicted Houseguest
Kara, Willie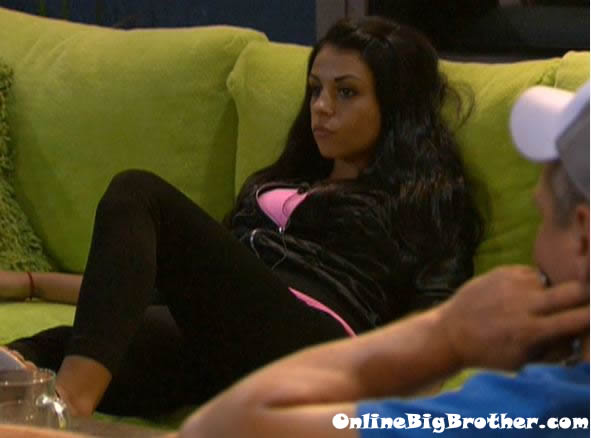 1am Janelle, Jojo and Joe are sitting talking on the backyard chairs. Jojo is asking Janelle about her season and the Power of Veto competitions that she won. Dan comes out and joins them. Joe talks about how there is good in all of them. Will comes out to join them. Wil farts and Dan says don't be offended but that is the first gay fart I have ever heard. The talk turns to how Frank farted on Jenn. Frank comes out and Wil asks him guess what food product Joe named? They tell him I can't believe it's not butter. The conversation changes to talking about food.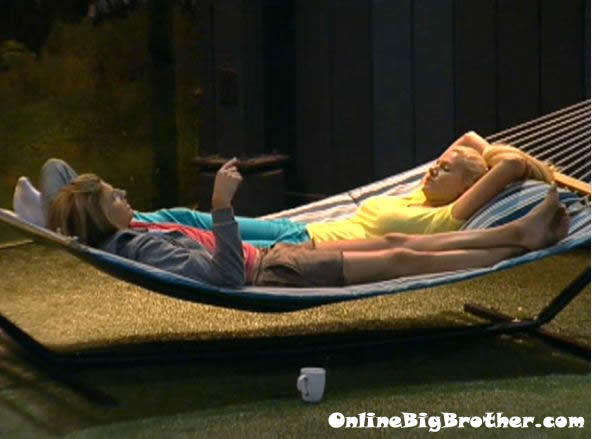 1:35am Janelle and Wil in the hammock talking about the coaches entering the game. Janelle says that hands down its not possible for jury to start yet. Janelle says jury is always week 5, there are still three more weeks until Jury. Janelle says that Dan thinks for sure he's coming into the game. Wil says he heard Dan say he didn't think it would happen. Janelle says she likes Frank but if he teams up with Boogie it would be bad for them. Janelle says that she is sick of Jojo's a$$. Wil says that Jojo thinks everyone likes her. They try counting out weeks and eviction and decide to go look at the memory wall to talk about whether or when the coaches might come back in the game.  Janelle asks Danielle how many weeks are left. Danielle tells her 8 weeks, ummm.. not even ..less. Janelle says that the weeks just don't add up, it doesn't make sense and someone is coming back, something's happening.


2:10am In the Have-not room are Shane and Jojo are talking with the lights out. Shane says that they should play a prank on Ian by pretending they are having sex and moaning when Ian walks into the room. She continues making sounds until Shane tells her to stop. Shane tells her to wait for Ian. Jojo says she is a sexual person. They decide to wait until tomorrow night to prank Ian. They talk about trying to make the have-not beds more comfortable. Jojo asks Shane if she can just sleep on top of him. Jojo then starts talking dirty and making sex sounds. Jojo tells Shane that it's practice for when they prank Ian.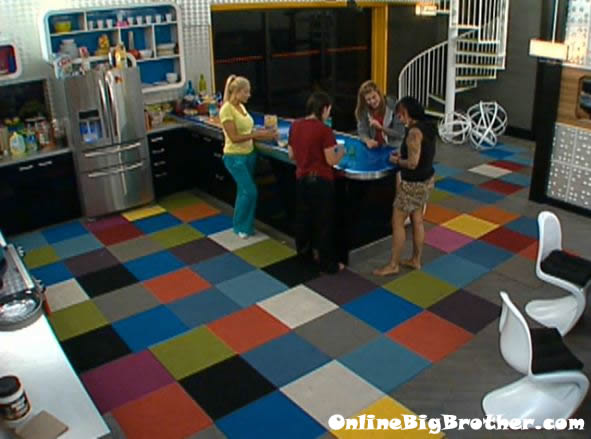 Superpass Live Feeds: 3 Day Trial!
2:20am Dan and Janelle are talking in the kitchen. Dan asks Janelle if the coaches really do come back into the game that they work together to the end. Janelle agrees and says that they would talk more about it later. Janelle asks so if we came into the game then how many newbies would be left, like 6 or 7 … I could take them. Dan thinks it's a ways away. Janelle wonders if it's a thing where they need to earn a key. Janelle says that the newbies are already talking about it and about sticking together. Janelle gets called into the diary room.  Dan heads out into the backyard. Frank, Jenn, Joe, Wil and Danielle are in the backyard talking about Kara. Wil talks about how he didn't know if he was being played by her or not.
3am In the Have-Not room Shane, Jojo and Ian are talking. Ian tells them that he has a crush on Ashley and Kara. Jojo ask Shane who he has a crush on? Ian says spill! Jojo says no, for real, I'm just curious. Strictly physical, who is your type in the house if you had to pick? Shane says honestly, Kara is more my type. Jojo says mhmmm. Ian asks not Danielle? Shane says that Danielle is his type too, he says that he likes a mix between all that and Jojo's attitude. He says that Ashley's personality is good. Everyone is good. He says that he usually goes for the southern girls with the accents. Ian says oh, so Danielle. Shane says shut it. Jojo says she was going for Frank. I'm kidding. I was actually kind of disappointed, honestly. Ian asks in the guys? Jojo says yeah. Jojo asks why doesn't anyone like me? I'm not used to this. She says that everywhere she goes she is always the center of attention. Shane says not in the Big Brother house. Jojo says yeah, I know, what the f*ck? What, is everyone scared of me? Ian and Shane both say no. Ian tells he we like you, but I have a really specific type. Even Ashley is not even close to that but she's just so sweet that it doesn't even matter.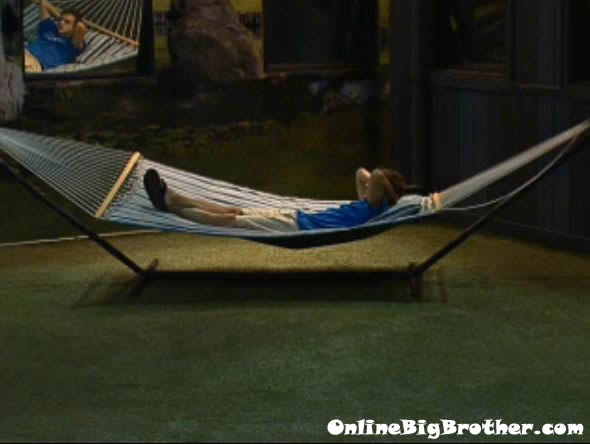 3:10am – 3:25am Dan is out in the backyard talking to himself on the couch. He adds up how he has live in the big brother house for a total of 86 days. He says that Mike Boogie is the person he talks to most in this game. Dan says that Ian is very well liked. Do I trust Boogie? No. Would I go to the end with Janelle? Yes she's a beast. He says he's thrown all the competitions so far. He goes over to the hammock. Dan says that some of his best work is done here. Maybe a little slower, a little older but I still know one thing, how to play this game. It's harder to play this game when people know who you are, and scared of you. Act like I don't care about the game. I do care about the game. I love this game. Boogie would want me out. Hopefully Janelle will want to work with me but I might have to go for a few of her players. I can't believe I'm back here, what the hell? Same pool, same backyard, no friends. Who can be my Memphis, bleach blond powerhouse? Or someone else, I don't know. I need to pay attention what day it is. House decoration this year is awesome. Dan says that he thinks Wil and Joe might want to target him. He says that he can't trust Boogie and that Ian is well liked but he is getting cocky. Shane says that he doesn't know what he is doing. It would have been epic if he could have drafted Frank to his team. His family would love it if he would team up with Janelle. He likes Jenn. He likes Ashley as a person but not a player because she will coast to the end. Ian will fall on his sword all day long for Ashley. Shane and Jojo should hopefully be on their way out. He doesn't know about Wil. Joe is the key organizer and he has to watch him. Joe probably won't win much but he can rally the troops. Joe's mouth will get him in trouble. Dan says that Britney is on the ropes, time to knock her out. Dan then heads to bed.
5:45am All the house guests are still sleeping..
Watch what happens, AS it happens: Big Brother 14 Live Feeds!
Subscribe today for your FREE 3 DAY TRIAL!