POV Holder:
Shane
Next POV:
July 28 (Saturday)
POV Used
Yes
POV Ceremony
July 30 (Monday)
HOH Winner:
SHANE
Next HOH:
Aug 2nd
Original Nominations:
Ashley And Joe
Current Nominations:
Joe And Frank
Have Nots (Cereal & Salmon)
Joe, Ian
Coach Competition Winner
Janelle (Wil SAFE)
Next Coaches Competition
August 3(Friday)
Last Evicted Houseguest
JOJO
Shane has used the Power of Veto to take Ashley off the block and nominated Frank as the replacement nominee.
12:30pm When the live feeds come back from TRIVIA… In the kicks room, Mike is talking to Shane about how Shane just nominated Frank. Mike had a reaction during the nomination and is now apologizing for freaking out. Mike says sorry for freaking out. Shane says that he had to secure the votes because of what Ian said the other night. Mike says okay, no one told me what was happening so I thought someone was pulling a fast one on me. Shane and Mike leave the kicks room. Mike, Dan and Frank are in the stereo room talking. Dan says that he needs to talk to Mike later. Mike says but we are alright, right?! Dan says I will talk to you later. Mike says so should we be worried or what?! Dan says that he will talk to him later. Dan leaves. Frank says to Mike that Dan doesn't know that Shane and I are good.
12:40pm Mike, Frank and Ian go into the kicks room to talk. Mike explains to Ian that it was what he said to Britney last night that caused this because he was so wishy washy with his answers. Ian denies saying that he said Shane isn't a target for the foreseeable future. Ian starts getting loud. Mike tells him to be quiet. Mike explains that they have Danielle's vote and it will be fine. They tell Ian that Shane just wanted to secure the votes.
Re-Watch ALL THE DRAMA on FlashBack: Big Brother 14 Live Feeds – 3 Day Trial!

12:45pm – 1pm
Up in the HOH room, Ashley, Britney and Janelle are talking about the veto ceremony. Ashley describes how in the backyard Frank told Mike about what Ian said and then said that Mike freaked out and yelled for Ian to get over here! She says that he then realized he was out of line a bit and started being nicer to Ian. She says that Mike then told Ian about what Britney said about him. She says that Ian then came into the house and told Britney that he would not vote out Shane. Shane comes up to the HOH room and Ashley says thank you, thank you, thank you. Shane says that he has never seen Jenn so pissed, she is down there and won't look or talk to anyone. Shane tells them that he talked to Boogie and he is okay with it, that he didn't know he (Shane) and Frank had a deal and had talked about it. They talk about how they just need to make sure Danielle does what she needs to do. Shane tells Janelle to make sure that Joe still acts like he is going home. Britney explains that she talked to Mike too and explained that it was the only option they had to make sure we had the votes. Shane says that what sucks is that I have the POV and HOH … all the blood is on my hands. Just remember that. Ashley says that she knows that and that she has his back. Ashley says that all we need to do is keep it kosh… till we drop the bomb on Thursday. Shane says that he is going to stay close to Danielle. Janelle says that she is so happy about this. Shane tells her that he hopes this shows that they can trust him. Janelle says yes definitely. Ashley says that she is so excited about this, this is what she always wanted. They talk about how mad Ian was. Britney says that she has never seen Wil so happy. Wil then joins them up in the HOH room. He tells them that Ian was about to cry. They continue to talk about what happened and how Mike was staring Shane down. They congratulate Shane on how well he did during his speech and how he handled it. Britney talks about how its rare for people in this house to make big moves like this..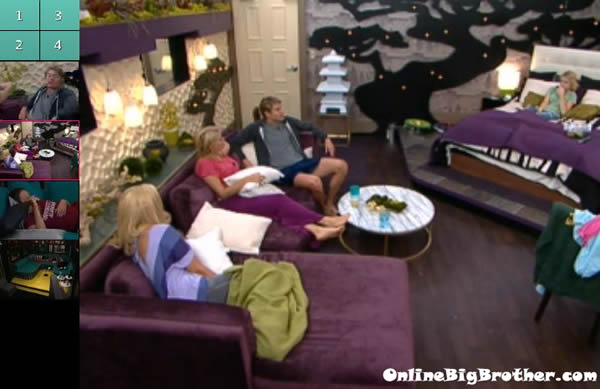 1:10pm Frank and Jenn are in the kicks room talking. Frank explains how it was Ian's fault because it took three times for Ian to say that Shane was safe. Frank says that then Ian said that Shane was safe for the foreseeable future.. and that they made them uncomfortable. He says that they need to put one of us up to secure the votes, preferably me because then you and Ian would vote to keep me. Where if it was Ian up on the block they might want to get rid of Ian because of how he is acting. Jenn says that she was ready to throw up. Frank says that he and Mike talked to Ian after and said that they told him not to give cryptic answers. Frank says that he is pretty sure he is staying and that there is nothing to worry about. He says that he just needs to make sure he has Danielle's vote. Jenn says thank you for telling me what was going on. Jenn says that she hope they aren't trying to back door him. Frank says that he is going to be pissed if he leaves because of what Ian said, but at least it wouldn't be my fault. They end the conversation and leave the room.
1:30pm – 1:45pm Britney and Ian are sitting on the backyard couch. She tells Ian that he watches the show, he knows that they had to do what they had to do. Ian asks so what do you anticipate happening on Thursday? Britney says that she thinks Frank has the votes. Britney says that what she didn't want to happen was his team mad at him and bullying him. It's really not your fault. Ian says that Frank is okay with it, but Jenn hasn't talked him about it. Britney says that it wasn't totally her conversation with him last night. That she had already told Boogie that she was worried about the votes. Ian says that if he gives his word it is golden. Britney tells Ian that she thinks he doesn't like giving his word. Ian says that's right I hold my cards close to my chest. Meanwhile by the pool, Mike jumps in and says wups don't wanna splash the swing vote. Mike and Dan are whispering in the pool and its difficult to make out what they are saying because they don't have their mic's on and there is a lot of back ground noise.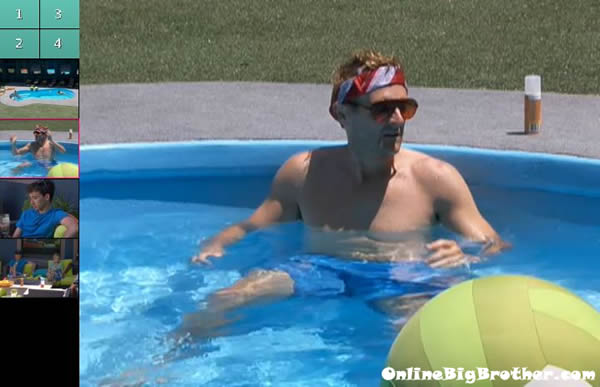 Share it YO!
Tweet