POV Holder:
Shane
Next POV:
Aug 4 (Saturday)
POV Used
POV Ceremony
July 30 (Monday)
HOH Winner:
SHANE
Next HOH:
Aug 2nd (Thursday)
Original Nominations:
Ashley and Joe
Current Nominations:
Have Nots (Cereal & Salmon)
Joe, Ian
Coach Competition Winner
Janelle (Wil SAFE)
Next Coaches Competition
August 3 (Friday)
Last Evicted Houseguest
JOJO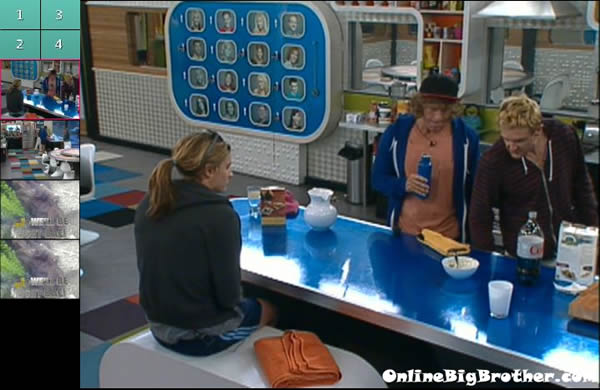 9:15am – 10:15am Big Brother wakes up the house guests. Mike, Frank and Wil are in the kitchen. Mike starts talking about how Britney doesn't clean at all. He says that he heard Britney say that she doesn't need to clean dishes in August because it's her birthday. He says well what happened to July?! Mike says that as soon as veto is over he will hand Britney a dirty bowl and say Here Britney, wash your Sh*t! They start talking about her poor husband having to clean up after her. Mike starts telling them a dream he had. Frank says Dream are like pictures, if I am not in them or someone's not naked, then I don't care! He says that heard that off a tv show. They head outside to sit on the couch. Joe joins them. The talk about coffee and Joe start talking about his dad's house and how he used to do Elvis impersonations. Mike asks what Franks Dad does for a living. Frank says that his dad went into business with a body and opened up a used car dealership. The conversation turns to talking about cars and cops.
Watch what happens, AS it happens: Big Brother 14 Live Feeds!
Subscribe today for your FREE 3 DAY TRIAL!


10:20am Shane is up in the HOH room getting ready for the Big Veto Ceremony day..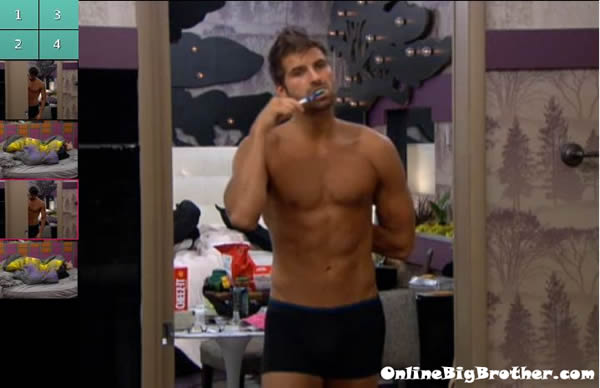 10:30am Shane and Britney are in HOH room talking about what will happen after he nominates Frank as the replacement. Britney says that they will be working Ashley for her vote, and they will be coming after you. Shane says that pisses me off IAN… THAT LITTLE FAGG*T! Britney tells him not to say that word. Shane says sorry I should not have said that! Shane says that Ian is going back on his word and he doesn't like that. Shane says that Ian said that he does not see putting up Shane in the foreseeable future. Shane says that he can't trust him; he can't give me a definitive answer. Britney says that Ian didn't say he was coming after you. Shane says the fact is he would not say he wasn't. They consider that options and Britney tells him that he will be taking a lot of heat. Britney says that hopefully Janelle's players will stick by you when Frank and Boogie start ripping into you. Shane says that he thinks they will. Britney says that what Shane can tell Frank is that he didn't put him up on the block, you got a chance to play for the veto, … Britney talked to Ian and he gave her a shaddy answer … so I had to secure the votes. Danielle said that she would vote for you and I trust that she will do that. I don't think you are going home, but I trust that you have the votes. Shane says that the risk of doing this plan is if Ian wins HOH. They both don't think Ian can win HOH. Britney brings up how Ian came in second in the POV.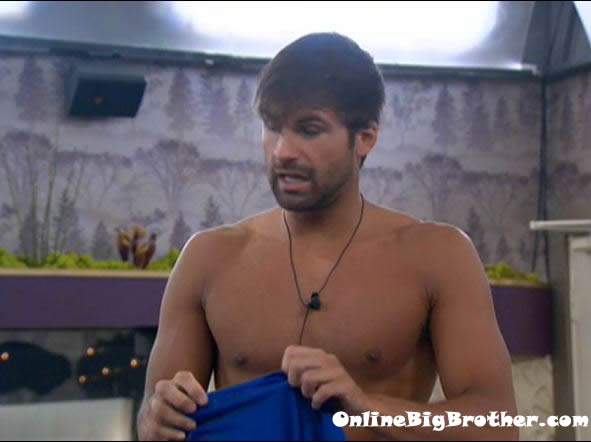 10:45am Britney tells Joe about the plan and how they are going to be after Shane like nobody's business. Britney says that Boogie will be coming after Shane for blood. Joe says that he has Shane's back and that he will do anything in his power to save him. Britney then goes inside and tells Janelle about the plan. She tells Janelle that this is going to be really good for you and I! Janelle says really good!
10:50am – 11:10am Shane and Frank are in the arcade room talking. Shane tells Frank about the conversation about Britney had with Ian. Frank tells Shane that Ian is just a kid and me and Boogie have been coaching him what to say, so I think he was just trying to be vague. Ian hasn't talked to Boogie about next week so he didn't really know what to say. Shane says that he isn't sure what he is going to do but that he may need to secure the votes by putting up one from his side. Shane says no matter what happens you are safe and Joe is going home this week. Frank says that he is still on board with Shane and Danielle going down the road. Frank says that Ian won't vote out Ashley, he has a crush on her. Shane says Ashley and Joe what do they bring to the table …nothing. Frank says that he gave Joe the opportunity the other day to be honest with him about throwing him under the bus but he didn't take it. Frank says that he is happy that he and Shane have been able to keep this secret because then if Jenn got wind of it she might try and put you up. Britney joins them and tells Frank what Ian said to her. Frank explains again why Ian answered the way he did. Britney says the only way we know the way the vote will go for sure is if someone from your side goes up. Frank says that he is 100% sure Jenn will vote out Joe and that he is 98% sure Ian will too. Britney says that she is just unsure about the votes and that they need to secure them.
Re-Watch ALL THE DRAMA on FlashBack: Big Brother 14 Live Feeds – 3 Day Trial!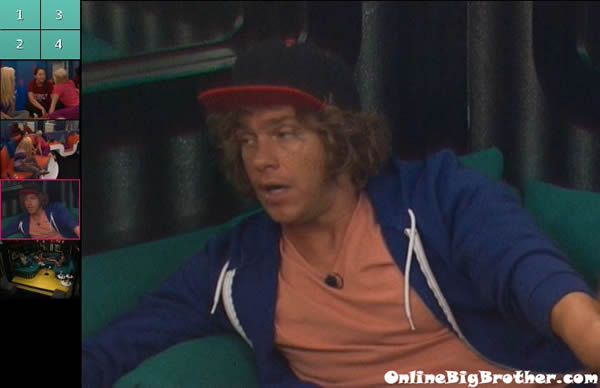 11:10am Frank says you not putting me up on the block shows me and my team that you are trust worthy and that we will roll with you! Shane and Britney keep talking about how untrustworthy Ian is and how they just don't know what he is going to do. Britney says that it's scary because the next 4 days is a long time and no one needs to talk to Shane. All the whispering and lies will be happening down here when we are up there. Frank says the only thing is that if you put up Ian or Jenn they might take it negatively and come after you. Britney says it's a risk but we need to secure the votes. Frank leaves. Britney and Shane talk about how that went well and that at least he knows it is about securing the votes. Britney says that Frank is going to be pissed. Shane wonders if he should say in his speech that he just needed to secure the votes. Britney says no, don't even give much of a speech. Just says in this game .. Big Brother cuts the feeds…to TRIVIA.
11:20am The Power of Veto Ceremony is happening right now… Sign up for the live feeds to watch ALL HELL BREAK LOOSE in the house when Frank gets nominated for EVICTION!
FREE Big Brother 14 Live Feeds: 3 Day Trial!
12:20pm Still TRIVIA

Share it YO!
Tweet