POV Holder:
Shane
Next POV:
July 28 (Saturday)
POV Used
?
POV Ceremony
July 23rd (Monday)
HOH Winner:
Frank
Next HOH:
July 26 (Thurs)
Original Nominations:
Current Nominations:
JOJO and Shane
Have Nots /Slop
Willie, Shane, JOJO, Ian
Coach Competition Winner
Janelle
Next Coaches Competition
July 27 (Friday)
Last Evicted Houseguest
Kara, Willie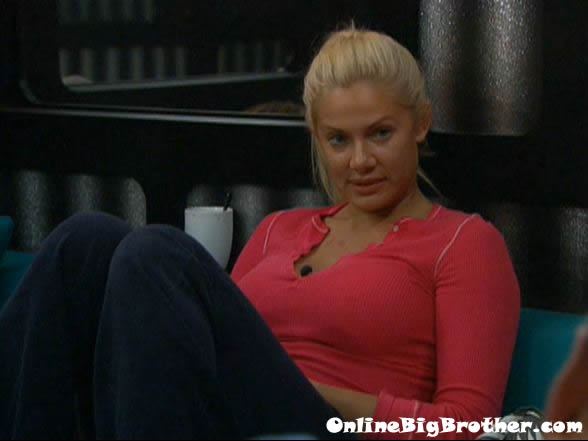 12am Ashley, Joe, Wil, and Janelle are in the arcade room. Joe says they need the next HOH and it will be between them and Shane. Joe says that he feels confident about his chances and that he thinks the HOH competition will be a crap-shoot. They asked Janelle if they were going to go along with Frank on who to vote out. Janelle told them yes for now. They start talking about Jojo. They all agree she should be the one to go. Joe says he thinks Frank said that he wants to vote out Jojo too. Janelle says that if Frank wants Danielle out, we won't have the votes to go against him. Joe and Wil decide to head to bed. Janelle and Ashley comment on how peaceful it is without Willie in the house. Frank comes in to join them. Janelle tells Frank that Shane is a beast! Janelle asks what are we going do? Frank says that they can get him out. Janelle hopes its next week. Frank says that he hopes Shane doesn't win HOH this coming week. Janelle says that if Danielle won HOH she would put Shane up on the block. They start talking about the types of competitions. Janelle comments on how Shane is going to try and win everything. Frank heads to bed.
Superpass Live Feeds: 3 Day Trial!
12:50am In the bathroom, Janelle and Dan are talking. Janelle tells Dan that she thinks Danielle is safe. Dan says that he isn't going to campaign, because it hurt Kara. Dan says that if Danielle won HOH he would tell her to put up Frank and Shane up on the block for eviction. Janelle tells Dan her team wants to keep Danielle. She says that Mike hates JoJo. Dan says that he is worried Mike will want to evict Danielle to get rid of me (Dan). Janelle says that she keeps telling everybody the coaches coming in isn't going to happen.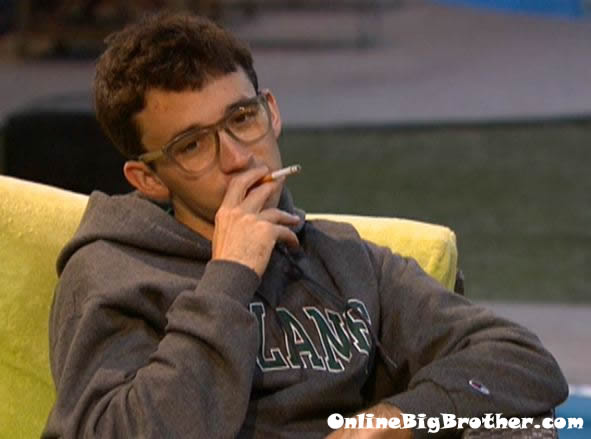 1:15am In the backyard, Ian asks Jojo for a cigarette. Ian tells them that outside of the house he has a cigarette a day. Ian starts smoking a cigarette. Ashley asks him if he is high from it. He tells her that it's a cigarette. She tells him that she gets high when she smokes a cigarette. Ian says that it has a nice whispy taste to it. Jojo asks Ashley if they should just attack Ian one night. Ian tells Ashley that he misses her in the have-not room. Ashley gets up and says she will be right back. Jojo then asks you wanna know a little secret, I am bisexual. Ian asks really? Jojo say yup, that's the TWIST! Ian says that she's hot, she is welcome on my slab any time. Ian says that he hopes it's possible for them to put a door between the HOH room and the coaches room because if I ever won it, I don't want Boogie hearing. Jojo says oh what when you rub one out? Ian says yeah that too. Jojo tells him there are still cameras. Jojo talks about wanting to get herself off last night. Jojo asks Ian again if he gets HOH will he rub one out. Ian says yes, I haven't since.. Jojo asks what about the cameras? Ian says that we are allowed to do it in the toilets, I asked. Jojo asks is it killing you? Ian says yeah. Jojo says that most women lie about doing it and the ones that don't do it are the ones that suck in the bedroom. Jojo heads to bed. Ian head to bed right after.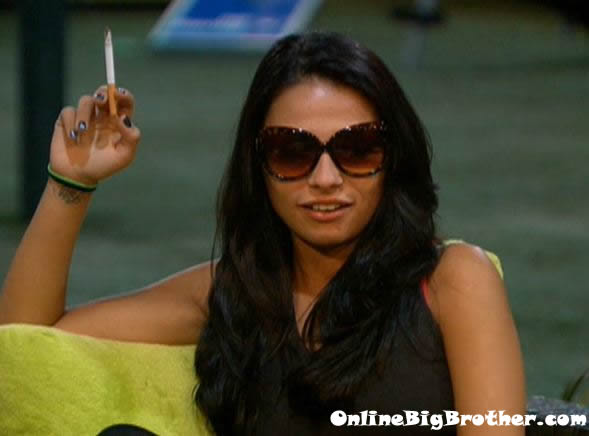 1:35am In the Have-not room Jojo and Shane are talking. Shane tells JoJo that before the Veto ceremony he is going to tell Frank to put up Wil instead of Danielle and evict him. Then Frank will have Danielle, JoJo, and Shane. He says that they can then all knock off Janelle's team. JoJo says that Frank needs a strong girl on their team. Shane says Frank knows JoJo is the most physical woman in the house. Shane says Frank secretly told him he doesn't want to stick to the final 6 with Janelle's team. Jojo says that she wants to put up Jenn if she wins HOH to tell her to prove herself. Shane says that Wil is enemy number one for him and Frank. JoJo tells him that her, Danielle and Shane will be a vote down the line for Frank. Shane says that he doesn't want Mike or Britney involved yet. Shane says that he is going to Frank in private.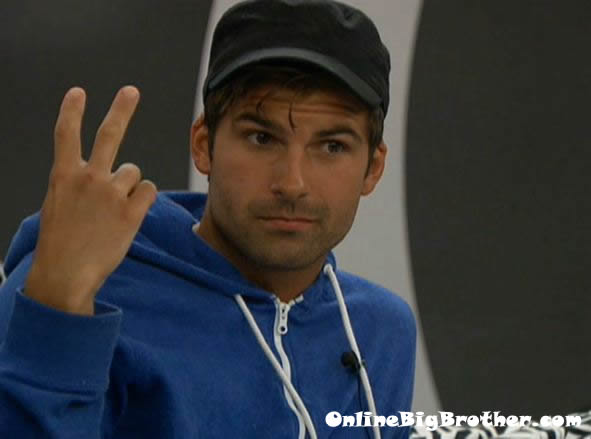 In the arcade room, Dan and Danielle are talking. Dan starts telling Danielle about the books he's written. He says that one is a 24 day self-help book. Danielle asks why he applied for Big Brother. Dan says that after he saw Dr. Will win on his season he set a goal to make it on the show. Dan says that he was actually a finalist for Big Brother Season 6 but that he didn't make it.. Big Brother cuts the feeds.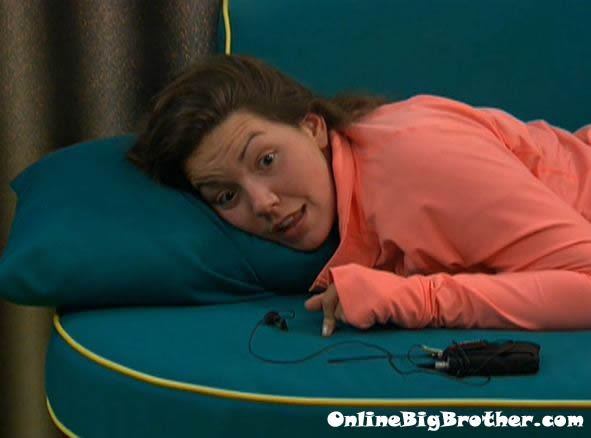 1:50am In the bathroom, Janelle and Ashley are talking. Janelle says that she is getting nervous that Frank and Ian have a final two deal. Ashley says of course they do! She thinks they need to get one of them out soon. Ashley tells Janelle that she thinks Ian is trying to play her. She says everyone thinks she's dumb. Janelle says that Ashley has them all fooled because she is super smart! Janelle asks how great it would be if Willie, JoJo and Shane went one after another! Ashley says that she would put Shane and Ian up on the block if she were HOH and that she would tell Shane that her target was Ian but really it would be Shane.

Watch what happens, AS it happens: Big Brother 14 Live Feeds!
Subscribe today for your FREE 3 DAY TRIAL!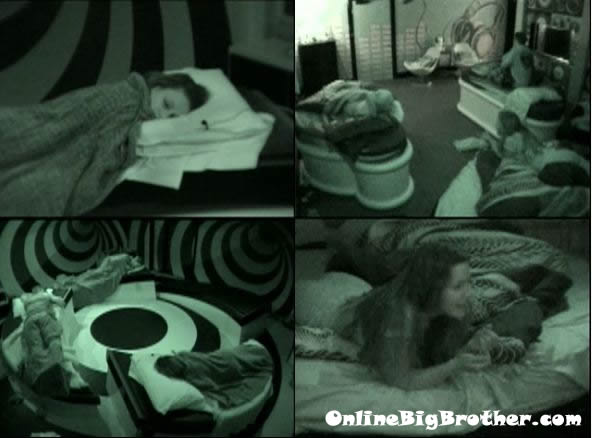 2:10am – 2:40am Ian, Shane and Jojo are in the Have-not room talking. Shane asks what Ian thinks about Big Brother shuffling players… where each coach would get two players. Ian says that he doesn't think that would happen. Ian say that he thinks the coach's save competitions will end after this week. Shane says they can't base their play on what they think might happen. JoJo tells Ian he has to remember this is an individual game, and he doesn't have to listen to his coach. Ian says that he is well aware. Ian says that he knows how to play the game. Ian says right now, what benefits Boogie is benefitting me too. Meanwhile in the arcade room Danielle tells Dan that her grandfather invented laundry detergent. Dan it really surprised and asks her if she swims in money pools at home. Danielle says no. She says that she hates telling people that because they think she hasn't had to work for everything. She says that there hasn't been a day that she hasn't worked. Dan says that he I never thought of a world without laundry detergent. Dan tells her that when he was in the game and had the power he would get 3 or 4 weeks out of it because he played it right. Dan tells Danielle if she wins the power of veto she can make it work for 2 weeks. Dan says that right now it's so easy to see what is going to happen because the house is so divided. They head to bed.
Share it YO!
Tweet