POV Holder:
Shane
Next POV:
July 28 (Saturday)
POV Used
Yes
POV Ceremony
July 30 (Monday)
HOH Winner:
SHANE
Next HOH:
Aug 2nd
Original Nominations:
Ashley And Joe
Current Nominations:
Joe And Frank
Have Nots (Cereal & Salmon)
Joe, Ian
Coach Competition Winner
Janelle (Wil SAFE)
Next Coaches Competition
August 3(Friday)
Last Evicted Houseguest
JOJO
8:45am Frank is awake, he grabs a coffee and heads outside. He starts talking to the camera and complaining about the other people who sit out on the couch and start picking their feet. He says that they then go and touch doors and shake peoples hands. It's gross. He points out all the dirty cups and bowls laying around.
Frank says that Joe has been talking porcupines about me.  He says that he is thinking about calling Joe and Janelle out. He says that the Janelle lied the other day to Wil saying that I wanted to back door Wil, which I didn't I never said that. Frank says that he really like Wil and would want to work with him. Frank comments on how Shane is a bigger target than him because he keeps winning competitions. He apologies for the fight with Willie and says that he hopes he didn't embarrass himself or his family. He says that they funniest thing he has said all summer was when he told Willie to eat his fu*king froot loops. He says that Joe lied and said that I came up with the final 2 deal. Not true! He came to me the second day.
Watch what happens, AS it happens: Big Brother 14 Live Feeds!
Subscribe today for your FREE 3 DAY TRIAL!
He says that he hopes he isn't being too trusting of Danielle and Shane. He says that they really want to work with and that they aren't lying to him. He says that he understands why they put him up, but that's okay. He explains why Britney was getting paranoid about the votes and that they wanted to control them. He says that he doesn't think Shane and Danielle are the type of people that would look him in the eye and lie to him. Maybe I am wrong but I don't know. He figures he has 3 votes and that he will still be here. He says that he wishes he hadn't won that second HOH. I am too big of a fan though to not win an HOH. He says that he didn't really like anyone on the show when it started, he says that he did like Willie before he flipped out. He says that he doesn't like Joe or Janelle for lying about him. I do like Wil, I would like to work with him in this game. He says that he almost had Ashley pulled away from Janelle.

9:10am – 9:45am
Frank says that Shane putting him on the block, now I will need to have to go after him and maybe even try and back door him. He says that he can't exactly trust me, which means that I can't exactly trust him. Mike joins him. Mike says obvious Wil feels targeted by Shane. What if we say if you rely on your team and I leave then who is going to get Shane out.  They want to see if Wil will work with Frank. They think about floating the idea by Wil tomorrow or Thursday morning. Mike talks about how the coaches being in the game really messes up their game. He says that Dan is really convinced we are coming into the game. Mike says that he thinks once we get down to 9, we will enter the game. Franks says that one thing that got him thinking is how Janelle asked if she had to go to sequester because she wants to go home to her baby and they said no she didn't need to go. Mike tells Frank that he is playing the game like he has played before and all the others are a bunch of amateurs. Frank tells Mike if he wins the coaches challenge he needs to trade (Jenn). Mike says that he has already though about that. Frank says that Jenn can't win anything. Mike says that if you (Frank) go home, I am going to spend every waking hour hunting him down. Frank says you could trade for him. Mike tells Frank that he is super blessed at home dumb this cast is… They have had 13 other seasons to learn from too. Mike says that on Friday for the coaches competition he is going to be an animal, Janelle better look out. Frank says that he talks to Shane and Britney that if he next week if he wins he would put up Jenn or Ian. To make them think that he would go after his own players. They joke around about how Ian couldn't just give a straight answer. Frank says if I get sent home because a 21 year old kid can't give a yes or no answer I am going to be pissed. Mike gets called to the diary room. Frank than show the camera how you clean up after yourself and clean a cup. Boom down! That's how you do it, its not that hard.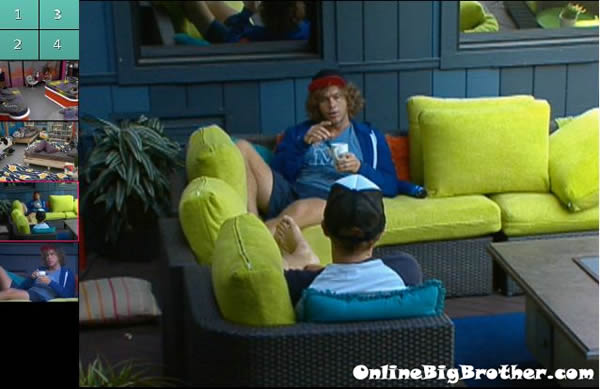 10:15am – 10:30am Mike says that he had another idea to give Britney a chain of confidence. That he or both of them go to Britney and sell them on how his only chance is to hitch his wagon to Frank. He says to make them think that he is ready to get rid of Ian and Jenn. Frank says that the only thing he is worried about how Britney already feels bad for Ian, so it might go the wrong way and she might tell him. Then he ends up voting me out. Frank says maybe just say it a different way like don't mention names. Wil joins them out on the couch. Mike floats the idea of Wil possibly voting out Joe this week if he is done with the teams or not. Wil worries about being put up next week if he goes against his team. They start talking about Ian and how he has no idea how to play this game. Mike says that he has a problem with how Ian can recite every eviction from all the season in order but you have no idea how to play the game. Wil talks about how he is trying to break away from Janelle. Mike and Frank explain that he never said that he was going to back door Wil last week. Mike tells Wil that people that go to the jury change the way they vote after they have been there for a while. Wil asks Mike if he is willing to lose some of his players. Mike explains that he would be a fool if he thought he could take all three to the finals. Not to mention Ian is the reason why we are in this position. Frank tells Wil that if he keeps him he will give him his vote down the road, and that he can pretty much guarantee Jenn and Ian too as well. Wil tells them that if they are going to badger anyone, they should badger Joe. He doesn't shy away from drama. Frank says that he is already thinking about calling him and Janelle out.

11am – 11:30am Mike and Ashley are out in the backyard talking. Mike says you don't get too bored in here do you? Ashley says no. Mike says you like it here don't you. Ashley says yeah. Frank and Joe join them outside. They talk about random stuff. Ashley jokes that she got them good last night when she told them she had some HL pills in her bag if they wanted any. Mike says high on life pills. Ashley says yeah. Britney joins them. They talk about what its like in the house and how hard it will be to get back to normal.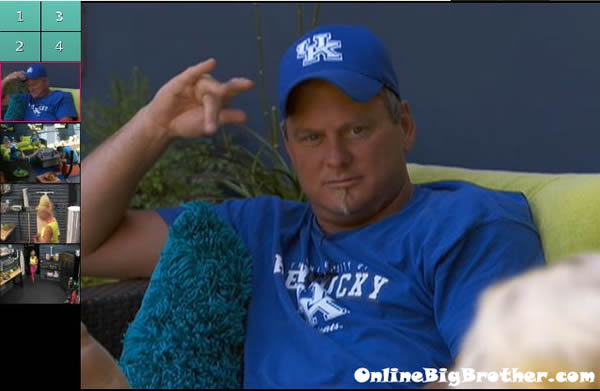 Share it YO!!
Tweet