POV Holder:
Shane
Next POV:
July 20 (Friday)
POV Used
No
POV Ceremony
July 15 (Sunday)
HOH Winner:
Willie
Next HOH:
July 19 (Thurs)
Original Nominations:
Frank and Kara
Current Nominations:
Frank and Kara
Have Nots /Slop
Danielle, Shane, Ashley, Ian
Coach Competition Winner
Boogie, Ian is safe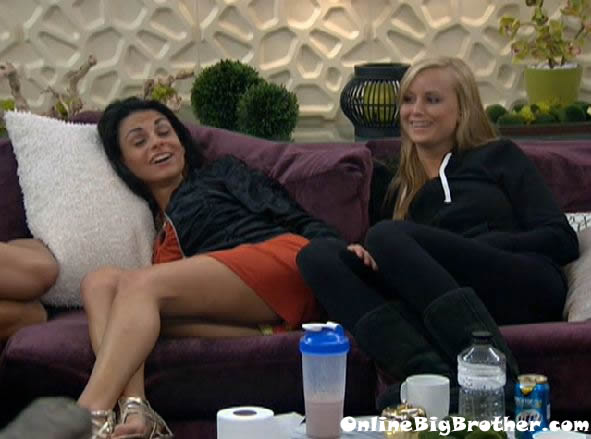 Watch the 24/7 Uncensored Live Feeds of the Big Brother house 3 Day Trial!
12am Willie, Ashley, Janelle, Kara, Jojo and Shane are up in the HOH room talking about the last Power of Veto competition. It's mainly Willie, Shane and Kara talking about how they did in the competition. Jojo heads downstairs because she wants a break. A few minutes later Janelle heads downstairs. Jojo and Ian then come up to talk. They ask Ian about how his date was tonight. Ian says that it was good, good servers, good food. The conversation turns to talking about how they think the next Coaches competition and Have/Have-not competition are going to be on Friday. Willie comments on how once Ian gets out of the house he is going to have no problem with the ladies. Ian says that its kinda been by choice. Kara then asks him so if a girl tried to rape you, you would say no? Everyone laughs and is stunned that Kara asked the question. Ian said that if it was a really beautiful woman then yeah he would do it with her. The conversation turns to Willie and Shane talking about how they can finish if they've been drinking. Jojo says maybe it had something to do with the girl, maybe she just wasn't doing her job right, ya know?! It's 80% mental for a girl, they are too much in their head, if they just lived in the moment they would be fine. Willie tells Jojo that she should have been on The Jersey Shore. Jojo says don't say that to me, I would be the only real italian on there. Willie gets called to the diary room. Britney joins them. They talk about random stuff. The big brother cuts the feeds for a half hour.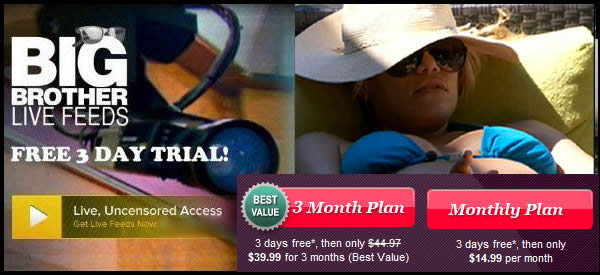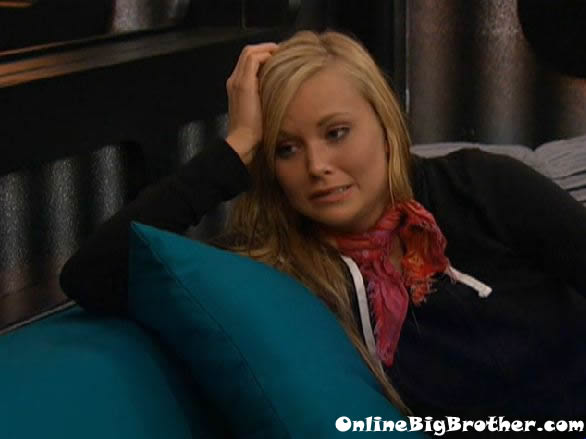 Superpass Live Feeds: 3 Day Trial!

12:55am
When the live feeds come back on, most of the house guests are going to sleep. Kara is in the Arcade room with Wil. Kara tells him about how Mike hit on her and asked her out. She says that she would never do that with Mike, I don't trust him. You saw how he played the girls in all stars. He plays dirty, he is ruthless.
1am Janelle and Britney are in the HOH mentor bed talking with the lights out. Britney says that she talked to the diary room and asked to see her contract. She says that on Monday it should be there and she is going to scrutinize it. Britney talks about how Kara told someone that she wasn't happy with Dan because he s. Janelle brings up how Danielle told her that she has feelings for Shane. Janelle says that she told Danielle that she shouldn't because its so much more intense inside the house. Britney says that they don't even talk, Shane came out to backyard and didn't even lay by her. Janelle says that Danielle said that in casting they asked her a lot about showmances and so that's the direction they want me to go. Britney says oh god!
1:10am Jojo joins Willie up in the HOH bed and they watch the spy screen and talk with the lights off. They see Ian on the spy screen. Jojo asks if she should go on a date with him. Willie and Jojo talk about how it would be good for Jojo to win the next HOH. Willie says that problem with Dan and Boogie is that they are trying to control their players so much that its causing friction. Willie says whether Frank or Kara goes home this week, we have to make sure we win HOH so that if Kara stays this week we could put her up with Ian next week. Willie explains that one of them (Mike or Dan) would be down to one person if we win HOH this week. Willie says if they win HOH they would put one of us up from each team to cause strife.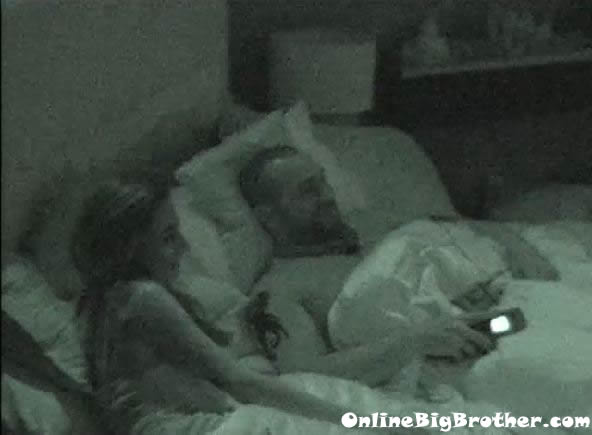 2am Out in the backyard Dan is talking to himself on the couch. Dan says that he can't play favorites between his two team members, it makes things worse. Dan says that he and Danielle were talking and that he should have known better, we were whispering and we stopped when Kara came up. He says that caused a full on meltdown between two women. Dan says to himself that he is not used to coaching females. Dan says that he thinks the one that talks the most has the better chance at staying in the game. Dan says that he would love to get one of them a half a million dollars… that's the end goal.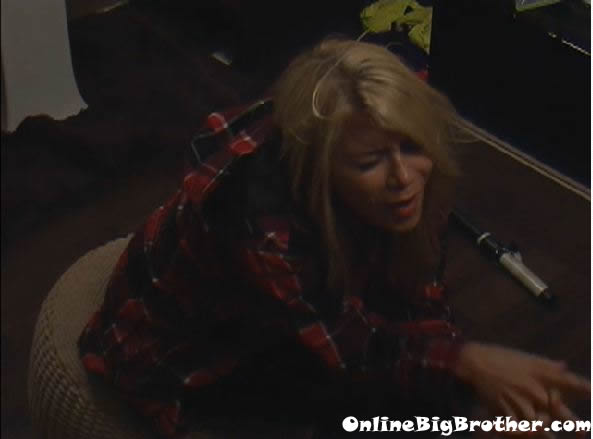 2:15am Meanwhile, Ashley heads up to the HOH where Willie and JoJo are laying in bed together in the dark. Willie invites her in to talk. Willie gets Ashley to go with him into the HOH bathroom to talk. Willie tells her that their teams Janelle and Britney need to stick together, they will stay safe that way. He says that their two teams will win HOHs and keep them all safe. Willie says as long as our six is good were good. As soon as someone goes against the grain is when we will have problems. Willie reassures her. Ashley tells him she feels better about everything. Willie tells Ashley to stay strong, it's better for her if he stays in this game. Ashley agrees. Willie assures her that he will win the next HOH after this one. Willie tells her that on Wednesday night when the two teams have their meeting listen for how hard Janelle will push to keep Kara. Willie says that Janelle is putting all her effort into getting Wil as far as she can in the game. That's why she wants to keep Kara, because that is a vote to keep Wil. Ashley says that she definitely thinks Kara has to go. Willie says yeah. Willie and Ashley making a pact that their alliance (Willie & Ashley) needs to stay secret, their teammates can't know.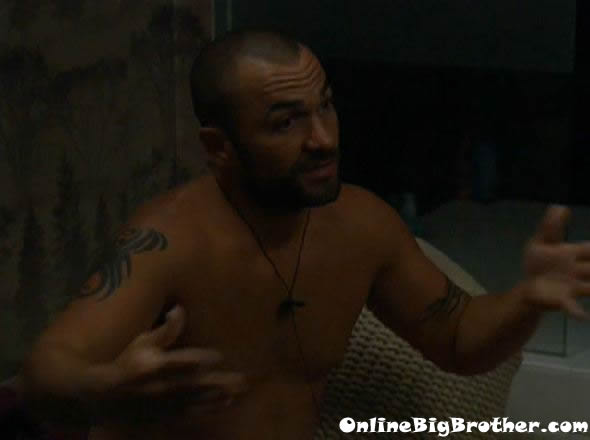 Watch what happens AS it happens: Big Brother Live Feeds!
2:30am – 3am Willie head downstairs to the backyard. Willie tells her that he is so glad she came to talk to him, he didn't have the numbers to save himself if he goes up. Ashley says that Willie needs to act like he has no respect for her game to keep their alliance secret. Ashley says she had the realization today that Janelle isn't going to fight for her, she doesn't have her best interest at heart. Willie says Janelle is a schemer. Willie says that Janelle is trying to keep Kara so that she has the numbers. Willie asks her if she could get Ian to keep him if he were up, even though he maybe jealous of their relationship? Ashley says she could get Ian to save him, he knows all of the date stuff is just fun for the cameras. Ashley asks if him if he is going to mention this stuff to Britney. Willie says no because she would tell Janelle. Willie brings up how Shane is about to get into a big time showmance with Danielle. Willie then talks about how some people are letting their coaches play for them. We need to play for ourselves and forget about the coaches. Willie convinces Ashley that she is just a pawn for Janelle. Willie tells Ashley that she is expendable to Janelle. Ashley says that she is 100% with Willie. The conversation changes to guessing about what the next HOH will be. Willie says that if you could swing Ian to the dark side. Ashley says if they work to include Ian then he would come with them. Willie says that he is going to stop telling Britney everything. Willie say that the coaches are playing so hard and so fast because they only have 3 chances to win so it doesn't mean that much for them to lose someone. They end their conversation and head inside to go to sleep.
6am All the house guests are still sleeping..

Share it YO!
Tweet