POV Holder:
Shane
Next POV:
July 28 (Saturday)
POV Used
Yes
POV Ceremony
July 30 (Monday)
HOH Winner:
SHANE
Next HOH:
Aug 2nd
Original Nominations:
Ashley And Joe
Current Nominations:
Joe And Frank
Have Nots (Cereal & Salmon)
Joe, Ian
Coach Competition Winner
Janelle (Wil SAFE)
Next Coaches Competition
August 3(Friday)
Last Evicted Houseguest
JOJO
3:17pm Backyard Cam 3-4 Dan, Ashley, Britney , Danielle and Janelle Watch with FlashBack FREE TRIAL!
Talking about Poop. Janelle asks him what does he do when he has to poop. Dan explains that he goes into the bathroom closes the door. Janelle: "But do you announce it" Dan: 'No we just go" Brit and Danielle say they both do not feel comfortable using public facilities so they usually squat. (had to post about something that wasn't period talk… ugh)
Talk moves to dogs.. Ashley loves dogs she goes on and on about how sweet they are. Britney suggests to her that she gets a dog Like Britney has. Ashley: "I can't even take care of myself how could I take care of a dog"
They start talking about how when you have a baby and attached Dog might start acting aggressive. AShley asks britney what she would do if her dog is jealous of a baby. (britney talks about having a baby all the time)
Britney says the baby will come first she jokes: "I guess when you have a baby it's when you shave the hair off the dog and put it in the bathroom" Janelle agrees says once she held her baby the dog become a
3:29pm Cam 1-2 Arcade Joe and Wil
Joe asks him if he's going to vote for Joe. Wil says of course he is. Wil planes on playing his own game from here on in. Joe was getting worried because Wil and Janelle are not getting along anymore. Wil: " what I'm trying you do is get Ian blindsided" Wil is thru with Janelle and Joe tells him he's 100% with him
Wil: "I don't like how Janelle represents me and I don't like how she does things"
Wil: "We did not come in here to win them 100K we came here to win 500K.. I'm tired of these coaches"
Wil brings up that Janelle plays this game by kissing a$$ to everyone, Wil: "She did it in both her season.. I'm not"
wil tells him he has nothing to worry about him and Danielle are sold they are makign it look like.. feeds cuts
3:38pm Cam 1-4 Kitchen Britney and Wil
He Tells her he's still 100% Good. Britney aks him if he's sure. Wil wants to talk to her tonight about Janelle but he's still on board so don't eorry (He's voting out Frank)
3:39pm Cam 1-4 HOH Bedroom Britney and Danielle

Britney asks her if she's sure taking out Frank is the best route to take. Danielle most definitely wants to still evict Frank she thinks they are screwed if he stay in the house.
Danielle saying that she had a talk with Shane about him not giving her a hug every morning, he use to talk to her all the time and now he barely is around her. (Shane is 1000% not into Danielle) Britney avoids this conversation..
Britney: "Do you know what Ashley said about you the other day.. "
"Danielle likes to feel important we need to make her feel important because she feels like she's 3rd rate in this house and so unimportant…"
Britney mentions that the only reason she's telling her this is because ashley said it in the kitchen and Danielle could've heard. Britney adds that Ashley was with Janelle at the time but said it really loud. Danielle doesn't know how to take that.. She doesn't really like ashley says she hasn't spoken with her for days. She caught Ashley and Janelle in the arcade room 'Scheming" they acted funny towards her. Danielle thinks Janelle is giving her funny looks all the time.
Brintey brings up Janelle plays, She'll go up the buTTH**** of whoever the HOH is. Points out that week one she was buddy buddy with Willie week 2 buddy buddy with Frank now Week 3 back to being buddy buddy with us.
britney warns Danielle if they win HOH Janelle will be all over Dan. Danielle says that Janelle has already been flirting with Dan (She has been big time)
Britney: 'her game is so obvious to me.. it's so transparent"
Danielle has trouble trying to figure out why Ashley would say Danielle feels unimportant. Britney mentions that what Janelle told her about JOJO was a lie, JOJO never called danielle fat with disgusting legs.
Janelle comes up and they all confirm that Wil is good. Britney asks her what is Wil made about. janelle explains that last week there was talk about Frank putting Wil and JOJO up and her and "Trixie" would hang around Frank and 'Do Stuff" to keep wil off the block. Wil got pissed because that isn't how he wants to play the game. (The conversation in the arcade explains Wil's feelings on this.. he doesn't want to play the type of game janelle is playing suck up to whoever has the power)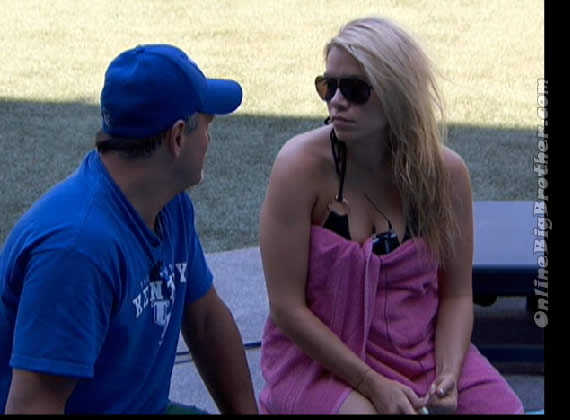 3:46pm Cam 1-4 Joe and Ashley
Joe telling Ashley that Wil is a bit pissed about Janelle and he wants to play his own game. Joe is fine with that, he's glad they have the coaches speaking on their behalf.
janelle joins them they talk about Wil being pissed at her. Ashley points out that wil is getting a bit paranoid. She doesn't ink he ever really watched this show and hasn't a clue about what is going on in the house. Ashely claims to have watched ever season since season 1.
4:20pm Cam 1-2 Arcade Room
Ashley wants to confirm with Danielle that she has her back and Shane's back next week. Danielle says she's heard that Ashley has been talking shit about her. Danielle explains That she heard AShley saying that Danielle feels unimportant, 3rd rate, and is always wanting to feel important. (See conversation above)
Ashley is shocked and denies it says she said that all the girls are insecure in the house. Danielle says that she kind of heard it and another player heard it in detail because Ashley said it in the kitchen.. Danielle: "I didn't really know how to take it anyways".
Ashley is really caught off guard starts saying that Danielle is all alone in the game and that her 3 really want to work with Danielle yadda yadda yadda.. AShley: "I feel like everything I say is being twists in a negative way"
Danielle says that it's all good she understands, but she warns Ashley she needs to really watch what she says because people in the house are desperate and will twist her words. Ashley wants to know if it was someone in her team of britney's team. Danielle says it was somebody from Boogies team that told him. Ashley swears that it was never meant to be malicious. Ashley adds that she said it not to belittle her ashley was sticking up for her. They hug it out.. and ashley leaves Big Eagle Eye comes in
Danielle tells eagle eye joe that he's safe this week
Joe confirms that he'll not put up Shane or Danielle next week if he wins HOH nor will he backdoor them. Joe is worried about tonight because Frank is going to confront him in front of the house. Joe thinks Boogie is going to go on a smear campaign. Danielle tells him not to worry in the end Frank is going to look like the stupid one. Joe mentions how hard Frank and Boogie are trying to get Wil's vote.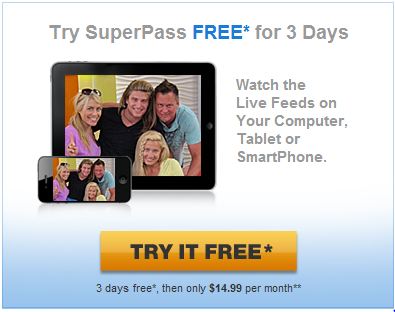 Share it YO!!
Tweet