POV Holder:
Shane
Next POV:
July 28 (Saturday)
POV Used
Yes
POV Ceremony
July 30 (Monday)
HOH Winner:
SHANE
Next HOH:
Aug 2nd
Original Nominations:
Ashley And Joe
Current Nominations:
Joe And Frank
Have Nots (Cereal & Salmon)
Joe, Ian
Coach Competition Winner
Janelle (Wil SAFE)
Next Coaches Competition
August 3(Friday)
Last Evicted Houseguest
JOJO
11:40am Ashley, Mike, Frank, Britney, and Janelle are talking out in the backyard about baby names. Janelle starts talking about pre-marital counselling at her church. Dan says that he and his wife did that pre-marital counselling too. Dan talks about how he would always stand behind his wife even if his family disagreed because in the end you go home to her. The talk turns to talking about video games. Meanwhile, Joe, Ashley and Danielle are in the kitchen. Danielle goes to lay down. Joe and Ashley go into the arcade room to talk. Joe says that this morning Wil told him that he doesn't trust Janelle and then said that they are in serious jeopardy. Joe says that he thinks Wil has flipped. Ashley says what?! What does that mean? Joe says that Wil is saying that he doesn't want to be around Janelle anymore ..in essence he is leaving our team. We are in trouble. Ashley says oh my god! Joe says that Wil thinks Janelle thinks he does nothing and that she saved him. Ashley says this is terrible! Joe says this is worse than terrible. Joe says if he flips we have to get Jenn. Ashley says that Jenn isn't going to flip she is so tight with them. We need to figure this out. Frank is going to live up Wil's a$$. We need to get Janelle in here right now. Ashley goes to get Janelle.
Superpass Live Feeds: 3 Day Trial!
12:20pm Janelle, Ashley and Joe are in the arcade room talking. Joe says that Wil has only gotten worse. He is insanely mad at you. I think he is switching teams. Janelle says what? Why? Joe explains what Janelle said to him last night about how she said she does everything for him. Joe says that he told Wil that's not want Janelle meant at all. Janelle says OMG, he is such a nutty guy. Joe says that he couldn't even talk to him anymore because Boogie came out. Joe says that when you came out he rolled his eyes and left. Janelle says no, he will calm down and I will talk to him. What is wrong with him. Joe comments on how Wil and Frank were doing dishes together this morning too. Janelle asks why would he do this?
Re-Watch ALL THE DRAMA on FlashBack: Big Brother 14 Live Feeds – 3 Day Trial!
Joe says that Wil is either considering a deal with them or he already has a deal with them. He is getting really close to Boogie and Frank. Janelle says that he is being so dramatic and blowing this way out of proportion. Joe tells Janelle to lay off the hate on Frank, just say you don't like him and don't trust him. Ashley says don't worry, we will talk to him. Ashley heads back to bed. Janelle tells Joe not to worry, that she will talk to him. She says that he is not stable in this game, he is crazy. One little thing sets him off. Joe asks why now, we had everything going for us. Janelle says that she is going to go talk to Britney. Joe asks are you sure you want to worry her. Janelle says no, I'm not going to talk to her about this until I need to, and if I do I will get everyone in a room and lay out the numbers for Wil to show him what he is doing.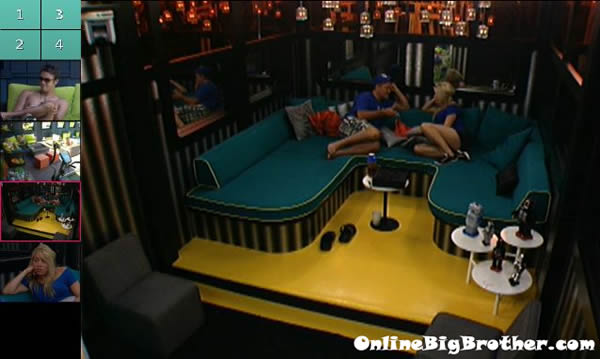 12:45pm Mike, Dan, Jenn, Britney and Ian are talking about how strict Big Brother is about what type and colour of clothes they are allowed to bring into the house. Meanwhile, Shane and Janelle are eating breakfast at the kitchen table. Shane then heads up to the HOH room to do his HOH blogging. Joe and Ashley are laying out by the pool in the loungers.
12:50pm Britney tells Janelle that Ashley was talking to Wil the other day and he is livid about the coaches coming into the game. Janelle tells Britney that Wil is already mad at me and they are already working him for a vote. She says that he won't even talk to her today. Britney says that Wil swore on his dogs life that he would vote Frank out. Janelle says that her hatred for Frank has driven Wil away from her because he has a crush on Frank. Janelle says that she won't be able to work with Wil if the coaches enter the game. Janelle asks why they took off Ashley and not Joe. Janelle says that she thinks Ashley would have the votes over Joe and Britney felt Joe had the votes over Frank. Janelle says that Boogie si mad at her too. Janelle says that it is week 3 and he is flipping on his coach, who does that?! Britney says that Wil thinks we are coming into the game and he thinks that he, Frank and Boogie can get you out of the game.
Danielle joins them and they talk about bra sizes. Danielle leaves. Britney says that if we don't get Wil's vote we are screwed. Janelle says I fu*king saved him this week, with the safety thing and if I didn't his ass would be on the block. They talk about how crazy it will be if Julie tell them to get on their athletic gear. They discuss what the competition might be like. Janelle tells Britney that Wil told Joe that their whole team is in jeopardy. Britney says yeah in jeopardy because of you Wil.
Janelle says why don't you make up a lie and say that Frank came up to you and asked you to put up Wil and to vote him out. Britney says yeah that could work. Or we could throw it on Jojo. They talk about what to tell Wil saying that they could tell him that Frank asked Jojo for a deal, so that he would then go after Wil and back door him. Janelle asks why is Wil doing this to me right now. Britney tells Janelle that Boogie brought up that he thinks he is going to be dropped into the game in front of everyone out there. Janelle says that she is just going to bring up the whole contract thing and tell him that she is not going to jury, that she is just going home. Big Brother cuts the feeds.
1:25pm – 1:45pm Britney talks to Danielle in the arcade room. Britney tells her that they think they have lost Wil's vote. Danielle asks why, he told me last night we are good. Britney says okay that makes me feel better, then Janelle is just being paranoid. Danielle asks why Janelle hasn't talked to her in two days. Danielle tells Britney that Janelle told Wil that the only reason he is here is because she has been kissing a$$ all week. Britney is shocked. Danielle says that Janelle tells Ashley to kiss our a$$ too. Britney says that she had no idea this was going on, I need to stop going to bed early. Danielle says that she doesn`t trust Janelle. Danielle and Britney talk about how all the drama comes from Janelle and her team. Britney talks about how Janelle tells so many lies. Danielle says that if she get HOH this week she will put up Wil and Ashley. Janelle joins them.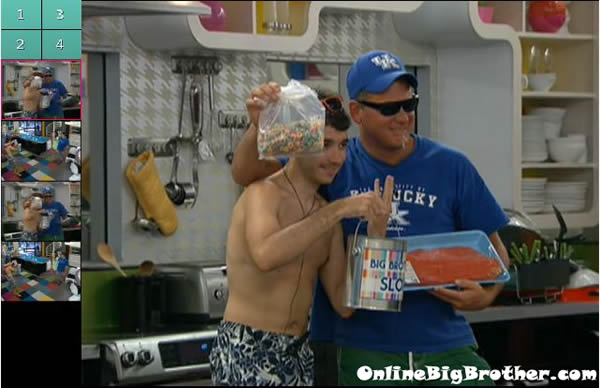 Shane comes down with the HOH camera. Britney is mad that Big Brother won't let her into the HOH room to get her make-up and clothes. She tries to open the door twice and Big Brother tells her to stop that. Britney says stop locking me out of my make-up and clothes when we have digital photos to take. Britney goes to talk to Shane up in the HOH room, and says we have to have a conversation about game, nothing serious. She says that Danielle and I have put our heads together and come up with craziness. Britney says the thing is that Frank is not pissed, that's CRAZY! Shane says I know!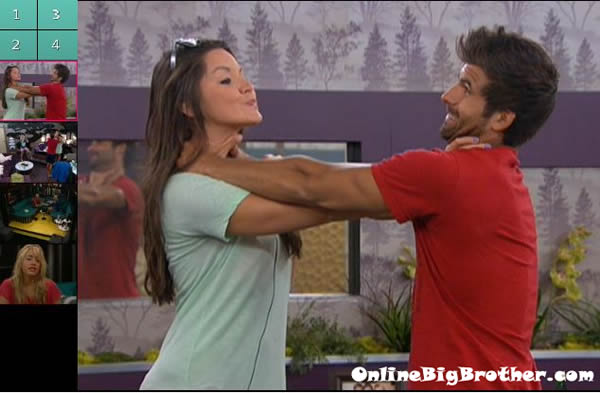 2pm – 2:20pm Janelle and Ashley go into the arcade room. Janelle asks Ashley what Wil said last night. She says that Wil was talking about the coaches coming back into the game. Meanwhile up in the HOH room, Shane and Britney are talking about how none of Janelle's players have talked to Danielle yet. Britney says that she isn't helping it because she is telling them that they are good. Photo day continues. Mike doesn't want his photo taken. Britney bugs him and gets everyone to individually take a photo with him. Mike says Britney you biotch.
Watch the 24/7 Uncensored Live Feeds of the Big Brother house 3 Day Trial!
2:30pm – 2:50pm In the kitchen, Frank comments on what Wil said Janelle said to him last night. Frank says that he is so close to calling Joe and Janelle out on all their lies, but I just don't want it to look like I am picking fights. Frank says that Wil is a nice guy too. Meanwhile on the backyard couches, Janelle and Shane are talking about the coaches coming into the game. Britney and Mike join them. Janelle and Ashley head into the arcade room. Janelle tells her that if she needs to, she will need to start balling her eyes out and tell Wil that he is screwing her over. Ashley says she knows, I will. Janelle sends Ashley into the bedroom to make sure Wil and Frank aren't talking. Ashley checks it out and finds out that they aren't talking. Ashley and Janelle comment on how Joe exaggerates everything. Janelle suggests that they all hang out in the HOH room together away from Frank so that no one gets paranoid. Janelle tells Ashley to stick to Wil like glue today.
Share it YO!!
Tweet