POV Holder:
Danielle
Next POV:
Aug 11 (Saturday)
POV Used
YES
POV Ceremony
Aug 6 (Monday)
HOH Winner:
Danielle
Next HOH:
Aug 9 (Thursday)
Original Nominations:
Wil and Frank
Current Nominations:
Janelle AND Frank
Have Nots
No Have-Nots for the Week
Last Evicted Houseguest
12:45pm Wil, Joe and Janelle are in the arcade room. Janelle tells him that Danielle had wanted to work out last night and I told her okay, then she took forever getting ready and talking to someone so Britney and I worked out and when I was eating she asked me if I wanted to work out and I told her I already did. I guess she took that as a threat? Janelle laughs. Janelle says that she thinks it is pretty clear who I am coming after and she isn't even on my radar. I still can't believe she nominated me. Janelle asks if she has Wil's vote. Wil says yes. Janelle says thank you. Wil leaves the room. Janelle asks Joe if he thinks she has Wil's vote. Joe says that he will find out but that he doesn't think Wil is telling her the truth.
Watch it ALL on FlashBack: Big Brother 14 Live Feeds – FREE 3 Day Trial!
12:50pm Shane and Danielle are up in the HOH room talking about the Veto ceremony. Shane tells her that he was worried about her being alone in here with Janelle. Danielle says at least she wasn't yelling. Shane says that he thinks Joe got a little fire in his eyes; it's his coach after all. Danielle says you want go home Joe? They then get in the bed and she lays her head on his chest.
Re-Watch ALL THE DRAMA on FlashBack: Big Brother 14 Live Feeds – 3 Day Trial!
1:20pm
Britney joins Danielle and Shane in the HOH room. Britney tells them that Ian wanted to confront Boogie about his bad breath. She says that Ian had to go sleep in the have-not room because Boogie was breathing on him and it stunk so bad. Britney says that she wanted to watch Ian confront Boogie but Ian said it wasn't a spectator sport. Britney tells Shane not to repeat things that they talk about up here. Shane says that he doesn't. Britney says that right after veto ceremony she was in the kitchen and Wil said that he was shocked and Ashley said well maybe some people should not be so mean to people. Danielle talks about how Wil threw Janelle's name under the bus before I even mentioned who would replace him. Britney says that she is just waiting for the bomb to drop. Britney says that she needs to distance herself from Janellebecause if she tells a lie people might associate it with me and think I am telling her information. They notice Janelle is reading the Big Brother Manual at the kitchen table. Danielle says I bet she is trying to figure out how far she can taunt someone before she gets in trouble. Britney says that Ian is our secret weapon and if he gets HOH on a crucial week we can use him to do what we need him to do.
1:30pm – 1:50pm Joe, Dan, Jenn are in the pool. Ian is in the hammock putting on sunscreen and talking to Britney about how going bald and how it is passed on through a person's genes. Frank is in the kitchen eating. Janelle gets called to the diary room. (They want her reaction to being nominated while it is still fresh.)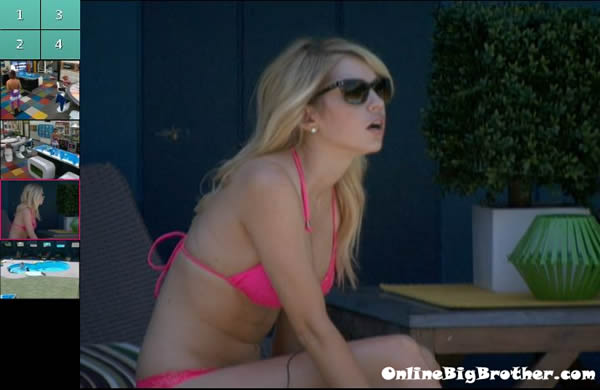 2pm – 2:25pm Britney and Janelle are talking on the backyard couch. Britney asks Janelle if she is upset? Janelle says no, that she is just surprised. I was just not targeting Danielle. Janelle says that it would be like me putting you or Ashley up or something. Britney says it's like a freaking blindside or something?! Janelle says yeah right?! Janelle asks what was said when you were up there last night when I could not come in? Britney says that Frank was saying he was loyal and that he doesn't lie and that they would keep Dan and Danielle safe next week, never targeted them. She says and that they forgive them for last week, that last week is water under the bridge. Janelle says well all these stupid things that people said I said about her from week one.. Janelle says that she said Danielle would go far. Janelle says that she thinks Joe and Wil sold her out or something. Britney says obviously they knew I would tell you stuff so they didn't tell me anything. Janelle says whatever, if I leave, I leave, I get the same money anyway. If they are going to send me home, fu*k it, I don't care! Janelle says why would I want to stay anyway, I am such a huge target! Janelle tells Britney that Wil told her in the arcade room that she has his vote. Janelle says that she has your vote, Ashley, Shane and maybe Dan's vote. Janelle says that if they think I am a bigger threat than Boogie and Frank then screw it!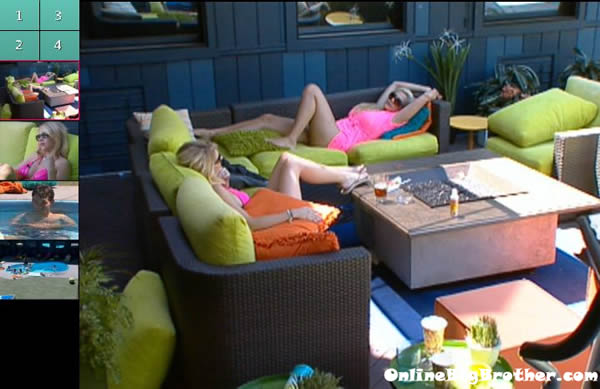 2:30pm – 2:40pm Janelle is in bed reading the bible while Britney sleeps beside her. Frank, Jenn Ian and Ashley are out by the pool talking about random things.
2:50pm – 3pm Ashley, Joe, Dan and Wil are in the kitchen making and eating lunch. Frank and jenn are talking by the pool. Frank tells Jenn that he offered Janelle an olive branch last Friday and says that she was so stubborn, she wouldn't take it. Frank says what you see is what you get from me. Jenn says she just knows that Janelle would be hard for her to beat because Janelle is a strong competitor. Frank says at least you know what I am saying you can take at face value, whereas with her you can't. Jenn tells him that she thinks the plan all along was to get Janelle out.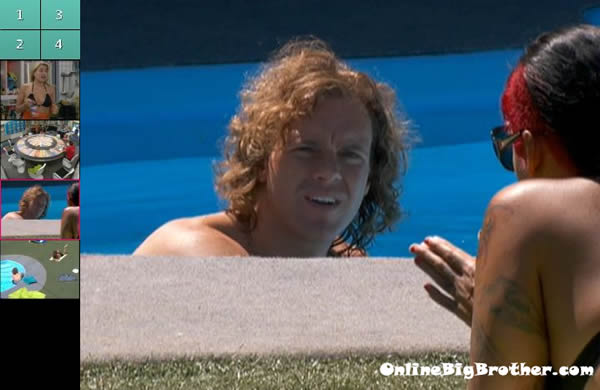 Share it YO!!
Tweet